Today we present one such tool that can tune up your Windows PC in the best possible manner – Systweak's Advanced System Optimizer. 
PC optimizers can boost your Windows system performance, clean the RAM, delete unnecessary apps, clean junk files, and keep the device drivers up-to-date. They can be your real savior but it's often hard to find a tool that has all the desired suite of features.
Advanced System Optimizer is a one-stop solution for your PC's optimization-related woes and more. So, without further ado, let's dive deeper into this Advanced System Optimizer review.
Advanced System Optimizer Review
Advanced System Optimizer, your all-in-one solution to a healthy, fast, error-free Windows PC is developed by Systweak Software. This tool enjoys a 4-star rating from Trustpilot and is certified by Norton and Google Safe Browsing to be a safe app.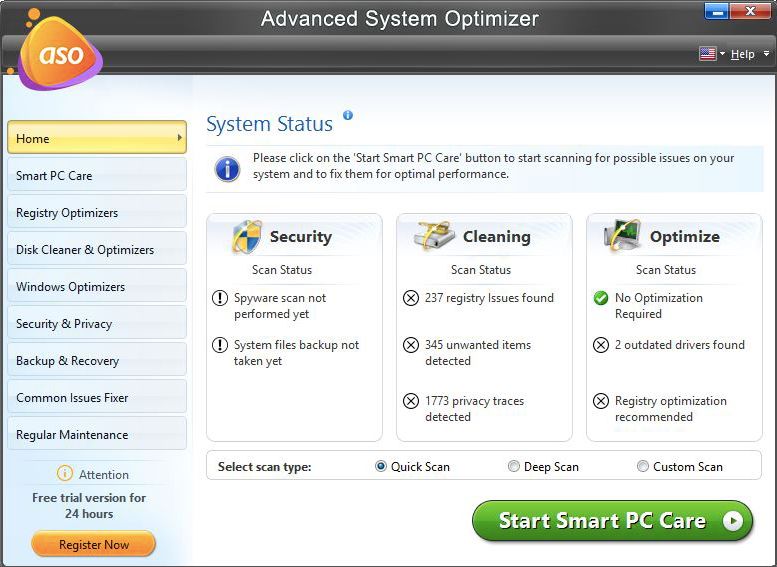 Advanced System Optimizer is complete PC optimizer software that can also perform data recovery and also update the system drivers. The program has a neat & clean UI with easy-to-use features. The tool is also easy to set up and use. This tool comes with 24 hours free trial version and a 60-day money-back policy for unhappy customers.
The tool can run fast scans to detect system abnormalities at one go and provide solutions for them immediately. The best part about using ASO is that it consumes fewer system resources. In the below sections, you will learn about the in-detailed features, pros & cons, tech specs needed, and how you can use ASO. 
Key features of the Advanced System Optimizer
Key features of ASO are elucidated below.
Optimizing Windows for boosting performance
The optimizing features allow users to optimize their PC effectively. The Disk Optimizer helps defragment the hard drive to improve the speed and performance of the HDD or SSD.
The tool also is capable of freeing up the RAM to instantly power the PC performance.
Further, for games, this tool can be such a blessing because it can run games in a dedicated sandbox mode. Thereby, it can immensely improve the gaming performance of Windows.
Enhancing system security & privacy
With ASO, users can rely on the secure delete feature to permanently remove all sensitive data from the system for safe disposal. The Secure Delete feature is a military-grade feature that makes it impossible to recover deleted files.
It also features a Secure Encryptor tool that allows the encryption of important files to prevent unauthorized access.
With the Privacy Protector feature, one can eliminate the browsing history and cookies to protect their internet browsing activities in secrecy.
The System and Security Advisor feature find system vulnerabilities and provide expert advice on how to deal with the best.
Cleaning system junk for enhancing storage capacity
For cleaning temp files and system junks, this tool is forged with different features like the System Cleaner which deletes junk files, Disk Explorer, and Disk Tools.
The application also features a registry cleaning tool to remove incomplete registry entries so that it can prevent apps from crashing. The Registry Optimizer tool can also fragment the Windows Registry strategically. This decreases the size of the Windows Registry for promoting a smoother performance.
Further, ASO is also enabled with tools like the Startup Manager to improve the boot time of the system.
Data backup and recovery options
Advanced System Optimizer allows you to back up all the important data that you cannot afford to lose. It can back up your documents, videos, audio files, images, and more. Further, the tool can also help you recover them at any point in time. It also features a Backup Manager to schedule backups.
Updating redundant drivers
The driver updater feature can fix outdated and faulty device drivers that hinder your PC's performance and prevent BSOD errors, screen freezing issues, and more.
Additional features for PC maintenance
There are tons of additional features to fix regular PC issues and help in maintaining the PC's performance. 
PC Fixer finds quick solutions to troubleshoot common PC errors. 
The Uninstall Manager removes unused apps along with all data remnants. Thus, it can manage uninstalls for users in a hassle-free manner.
Folder exclusion feature and undelete option
Users can choose to exclude certain folders from scanning with the help of the folder exclusion feature. The tool can also help recover accidentally deleted files with the help of the Undelete feature. 
The tool is fully automated by allowing you to schedule scans at your convenience. Users can choose to run daily, weekly, monthly, or customized scans.
Customers can consult the Knowledge Base section and read the FAQs if they come across any technical difficulties. If that doesn't seem sufficient then they can reach out to the technical support team via email at support@systweak.com.
Table of Specifications 
In the below section you will come across the technical specs of the Advanced System Optimizer.
| | |
| --- | --- |
| Parameters | System Requirements |
| OS | Windows 11/10/8.1/8/7/Vista/XP (Both 32 & 64 bit) |
| Developer | Systweak Software |
| Processor | Intel Pentium 4 or higher |
| RAM | 512 MB |
| Free Hard Disk Space | 500 MB |
| File Size | 16 MB |
| Latest Version | 3.9.3800.18406 |
| Free Trial | Available for 24 hours |
| Premium Version | One-time purchase at $69.95 |
Upsides & Downsides of using ASO
Below are the merits and demerits of using the Advanced System Optimizer tool.
| | |
| --- | --- |
| Pros | Cons |
| Simple and clean UI | Compatible with Windows only.  |
| Fixes corrupted device drivers | Lacks a browser optimizer feature |
| Offers the facility to encrypt files & folders | |
| Provides a free version | |
| Supports a backup and recovery feature | |
| Offers a feature to securely delete files. | |
| Option to schedule daily, weekly, monthly, or customized scans. | |
| Provides the option to exclude specific files/folders from scanning | |
| Compatible with almost all Windows OS versions.  | |
How to use Advanced System Optimizer?

The below steps will serve as a guide for you when you finally decide to download and use ASO.
Step 1. Download the Advanced System Optimizer from the official website of ASO. If you are a beginner, then you can click on the Download Now button which will let you use the trial version for 24 hours. You can test the toll in these 2 hours and then purchase the premium version.
Step 2. After this, you can launch the setup file and run it to install the app on our Windows system.
Step 3. After the installation is complete, a pop-up will appear on the screen to run an initial scan.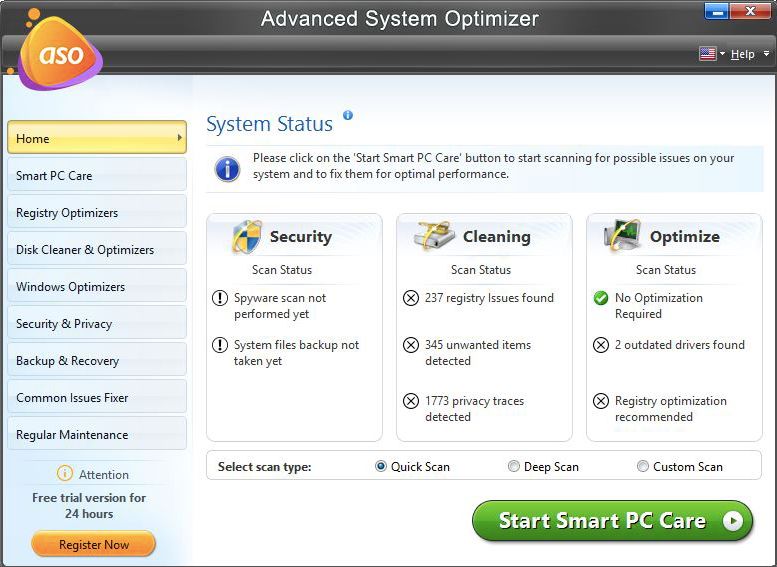 Step 4.  If you choose the Scan Now option, a quick scan will initiate. The tool in general offers three types of scanning options – Quick, Deep, and Custom Scan.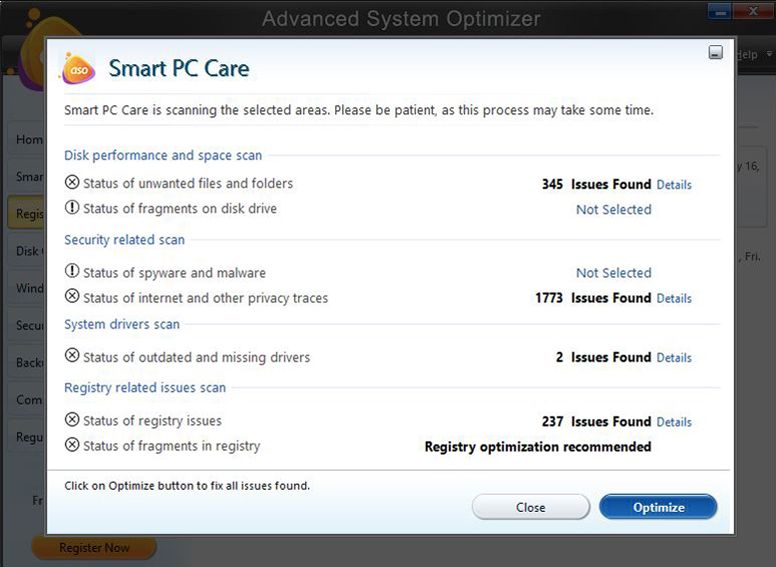 Step 5. After scanning is complete, the app interface will display the results of the scanning having detected all the major system issues that need fixing.
Step 6. After this, all you have to do is click on the Optimize button and the tool will automatically begin fixing the issues in the background. Once all the issues are fixed, ensure to restart the PC to implement the changes.
Conclusion
With this, we wrap up the Advanced System Optimizer review. You will hopefully be able to decide better for yourself when you need to download a PC tune-up tool. If you have any queries or thoughts, you could share them in the comments section.
Frequently Asked Questions
Is Advanced System Optimizer safe?
Yes, Advanced System Optimizer is a safe and genuine app. It has been tested for malware and is certified by Norton and Google Safe Browsing. You can download the app from its official website to ensure that your application is free from malware.
Is Advanced System Optimizer free?
You can download the tool for free to enjoy a one-day trial version before deciding to purchase the premium version. 
How much does Advanced System Optimizer cost?
The premium version is available at 69.95 USD. A one-time purchase can help you use all the exclusive features of the app. If you are not satisfied with the tool, then you could get your money back in 60 days.
Which is the best system optimizer?
There are plenty of tools that can do a fair job for your Windows PC but very few have a suite of features that can tend to all PC optimization needs and more.
Also Read