Are you looking for Advanced SystemCare alternatives tools than you are on the right place. A faster computer system is desired by everyone but that is quite difficult to achieve and experience practically. Over time, computers tend to become sluggish, accumulate junks, the hard disk undergoes fragmentation, and drivers become corrupt.
Thus, computer systems have to be maintained so that they are able to deliver better performance constantly. One easy way of maintaining them is with the help of system optimizer tools, and IObit's Advanced SystemCare is a known name in this category of apps.
But like all apps, even Advanced SystemCare is not without drawbacks like in-app ads, inadequate malware blocking ability, moderate phishing detection, etc. Therefore, your search for Advanced SystemCare alternatives ends here.
Here are my top list of Advanced SystemCare Alternatives You Must Try this year
Advanced PC Cleanup
Ashampoo WinOptimizer
Piriform CCleaner
Glary Utilities
Wise Care 365
AVG TuneUp
Auslogics BoostSpeed
Fact: Advanced SystemCare comes with an in-built anti-tracking feature that prevents data theft issues.
7 Advanced SystemCare Alternatives for Windows PC
We have researched and curated a list of the seven best Advanced SystemCare alternatives to boost the performance of your Windows PC.
1. Advanced PC Cleanup
Want to have an alternative to Advanced SystemCare? Well, try Advanced PC Cleanup. It not only makes cleaning your Windows computer easy but also protects it from malicious programs. Compatible with Windows 10/8.1/8/ and 7, this tool provides a one-click solution to boost your system performance.
Features of Advanced PC Cleanup:
Scans and deletes redundant files and removes personal information saved online.

Disables startup items.

Uninstalls unwanted apps.

Fixes invalid registry entries.
Note: Microsoft Drive Optimizer is an in-built utility of Microsoft Windows that can defragment the hard disk and restore PC health.
2. Ashampoo WinOptimizer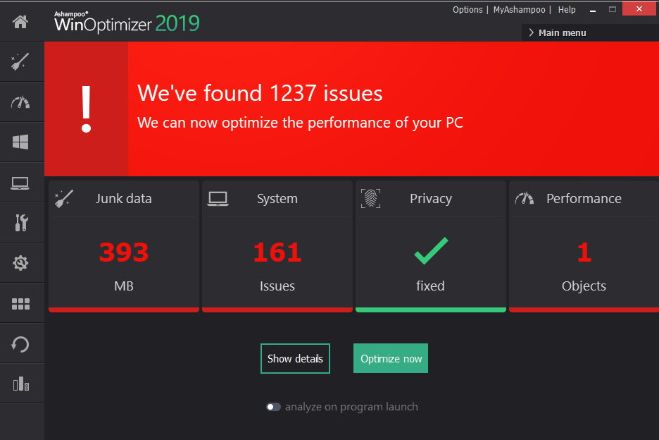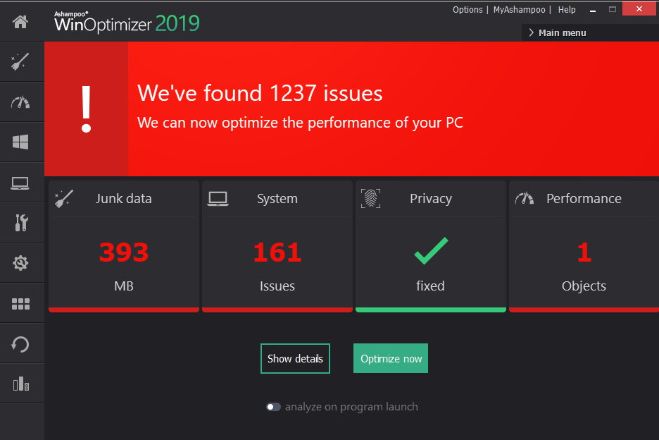 Ashampoo WinOptimizer is a popular tool worldwide that accelerates your PC's performance tremendously. Although this is only a cleaning tool, still its scope is not limited to cleaning PC junk alone and extends to system maintenance. 
Features of Ashampoo WinOptimizer:
It improves the boot time and clears disk space.

Eliminates tracers and browser caches.

Enabled with deletion, encryption, and file recovery abilities.

It has extensive analytical capabilities to gauge system, processor, and HDD performance.
3. CCleaner
Piriform CCleaner effectively optimizes the system and frees up space. Besides, cleaning up junk files, it also removes invalid registry entries and fixes other issues that can affect the efficiency of the system. Here are some highlights of the features of Piriform's CCleaner.
Features of Piriform Cleaner:
The program cleans damaged, corrupted, or invalid registry entries of the Windows registry including the initial registry cleaner.

It is also possible to shorten the time to boot for the Windows operating system with its Startup Manager feature.

It can detect and eliminate duplicate photos from your storage system.

The program can be downloaded as a portable edition. 
4. Glary Utilities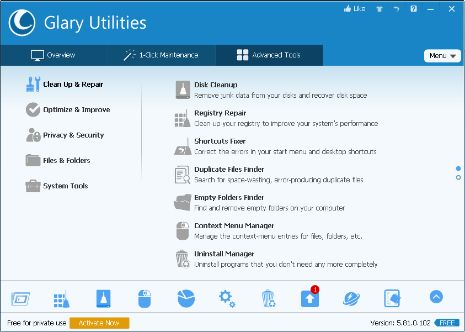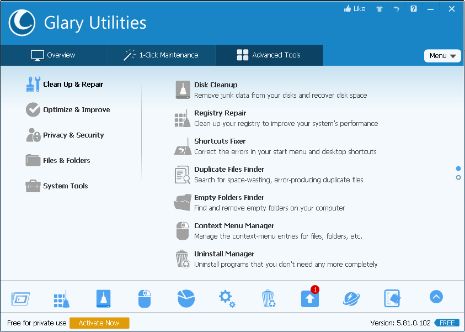 Glary Utilities is one great application that can tune up the performance of computers efficiently. It is also compatible with old versions of the Windows operating system, such as Windows XP and Vista.
The program comes with a no-cost version. Here are the most popular features offered by Glary Utilities that attracts people. 
Features of Glary Utilities:
It can monitor and keep track of online advertisements and help guard you against spyware.

It comes with an integrated registry cleaner that will clean your registry for optimizing your PC.

The program also includes the ability to update drivers. 

Disk Space Analyzer analyzes disk space, deletes duplicates, recovers deleted items, and much more.
5. Wise Care 365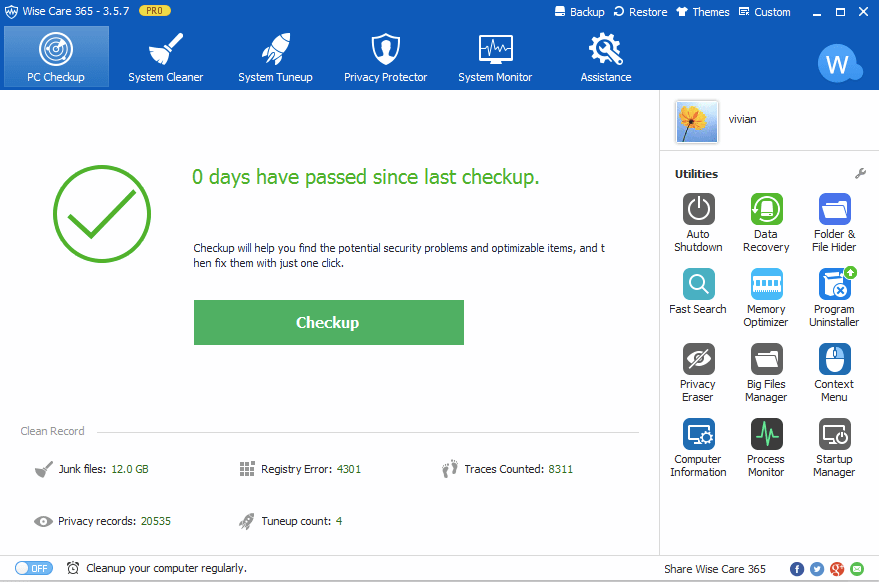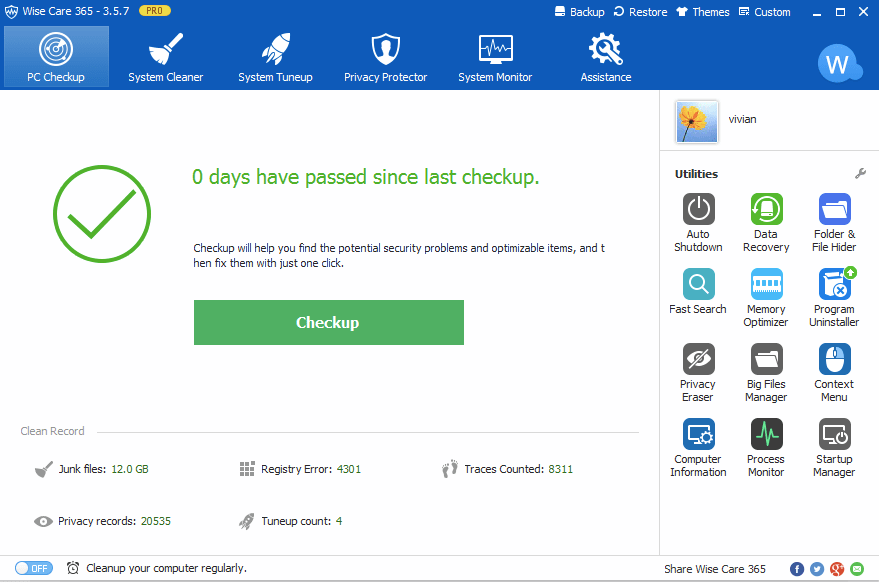 When you are trying to find the IObit's Advanced SystemCare alternatives, Wise Care 365 is another best choice that will improve the stability, speed, and security of your Windows computer. 
Features of Wise Care 365:
Users can safeguard their systems in real-time.

Disk Shredder lets you erase files in a thorough manner.

Wise Care 365 cleans unwanted entries such as registry, cache, and more.

It can also allow you to save and recover Windows registry
6. AVG PC TuneUp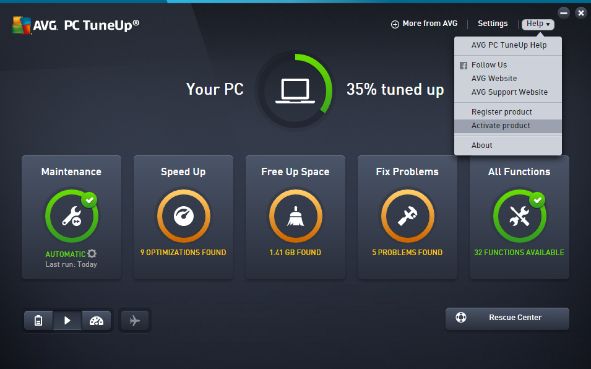 AVG TuneUp is another well-known brand in the field of PC cleaning and optimization. In addition to its security apps, AVG offers this PC optimizer to enhance PC performance.
It helps to maintain the system and helps remove unneeded files and applications from the hard drive. Below, we've listed the features of AVG Tuneup.
Features of AVG TuneUp:
You can eliminate the unneeded software with the assistance of the AVG TuneUp uninstaller.

It also fixes the registry files that are on the Windows PC.

In addition to uninstalling the program, it can also update them using the software updater feature. 

It also helps to shut down unnecessary start-up applications.
7. Auslogics BoostSpeed
Auslogics BoostSpeed is another well-known Windows software that improves the performance of your PC by getting rid of undesirable applications, removal of junk files, removing duplicates and much more. It also resolves PC lagging issues by altering internet connection speed, and much more.
Features of Auslogics BoostSpeed:
Facilitates the management of memory and processors automatically.

Furthermore, it cleans out invalid keys and invalid entries from the Windows registry.

Disables startup programs.
Pro Tip: Disabling startup apps, background apps, and cleaning hard drive space are some quick ways to boost a Windows PC's performance.
Conclusion On Advanced SystemCare Alternatives
So, with this, we are wrapping up this article on the best Advanced SystemCare alternatives. By now you have certainly gained a fair amount of idea about Windows optimizer apps that function equivalent to or better than IObit's Advanced SystemCare. 
FAQs
Is there anything better than Advanced SystemCare?
Yes, there are plenty of tools that function better than or are equivalent to IObit's Advanced SystemCare software. You can refer to the above article to know more about tools like Advanced SystemCare.
Is Advanced SystemCare the best?
Advanced SystemCare has its pros and cons but there are many software like Advanced SystemCare that can also effectively do the job of boosting your system performance.
Can Advanced SystemCare be trusted?
Yes, Advanced SystemCare is an absolutely safe and genuine app that can optimize your Windows PC effectively. You can download it from the official website to ensure that your system is not impacted maliciously.
Which is better CCleaner or Advanced SystemCare?
Both these apps have their own positives and negatives. Advanced SystemCare is an automated optimization app and malware remover while CCleaner focuses more on system cleanup functions.
Also Read