One of the best-known system boosters in the market is iObit Advanced SystemCare. A lot of operations can be conveniently performed by this tool.
What is Advanced SystemCare
Advanced SystemCare is one of the best PC cleaning and optimization software which offers cleaning different types of caches and temp files, optimizing speed, and protecting user privacy. Along with it, you can clean your RAM, improve the speed of the network by 300%, enhance the computer boot speed, and perform some other functions. Removing spyware and deep one-click scan are also easily achievable with it. 
There are two versions available for IObit- a free version and a premium version. The paid version costs $19.99 every year for securing up to 3 PCs. To know more in-depth about their features through this IObit Advanced SystemCare review refer to the below section.
Advanced SystemCare 16 Pro Review
Listed are some of the features of this tool that will help you optimize and speed up your pc.
1. Use an intelligent cleaning method for your PC
With IObit, you can clean your PC intelligently using its inbuilt AI technology. Not only will it make your system clutter-free in no time but it will also protect your system, and save you time.
What can you clean using the IObit Advanced SystemCare?
Junk files

Files and logs that are no longer needed

Caches of different types- cache files, browser cache, temp files, and backup files from your software.
You can also clean junk files from Dropbox, Java, Steam, Adobe Photoshop Lightroom, and Spotify & MS One Drive.

You can try to clean the remnants of the third-party tools and also clean your browser history.
2. Increase your system's speed
Do you wish to know what slows down your PC?
If too many programs run all at once on your PC, your system can turn slow. 

Unknown applications and services can occupy too much memory space. 

A lack of defragmentation in your hard disk can slow your PC down.
With the help of 30+ troubleshooters used through IObit can clean your PC in no time. Furthermore, you can reduce the boot time of your system by 50%.
3. Secure your system
Your privacy should be your top priority and IObit takes care of it very well by 
Clearing your password traces, 

Adopting disguises for your fingerprinting in 200+ programs & browsers, 

Rectifies security vulnerabilities, 

Updates latest version of programs, 

Blocks your sensitive information from suspicious programs.

The New WebGL & Audio Fingerprinting protections work well for all devices.
4. Advanced interface provisions
IObit provides two skins and one with a very standard corporate environment. You will always have access to a tiny widget on your desktop that can also show you your current RAM and CPU usage.
5. Increase the speed of your internet
It increases the speed of your internet by increasing your network bandwidth and all of it with just one click. In this remote job season, this feature is a valuable asset for anyone using a device daily.
6. Firewall Protection
Keep running your Firewall thereby protecting your Windows system every time.
7. Clean large files
If you want to clean large files, all you need to do is use a single click to start the deep cleaning process. Large video or audio files can eat up a lot of space and by using IObit you can release a lot of storage space.
It is also one of the advanced PC repair tools which you can download for free.
Tables of Specification of Advanced SystemCare
 Here's a quick look at the system requirements.
Parameters

System Requirements

Manufacturer

IObit Software

OS Supported

Windows 11/10/8/7/Vista/XP

Processor Speed

1 GHz or faster

RAM

1 GB

Free Hard Disk Space

500 MB

Screen Resolution

1024*768 and above

Latest Version

V 16.2.0

File Size

48.4 MB

Free Version

Yes

Paid Version Pricing

1 PC – $16.77/year

3 PCs – $19.99 /year
Pros & Cons of Advanced SystemCare
The merits & demerits of Advanced SystemCare are mentioned below:
| | |
| --- | --- |
| Pros | Cons |
| Impressive interface | Some advanced features can be unlocked using the paid version only. |
| Features Performance Monitor widget. |   |
| Offers a 60-day money-back policy for unhappy customers. |   |
| Performs a deep and quick one-click scan. |   |
| AI-enabled program |   |
How to use IObitAdvanced SystemCare?
To know how to use the IObit Advanced System Care, follow the steps given here.
Download the latest Advanced SystemCare.

New users have 30 days to try every function and examine if it meets their expectations.
Open the registration window and then enter the code text link on the main screen in the space below. At the same time, copy your License code and then press on the Register tab to activate the advanced system care ultimate.

Configure the user interface and then do 11 quick settings.

The features can be divided into four main groups – Security, Performance, Clean and Automatic settings.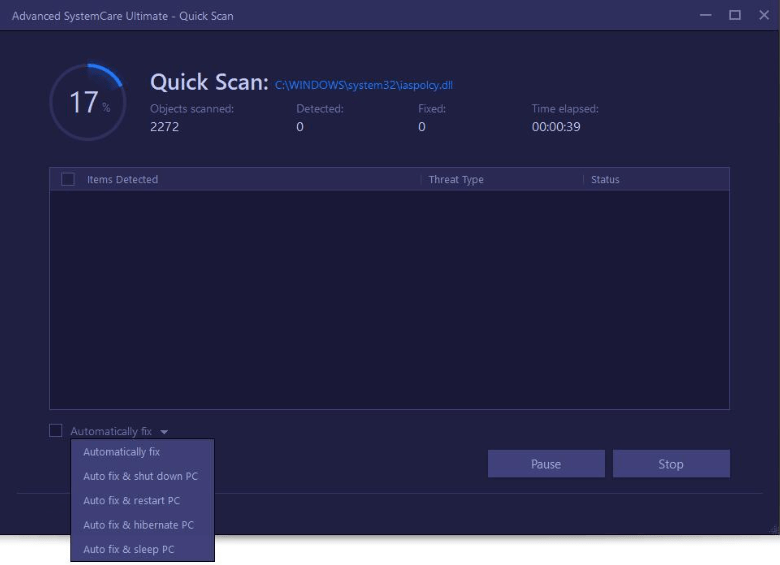 All you have to do is start using the application as per your requirement for different functions.
Conclusion
This is all that you must know about IObit if you plan to use it. For those who are searching for help with various functions within their system, read this IObit Advanced SystemCare review to understand better of what can help you best.

FAQs
Is Advanced SystemCare any good?
Yes, Advanced SystemCare is an excellent tool to boost your system performance and clean your PC with AI-powered features.
Is Advanced SystemCare a virus?
According to the Microsoft Community, Advanced SystemCare is not a virus since it does not replicate once installed on the PC but some people might think of it as an unwanted program if they are using another system optimizer tool.
Should I remove Advanced SystemCare?
No, you can use this tool to improve your PC's performance; however, if you prefer to use any other software of the same genre, then you may need to uninstall it before installing the next tool of your choice.
Which is better CCleaner or Advanced SystemCare?
Both programs are good when it comes to cleaning the PC junk and enhancing its performance; however, CCleaner offers two paid tiers while Advanced SystemCare offers one free and one paid tier only.
Is IObit advanced SystemCare safe?
Yes, if you download the Advanced SystemCare application from the official website, then this tool will be safe to use. This is a genuine tool that cleans the PC and enhances its performance.

Which are some other PC optimization software you must use?
Also Read