Similar to the stone and flint used by prehistoric humans, SEO tools have become the bread and butter of marketers. The SEO tools that are commonly used by most SEO experts are SEMrush and Ahrefs. Here we have done a detailed comparison of Ahrefs Vs Semrush In 2020.
Now both of these SEO tools are advanced ones and they are vying for the top spot. Well, it would be interesting to see which would be the ultimate SEO king. In this article, we are going to see the comparison among ahrefs vs semrush.
Ahrefs Vs Semrush 2020 Comparison
The following are the basic criteria based on which we are going to check out which is the better tool among SEMrush and Ahrefs.
1. Ahrefs Vs Semrush Overview
This tool was launched in the year 2008 by a small group of IT and SEO experts. They combined their expert knowledge for providing competitive and best research services for online marketing. Slowly after a decade of progress and experimentation along with the introduction of some beneficial features, SEMrush became one of the leading online marketing toolkits.
Right from SEO and keyword research to link building, even everything in between you can always count on SEMrush. It is indeed the all-purpose tool for SEO and the best one to ensure that your website or blog climbs the Google search ranking. 
This tool was launched in 2010 and was commonly used as a backlink analysis tool. However, over time, it gradually became an all-in-purpose SEO analysis tool. Not only it can help in assisting with the site audit, but it also plays a major role in content marketing, keyword research, and other SEO activities. 
The best part of using Ahrefs is that it has a super smooth user-interface. Also, it is easy to gain data. Plus, you can even get the in-depth backlink data about your website as well as even your competitor's website too.
2) Ahrefs Vs Semrush – Keyword Research
For any individual with a limited amount of understanding about online marketing, keyword research is one of the major aspects to know. 
In Ahrefs, it is the 'Keyword Explorer' and it really packs some serious punch too. Among the various best features present in it, users can view how many clicks each of the keywords get. Also, users can know how well these keywords are ranking in the search engine, thereby helping to target the most or common generic keywords 
With SEMrush, its 'Keyword Magic Tool' is the best one that helps in creating keyword ideas as well as keyword grouping. Also, it helps in segmenting keywords based on the topic and creates roughly around fifty target keyword lists. This tools makes it easy for user to grab traffic from targeted keywords
Ultimately, the winner is the SEMrush as it goes above and beyond with its excellent features.
3) Ahrefs Vs Semrush –  Backlink Analysis
One of the huge parts of a good SEO strategy is the backlink analysis and building. So, when it comes to the debate among ahrefs vs semrush, there is only one clear winner, semrush. Following are the reasons for that – 
Semrush provides a more detailed backlink report that can visually show more data.

Semrush often updates its backlink data and that too frequently.

Semrush provides you with more options for filtering reports using dimensions like redirect language and chains.

Semrush provides reports for the broken backlinks

Semrush is the best tool for backlink analysis. Even though Ahrefs has the same type of functionality, still its data is very less fresh. Also, its reports don't provide the required amount of detail compared to Semrush. 
So, the winner is definitely Semrush.
4) Ahrefs Vs Semrush – Topic Research
When it is related to topic research, one really needs to brainstorm the keywords first and then think about the topic. This way you can know which keyword can be used for ranking for your website. But at times, you would have to create content that is just for link-building needs or even social media fodder. 
So, in such a case, let's check what Ahrefs and SEMrush provide. Now regarding SEMrush, it has unveiled the Content Explorer 2.0 along with some nice upgrades compared to its former version. With this tool, you can – 
Do broken link building

Trends data

Perform data-driven content research
Basically, the broken link feature is unique to the SEMrush and that is really great. Now about Ahrefs, well it might not be that robust like SEMrush, still, there is a great amount of usage of it in terms of topic research tool. 
Here, the ultimate winner is clearly SEMrush in this comparison.
5) Ahrefs Vs Semrush – SEO Audit
As we all know SEO is the process of optimizing the indexing, crawling, and rendering phrase of your website. This is done for gaining a higher search ranking. There are other factors that you would need to take into account like site speed, site structure, SSL certificate, XML sitemap, etc. Basically, these are the major factors that can just affect the technical SEO health of your website.
It is important to do a technical SEO audit from time to time. This will easily help one to identify and even fix the technical SEO related issues of the site. Plus, it will make sure that such issues aren't holding back your website ranking in the SERPs.
The most frequently used tool in the SEMrush toolkit is the site audit tool. This tool will help you to perform the whole SEO audit of your website. Also, it will help in analyzing the entire SEO health of your website. Furthermore, it will provide the whole list of the on-site details that your website is facing.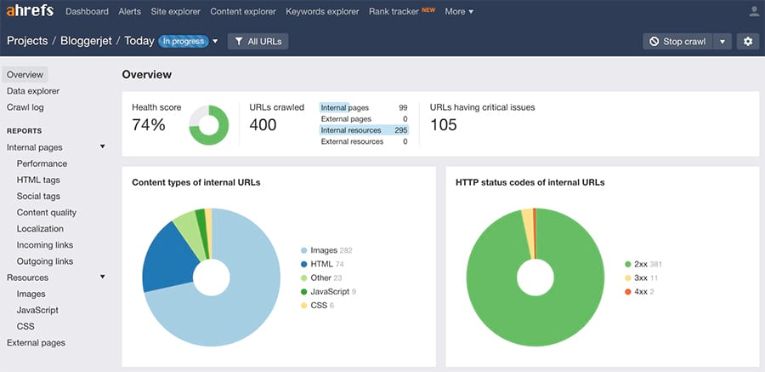 Well, the site audit tool is one of the recent additions of the Ahref's platform. This tool will help in crawling all the pages present on your website and even analyze the website for the 100+ pre-defined SEO issues. Also, it will provide the necessary recommendations for fixing them. 
Here you would have to wait for the Ahref to crawl the website and even check out for certain technical SEO errors. Irrespective of whether your website has few pages, Ahref will take many hours to return the results regarding the audit overview report. 
So, the ultimate winner here is? Well, its the SEMrush, even though Ahref's does a decent job in providing the correct aspects of the errors affecting your website.
6) Ahrefs Vs Semrush – Rank Tracking
In the ahrefs vs semrush 2020, SEMrush is the better option when it is related to rank tracking. If you check, SEMrush would update the keyword ranking each day while Ahrefs does only every few days. Plus, SEMrush would inform you about the changes or updates happening to the search algorithm of Google. So, this makes it easy to understand the basic shift in the keyword ranking.
Basically, both SEMrush and Ahrefs have the best tool for tracking the keyword ranking. Frankly, this is the perfect practice that provides visibility on how the website is getting ranked in the search results of Google. No doubt, Ahref's keyword rank tracker is a great tool and even has the same kind of functionality as the SEMrush. But it only updates the keywords every few days. This is why the clear winner is SEMrush.
7) Browser Extensions
Both SEMrush and Ahrefs got the browser extensions and these will help in the faster evaluation of the domain authority of a website, estimated backlinks as well as basic data. Here the major difference in ahrefs vs semrush is that SEMrush is free while Ahrefs SEO toolbar works best if it is a paid account. 
Frankly, the browser extension will display the number of pages present in Google's index for that website. Here the backlinks will point to that particular page as well as the Alex ranking of the website. 
Now Ahrefs' browser extension displays the page-level stats (this can be about referring domains and backlinks, estimated search traffic, and the URL ratings) and even the domain-level stats. Well, at a glance, these stats would be quite useful for an SEO expert. 
So, the winner is Ahrefs even though you have to pay for it. Even though the SEMrush toolbar is great but it is somewhat dated and not that much useful. 
8) Ahrefs Vs Semrush – User Interface
For most people, the user interface is very much important. It is important that the SEO tool that you use and looks good while using it. This makes the whole necessary information easy to digest as graphs and charts. 
In terms of user interface especially among ahrefs vs semrush, you might be surprised to know that SEMrush is best. Besides their site audit tool, all other SEO tools of their display information is somewhat easy to understand manner. Plus ahrefs has a variety of features that makes it a little difficult in learning more about the tool. 
So, in terms of the best user-interface, semrush UI is much better and great. It provides fewer options for each page and this makes it easier to learn more about this tool. Also, the tool is really easy to understand and navigate. 
9) Pricing
Irrespective of being a great SEO tool, the price can be the major make-or-break factor while making a selection. The pricing is very much similar for both SEMrush and Ahrefs. And there is only a very small distinction when it is related to their popular plans.
The Guru plan of the SEMrush is priced at $199 and the standard pack of Ahrefs is priced at $179, which is $20 cheaper. So, the result is a tie. 
10) Which is better ahrefs vs semrush – SEMRUSH IS WINNER

USER REVIEWS – EXPERT Recommended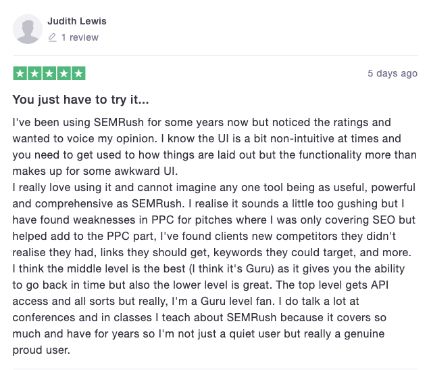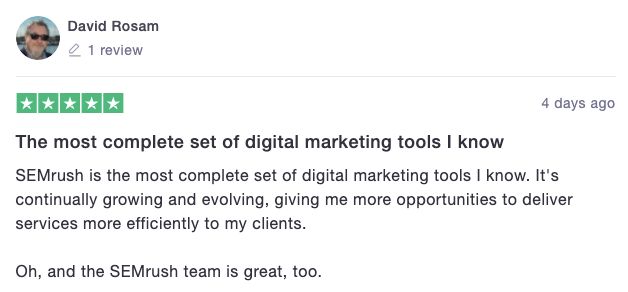 Features of SEMrush
The following are the features of SEMrush as a great SEO tool – 
Search Engine Marketing Feature

– No doubt, SEMrush is a great tool for Pay-Per-Click(PPC) advertising.

Social Media Feature

– The major benefit of SEMrush is that you can replace other tools thereby increasing its value. Frankly, SEMrush is a full-feature social media tool similar to Hootsuite and Buffer.

Content Marketing Features

– SEMrush has some really cool content marketing as well as SEO features like post tracking, brand monitoring, and content audit tool

Semrush Pricing – 
Features of Ahrefs
Some of the major features of Ahrefs are –
Traffic Estimation

– What you might be surprised to know that Ahrefs is the only SEO tool that provides traffic estimation for search results. The best part is that you can view how much organic traffic the search result provides for a given keyword every month.

Accurate Link Analysis

– Ahrefs is the most accurate as well as the biggest database related to the backlinks. Also, they have the referring domain history feature that allows you to view the referring domain over time. 

Ranking History

– Similar to the historical referral domains, you can view the ranking history of all the keyword pages and even trends graph.

Ahrefs Pricing – 
Final Verdict
Ultimately, both Ahref and SEMrush are great tools to work with. It all depends upon your usage and requirement. Semrush has been leading in the Industry and continously providing better results then any other tools
Also Read:
Semrush Free Trial, Pricing, Review and Expert Advice (2020)