In this article, we have covered a detailed AOMEI Backupper review article where we have discussed its features, pros, cons, specifications, and description of the software so that you can make a clear image in your mind regarding this backup software. The AOMEI Backupper will help you a lot in choosing the promising backup and restoring software for personal as well as commercial use.
What is AOMEI Backupper
When we work on our system there are huge chances of data loss. The reason can be any like system crashes, viruses entering your PC or you may accidentally delete it. But thanks to the data backup software that helps you to take backups and restore files in case of an accident.
Now, you don't need to rely on any professional or IT expert to take backups. Software like AOMEI Backupper can help you without needing any technical knowledge. It is developed by a Chinese company in 2009.
AOMEI Backupper Review
Aomei Backupper is software that helps you to sync, clone, restore, and back up your system. It is quite essential to take backups of your data as it prevents you from losing important files and data due to system crashes or other reasons. It helps you to restore and recover your data quickly and easily.
The software performs several tasks including disk cloning, backup scheduling, disk imaging, file, and folders synchronization, etc. It also offers fully automatic backups to make the backup process simpler. The tool is very straightforward to use and doesn't require any technical knowledge.
If you are a novice user then AOMEI is the best solution for you to perform the backup data in the Windows system.  It consists of five tabs;
Home
Backup
Restore
Clone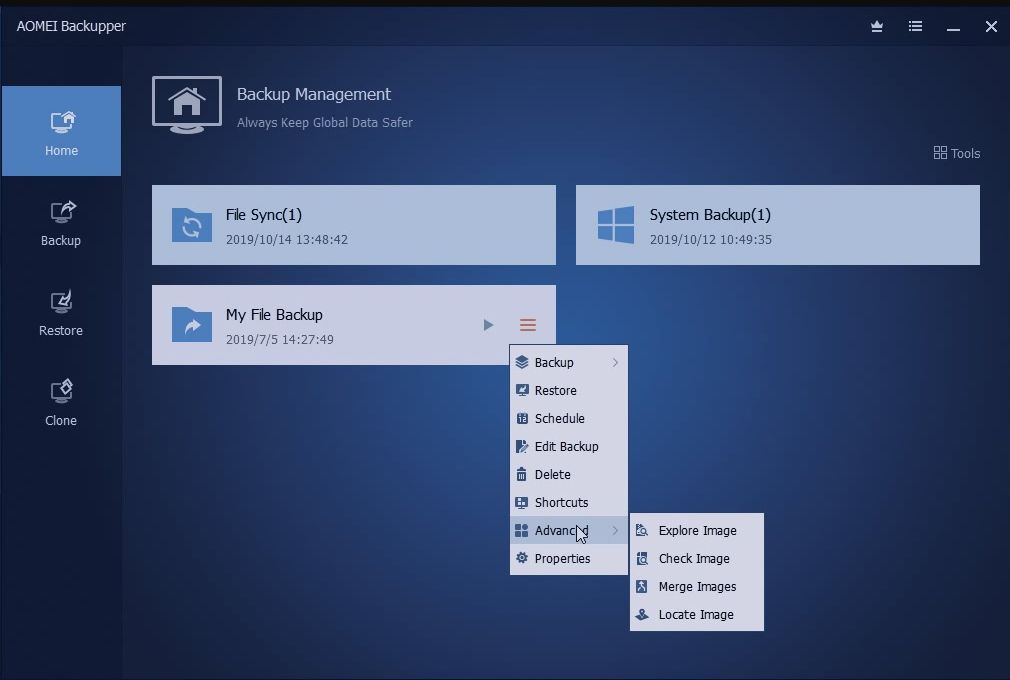 The software offers a 30-day free trial. It is a reliable software that allows you to restore your entire PC and also consists of many other functionalities. Some of its functionalities are compressing backup images, encrypting backup data, creating bootable media, backup and restore systems, syncing files, cloning systems, backup and restoring disk and partition, merging or splitting backup images, and filtering files. 
You can also customize the features which make your life tension free as it ensures you keep your data protected.
Features
AOMEI Backupper is a useful software that helps you to take backup and restore data that can be lost due to an accident or system crash. 
1. Easy to use
AOMEI Backupper is a very simple tool and has a user-friendly interface. It consists of five tabs and most of the functions are performed by using these tabs. These tabs are easy to navigate and you can easily find them on the dashboard. 
2. Backup Files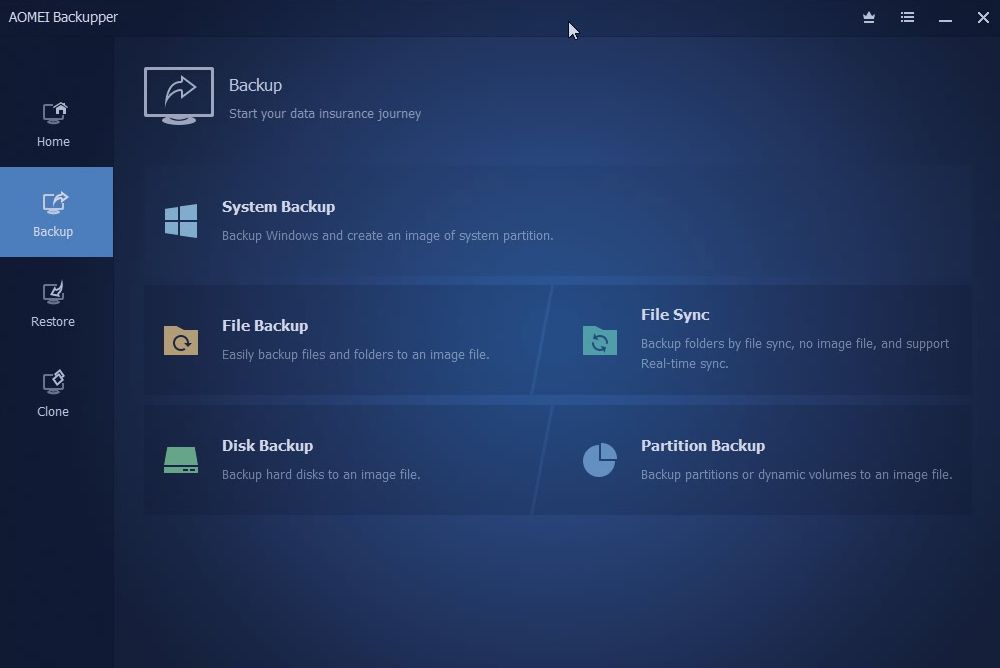 The backup section comprises all the tools that are mandatory for taking backups. It lets you take backup of your hard disk, system, partition, or files and folders. All the options are easy to use, just click on the option you want to execute the task. You also get the file sync feature. It offers different types of backup options:
Disk Backup
System Backup
Partition Backup
File Backup and Sync
Schedule backup
Command-line backup
Backup GPT Disk partition
Event-Triggered backup
Backup to Dynamic disk volume
Backup to NAS/ Network
Mostly, the first four methods are frequently used by the users. Taking system backup is necessary which helps you to take backups of the entire system, boot files, and program files. Disk backup prevents your data loss while having a hard drive failure. Just choose any of the option and click on start backup to start the backup process. 
3. Restoring Files 
This section allows you to restore files or systems. It will display the list of backups and choose the option you want to restore and click on the restore option. 
4. Cloning Files 
The cloning files feature allows you to clone your whole system, partition, and your hard drive. The feature also allows you to copy your computer configuration onto another PC. You can choose among the three options: 
Disk Clone 
System Clone 
Partition Clone 
Choose any of the options and select the destination disk. After that choose next and the cloning process will start. 
The feature is helpful when you want to transfer to another OS, hard drive, or transfer your system data. 
5. Utilities 
This section in the software consists of all the other features offered by it. Some of the features are mentioned below: 
View Logs
Import and Export Backup
AOMEI Image Deploy Tool
AOMEI Centralized Backupper
Explore Image Tool
Create Bootable Media
Check Image Tool
AOMEI PXE Boot Tool
Customer Support  
It offers great customer support and whenever you find any trouble using the software you can take help using customer support. It provides customer support via forums, email support, social media platforms like Twitter and Facebook, official documentation, and an FAQ page. 
You can't directly call as it doesn't provide any phone number and also doesn't support the live chat feature. 
Security 
The security level depends on the cloud service you are using as the software doesn't have its cloud backup option. It is safe to use and you can completely trust this software. 
Specifications 
You need to fulfill the system requirements to install AOMEI Backupper on your Windows PC. Let's check the minimum hardware requirements. 
256 MB RAM 

Need of a mouse or other pointing devices 

500 MHz x86 or compatible CPU

300 MB of disk space to install it

Optional: DVD/CD-RW Drive
Pros 
You can set the password of every backup to keep your data protected and the other person can't access your data. 

It offers a real-time file syncing feature which is helpful when you make any change to the file. 

This tool offers a quick backup process. 

It has a simple and customizable interface. 
Cons 
It offers a single encryption feature. 

While performing the backup process your system may get slower. 

Only compatible with Windows PCs and laptops. 
But these disadvantages can't deny the fact that AOMEI Backupper offers so many advantages and also extremely beneficial features which satisfy your needs and makes it a credible backup software. 
Conclusion On AOMEI BackUpper Review
AOMEI Backupper may not be the best backup software in the market but it is quite worth it as it is easy to use for beginners. It offers all the basic functionalities which you require in backup software. The developer are continuously working on the issues and improvising in the performance of the software.
I hope the AOMEI Backupper review will help you know many facts about the software at least give it a try and see if it is fulfilling your needs or not. 
FAQs
Is AOMEI trustworthy? 
Yes, AOMEI is a reliable and trustworthy software that you can use for backup and system restoration purposes. It is a legitimate software that offers several amazing features. It is freeware and offers you 30 days free trial. 
Is AOMEI any good?
Yes, AOMEI is one of the best and most worthy backup software in the market. Apart from backup, it offers several other functionalities like disk cloning, image cloning, disk partitioning, etc.
Being free software it offers many amazing features and a simple user interface. Even beginners can easily use this software as it doesn't need any tech knowledge. 
Is AOMEI Backupper standard free? 
Yes, AOMEI Backupper Standard is free software that allows you to take backups, restore, clone and sync your device. The software comprises many incredible features which you can easily use and navigate.
It has a simple UI and a decent dashboard. Being free it is easy to use with an intuitive interface. 
Which is better AOMEI vs Acronis?
Both are the best tool but when comparing it has been seen that most of the users prefer AOMEI more backup. It is free to use and offers all the basic features to satisfy your needs. You can easily take a backup of your hard drive including OS, installed programs, and files. Also, it is user-friendly and easily clones your hard drive. AOMEI is best as per pricing, features, etc. But Acronis provides more ways for customer support.
Also Read