When in need of a duplicate file finder, you can consider using Ashisoft Duplicate File Finder. Get to know this tool in detail with this Ashisoft Duplicate File Finder review.
What is Ashisoft Duplicate File Finder?
Ashisoft Duplicate File Finder is for recovering wasted space from your HDD, SSD, or Cloud Storage. When you delete such files, you will be able to speed up your system. Through the use of intelligent algorithms, the tool can find out and remove duplicate files in a wink. All you need to do is install it on your device and then click the Start tab once to begin the search process. 
Automatic selection of duplicate files will come up and from there select manually those files that you want to delete. For the ones you want to retain, you can uncheck them to retain those files back on your device.
With Add Path tab, you can incorporate many folders and drives for scanning before pressing the Search Now option. The deletion process is quite fast and the best part is that you can start using the Duplicate File Finder for free. If you are wondering is Ashisoft Duplicate File Finder safe, then you must be glad to know that it is genuine and doesn't contain any malware.
Ashisoft Duplicate File Finder Review
Features
If you wonder whether Ashisoft Duplicate file finder is safe or not, you will know that it is a safe option to try as there are many safety measures taken up by the industry to maintain their applications standards. Apart from being safe, there are many other valuable features of using the Ashisoft Duplicate file finder.
Several remarkable features of the Duplicate File Finder are mentioned below.
Photos add up to your space with a lot of duplicate files eating up your disk space. Removing these photos will help you free up a lot of space within your system.
With this duplicate file finder, you can even remove duplicate video files that clutter up consuming more space than photos. Therefore, removing them can only add upto your free space immensely.
Duplicate songs and call recordings
Duplicate files of songs are another addition that makes way into our devices unknowingly. If you want to get rid of them, you will have to run a search for such files and then will need to remove them from your devices. Even call logs can take up a lot of space thus removing the old and obsolete ones can free up a lot of space for you.
With the help of this duplicate file finder, you can compare the files and folders in the Master and Target folders thus removing the duplicate files from them.
You can search for files and folders in the Google Drive cloud to find duplicate files and remove them from the system.
Comparing Dropbox files is easy
You can compare Dropbox files also and removing them from the cloud is also super convenient with the help of Ashisoft Duplicate File Finder.
Preserve and protect essential files
You can use a protect folder tab to securely store all those files that you cannot delete from your system by any means.
With the help of the Photo viewer, you can view the files side by side conveniently. Use the built-in image viewer to correctly determine the photos you wish to delete from your files.
With the help of Selection Assistant, you can mark your files by their groups, drivers, folders, dates, and many other ways.
Here is the detailed pricing structure of Ashisoft Duplicate File Finder.
Payment Mode
No. of devices supported
Amount to Pay

Pay Once

1

$49.95

3

$59.95

5

$69.95

Site License

$495.95

Yearly

1

$2.95 / month

3

$3.95 / month

5

$4.95 / month

Site License

$32.95 / month

Tables of Specification
Here are the essential system requirements that would enable the tool to function effectively.
| | |
| --- | --- |
| Parameters | System Requirements |
| OS | Windows 11/10/8.1/8/7/Vista/XP (32 & 64-Bit) |
| Developer | Ashisoft |
| File Size | 1.7 MB |
| RAM | 256 MB |
| Processor | Intel Dual Core processor or later |
| Free Hard Disk Space | 20 MB |
| Free Version | Yes |
| Lifetime License | Yes |
Merits & Demerits of Ashisoft Duplicate File Finder
Here are the pros and cons of Ashisoft Duplicate file Finder:
| | |
| --- | --- |
| Pros | Cons |
| Simple interface | The free version has limited features. |
| Free version available | |
| Multiple filters available | |
| Offers cloud storage clean-up options | |
| Offers the option to Exclude Folders and Protect Folders from scanning. | |
How to use Ashisoft Duplicate File Finder?
Use the steps below to download and use this duplicate file finder app.
Then, execute the set up file to install the tool. The installation happens offline and you need to simply follow the on-screen prompts.
After this, launch the software and then you have the option to customize your search as per file type, search methods, and filters.
Alternatively, you can add the path of folders you want to find duplicates in.
The tool will scan for duplicates and display the results.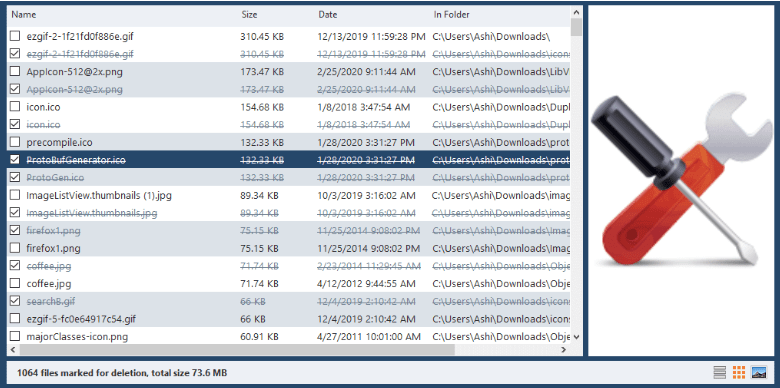 You can use the auto-mark feature to select the files after previewing to delete them. Note: to delete the files you should have the premium version of the software.
Conclusion
Ashisoft is an incredible tool to delete duplicate files from your PC in a hassle-free manner. This Ashisoft Duplicate File Finder review has walked you down its interesting features along with its merits & demerits.
FAQs
Is Ashisoft Duplicate File Finder free?
Yes, there is an option to download this tool for free and this free version can be used forever; however, its features are limited to basic scanning and detection abilities only. Getting the premium version, on the other hand, can unlock the tool's full potential.
What is the best duplicate photo remover?
There are several duplicate photo remover tools in the market, Ashisoft Duplicate File Finder being one of them.
Also Read