In the world of smartphones and digital cameras, duplicate photo finder apps are a boon. Once our smartphones and personal computers get cluttered with multiple copies of similar and duplicate images, they begin occupying valuable storage space. Thus, it is always good to get rid of those duplicating images and make space on your hard drive for other important things. 
Ashisoft Duplicate Photo Finder is an amazing duplicate image finder and remover tool that can automatically take care of your devices by cleaning the duplicate images from them. In this Ashisoft Duplicate Photo Finder review, unravel more about the wonderful features of this app along with knowing other relevant details.
Ashisoft Duplicate Photo Finder Review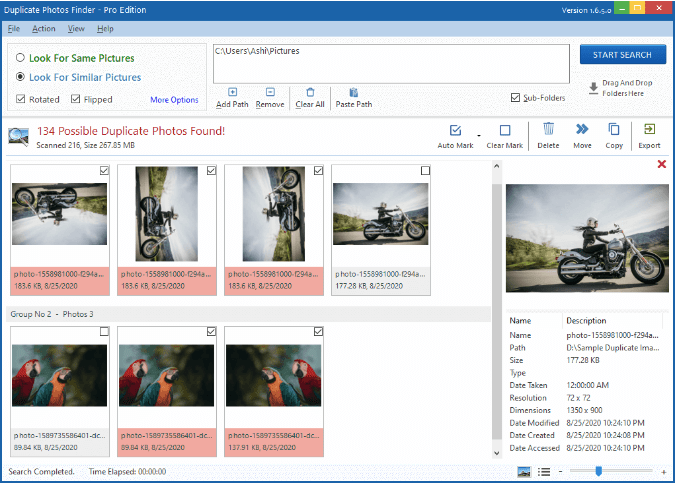 When you wish to delete duplicate images from your Windows system, then Ashisoft Duplicate Photo Finder is the most appropriate tool to lay your hands upon. If you wonder that is Ashisoft Duplicate Photo Finder safe to use, then you can absolutely rely on the genuineness of this tool.
This tool offers both free and premium versions. Designed with intelligent algorithms to compare and find identical images, Ashisoft Duplicate Photo Finder is compatible with Windows computers. It can identify similar, rotated, and even flipped images to help you get rid of duplicates. It also comes with one of the best interfaces that are easy to use and navigate.
Note: This review is of Ashisoft Duplicate Photo Finder latest version supports finding duplicates in Rotated Photos, which was released recently. Please let us know if there's any new version.
Exclusive Features of Ashisoft Duplicate Photo Finder
Ashisoft is an image converter whose features set it apart from the others in the market. They help in removing duplicate and similar files helping you in searching them out using different techniques. Some of the best features of Ashisoft are discussed below.
Supports files stored in different formats 
The Duplicate Photo Finder can search through different file formats that include JPEG, JPG, PNG, HEIC/HEIF, WEBP, and formats of all prime camera brands. With such a feature in play, it is just not possible to miss out on any of your photos within your system.
Facilitates exclusion of folders/files
The folder exclusion feature is beneficial as it helps you exclude certain important folders that you do not want to scan in the process. Just not folders, it also allows you to exclude files from your device.
Detects flipped or rotated files
This duplicate photo finder can also search through flipped or rotated files to identify duplicate images from them. Even resized images will be found through the use of this duplicate photo finder.
The image selection process is lightning fast 
Selecting the images using Ashisoft is a quick process and happens easily with the automatic marking facility of images. If you want to eliminate some image files, uncheck them to prevent their deletion.
In-built image viewer facility
Ashisoft provides its users with an in-built image viewing facility where you can view the images by placing them side by side. Comparing the images becomes easier when you view them side by side and facilitates the easy removal of images.
Export facility for scan results
Your scan results can be easily kept for future reference. Most often, these results can be used to find out the details of some previously deleted image files.
Copying and moving files easily
With the duplicate file finder, moving and copying files is possible within folders or to other drives but then you will need a premium version to do so.
Regular updates are available
Ashisoft regularly sends out the most updated file to all the systems using it. Updating the program with the current version facilitates the removal of bugs, and outdated modules easily. Press on the Help tab and then press on the check for Updates tab. If there is a pending update, the app will send you a notification for the same. All you need to do is update it.
Pricing structure 
Pricing for one computer is $49.95 and licensing is available for 1, 3, and 5 PCs. You can also buy it at a one-time price to use the application always. For 3 PCs, you will pay $59.95 and for 5 PCs you pay $69.95.
Ashisoft Duplicate Photo Finder: Tables for Specifications
Here is a quick look at the system requirements and the other relevant details before you decide to download the tool on your Windows PC.
| | |
| --- | --- |
| Parameters | System Requirements |
| Operating System | Windows 10/8.1/8/7/Vista/XP (32 & 64 Bit) |
| RAM | 512 MB or higher |
| Hard Disk Space | 100 MB |
| File Size | 1.94 MB |
| Latest Version | 1.6.5.0 |
| Free Edition | Yes |
| Premium Version | $2.95/month for 1 PC |
Pros & Cons
Below are the merits and demerits of Ashisoft Duplicate Photo Finder:
| | |
| --- | --- |
| Pros | Cons |
| Offers the option of "Drag & Drop" and also "Add Paths." | Only folders can be added using the 'Drag & Drop' feature but not individual files. |
| Users can avail of numerous filters. | |
| Preview feature available. | |
| Offers an option to "Exclude Folders." | |
How to use the Ashisoft Duplicate Photo Finder app?
In this section, we have outlined the steps that help you understand how to use the Ashisoft Duplicate Photo Finder application.
First and foremost, you can download the Ashisoft Duplicate Finder on your Windows PC and then install it.

After this, you can open the app.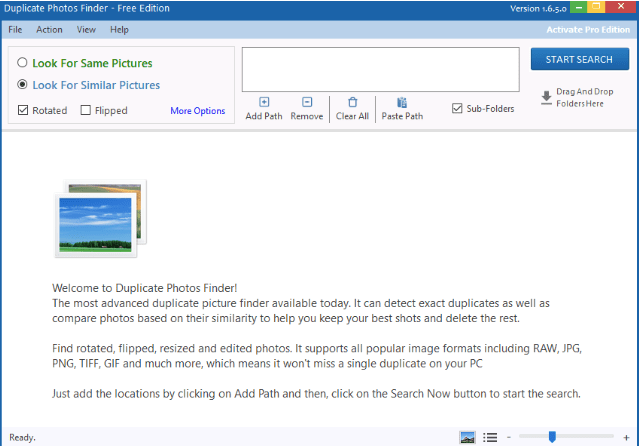 To delete the duplicate images from your system, you can simply drag & drop the folders in the search area or browse and add a folder.
Next, you can hit the "Start Search" button to allow the tool to scan for duplicate images.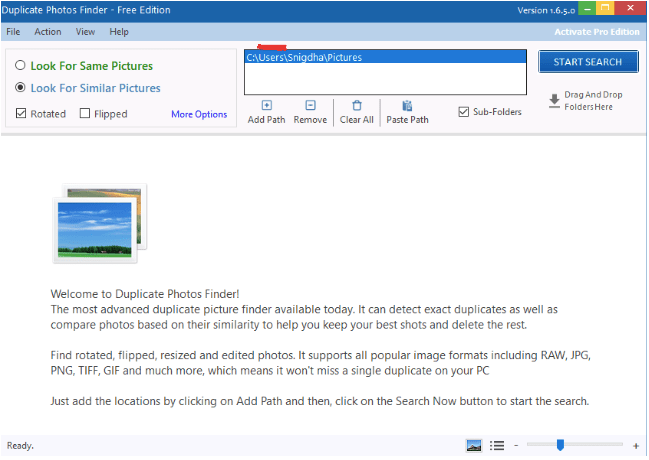 Ultimately, you will be presented with the results that you can preview before clicking the "Delete" button. 
Expert Advice
To round up this Ashisoft Duplicate Photo Finder review, we can say that it possesses all the requisite features of an ideal duplicate photo remover app. It is quick to act and can clean your hard drive disk instantly. Furthermore, it can also organize your photo collection. 
Also Read