Are you a music maker, a podcaster, or a music lover? Then you deserve the best audio visualizer apps. Audio visualizer applications are a must-have that you can never go wrong with. 
There are music visualizer apps for Android and music visualizer apps for iPhone. 
Audio visualizer apps can visualize audio using its frequency spectrum, rhythm, and loudness. When choosing the best audio visualizer app for you, there are several factors to consider because so many options are accessible. This article will discuss the finest one for your smartphone, its main features, and its price. Therefore, let's get going right immediately.
Top 7 Audio Visualizer Apps For Android and iPhone
1. STAELLA
The first on our list of the best audio visualizer apps is STAELLA. It is an iOS-based music visualizer app that allows users to personalize their video visualizations per their needs. This app is simple; you only need to choose music, and it will use its audio-reactive mechanism to produce visuals automatically.
Although the program is free, there are in-app purchases for graphics, screen effects, and blend modes. Priced at $4.99, the premium edition can be downloaded from the App Store.
FEATURES
You can customize music visualization. 

It can record videos.

It can add screen effects.

It can use audio-reactive systems to produce visuals. 
2. Trapp
Users can capture and share their audio visualizations using this iOS software. It is capable of displaying audio from any source. Trapp is available as a free download; however, in-app purchases are applicable. $3.99 per month is the cost of the paid edition. You can download this app from your iOS store.
FEATURES
You can customize the backgrounds.

There are visualizer particles.

It comes with an integrated Spotify. 

It also features bass effects.
3. Audio Vision Music Player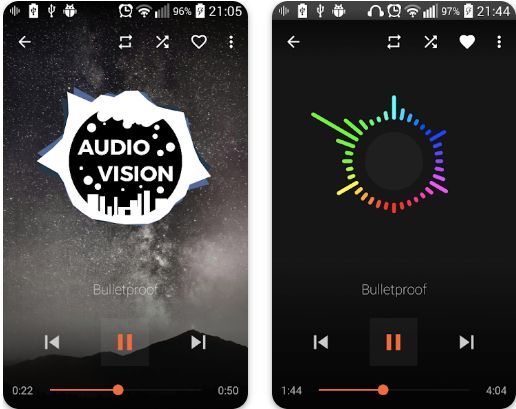 This is one of the best audio visualizer apps that is free and easy to use. It provides users with various interchangeable graphics to view their audio files. Also, it allows Android users to control their playlists and categorize their music. It also has various designs that you can alter to suit your preferences. 
FEATURES
There are various designs that you can customize to suit your preferences.

Users can define the kind of background they want.

It has various design patterns.
4. Alien Worlds
This music-visualizing app allows you to play tracks from a third-party app or its built-in player while displaying alien animations based on your music or audio. By adjusting this application's color and speed, you can further personalize your visualizations.
Although Alien Worlds can be downloaded and used without cost, you won't get the full features. The price of the premium edition is $1.99. This app supports iOS as well as Android.
FEATURES
There is an integrated Chromecast.

Countless musical options.

3D gyroscope.

It has an embedded audio player.
5. ProjectM Music Visualizer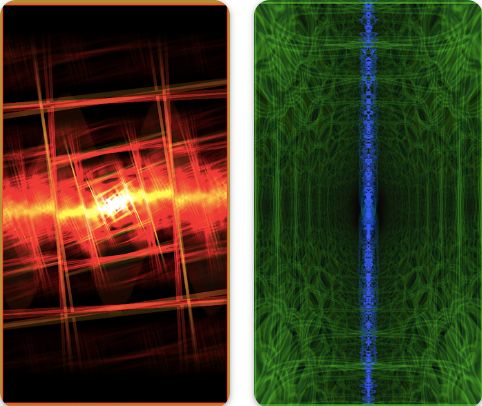 Sounds played from the phone can be visualized using this software. Using settings like mesh size and texture size will improve the clarity of your visualizations.
The Android app has controls that allow you to alter, play, or pause the music, even though it doesn't come with an integrated music player like some other apps. The free version has limited features, but the pro version sells for $2.99 on the App Store.
FEATURES
Adaptable images.

It has an in-built Chromecast. 

Effects search for visuals.

It has options for live wallpaper.

It offers control over the music player.
6. Trance 5D
Fans of electronic music, especially trance music, enjoy this app as it gives them access to over 30 radio channels playing various musical styles. It is ideal for big parties as it can be linked via Airplay to your TV and displays the song visualizations.
This tool provides various features, such as trance effects. It can also offer customized graphics preferences. Additionally, it allows you to play music from various other music player apps.
FEATURES
29 themes for music visualization.

Adaptable images.

Supports 30 radio stations.

It has a dynamic background.

It can play the radio in the background
7. Muviz Edge
The last on our list of the best audio visualizer apps is the Muviz Edge. This software allows you to continue enjoying music visualizations even when your phone's screen is off and while it is in use. You can also choose from various visualizer designs and alter them according to your preferences regarding color, speed, shape, effects, background, and other options.
FEATURES
Visualizer for live music.

It comes with a built-in editor.

It has a different color palette.

You can control choices for visualization.
Conclusion
Above are the best audio visualizer apps for musicophiles who make music or are music lovers. We have carefully selected these apps for your convenience. You can see from the visualizer apps highlighted that each of these applications has its strengths and weaknesses, but they are all capable of serving their original purpose. 
We have also added the free apps, but there are in-app purchases to unlock other features for some. You can pick from the aforementioned if you have an iPhone, and if you own an Android device, you can select the best app from ProjectM and Muviz Edge based on your conditions.
Also Read