Drivers play a very crucial role in the smooth and better functioning of your PC as it helps connect system software to the hardware. Don't worry you can use third-party software to update old drivers. In this article, we will be going to discuss Auslogics Driver Updater, its features, pros, and cons.
Auslogics Driver Updater Review will help you to know about its benefits and also if you have doubts is Auslogics Driver Updater safe then it will also be cleared. As, before purchasing any software people first look for an authentic review so that they can decide if the purchasing software is good for them or not. So, without any delay let's start with a detailed review.
Note: This review is of Auslogics Driver Updater latest version 1.24.0.8, which was released on 4 Jan 20232 recently. Please let us know if there's any new version.
Auslogics Driver Updater Review
If you are facing issues due to outdated system drivers then you can trust Auslogics Driver Updater to update all the drivers to the newest version. It is a powerful tool with some amazing features to help you get rid of outdated system drivers.
It ensures scanning the outdated, missing, and broken drivers that are causing issues in your PC.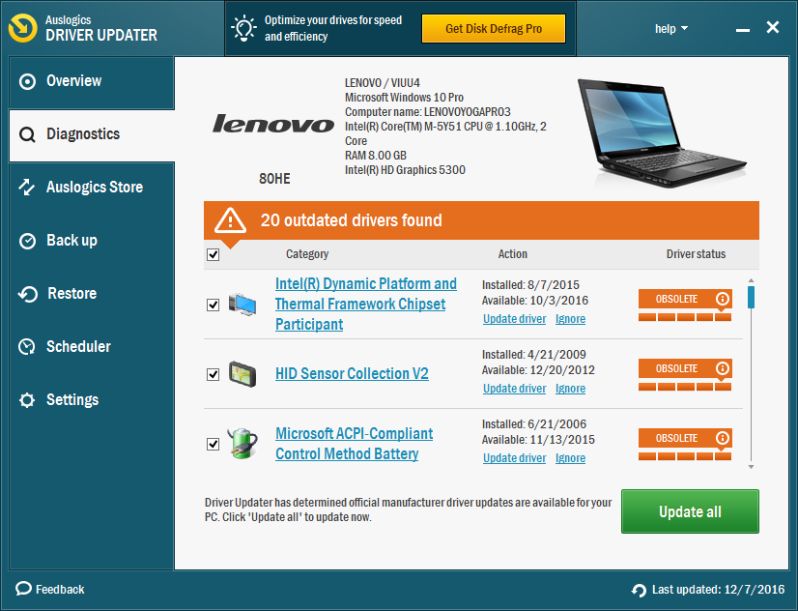 The software can scan for outdated drivers and update them to the latest version from a trusted source. It is safe to use as doesn't contain any malware and doesn't download the wrong drivers. This tool provides you with all the basic features which are useful in scanning and updating drivers. It is easy to use and has a user-friendly interface. 
Auslogics Driver Updater has a clean dashboard and all its features are mentioned on its dashboard. It makes the users use its tools according to their preferences. It is quite easy to download and install on your PC.
The driver updater by Auslogics also fulfills the expectations of the users and knowing the introduction and details provided in this Auslogics Driver Updater Review will clear all your confusion.
Features
Auslogics Driver Updater is a great software that provides various features which are needed for updating system drivers. Let's discuss some of the main features offered by this software. 
This is very easy to use and a beginner can also use it. It has a neat dashboard displaying all the features nicely. You can use any feature without requiring any knowledge. 
When the system drivers are outdated then the related devices don't perform well and cause system crashes and freezes. Auslogics driver updates the drivers and boosts the system performance. It helps in enhancing the overall performance of your PC and removes all the glitches and errors. 
Backup and Restore Function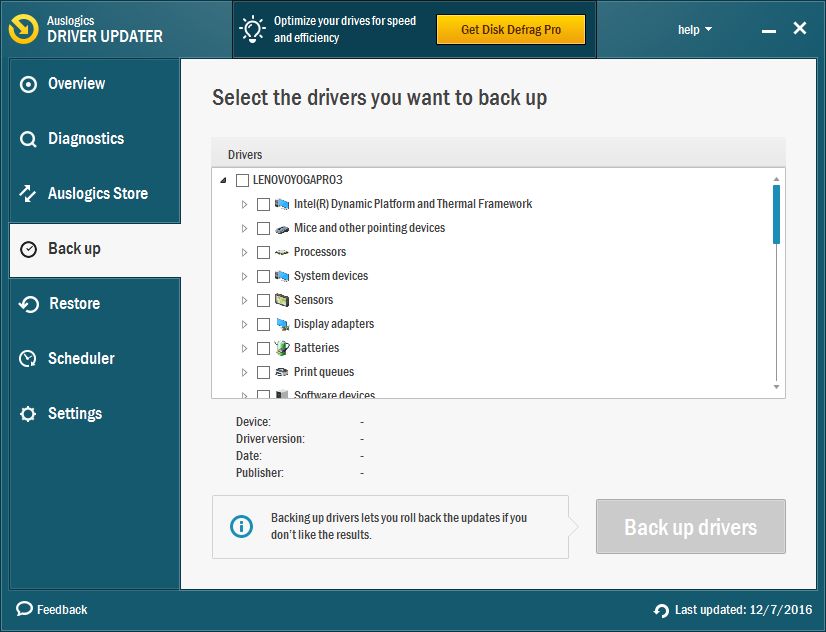 This is a must-have function in any driver updater. Sometimes, it has been noticed that after updating a certain driver your system starts misbehaving and causes other errors. This feature lets you take a backup of the driver before updating it so that whenever this type of situation occurs you can restore the previous drivers for better functioning. 
Talking about its compatibility, it can work on Windows PC smoothly but is not available for Mac and other platforms. It supports all Windows OS including Windows 7, 8, 8.1, 10, and 11. 
It offers great customer support and you can contact them either by using the mail or by calling feature. You can send mail for your queries and if any urgent queries you can call them 
It also provides a Frequently Asked Questions (FAQs) page where you can get the answers to common questions.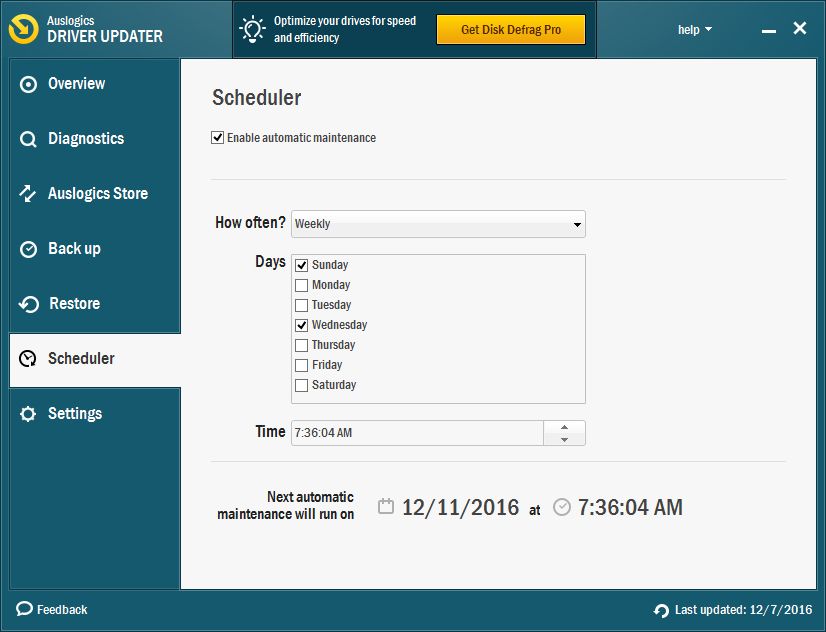 You can set a schedule for automatic scanning. System drivers should always be updated for better performance and smooth functioning of your PC. If you set a schedule then you need not perform the scanning process manually. 
Specifications
Support Operating System –

Windows PX, Vista, 7, 8, 8.1, 10 and 11
Developed by –

Auslogics Inc.
License –

One-time purchase 
How To Use Auslogics Driver Updater
1. Download Auslogics Driver Updater from its official website.
2. After installing it launch the software.
3. When you land on the main page you will see various features like backup, schedule, restore, overview, action center, settings, and diagnose. 
4. When you click on the diagnostics tab, it will display the outdated drivers and provides you with the details related to that driver.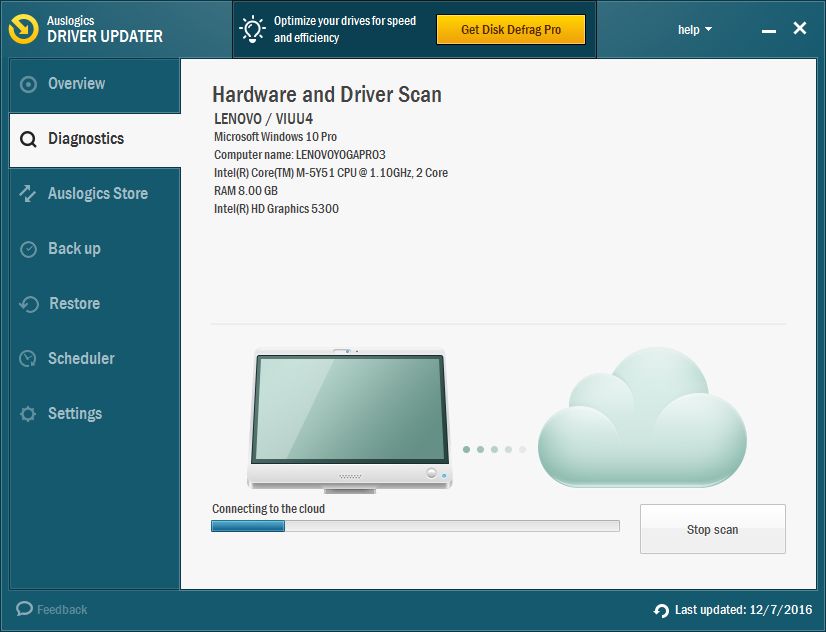 5. To update all the drivers click on the update all option.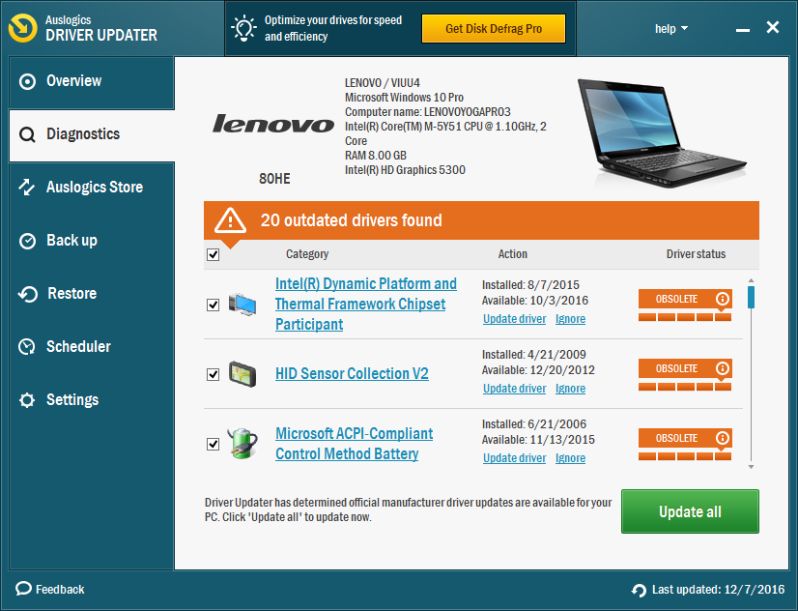 6. Using the backup feature you can take a backup of the old drivers before updating them. In case you face any problems after installing the latest driver you can easily roll back to the previous one. 
Pricing 
Talking about its pricing plans, it offers a free trial as well as a premium version. I suggest you buy the premium version as it allows you to use some other features. You can go to its website and purchase. It is a one-time purchase that costs you $33.96 at the time of writing. 
Pros & Cons
So, let's have a look at its pros and cons.
| | |
| --- | --- |
| Pros  | Cons |
| User-friendly interface with a clean dashboard  | Works on only Windows PC |
| Contains all the important functions | The free version restricts various functions |
| Boosts your system performance  | |
| Allows you to set schedules for automatic driver scanning | |
| Takes backup of previous drivers  | |
Conclusion On Auslogics Driver Updater Review
In this Auslogics driver updater detailed review, we have mentioned its introduction, all its benefits, features, specifications, pros, and cons. I hope after reading this review article you will be able to decide if the Auslogics driver updater is suitable for you or not.
FAQs
Is Auslogics Driver Updater safe?
Yes, Auslogics driver updater is completely safe and can be used to update drivers automatically. It downloads the latest drivers from reliable sources. Most of the experts recommend Auslogics products for better performance of your PC. 
Is Auslogics Driver Updater free?
Auslogics driver updater offers a free trial version but you will not get all the features to use. It provides a premium plan which costs you $33.96 to access all the features. 
Which driver updater is best?
There are many driver updates available in the market but Auslogics is one of the best and most powerful drivers updating tools. It includes all the basic features which are necessary for performing the installation of the latest drivers.
It can automatically scan for outdated and missing drivers and installs them to the newest version. All the process is quite simpler and anyone can easily use Auslogics Driver updater without having any knowledge of using the driver updater tool.
Also Read