One magnificent tool for your Windows PC to carry out the marvelous task of deleting duplicates is the Auslogics Duplicate File Finder app. Therefore, in this Auslogics Duplicate File Finder review, you can learn more about the tool's offerings and tech specs in detail.
Having thousands of duplicate images, videos, music, and documents can clutter your Windows system and hog valuable storage space. Manually sorting files can be a tedious and time-consuming task. 
Hence a tool programmed for the automatic detection and removal of duplicate files of all sorts can certainly be the thing you need for your Windows PC. Duplicate file-finding apps can organize your files in their respective locations and also empty the hard disk space.
Note: This review is of Auslogics Duplicate Photo Finder latest version 10.0.0.2 supports smart algorithm to find duplicates, which was released recently. Please let us know if there's any new version.
Auslogics Duplicate File Finder Review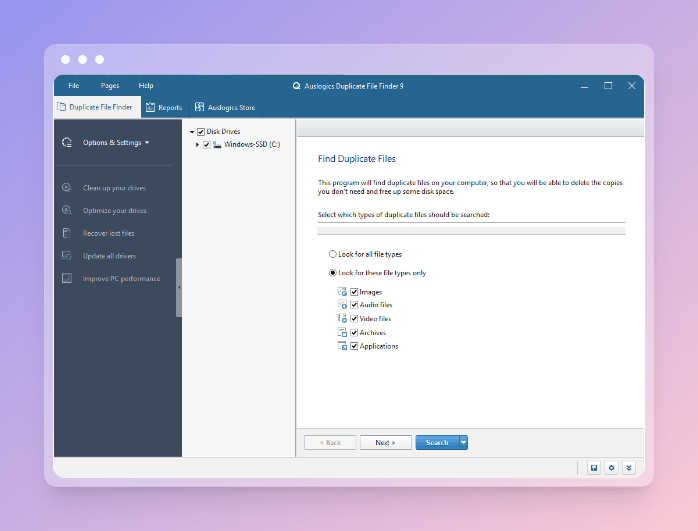 Auslogics Duplicate File Finder is a duplicate file finder and remover tool from Auslogics. Enabled with smart algorithms and high-grade quality, Auslogics is a safe and useful tool to remove duplicating files from your Windows PC free of cost.
With more than 10 years of experience in the market, the Auslogics Duplicate File Finder enjoys 5-star awards from industry experts. This tool also boasts of having a 20 million user base.
This tool can effectively scan your Windows PC for finding duplicate files and it can then remove them to debulk your system. The app interface is simple and easy to navigate.
Offerings of Auslogics Duplicate File Finder
Features that stand out for Auslogics Duplicate File Finder include the ones given below.
The smart algorithm present in the software works effectively to find out and delete duplicate files from the system. Sometimes finding out these files takes time but then the algorithmic preferences are set accurately to rightfully detect the duplicate files.
Compared to other duplicate file finders, Auslogics software is absolutely free, and using the tool is convenient and safe. The software helps people manage duplicate files for their home needs and also is good for commercial purposes.
Data security is an important aspect of the application. If you want to use Auslogics for removing your duplicate files, you can rest assured that the data is safe with them. They do not sell or leak data for a few fast bucks as seen generally. You can be sure that the data is secure for use with the company.
Customizing data is easy and an amazing process that is easily available with Auslogics. Their software is absolutely customizable and you can scan and choose files you want to delete. Starting from choosing files to removing them customizing is possible in all the steps.
Rescue Centre is another commendable feature of this app which helps restore modifications and deleted files easily. Thus, if any essential file has been deleted accidentally, you can restore it with the help of this feature.
How to use Auslogics Duplicate File Finder?
After knowing its essential features, it is important to know more about their work. The working for Auslogics is being defined here in this segment.
1. Once you download the file, you must complete the installation process. 
2. After the installation is complete, choose the file location you wish to search and scan.
3. The location will show the files, click on the Next tab to start the process. 
4. You can choose from the File Types for which you wish to run the scan. The File Types are: Images, Audio files, Video files, Archives, Applications.               
5. After your selection process is complete, you will need to click on the Search button to start the scanning process.
6. Next, you will be able to see a list of all the duplicate files on your screen and you need to choose the files you want to delete manually or you can select them all to delete them together. 
7. It is simpler than you think and once you have clicked on the Delete button, it takes just a few seconds to empty your chosen file set. Once you have chosen the Delete button, go ahead and check out the space emptied by deleting all the duplicate files.
Tables for specifications:
Before downloading the app, ensure that your system meets the below requisite requirements.
| | |
| --- | --- |
| Parameters | System Requirements |
| Operating System | Windows 10/8.1/7 (32 & 64 Bit) |
| RAM | 32 MB or higher |
| Hard Disk Space | 40 MB |
| File Size | 7.57 MB |
| Latest Version | 9.2.0.1 |
| Pricing | Free |
Benefits & Drawbacks
You can learn about the benefits and drawbacks of the Auslogics Duplicate File Finder below.
| | |
| --- | --- |
| Pros | Cons |
| The app is available free of cost. | Lacks a drag & drop feature. |
| The scanning process is quick. | |
| Possesses a rescue center feature to recover files from deletion. | |
| Let's you select files and folders for scanning. | |
| Features a Preview and View Report feature. | |
Conclusion on Auslogics Duplicate File Finder
After having gone through the details of the tool in this Auslogics Duplicate File Finder review, you can certainly make up your mind to download this tool. This app can be acquired for free and can help your Windows system get rid of unwanted identical files. This can ultimately make your system run faster, smoother and perform better.

FAQs
Is Auslogics Duplicate File Finder safe?
After running multiple tests by experts, the Auslogics Duplicate File Finder is found to be a safe and secure app for download and use on the Windows system.
How much does Auslogics Duplicate File Finder cost?
Auslogics Duplicate File Finder is a completely free tool. It can be downloaded free of cost and also used free of cost.
Also Read