Without any mistrust, we can say, Avast is the leading as well as the most favorable antivirus security application available on the internet. That can provide you perfect security from various problems such as hacking and many more. But due to some difficulties, people are searching for an avast alternative. Numerous alternative of avast is available on the internet, which can facilitate various service to you. So, here are some Best Avast Alternatives that you can use:
Best Avast Alternatives In 2022
1. Kaspersky
Kaspersky is one of the Best Avast Alternatives active as well as cloud-based technology antiviruses that are very popular for protecting your devices from harmful new and unknown threats. Kaspersky is included various solutions such as monitoring activity, web antivirus and the additional security tools. It provides all the essential components to guarantee the basic protection of your device or computer system, necessary data as well as the online internet activities against the latest threats. 
Features of Kaspersky
It facilitates Real-time security against spyware, rootkits, harmful viruses, Trojans, and other threats.

Kaspersky is a very Fast and effective PC performance.

It provides instant Respond to new and emerging threats.

Directly scan applications, files, and websites.

Rollbacks the alterations produced by malware
2. TotalAV Antivirus
TotalAV is the best alternative to avast that is available with full-featured as well as a capabilities antivirus tool. That offers two kinds of service first is free, in which you can get limited functions and another one is paid in which you can get unlimited functions with unique features. The scan outcomes are presented in a compressed and clear format, which makes it simple and straightforward to understand what obstacles are on your computer as well as remove them quickly. One-click-installed, advanced firewall has a file manager, and system loader, and grants protection for your computer Windows, Android devices and IOS. It is effective professional software that is based on the Avira engine. It offers real-time stability as well as protections plus on high demand scans. For system optimization, this combination also allows several tools that help in optimizing downloaded times, removing browser records, repetitions and redundant files, managing startup programs, and many more.
Features of TotalAV
A comprehensive set of protection features

Incorporates a secure and reliable VPN

Automatic and attractive interface

Engaging entry charge
3. Norton Antivirus
Norton is the current famous as well as leading avast alternative antivirus software that has an impeccable reputation with comprehensive solutions like significant data, security to a computer, online activity, tiered protection to block all varieties of threats.
Norton antivirus features:
Norton has the main service that is to preserve all your devices or system such as IOS, macOS, running Windows, and Android mobile platforms.

Preserves spyware, against viruses, malware, as well as many other online attacks.

full Protection privacy policy

Directly Blocks unreliable and risky websites and threats plus limits suspicious download.

Also enables protection throughout file transferring from one to another device. 

if you are having the additional device, its add more protection  

Quickly locates lost or removed smartphones as well as tablets.

It automatically gives the important back up like pictures, movies, and data from your computer system to protected cloud storage.

Gives enough versatility to defend the digital knowledge of the whole family.
4. AVG Antivirus
AVG is an amazing avast alternative antivirus software that is very reliable as well as the fast antivirus for all type of devices such as macOS, Windows and Android. It facilitates all type of protection and secures your online activities through its protection function. It is complete antivirus software with cloud plus active protection of computer, confidential data, and online activity.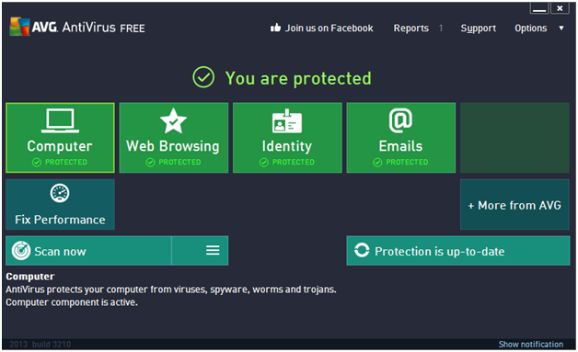 Features of AVG Antivirus
Effective third-party labs experiments

Manageable and automatic interface

Suitable free version with a broad range of functions

Highly-configurable solution
5. Bitdefender Antivirus
Bitdefender is another avast alternative antivirus software which is very effective. It is available in a wide range of antivirus solutions with the firewall as well as advanced identity security. It also combines secure online banking, tiered web protection, parental controls, as well as the Fast Auto-Protect feature.
Features of Bitdefender 
Complex data protection

Active control of threats

Webcam protection

Tiered encryption protection

Powerful phishing protection

Effective fraud protection
6. Avira Antivirus
Avira Antivirus is a famous avast alternative antivirus software, antispyware, and the anti-rootkit solution, with the most efficient real-time protection technology that is Avira security Cloud. Avira gives adequate anti-malware stability but that can be improved by free applications plus aids from Avira. Among these, it's also offers multiple functions like parental controls, Internet protection, and Android security, which enables you to preserve your computer, essential data, portable mobile devices, and children from several kinds of harmful online threats.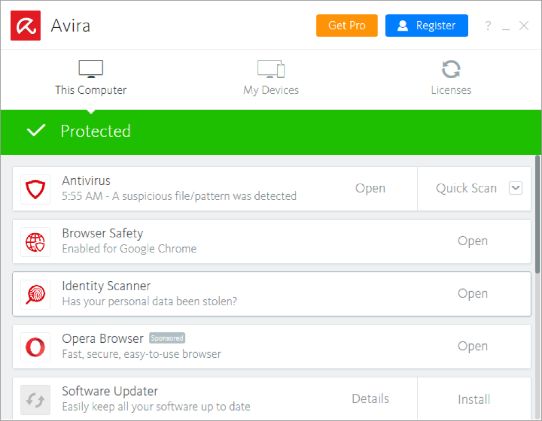 Features of Avira Antivirus
Cloud-based protection technologies

Technologies of artificial intelligence

Protection against encoders

Protection of e-mail

Intellectual system of recovery
7. Windows Defender
Windows Defender invented by Microsoft that has invested a bunch of time as well as effort developing Defender freshly, and the works were maintained: the software delivers high in analysis ratings, exceeding few big brands in the security market.
Features of Windows Defender
Completely free

Decent anti-ransomware protection as well as anti-malware protection

Comes as a part of Windows OS

Easy-to-use as well as understand

Provides various scans types
8. Malwarebytes Anti-Malware
The computer system is beneath the consistent threat of multiple varieties of malware trojans, viruses, PNP, sleeves, that are expanding as well as growing continuously. Accordingly, you necessitate the most productive techniques that can maintain the security of your device and gadgets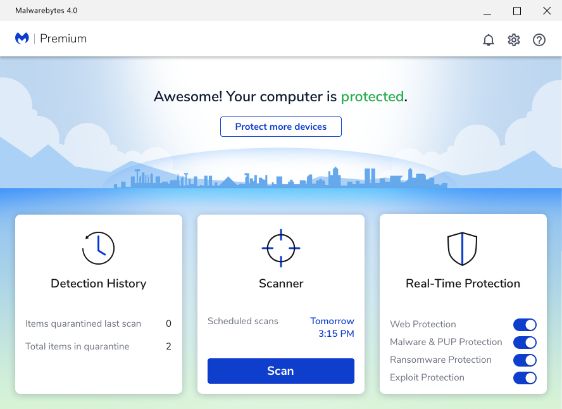 Features of Malwarebytes Anti-malware
Finds and excretes new threats correctly

Easy-to-utilize and understandable

fast functions and active scans

it Doesn't clash with other antivirus software tools

Capability to scan all disks for complete system validation.

Modernize the trademark database regular to defend against the most advanced malware.

Intelligent heuristic exposure of even the most determined threats without significantly moving system sources.

Blacklist of limitations for a scan as well as security modules.
9. ESET NOD32 Antivirus
ESET NOD32 is an amazing Antivirus software solutions that are a genuine alternative of avast antivirus and a modern translation of antivirus with cloud technologies, presenting enhanced safeguard against multiple threats. It has really unique as well as efficacious features such as device control, vulnerability protection, powerful HIPS, and effective phishing. This tool extends the capability to auto scan the computer system throughout it is idle, scan files undeviatingly throughout the download, as well as eliminate installed updates.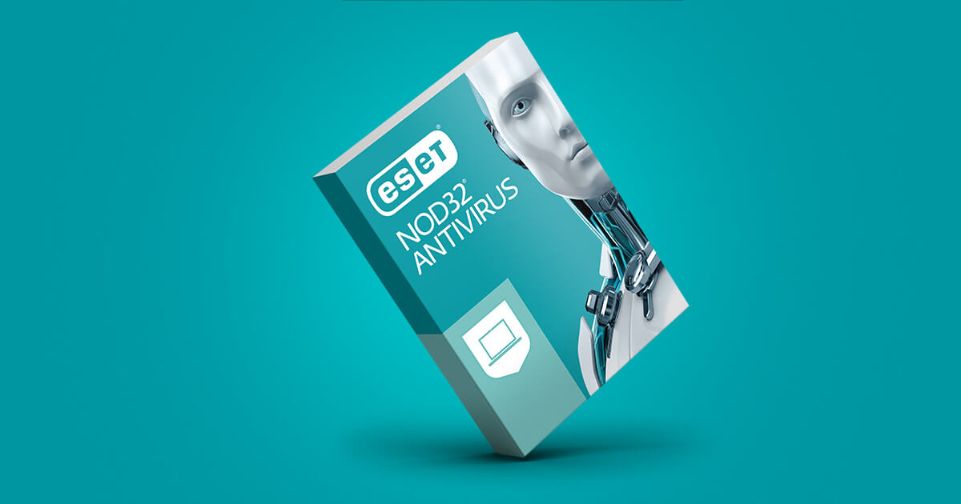 Features of ESET NOD32 Antivirus:
Protection of documents

Control of devices

Real-time file system protection

Game mode

Protection of an email client

Protection against phishing

Pro-active protection of HIPS

Anti-Stealth Protection (rootkit detection)

Internet Access Protection
10. Panda Antivirus
Panda Dome is one of the free service provider Antivirus software that is a cloud-based including active protection technology. It defends your device and gadget with the highest fulfillment. Panda Dome allows anti-phishing, efficient web protection, and preventing malicious downloads.
Features of Panda Antivirus
The most durable solution for identifying new harmful viruses.

 The CISA that is (collective Intelligence system automatically) directly identifies new and harmful threats in a very short time.

It is a User-friendly antivirus solution, absence of constant notifications.

 Antivirus Panda serves without any cost and never bothersome things.

Identifies more threats, unlike other software.

 Panda antivirus software Guard servers utilize information from lakhs of Panda software users across the world to automatically identify and analyses new varieties of malware that arrive every day.
So, these are the most effective and the Best Avast Alternatives that can help you in various ways to protect your device and gadgets from harmful virus and other threats. But, various people are there who usually ask for numerous questions. Following are some question people normally ask for:
FAQs
Q1. What can I use instead of Avast?
You can use various antivirus software that can work similarly as Avast, above mentioned anti-virus software is most effective and reliable to use, in these you can have various function free of cost but for unlimited function, you need to purchase paid package.
Q2. Is Windows Defender better than Avast?
As per current analyses led by AV-Comparatives, Windows Defender identified 99.5% of recognised malware as well as 96.3% of the zero-day malware. Avast Antivirus software identified 100% of both zero-day as well as recognised malware. … Avast had essentially less influence on system performance than did Windows Defender.
Q3. What is the best free antivirus?
AVG Antivirus, Bitdefender Antivirus, Kaspersky, Malwarebytes Anti-Malware, Panda Anti-virus are the best and free antivirus software that can protect your PC very proactively.
Q4. Is Avast enough to protect my PC?
Avast Antivirus is an excellent and the most durable antivirus solution the basic cost that you're spending is "free". Its essential version gives a lot of satisfactory features that are apparently enough to preserve the mediocre home computer user. 
Q5. Does Avast slow down the computer?
After installing anti-virus software like Avast at zero cost it comes with various unknown add-ons that can reduce or slow down your devices and gadget. Free toolbars can steal your private or personal data, hijack the browser, and affect the computer system.
Conclusion
After, getting all the information regarding the alternative of Avast now it will be very easy to choose the best antivirus software for your computer system. More all these software some are facilitating the Free Avast Alternatives, that is very beneficial for you to select one of the best and leading software.
Also Read