Are you looking for Avast Alternatives tool than you are on the right place. Antivirus software protects against these viruses and other cyber-attacks and protects your confidential data from stealing by cybercriminals. In this technological world a number of Antivirus programs are developed and available for the users to secure their PC. One of the best and well known Antivirus software is widely used by millions of users is Avast Antivirus. 
Though Avast Antivirus is the most popular antivirus software and people are looking for alternatives. It offers several features, provides superb protection and is also available in a free version. There are many reasons why users are looking for the replacement of Avast. It uses machine learning virus protection and is also capable of blocking adware, phishing attacks, virus, malware and Ransomware and automatically detects them. 
Here are my top Avast Antivirus Alternative to try this year.
Kaspersky
TotalAV Antivirus
Norton Antivirus
AVG Antivirus
Bitdefender Antivirus
Avira Antivirus
Windows Defender
Malware bytes antivirus
Comodo Antivirus
Panda Antivirus
Some of the reasons behind searching for avast alternatives are people are not getting advanced features with the free version, it consumes a lot of time while scanning for viruses and sometimes it also slows down your PC. If you have landed on the page then surely you are also in search of alternatives to avast antivirus.
10 Best Avast Alternatives for Windows 11, 10, 8 & 7 PC
In this article, we are going to list the 10 best avast alternatives that can provide super protection against viruses and other cyber attacks. 
1. Kaspersky
Kaspersky is a better alternative to Avast which is a cloud-based antivirus technology that is capable of protecting your device against unique and unknown viruses. It offers you the highest protection level which makes it the best antivirus program. 
Kaspersky is available in a free version but its premium version is equipped with advanced features like GPS protection, password protection and allows you to backup files.
Features 
It offers real-time protection against viruses, Trojans, rootkits, internet worms, spyware, etc. 

30-day free trial

Powerful anti-malware protection 

File encryption and backup feature
2. TotalAV Antivirus
TotalAV Antivirus is another Avast alternative on which you can rely for the protection of your PC. It displays the scan results so that you can identify what problems you have in your system. It works on the Avira engine and also offers real-time protection. The antivirus is capable of removing ad cookies and other malicious ads. 
It also has the potential to detect vicious websites and blocks them. Not only that, but it also protects against spying activities. TotalAV Antivirus offers free as well as paid versions. With the free version, you will restrict to some basic features only but with the premium version, you will get features like adblocker, VPN services, etc. 
Features 
Custom scan features

VPN services

Block malicious websites

Offers password manager feature
3. Norton Antivirus
Undoubtedly, Norton Antivirus is another best avast alternative capable of blocking all types of viruses and malware from entering your system. It protects your PC against all types of cyber threats and keeps an eye on your online activity. 
Norton is an easy to use antivirus that offers rigorous security solutions. It uses robust network security technologies like firewall and intrusion prevention, behavioural analysis based technology, etc. Norton Antivirus offers four different types of pricing plans that offer more advanced features that cater for the needs of users.
Features 
Offers a quick scan option

Antivirus scanning 

Cloud backup 

Secure VPN 
4. AVG Antivirus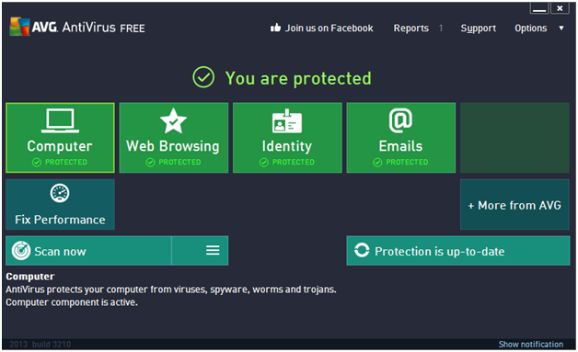 AVG Antivirus is another software like Avast that includes powerful technology that can deeply scans for the malware, viruses and other cyber-attacks that are affecting your PC performance. It is a cloud based antivirus that protects all your confidential data. 
This antivirus is available on Windows, Android and Mac OS. It keeps an eye on your online activities and prevents you from online threats. So, you can browse the internet without any fear of viruses or losing data. Apart from the free version it also offers two paid pricing plans.
Features 
Phone tracker

Real-time Protection

Malware and phishing protection

Quickly scans full system 4 online  threat
5. Bitdefender Antivirus
Bitdefender is the better alternative to Avast and includes several amazing features to protect against viruses and malware. It offers real-time threat detection and malware removal. With its free version, you also get some advanced features like anti-phishing and anti-fraud. 
You will also get an electronic e-wallet feature for better and more secure online banking and transactions. The software prevents you from entering into malicious websites. It is an award-winning and powerful free alternative to avast. It also offers three types of pricing plans with some advanced features. 
Features
Offer Webcam protection

It includes parental control feature 

Offers multilayer Ransomware protection

It includes  anti phishing and anti fraud feature
6. Avira Antivirus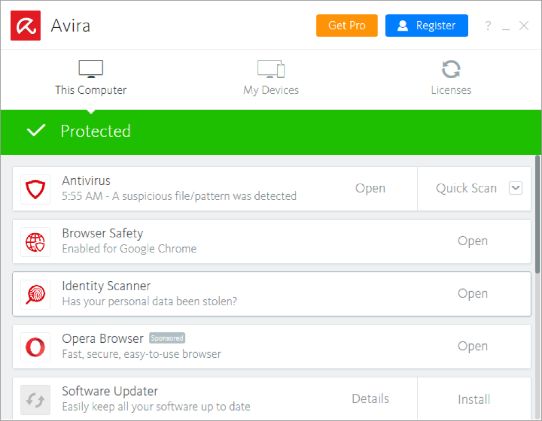 Avira Antivirus is a multi-purpose antivirus that works as an anti-spyware and anti-rootkit. Using cloud real-time security technology helps users to protect against viruses. Apart from this it also offers powerful anti-malware protection. This all in one utility is the best replacement for Avast which enhances the security of your PC. 
You will get all those essential features in Avira which satisfies your need. Some of its incredible features are parental control, protection of email and anti-spy. It offers real-time protection and protects your PC from malicious websites, downloads, spyware, adware, etc.
Features 
30-day money-back guarantee 

Cloud-based protection technologies

Virus scanner and cleaner

Also cleans your device's memory
7. Windows Defender
Lastly, Windows Defender is a reliable alternative to avast antivirus. It includes anti-malware and anti-ransomware protection features. It is free software and is already installed on your Windows PC. This tool is free to use and doesn't require any installation. You will get enough protection against malware, viruses and other cyber attacks that harm your PC. 
It is a lightweight program and that is why it doesn't consume a lot of system resources. Windows Defender is an antivirus tool that works when you start your PC and it scans for viruses and other threats and immediately blocks them. 
Features 
Offers parental control features

Real-time threat detection 

Protect you from entering into malicious sites

Firewall and network protection
8. Malwarebytes Antivirus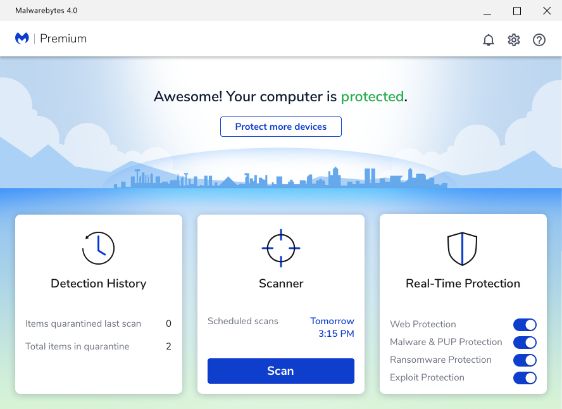 Malware bytes antivirus is another Avast alternative tool that includes heuristic analysis technologies to quickly detect and remove all kinds of viruses. It has the ability to block malware, spyware and advertising software. The best thing about this software is that it uses the latest technologies that can protect your system from the harmful and malicious malware. 
This is the best antivirus for professional users and offers extensive cyber security as an antivirus. The software works on multiple devices like Windows, iOS, Mac, Chromebook and Android. Apart from a free version it also offers paid plans with some unique features for more protection against system viruses.
Features
Supports multiple languages 

Real-time exploit protection 

Password protection

60 days money-back guarantee
9. Comodo Antivirus
Comodo Antivirus is a great software like Avast which is available for free. It uses intelligent protection technology that can recognize suspicious files and helps in destroying them. It is an award-winning antivirus that is capable of scanning viruses and removing them. 
Comodo Antivirus is the best antivirus you can use instead of Avast as it can protect your device against online threats with Firewall, Sandbox, Antivirus, etc. The antivirus gives you surety to protect your precious files. 
Features 
Includes auto-sandbox technology

Bot protection 

Antispyware and anti-rootkit

Memory Firewall
10. Panda Antivirus
Panda Antivirus is another name in the list of best avast alternatives which uses proactive security technologies. It can protect your system in many ways like providing web protection, blocking malicious downloads and anti phishing. It is a free antivirus and uses innovative collective and intelligence technology and proactive technologies to scan for unknown threats. 
Panda Antivirus is a lightweight program and apart from the free version it also offers different pricing plans with some extraordinary security features. 
Features 
Virtual keyboard

Parental control

Web protection

Antitheft tool
Conclusion On Avast Alternatives
Avast is undoubtedly the best antivirus software available in the market but due to some cons, people are looking for its alternatives. Many antivirus are there that offer similar or better features like Avast. Many of them are free to use and with their paid versions they offer extremely incredible features for providing more enhanced cyber security against viruses, adware, malware, Trojans, rootkits and other online threats.
In the above article, we have listed some of the valuable avast alternatives that protect your PC and provide extreme security. 
FAQs
What should I use instead of avast?
Avast is popular antivirus software that can identify and removes all kinds of viruses, malware, rootkits, spyware and other online threats. But due to slow scanning and other reasons people are seeking alternatives. Some of the antivirus which exactly work as Avast offer incredible features are: 
Norton Antivirus 

Comodo Antivirus 

Windows Defender 

Malwarebytes 

Panda Antivirus 
Is Windows defender better than avast?
Though Windows Defender is a great and effective antivirus but not better than Avast. The rate of malware detection is 100% in Avast whereas the Windows Defender scanning rate is 99.5%. Also, Avast offers more advanced features than Windows Defender. 
Why is avast not recommended?
Avast is one of the greatest antivirus to protect your PC against viruses. Its free version also offers more than basic features but users are facing a slow-scanning process and leaks users' data. That is why avast is not recommended due to lack of security measures. 
Is Kaspersky better than avast?
Yes Kaspersky is better than avast in many ways. It's free version offers various advanced features and premium version includes several features which is not available in other antivirus program. It's paid version  cost you less amount. For customer support it not only support phones but also allows you to send email and also offers live chat feature.
Also Read