Shopping for the best computer cleaning and optimization software is a pretty cumbersome task for several individuals out there. Some people are doing it for the very first time, while others invest dozens of hours in researching the product. If you are from the latter audience, we recommend you to go through this detailed review and comparison article.
For this blog post, we're comparing the two best cleanup software options – Avast Cleanup and Iolo System Mechanic. Both programs work brilliantly to enhance the general performance of your device and also protect it from potential vulnerabilities. If you are confused about which one to choose between two, keep reading to find the answer!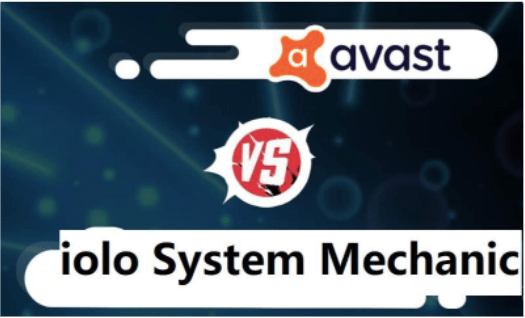 Avast Cleanup VS Iolo System Mechanic – Which Is Better?
Short on time? Take a look at this brief comparison between Avast Cleanup and Iolo System Mechanic, so that you can quickly decide which is the most suitable option for you.
Avast Cleanup

is a popular device optimization software, designed by Avast, the Czech Republic-based software company. The program comes equipped with a generous set of tools to clean junk files, repair registry entries, etc. 

System Mechanic

by Iolo Technologies is an award-winning software, designed for repairing, optimizing, and protecting computers. The application boasts a wide range of tools to maximize system speed & overall performance. 

Ease of Use:

Simple & Straightforward 

Ease of Use:

Intuitive & hassle-free experience 

Trial Version:

Yes, Available

Trial Version:

Yes, Available 

Supported OS:

Windows, Mac & Android 

Supported OS:

Windows 7 and higher

App Size:

50.7 MB 

App Size:

128 MB

Price:

$49.99

Price:

$39.95

Customer Support:

Phone, Email, Knowledge Base, FAQs 

Customer Support:

24/7 live chat and email

Multi-Platform Support:

Yes, Available for Mac, Android, iOS and Linux/Unix 

Multi-Platform Support:

Yes, only for Android 

Best For: 

Tune up & speed up performance. 

Perform regular maintenance.

Control power usage using tools. 

Update your programs automatically. 

Remove bloatware, plugins & junk files.  

Best For: 

Fixing invalid Registry entries. 

Performs hard drive defragmentation. 

Has 50+ performance-enhancing tools. 

Great security & privacy features. 

Optimize the Internet for good speed. 

Weakness: 

Sends too many notifications to users.

Weakness: 

Customer/tech support should be improved. 

Download Now: Avast Cleanup
Download Now: Iolo System Mechanic 
Also Read:
Avast Cleanup VS Iolo System Mechanic | Scanning & Improving Performance 
If we compare both the PC Cleaner and Maintenance Software based on features, both of them have a lot to offer, modules ranging from complete cleanup, boost speed/performance, and fixing common PC errors and issues. First, we're reviewing the Avast Cleanup premium version and listing out the set of functionalities it provides:
Multiple Scanning Modes: Avast Cleanup 
Maintenance Scan 
The scanning type focuses on a variety of tasks that should be executed frequently to maintain the overall health of your system. Using this module, you can find and fix broken registry entries, and shortcuts, clean system junk, caches, cookies, download history, and more. 
Speed Up Scan 
This scanning mode is dedicated to identifying and eliminating unwanted/useless programs, startup items, and background services that may be slowing down your computer. The PC cleaner and optimizer use a blend of their own heuristics and blacklists to know whether the software is required or not. Further, its single scan will help you boost a significant performance boost in one go!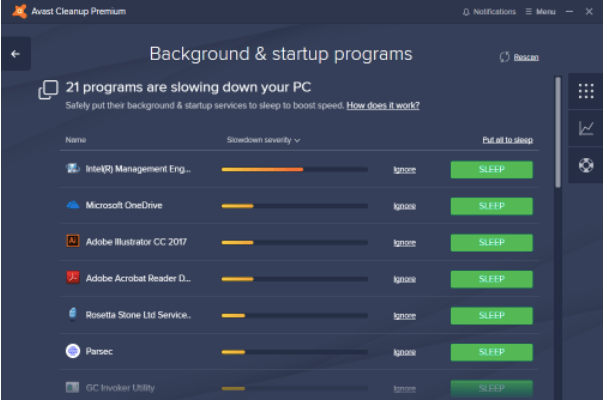 Free Up Space Scan 
As the name entails, the scanning mode is dedicatedly designed for detecting and deleting junk files, useless residues, and other redundant data stored in the form of temp files, program setup files, trash data stored in recycle bins, and other unwanted Windows files. These files are simply responsible for taking up unnecessary storage space on your device. 
Fix Problems Scan 
While we were testing this Best PC Cleaning & Security Software, this scanning mode enticed me the most. The functionality simply detects potential disk errors, driver problems and issues related to your hardware and unusual Windows settings that might be hampering overall speed and performance. 
Multiple Scanning Modes: Iolo System Mechanic 
Unlike Avast Cleanup, System Mechanic by Iolo doesn't offer tons of scanning modes. But it does offer two powerful scanning modes that instantly and comprehensively detect tons of computer issues and more. 
Quick Scan
With this scan mode, one can easily identify and clean useless Internet junk files, Windows junk files, temp files, cookies, caches, and other redundant data that are just taking space and eating a lot of resources without any reason. Using the Quick Scan Mode, you'll be able to free up a significant amount of space in a single scan. 
Deep Scan
Besides comprehensively cleaning your PC and freeing up storage space, Deep Scan Mode gives users the opportunity to fix Registry, Windows security, hard drive defragmentation, broken Internet connection issues, manage startup delays, Wi-fi and bandwidth sharing and so on. 
VERDICT =
When it comes to providing in-depth scans and improving performance, Avast Cleanup will gain extra points in the race of Avast Cleanup VS Iolo System Mechanic. All the scanning modes work flawlessly and consume less time as compared to Iolo for conducting entire system scans. 
Avast Cleanup VS Iolo System Mechanic | Usability 
Besides comprehensive and powerful scans, both the PC Cleaner and Optimizer Software offers a set of functionalities to assist users in maintaining their system stability for a longer time. Starting with Avast Cleanup, here's what all the program has to offer: 
Avast Cleanup: Additional Functionalities 
Rescue Centre 
Here's a list of things you can perform and manage using Avast Cleanup: 
Find and fix broken/invalid registry entries. 

Disable startup items to improve overall boot time. 

Put background services/apps to sleep according to your convenience. 

Uninstall useless and unwanted applications. 

Fix broken shortcuts. 
Additionally, using Avast Cleanup one can easily schedule automatic cleanup and optimization, so that you can take care of your system health regularly. You can even choose what you want to get notifications for and perform PC Maintenance health according to your needs and preferences.  
Avast Cleanup also indicates the amount of space that has been cleaned and regained in a few clicks. All thanks to the powerful and accurate statistics it offers. 
Iolo System Mechanic: Additional Functionalities 
System Mechanic by Iolo is pretty comprehensive as compared to Avast Cleanup as it offers multiple modules to clean, optimize and protect your system in a couple of clicks. The application comprehensively focuses on issues that are responsible for slowing down your machine. 
Clean Module 
With Clean Module, System Mechanic by Iolo can find and clean junk files, private data, unwanted program residues and more.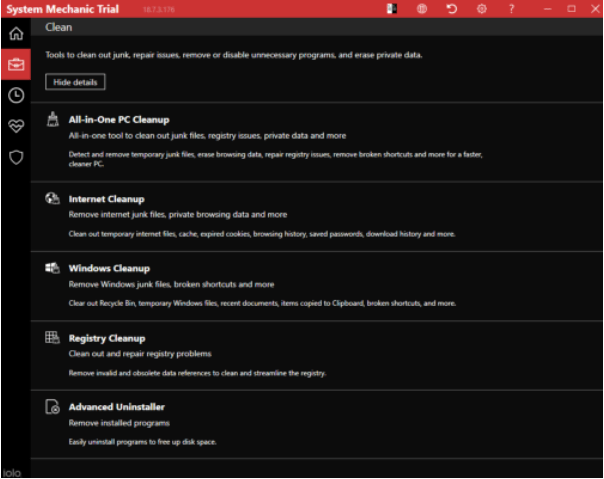 Speed Up Module 
This mode is dedicated to improving overall Internet speed and helping users to enhance their hard drive, and RAM efficiency alongside boosting the boot times. One of the most effective functionalities offered by Iolo System Mechanic is NetBooster, Startup Optimizer and Disk Defragmenter. 
Protect Module 
Using this module, one can easily identify and repair potential Windows security issues, disable Windows features that share your Wi-Fi connections and bandwidth with your contacts. This helps in preventing the collection of information related to your browsing habits, programs usage and more.
Not only this, it even offers the ability to permanently delete files, making data recovery process almost impossible. 
Recover Module 
With this module, you can easily get your machine back to a state where everything was working normally and optimally. The module consists of a System Troubleshooter, System Restore, Reset Computer and other helpful settings to maintain system stability. 
Manage Module 
This module offered by Iolo System Mechanic focuses on tinkering with advanced Windows Settings. This module is specifically designed for pro users who want to adjust hidden settings and customize the Operating System according to their needs and preferences.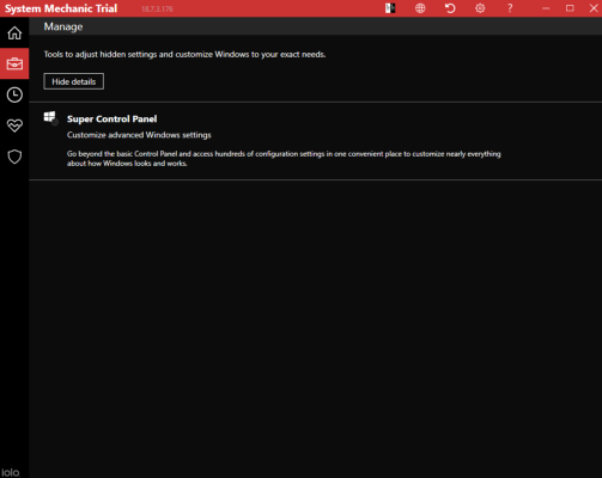 Additionally, it even comes with an ActiveCare module that provides the ability to schedule automatic system scans and repairs even when you're not sitting physically in front of your PC. 
VERDICT
It's pretty clear that between the race of Avast Cleanup VS System Mechanic, Iolo will get an extra edge. And, all credit goes to the set of features offered by System Mechanic to clean, optimize, speed up, protect, and enhance the overall stability of your system. 
Avast Cleanup VS Iolo System Mechanic | Price & Value 
Avast Cleanup is undoubtedly a top-rated system cleaning and optimization utility, but it offers no free version, whereas Iolo System Mechanic has a free version that provides a slick suite of tune-up utilities to dramatically improve PC performance. 
Talking about the price wars between Avast Cleanup VS Iolo System Mechanic, both companies are charging roughly the same amount of money for their offerings. So, here's a tie! 
From its official site, we learned that an Avast Cleanup Premium costs $59.99 per user per year, whereas Iolo System Mechanic is listed at $49.95 per year. 
Frequently Asked Questions: 
Q1. Is Avast Cleanup Pro worth it?
To be honest, paying $60 a year for experienced users, Avast Cleanup Pro is not a worthy choice. The features and functionalities offered by it is quite basic which you can effortlessly enjoy in other competitive options.
Q2. What is better than System Mechanic?
The best alternative to System Mechanic is CCleaner, Glary Utilities, and AVG PC TuneUp. All these packages are offered as free, freemium, and paid versions. Hence, you can make a wise decision before investing in the product. 
Q3. Is System Mechanic antivirus any good?
Yes! Iolo System Mechanic is the ultimate software when it comes to optimizing your system performance while protecting your device from potential virus and malware infections. 
Q4. Is iolo a Chinese company?
No! Iolo is a United States-based company, founded in 1998 with headquarters in Los Angeles. 
Q5. Is there an antivirus better than Avast?
Well, AVG and Norton Utilities are some better antivirus and security software than Avast. As, both of them certainly offer more features in more affordable packages.  
Q6. Is Iolo System Mechanic Free?
Yes! Iolo System Mechanic does offer a free version, equipped with necessary system repair and PC maintenance tools. 
Q7. Does System Mechanic slow down your computer?
Yes! During our tests, we found that initially, it slowed down the performance of my computer a little, as it takes a considerable amount of space on the hard drive.
Also Read