There is a number of driver updater tools available but in this article, we will be going to discuss AVG driver updater. It is a great software that scans all the outdated and missing drivers of your system and installs the latest version on your PC so that all the glitches and errors can be resolved 
Here, we are with an AVG Driver Updater review which covers all its information, features, pros, and cons. You may also have a question is AVG driver updater safe then you will also get the answer to this question in the further article.
Drivers are a very essential element of a computer as it helps in establishing the connection between the hardware and software for the proper functioning of your PC. If you start facing problems like system freezing, crashing, suddenly stopping the app, poor gaming performance, problems in connecting to the internet, Wi-Fi, and so on then the time has come to update your system drivers.
Note: This review is of AVG Driver Updater latest version supports a 15-day full-access free trial, which was released recently. Please let us know if there's any new version.
AVG Driver Updater Review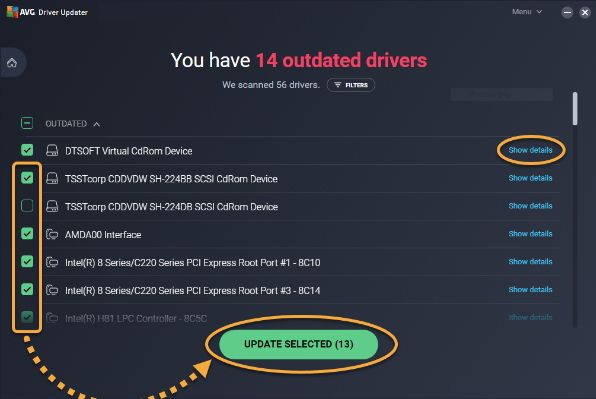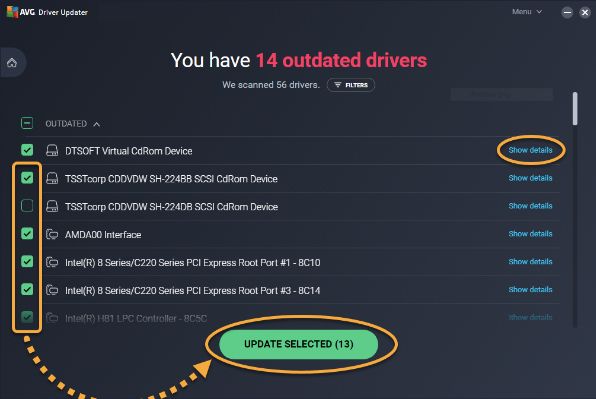 AVG Driver Updater is one of the powerful tools which helps you keep your system drivers up to date. It scans the drivers in real time and provides you with the most accurate drivers from a trusted source. 
This driver updater tool is introduced by AVG Technologies, a well-known company that is famous for providing antivirus software. Now, its driver updater is also doing well and helps the users to update their device drivers and enhances the system performance.  
Features 
AVG driver updater offers various features one of its major functions is to scan the outdated and missing drivers automatically in real time and then update them to the latest version. There are many other features which are offered by AVG driver updater. So, let's discuss all its features one by one.  
Reduces computer freezes and crashes  
When your system drivers are outdated your PC faces errors like freezing and crashing. This software helps you scan the problematic and outdated drivers and if any update is available it automatically installs the latest driver which helps you get rid of computer freezes, crashes, and other bugs.  
Boosts your system performance  
When you have outdated drivers your PC starts working slower and doesn't function properly. If you use  AVG driver updater it will scan for outdated drivers and boosts the overall system performance.  
AVG driver updater offers real-time scanning features which let you perform other functions on the computer and scan and update outdated drivers.  
It offers driver backup and restores feature  
Driver backup is an essential feature that allows you to take a backup of old drivers before updating them. Sometimes, many drivers start malfunctioning after updating. So, to avoid these errors you can restore the old drivers.  
Contains a large driver database  
AVG Driver updater contains a huge database of over 8 million drivers. This is one stop solution where you find the latest drivers for all your outdated drivers. It is safe to use and installs authentic drivers from  1300+ leading brands.  
It is compatible with only Windows PC and doesn't support Mac or other devices. If you own Windows 11, 10, 8.1, 8, and 7 then you can use it. 
This feature lets you schedule the scanning period so that your PC automatically scans for outdated and missing drivers according to the schedule. This feature saves you time as well as energy. So, whenever any latest update is available, it will notify you.  
It provides customer support via email, phone, and live chat. If you want an immediate answer to your query then you can directly call on the customer care number or do a live chat. Otherwise, you can send them an email asking about your query. The software also provides you with several guides and tutorials on its website in case you experience any problems.  
Specifications  
Compatible On

Windows 11, 10, 8.1, 8, and  7 (both 32

and 64-bit)

Processor 

Intel Pentium 4 / AMD

Athlon 64 or  above 

RAM  Required 

1 GB or

above 

Internet connection required 

Yes 

Screen Resolution 

1024×768

Free Version

Available but for 30 days 
AVG Driver Updater Pros & Cons
So, let's have a look at its pros and cons.
| | |
| --- | --- |
| Pros  | Cons |
| Supports multiple languages   | Consumes a lot of system resources |
| It offers real-time scanning   | Comparatively expensive than other driver updaters |
| Improves PC performance and speed   | |
| Offers schedule scanning feature   | |
| Update drivers in one click   | |
| Customer Support via email, phone, and chat  | |
How To Use AVG Driver Updater
1. Firstly go to its official website and download the installation file.
2. After installing it on your PC & launch it.
3. Start the scanning process by click on start scan which is given in green color.
4. Within a few seconds, it will display the list of outdated drivers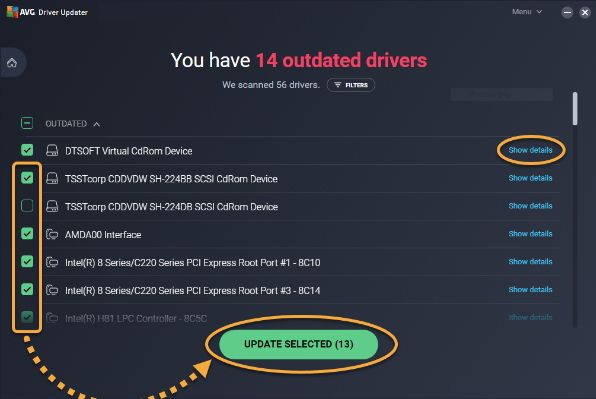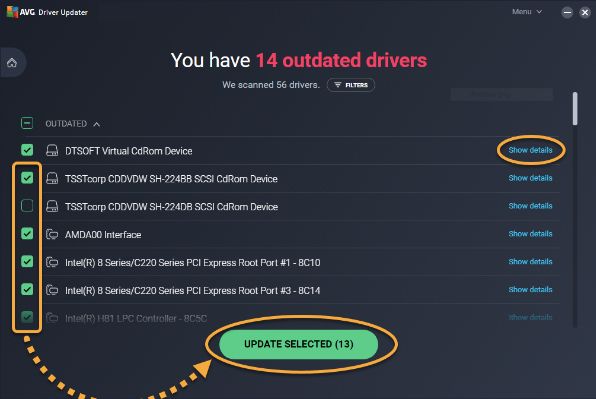 5. Click on Update All drivers.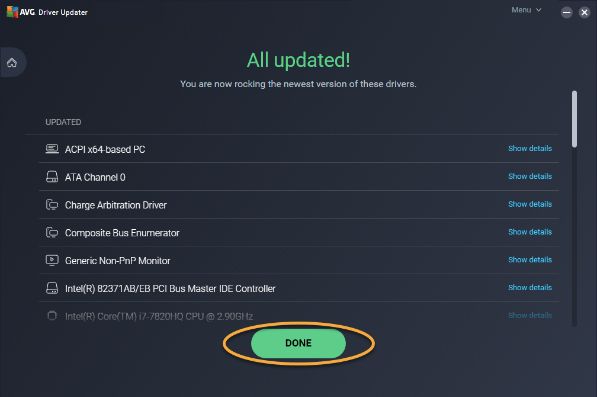 Pricing 
Talking about its pricing plans, it costs you $40 per year which is quite expensive than other driver updaters. This tool also offers a free version but only for 30 days. So, I suggest you use the free version and check all its features. If you feel that the software satisfies your need then purchase it.  
Conclusion  
Device drivers are crucial and one of the most important elements in making your PC run smoothly. If your drivers are outdated your PC may face various issues which is why it is necessary to use driver updater software. In this AVG Driver Updater review, we have listed the details and other aspects related to the software.
We have tried our best to clear all your doubts related to the software. It is quite more expensive than its competitors but offers various features. You can make a comparison between AVG driver updater and other driver updater tools and then choose the best one for your PC.
FAQs 
Is AVG driver updater free? 
AVG driver updater is free but only for 30 days with limited functionality. You can download a free trial  and use its functions and if you satisfy with the features then you can purchase its premium version.  
Which driver updater is best? 
AVG is a reliable driver updater software that you can use and it proves to be the best for offering great features and customer support. It provides guides and tutorials on its website so that beginners can also learn how to use it. 
Does Windows 10 have a driver updater? 
Windows PC has a driver updater tool which is Device Manager. Device Manager is a built-in tool in  Windows 10 PC that you can use to update the drivers. But for this, you need to know the computer skills and various other details related to your device and drivers to install the correct drivers.  
Is AVG driver updater worth it? 
Yes, AVG driver updater is worth it as it offers real-time scanning of outdated and missing drivers. It boosts the overall performance of your PC. It also helps in removing all other issues faced by your PC.  Also, it is a trusted company so you can use it without any fear of installing the wrong drivers.
Also Read