Are you looking for a detailed AVG TuneUp review then you landed on the right page. So, fixing PC problems individually is certainly, more difficult and time-consuming. Hence third-party tools like AVG TuneUp offers a more wholesome solution.
Over time, Windows PCs accumulate junk files, broken registry entries, fragmented hard disks, and much more. This results in the machines becoming sluggish in performance. Along with this, it also causes the systems to throw unexpected errors. We all could agree on one fact we would always love our devices to deliver the same performance just like they were able to when they were new.
So, the only way this would be possible is via a program that can fix the mentioned issues in the PC.
What is AVG TuneUp
AVG TuneUp is an excellent PC repair tool that can offer a host of tune-up tools that would put an end to your PC issues. Though Windows 10 does offer in-built tools to clean the temp files and defrag the hard drives its drawback lies in the fact that it doesn't come with a single tune-up utility tool.
So, without further ado, let's take a look at the AVG TuneUp review to know it better.
AVG TuneUp Review
AVG TuneUp for PC is an all-rounder that can make your PC like a new machine by fixing all optimization-related issues. Packed with powerful and numerous features, this PC optimization app has a clean and attractive user interface.
It offers a free 7-day trial period for new users.
As per the results of the various tests conducted on this tool, it has demonstrated the ability to delete junk files and unused programs enhanced the performance of PCs by 30% and increased the startup speed by 79%.
The tool is available for Mac and Android devices in the pro version. 
Download Link: https://www.avg.com/en/signal/pc-cleaner-tool
Tables for Specifications
Want to know what are the basic requirements for installing this tool? Here is a quick peek at the system requirements for AVG TuneUp to work adequately on your PC.
Parameter
Minimum System Requirement
Developer

AVG Technologies

Latest Version

AVG PC TuneUp 21.3.3053

Operating System

Windows 11 (except Mixed Reality and IoT Edition) – 32 or 64 – bit, 

Windows 10 (except Mobile and IoT Edition) – 32 or 64 – bit, 

Windows 8/8.1 (except RT and Starter Edition) – 32 or 64 – bit,

Windows 7 SP1 or later – 32 or 64 – bit

Windows XP

MacOS 10.11 and above

Android 5.0 (Lollipop) and above

Processor

Intel Pentium 4 / AMD Athlon 64 processor

RAM

1 GB

Hard Disk Space

1 GB free space

Screen Resolution

Standard resolution with 1024 x 768 pixels

File Size

45.0 MB

Internet Access

Yes

Language Support

English, Chinese, Japanese, Korean, Indonesian, Malay, Czech, Danish, Dutch, French, German, Italian, Spanish, Polish, Hungarian, Russian, Portuguese, Serbian, and Slovak.
Features of AVG TuneUp
So, now let's take an exhaustive look at the features of AVG TuneUp below.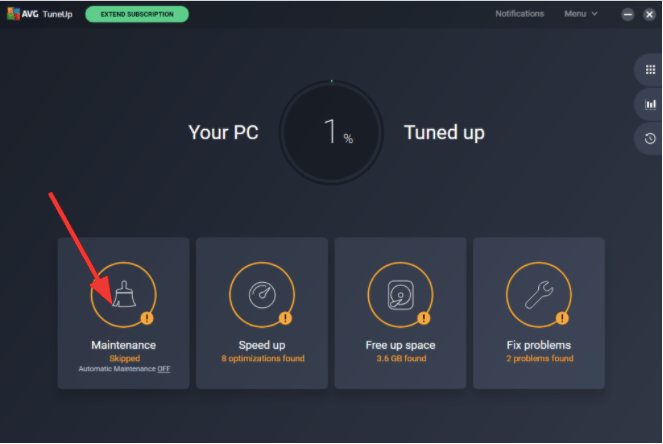 1. Cross-platform compatibility
AVG TuneUp is compatible with Windows, Android, and Mac operating systems. Thus, one optimizing tool can be used across all your devices if you purchase an annual subscription for 10 devices after the trial period gets over.
2. Automatic Maintenance
This section is responsible for scanning and removing broken registry items, broken shortcuts, system junk, trackers, and browser download history. It automatically maintains your PC. It can work with more than 20 browsers.
3. PC Optimization
This tool achieves PC optimization with the help of Sleep Mode. This way it can tune-up your PC's performance. Users can use the Sleeping tools anytime. The only difference is when not in use then the tool keeps them in an inactive state.
4. Deletion of system junk
It deletes unused files and programs. It can also remove bloatware and deep clean the hard drive. For uninstalling unused software, the tool leverages a cloud-based rating system that is composed of blacklists, white lists, heuristic algorithms, and user ratings. Thus, it can significantly free up storage space.
5. Extended functionality
AVG TuneUp can offer more than optimization and cleaning features. The additional tools that AVG TuneUp offers are the driver updater tool and the disk defragmenter tool. 
The Disk Doctor feature looks for corruptions in the internal drive and attempts to fix them. The defragmenter feature defrags hard disk drives (HDDs) or solid-state drives (SSDs) and optimizes them to increase storage efficiency and overall performance. The driver updater feature identifies outdated and missing device drivers and updates them automatically to prevent system crashes and security loopholes. 
Thus, if you install AVG TuneUp on your PC, then you don't need to download disk defrag software and a driver updater tool separately as everything can be taken care of by this tool alone.
7. Statistics & History
You can look at the statistical report and also the tool's operational history from the menu options located towards the right side of the dashboard. To view the statistics of a specific period, you can filter the time period accordingly to get the relevant records.
Pricing Structure
AVG TuneUp offers a free 7-day trial period to its customers during which users can try all the features of the tool. In the below table, we have provided a detailed look at the pricing structure of AVG PC TuneUp at the time of writing this article.
| | | | | |
| --- | --- | --- | --- | --- |
| Price | No. of Devices Supported | Platforms | Duration | All features |
| $29.99 | One | Windows | 1 year | Yes |
| $34.99 | Ten | Windows, Mac, Android | 1 year | Yes |
Merits & Demerits of AVG TuneUp
Let's now shift our attention to the upsides and downsides of AVG TuneUp.
Pros
Cons

Easy-to-use features

A bit expensive

Wide range of tools is offered to fix PC issues altogether.

Availability of additional tools.

Free license available for Mac and Android cleaning tools.

Automated maintenance solution for Windows PC.

Offers remote device management options.

7 Days Free Trial 
How to use AVG TuneUp
When you download this optimization tool for the first time, it will launch automatically after the installation is complete. Installation happens automatically once you hit the download button on the official download site.
Once you launch the app, it will automatically analyze the system and display the issues detected in the PC.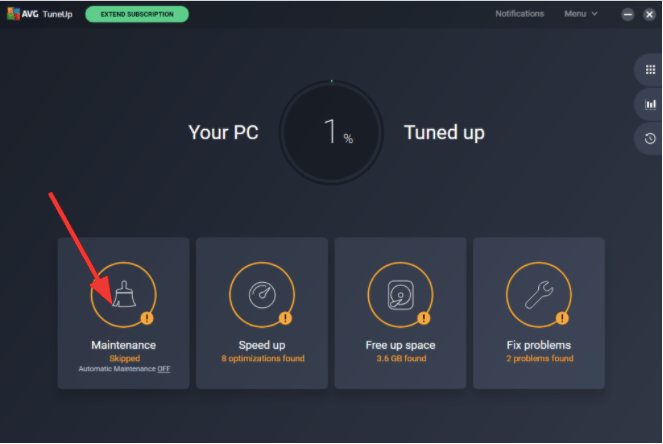 You can click on the segment labeled Maintenance.

Upon clicking Maintenance, the tool will again run its analysis and display issues on the dashboard.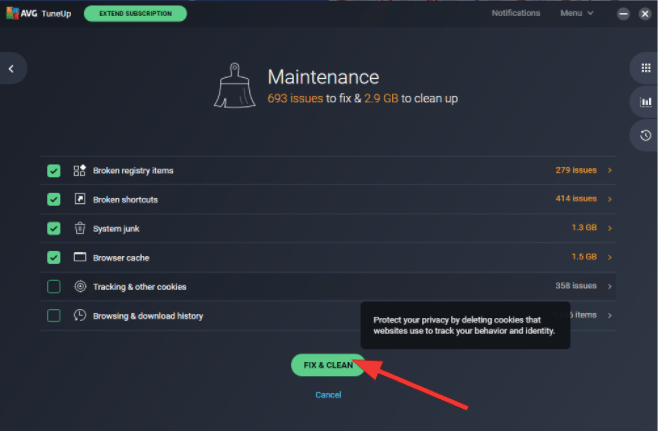 The auto-selected options can be fixed without worrying about the loss of crucial data. "Tracking & other cookies" and "Browsing & download history" won't be checked automatically; however; if you wish to clean them then you can tick the boxes.

Further, click the "Fix & Clean" button on the AVG TuneUp dashboard.

You will receive a prompt that will ask you to close the browsers for cleaning browser cache.

You can either permit it or skip clearing the browser cache.

Now you will also receive another prompt asking you to turn on Automatic Maintenance. To do so, click the "Turn On" button.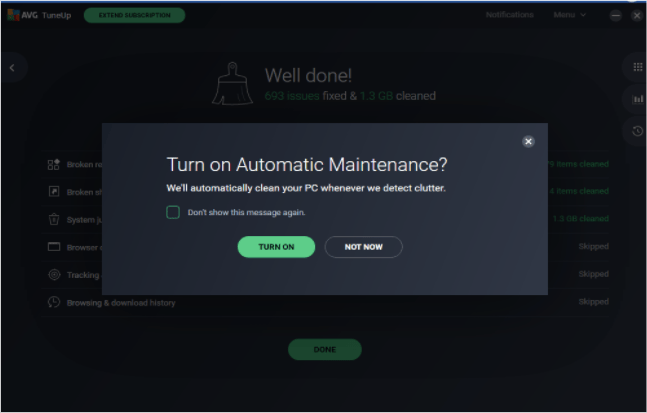 Finally, when cleaning is complete, you can click on the Done button and experience your machine like never before.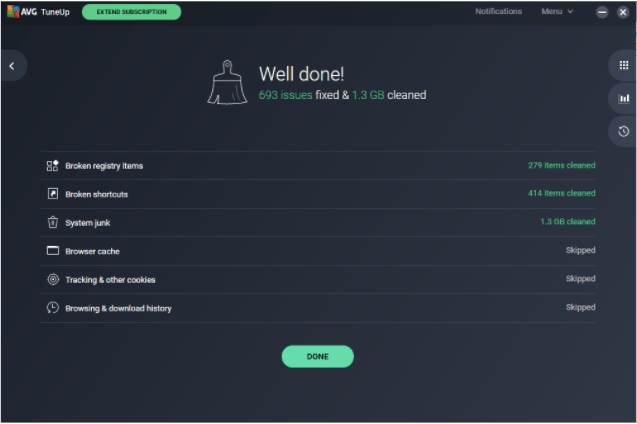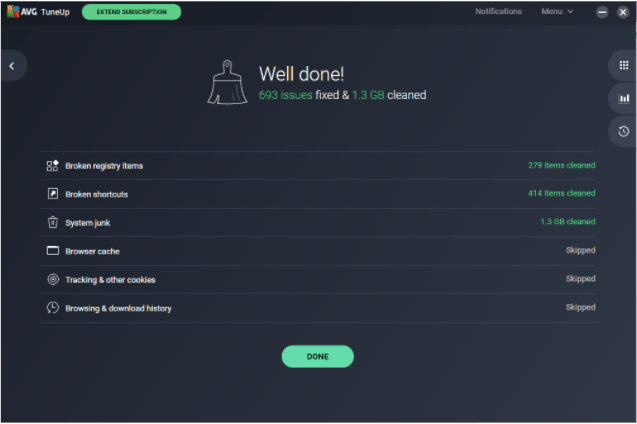 Final Verdict On AVG TuneUp Review
Finding a toolbox to tune up your devices can be a tough task. But leaving our devices unattended can be equally challenging. This would ring true, especially with Windows PC users. 
In the above review, we learned that AVG TuneUp is a one-stop utility tool for Windows, Mac, and Android devices. It can clean your computer and smartphone, optimize your devices, and maintain it over time with the help of just a few clicks. To give a better-deciding opportunity to its users, it offers a free trial period of seven days. 
Frequently Asked Questions
Is AVG PC TuneUp any good?
Yes, AVG TuneUp is an excellent digital toolbox that can clean junk files, cache, free disk space, and do a lot more at a fairly reasonable price.
Is AVG PC TuneUp really free?
The AVG PC TuneUp offers a free trial period of seven days but beyond that period, you have to purchase a subscription plan as per your needs. To know more about the pricing structure, you can refer to the review article above.
Is AVG TuneUp an antivirus?
Well, no, AVG TuneUp is not an antivirus but rather a PC cleanup and optimizer tool. AVG already offers a separate antivirus software.
What is the best PC speed-up software?
There are plenty of tools in the category of PC tune-up tools like AVG TuneUp, Advanced SystemCare, Ashampoo WinOptimizer, iolo System Mechanic, etc.
Also Read