Undoubtedly Airpods is one of the best and most widely used wireless earphones available in the market. It offers you high-quality sound with a lot of other functionalities. If you are an iOS user then you can take the advantage of it but what if you are an Android user? You can connect the AirPods to Android phones but how will you get a similar experience on iPhone? 
Now, with the help of Airpod apps, you can get the experience of an iPhone if you are an Android user.  We are here with an article where we will going to list the best AirPods apps for Android to get an iPhone-like experience.
10 Best Airpod Apps for Android
In this blog, we have tested several android apps and listed down the best Airpod apps for Android phones.
1. Assistant Trigger
Assistant Trigger is one of the best Airpod apps for Android which are easy to use and works with  AirPods gen 1, 2, 3, Airpods Max, Powerbeats Pro, and Airpods Pro. It enables you to trigger the Google Assistant on Android phones using a double tap.
It is available in both free as well as the paid version but you will get more features with the paid version. This app also offers you a dark mode so if you like a dark theme you can switch to dark mode.  
Features  
It displays the battery level in the notification bar 

Announces incoming caller id when AirPods are connected 
2. AirBattery
Air Battery is another amazing Airpod Android app that enables you to check the current battery charge of your  AirPods. It is compatible with Airpods 1, 2, pro, Studio3, Powerbeats3, BeatsX, Solo3, and Powerbeats
pro.
It also supports Apple W1 and H1 chips. However, the app doesn't support Chinese brands like  Oppo, Vivo, and others. You will get a small popup to show the current battery status of your Airpod.  
Features  
It displays only the nearest Airpods  

Automatically open when AirPods are connected to the phone  

It works well with YouTube, Netflix, Apple Music, Google Play Music, and many others 
3. AirBuds Popup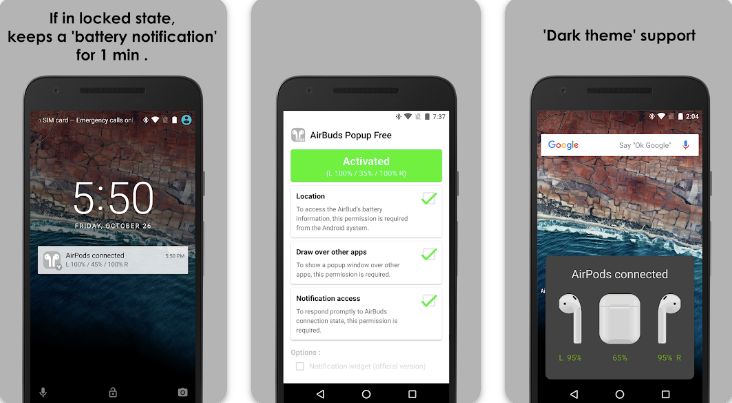 AirBuds Popup is one of the simpler and faster Airpod Android apps. This application helps you know the battery information. If you are a dark theme lover you can choose an animation popup or a dark popup. It can call out the name of incoming callers to AirPods.
If you wish to change the Airpod name you can do so by going to the BT system settings. It is available in both free as well as paid versions. You can opt for the paid version to get extra benefits.
Features  
Helps you hear who is speaking nearby or in another place  

Displays a battery popup when airpod is connected  

Check battery information through the notification widget  
4. Wunderfind
Wunderfind is another dedicated Airpods Apps for Android that helps you to find your lost AirPods. Apart from  Airpods, it also helps in finding iPhones, iPad, Apple watches, or lost phones. The app starts working when you plugged Airpods into your phone.
The app is capable of detecting all adjacent Bluetooth devices. It allows you to find your device with the help of a distance score in which you need to select one specific device and see the calculated distance score.  
Features  
The device radar shows you all the devices near you 

Allows you to connect multiple devices at one time  

It supports fitness trackers, portable speakers, and Apple devices  
5. Podroid
The next name in the list is Podroid which you can use as an Airpod Android app to get an iPhone-like experience. The thing you need to do is set the proper settings. It provides you with white, black, and pink themes to customize the listening experience.
It supports tapping functions to stop and pause playback. You can check the real-time battery information from the notification panel.
Features 
It supports finding and generating sound when you lost your device 

It has a straightforward interface 

This app supports double-triple tap 
6. Equalizer
Equaliser comes the first position when we talk about the best AirPods apps for Android. It offers a luxurious experience when listening to music. It allows users to enjoy premium volume quality without any trouble.
You will get all the tools and features which are needed to boost the overall sound quality with just simple clicks. You can choose from nine different presets including folk, normal, rock, and many more.
Features  
It supports online music streaming apps like Pandora, Spotify, and many others

•

It can improve the home screen widget 

It helps us to adjust sound effects levels 
Conclusion
When it comes to choosing the best Airpod app for Android to get an experience like iPhone, we gave only a handful of options available. In this article, we have listed the most popular and feature-rich apps which you can use on your Android phone and get wonderful audio quality. I hope the article would help you choose the most suitable Airpod Android app.
Also Read