When we daily use a smartphone then sometimes it starts working slowly or hangs too much while using applications. Therefore you need the best Android Cleaner apps to clean junk files, cache files, temporary files, etc.
Every Android user has to face this problem after a certain period due to the accumulation of several junk files, cache files, temporary files, and many other unnecessary files and folders. It hogs device storage space unwantedly and also affects the battery life of the device. So, to improve device performance, enhance battery life and free up storage space you need to use Android cleaner. 
The Android optimizer apps enhance the overall performance of your devices by deeply optimizing them. It is quite important to remove all the junk files and unnecessary data from your device.
10 Best Android Cleaner & Optimizer Apps
So, let's not wait further and start with the article to know more about the best Android cleaner apps.
1. CCleaner
CCleaner is quite popular and one of the best Android cleaner apps available for Android phones and other devices. It can scan your device completely for junk, cache, duplicate, and other unwanted files which are there in your device doing nothing, just consuming precious disk space.
This application majorly focuses on the security and privacy of your device which is why it offers standard privacy protection. It analyzes the battery performance of your smartphone. It is loaded with various amazing features which you can also customize as per your need.
2. Norton Clean, Junk Removal
Norton Cleaner is a useful utility for boosting the performance of your Android device. It removes all the junk and bloatware of your device so that you can run your smartphone without any freezes and crashes. This app can also detect the APKs and residual files and remove them. 
It can also clear the cache and even identify the most rarely used applications and delete them. 
3. Avast Cleanup – Phone Cleaner
Avast is not a new name when it comes to the android cleaner app. It is a well-known application that can help you to get rid of unwanted applications that are hogging the storage space unwantedly. It can accumulate old, similar, and duplicate photos and other files and remove them to free up a large amount of space. 
One of its special features is it automatically shuts the Bluetooth, Wi-Fi, and mobile data when power is low. 
4. AVG Cleaner – Storage Cleaner
AVG is an amazing Android booster app that can boost its speed and performance so that it can run faster than ever. Apart from removing junk files it also fixes other issues, bugs, crashes, and maintains the life of your device.
It has a disk cleaner that you can use to deeply scan the phone's memory. Apart from disk cleaner, it has various functions available like browser cleaner which helps you to surf the internet faster. 
5. TotalAV Antivirus & VPN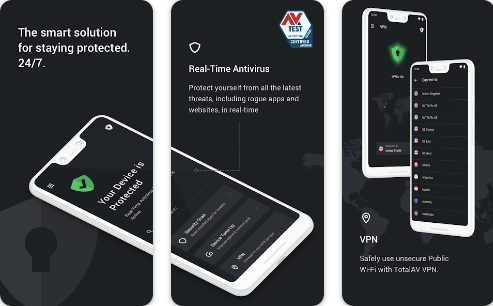 Another reliable name in the list of best Android cleaner apps is TotalAV which is known for offering great features. It is very good for optimizing your device and can boost the performance of your phone to an extreme level.
Using this app you can perform several actions like blocking annoying ads, disabling unwanted notifications, and removing web browser tracking cookies. Moreover, it also allows you to monitor the real-time performance of your phone. 
6. Nox Cleaner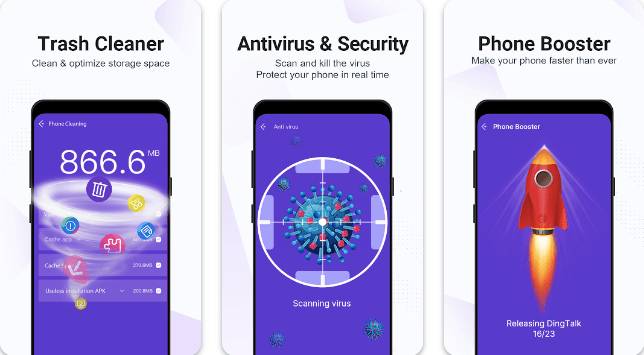 Nox Cleaner is one of the effective android cleaners and optimizer apps. Apart from detecting and removing cache, junk, and other unnecessary files and folders, it optimizes your device to enhance its performance and battery life. The application is loaded with an inbuilt virus scanner which helps in keeping the viruses away from your device. 
It can automatically detect and shut down those apps which drain the battery of your phone. Basically, the major focus of the application is to offer a smooth gaming experience on mobile. 
7. Powerful Cleaner
Another name in the list of best Android cleaner apps is Powerful cleaner. It cleans all the unnecessary apps, files, and folders to free up RAM. This application helps you to offer a smooth working experience on Android devices and improves battery life. It stops all the background running apps which consumes a lot of space and also affects battery life.
It consists of all the features which are responsible for extending your phone's battery life and enhancing the speed of your device. This app helps in managing your storage space properly and cleaning junk and useless large files which are consuming space unwantedly. 
8. One Booster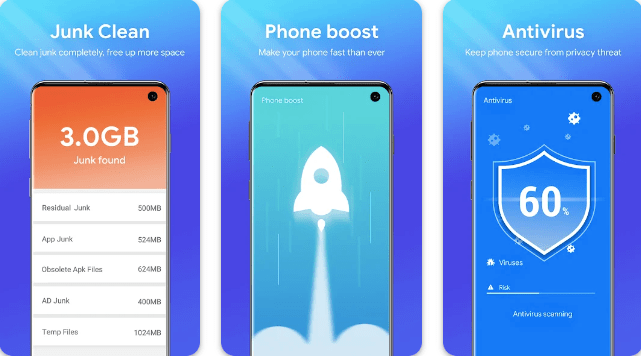 One Booster is a great app for Android phones which helps in getting rid of duplicates, junk, and other unwanted files from your device. It is an effective phone optimizer that can easily detect all those apps that are affecting your battery life.
Moreover, it helps you to get rid of malware, trojans, spyware, and other cyber attacks. Using one booster you can clean and optimize your phone by removing cache, junk, and residual files. 
9. SD Maid 
SD Maid is one of the effective tools but is quite unpopular among users. It can deeply scan for junk, cache, and duplicate files on Android. If you are using a pro version of the app then you can enjoy other features like a scheduler which lets you schedule the cleaning process.
It also helps you to manage system applications. It can detect and clean all duplicate files including images, music, videos, and other documents.
10. Files By Google
Lastly, we have mentioned Files by Google in the list of best android cleaner apps because it is a reliable application that helps in searching for waste files and removes them to free up disk space. It helps your device to run faster by managing all the unnecessary files.
It allows you to back up files to the cloud. This app also enables you to optimize your smartphone and regularly deletes junk and temporary files. It also lets you know how much disk space is left on your mobile phone and SD card.
FAQs
Which Android cleaner is best?
CCleaner is the best Android cleaner app that optimizes your device wholly and deeply scans your device for junk and other unwanted files. The app can enhance the overall performance of your device by freeing up storage space. 
Do Android cleaner actually work?
Yes, Android cleaner actually works and can fully optimize your device. It deeply scans your device for waste files and regains precious storage space. It helps in boosting device performance and boosts battery life. 
How do I clean my Android phone perfectly?
Using Avast cleaner you can clean your phone perfectly. It consists of all the major features which are useful in detecting and removing bloatware, junk files, duplicate ones, and other unnecessary apps and files which are consuming disk space and making your device run slower. 
How do I completely optimize my Android phone?
If you want to completely optimize your Android phone then install any of the apps given in the above article.
After installing, launch it and the app will locate all the junk, cache, duplicate, residual, and all other unneeded apps and files which are affecting your phone's battery and performance. It will optimize your device and improve its performance as well as battery life. 
Conclusion
So, above mentioned are the top-most Android cleaner apps for your phone. All these apps will remove all the junk files and other unnecessary files and folders to free up a huge amount of disk space.
Moreover, the apps help to enhance the life of your Android phone. So, read the article to know about each Android cleaner and choose wisely the best one which satisfies your needs.
Also Read