Uninstalling Android apps can be beneficial for several reasons. First, it can help free up storage space on your device, which is useful if you want to install more apps and store extra photos, videos, and other files. Second, there are some stubborn apps that unnecessarily eat your phone resources, even when not in use, leading to slower device performance. Hence, uninstalling such apps can improve your device's speed.
Third, pre-installed apps or bloatware cannot be easily deleted, but it can be flawlessly removed with third-party free app uninstallers for Android. Fourth, you may download apps that turn out to be malicious, which can pose a serious security threat.
Therefore, an immediate uninstallation can protect your smartphone from further harm. Lastly, uninstalling apps you don't use or need can help you declutter your device and organize your apps better.
Now, the question arises why anyone would prefer using third-party Android App Uninstallers over the native uninstall feature on Android.
Why You Should Consider Third-Party App Uninstallers For Android?
Some of the most crucial reasons for using a third-party tool to remove pre-installed and other Android apps are listed below: 
Complete Removal =

Android app uninstallers can help remove all remnants of an app, including cache files and app data, which the native uninstall feature may not remove. 
Batch Uninstall:

Third-party uninstallers for Android can help you uninstall multiple apps at once, which can save time and effort compared to the native uninstall feature. 
Delete Stubborn Apps:

Some pre-installed apps on Android cannot be uninstalled through the native uninstall feature. That's where dedicated uninstaller apps come into play.
Additional Perks:

Third-party uninstallers often come with extra features such as app backup, app management, and app sharing, which don't come with the native feature.
Now that you've understood the importance of Android uninstallation apps, let's check out some of the popular solutions. 
Top 7 App Uninstallers for Android
Make space, streamline your storage space & boost performance with these Android uninstallers: 
1. Uninstaller by Splend Apps
Owned by: Splend Apps
App Rating:

4.3 

Total Downloads:

1M+ 

Size:

7 MB 
Uninstaller by Splend Apps allows users to manage their installed applications and save memory on their smartphones and tablet. The app supports deleting multiple apps in one go and lets you review all the details like app name, version, installation time & size from one place.
It even supports sorting apps by name, size and installation date. The only downside with the uninstaller is, you can not remove system apps or bloatware with it.
2. Revo Uninstaller Mobile
Owned by: VS Revo Group Ltd.
App Rating:

3.9 

Total Downloads:

500K 

Size:

17 MB 
Revo Uninstaller Mobile is another prominent free app uninstaller for Android that you can try using in 2023. The useful app lets you delete pre-installed and third-party apps with their leftover and hidden files.
Besides complete app removal, Revo Uninstaller lets you create a backup of all the installed/system apps, check app information, and what permissions have been granted. The Android app uninstaller supports more than 30 different languages. 
3. Uninstaller by Rhythm Software
Owned by: Rhythm Software
App Rating:

3.9 

Total Downloads:

10M+ 

Size:

6 MB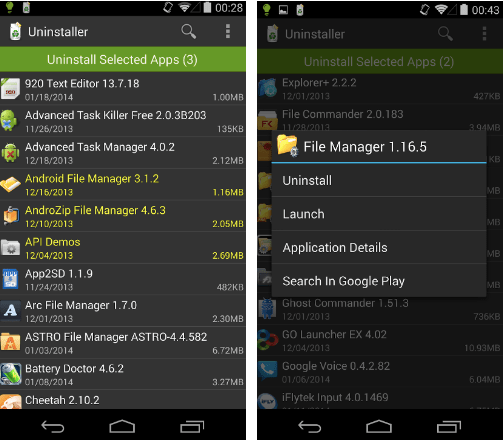 Uninstaller by Rhythm Software is considered one of the fastest yet simplest uninstall tools available for Android smartphones & tablets. The application supports single and batch uninstallation with a single tap.
It even shows all the necessary information related to apps, that includes the name, version, installation time, and size. The uninstaller also supports various sort modes to easily uninstall and manage third-party applications. 
4. Easy Uninstaller App Uninstall
Owned by: INFOLIFE LLC
App Rating:

3.8 

Total Downloads:

10M+ 

Size:

7 MB 
Here comes another fast and handy app uninstaller that allows you to remove stubborn applications in a few taps. Besides deleting apps safely alongside their belonging files, it supports battery tracking, app usage tracking, batch uninstallation, and more.
Additionally, users can share apps by clicking "Share", and they can even search the app in the Google Market by clicking "Search in Google Market".
5. Multi App Uninstaller – Uninst
Owned by: Spencer Studios
App Rating:

4.2 

Total Downloads:

100K+ 

Size:

– 
Multi App Uninstaller – Uninst is a widely popular application that allows users to uninstall single or multiple apps from the device in one go. You can quickly find your favorite app using the Search feature and instantly remove it. It lets you sort apps based on names or installation dates. It is extremely easy to use and works flawlessly with 5.0 and up Android OS versions.  
6. UnApp — Batch Uninstall Apps
Owned by: pohrebniakov
App Rating:

3.7 

Total Downloads:

100K+

Size:

2 MB 
UnApp is a perfect uninstaller application that allows deleting multiple apps on Android in one go. The only downside with the Android uninstallation app is you won't be able to delete system apps. But you can certainly hide them so that it doesn't hamper your navigation experience. Moreover, you can also turn on the Dark and AMOLED theme with the Premium version of the app. 
7. Uninstaller – uninstall apps
Owned by: LookAndFeel Lab
App Rating:

3.6 

Total Downloads:

50K+ 

Size:

2 MB 
Last but not the least, if you're looking for a hassle-free and easy-to-use Android phone uninstallation tool, look no further than Uninstaller. The app lets you erase bulk apps in one go and offers a convenient search feature to find your favorite apps instantly.
If you long press on the same, you will see a pop-up and get access to more options. You can see the app information like name, version, update time, size & Play Store link. 
Bottom Line
Each of these uninstallers has its own strengths & shortcomings. So, ultimately, which best uninstaller for Android you choose will depend on the user's individual needs and preferences. However, by considering the features and benefits of each uninstaller, users can make an informed decision and choose the one that best fits their needs.
Also Read