Audiobooks allow you to listen to books and act as an alternative to reading books. Gone are the days when listening to books meant taking the help of somebody who could read it out to you. Even those who wanted to learn a book had to read it aloud to themselves. But times have changed and so have our ways of working around things.
Nowadays listening to a book is all very easy and you can do it independently on your own. For that, you will need to have an audiobook player with you. An audiobook player will help you listen to any book effortlessly and all you need to do is install it on your device to make the magic happen.
If you are right now in search of a suitable audiobook player for yourself, try finding out the one that suits you from the list.
Here are my top 10 Audiobook Players for PC to try this year.
MusicBee
Boom 3D
1By1
AudioBook
Free Audio reader
Trout
Work AudioBooks
My AudioBook Reader
MP3 Book Helper
Angel's Vox
10 Best AudioBook Players for Windows 10/11 PC
In this article, we have listed the 10 best audiobook player that will cater to your needs and offers great features. So, without any delay let's have a look at the best audiobook players for Windows PC.
1. MusicBee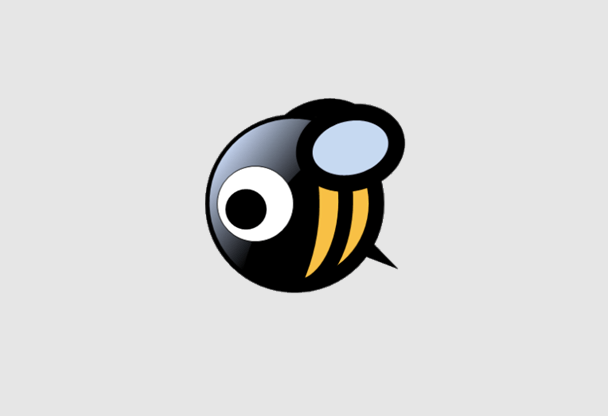 Basically, MusicBee is one of the music players that can be used as an audiobook player. It has an audiobook player button that lets you play audiobook files. You can add files to the library, create playlists, and so on. You can also play, rewind, pause, stop, forward, and view equalizer with MusicBee.
It enables you to sort files using filters like filename, title, and artists. It supports different file formats including MP3, AIF, WMA, and WAV. 
Features
It has the app lock feature

You can create custom playlists

Offers full-screen mode

It supports Winamp visualizers 
2. Boom 3D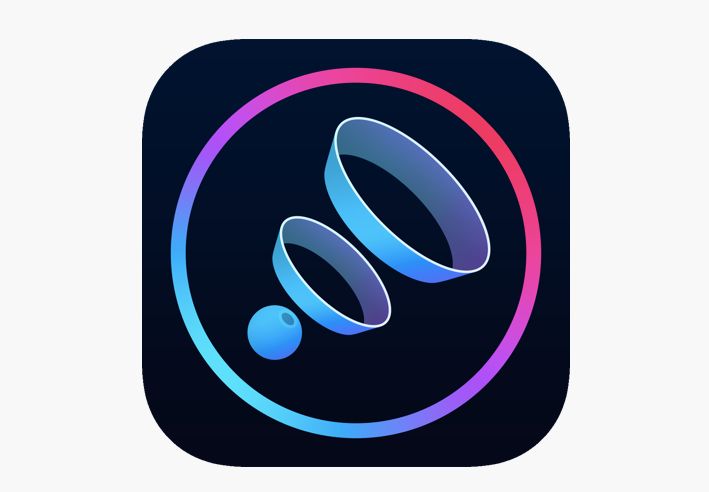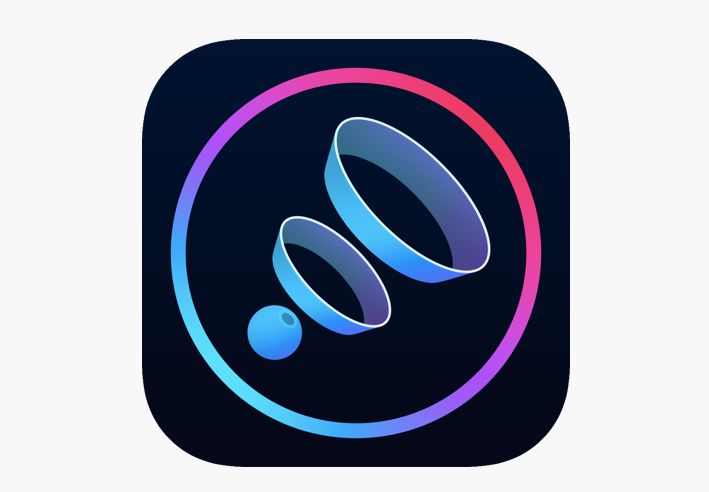 Boom 3D is an award-winning audiobook player for Windows PC. The boom volume booster feature allows you to boost the volume of every application. It is an audio enhancement software that tunes itself by using a sound system card.
It also has an audio player feature that gives a tremendous audiobook experience. You can organize your audiobook collections and also create playlists. It consists of some of the best boom effects.
Features 
It allows you to boost the volume 

Consists of special audio effects 

Quick controls

Audio controller 
3. 1By1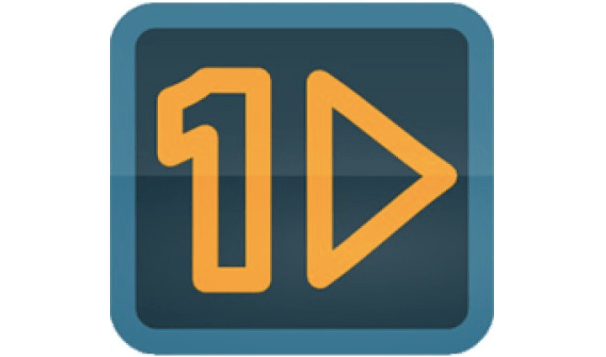 Next on the list falls is 1By1 which is a free audiobook player for Windows. You don't need any playlist or database to listen to audiobooks and music. It keeps the position of the last played audiobook and resumes it from the stop which helps in saving you time. You can copy, move, or rename the files.
It supports multiple file formats including OGG, WAV, MP3, AAC, CD, MP4, and FLAC. The software lets you adjust track position and loudness. The elapsed and total time displayed in the title bar lets you know how much time is left to complete the file.
Features
It has a track repeat feature

Bookmark the last track and position 

Supports several formats

Elapsed and the total time will display in the title bar
4. AudioBook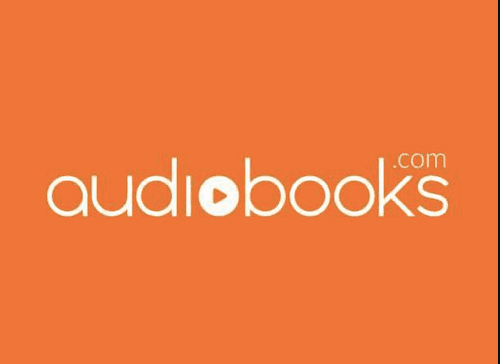 The AudioBook is an open-source audiobook player for Windows that has a simple user interface. You can add MP3 format audiobooks to the audiobook library. It can show the file name and path. You can also create playlists and even organize various audiobooks for the playlists.
It also reveals the audiobook's cover for better recognition. It is easy-to-use software and one of its best features is that it remembers the status of the last played file and continues playing from the same spot whenever you want. If you are looking for the best SWF player software for PC then you must check this.
Features 
It has a slider option

Simple UI

It allows you to create playlists

Resume file from the last played spot
5. Free Audio-Reader
Free Audio reader is another helpful software that helps you to listen to audiobooks. It is packed with several features which make it one of the best Audiobook players. You can create playlists, add bookmarks, and edit tab information.
It allows you to perform multiple playback operations like change and adjust volume, skip back, skip ahead, open, shuffle, and repeat, and can also edit the playlists. MP3, MID, WMA, FBM, FSB, TXT, and WAV formats are supported by Free Audio Reader. The cover art feature lets you import images from your PC to play a slideshow. 
Features
It allows you to convert text to speech

You can watch a slideshow

You can change the text font

It supports music and text files
6. Trout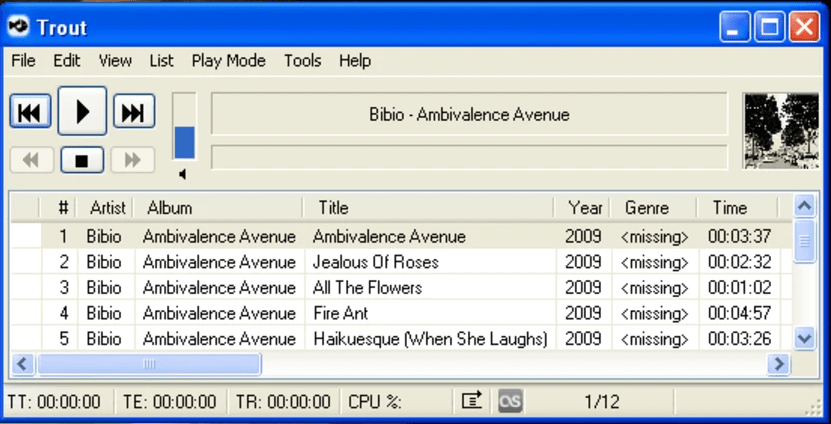 Trout is a lightweight audiobook player for Windows PC. It consists of robust tools and a track announcement feature which makes it quite popular software. It also supports Libre.FM and Last.FM. The software lets you add files and folders to the list, play files, add URLs and save your playlists.
It displays the information related to the saved file like genre, date, title, name, path, etc. Trout allows you to synchronize with your Last.FM account. MP3, MOD, MTM, IT, OGG, WAV, and AIFF are some of the formats supported by Trout. Consisting of several playback options and controls, Trout can be the best audiobook player for you.
Features 
It supports multiple formats 

Lightweight audiobook player

It supports websites like LyricWiki.org

It shows the file information 
7. Work AudioBooks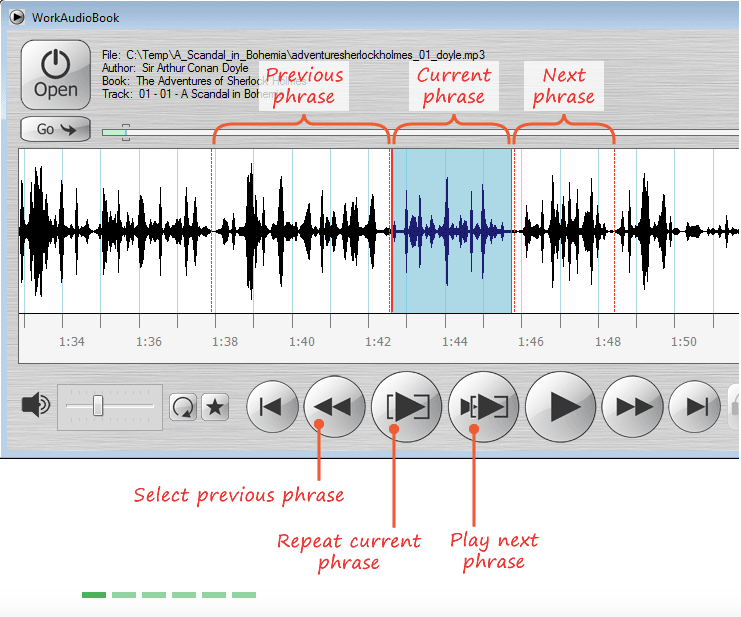 Work AudioBooks is the best solution for you if you want to learn new languages. If any subtitle is available then it also displays it on the screen. It supports multiple formats of subtitles including TXT, SRT and HTML. It is the best audiobook player that supports audiobooks in MP3 format.
The software allows you to bookmark a file and has features to play the bookmarked file or delete it. If you find any difficult words you can mark them and they will be repeated in the text you can also look for their meaning in the dictionary. 
Features
Bookmark the audiobooks 

Display subtitles in a different format

Mark words if find difficult

Look for definitions 
8. My AudioBook Reader
My AudioBook Reader is one of the effective Audiobook players for Windows that lets you play MP3 audiobooks anytime effortlessly. You can save the audiobooks to the playlists. The playlist consists of information like album, title, year, genre, and track. You can also bookmark the file using the bookmark option. The jog feature lets you move back and forth. Using an MP3 Book reader you can perform several tasks like load list, play, pause, add files, save files, clear lists, etc. 
My AudioBook reader also contains volume control options. Some of the other features are changing pitch, voice speed, moving to the starting point, moving 10/60 seconds back, forward, etc. 
Features
Progress tracker tracks the audiobook's progress

Lets you change the pitch

Shows information like track, year, genre, album, etc. 

Save MP3 audiobooks to the playlists
9. MP3 Book Helper
Last on the list emerges is MP3 Book Helper which is one of the popular audiobook players for Windows. It is easy to play and organize your audiobooks using this software. You can also perform several other functions like edit file tags, export tags, import tags, and swap tag fields.
It consists of several playback operations like play, stop, pause, previous rewind, next rewind, and jump to 10, 20, 30, and 60 seconds before. You can create playlists and other files like SFV/SV files, PAR/SFV files and make MD5 files. 
Features
You can create playlists in M3U format

Develop MD5 files 

Import tags from CSV files

Consists of multiple playback options 
10. Angel's Vox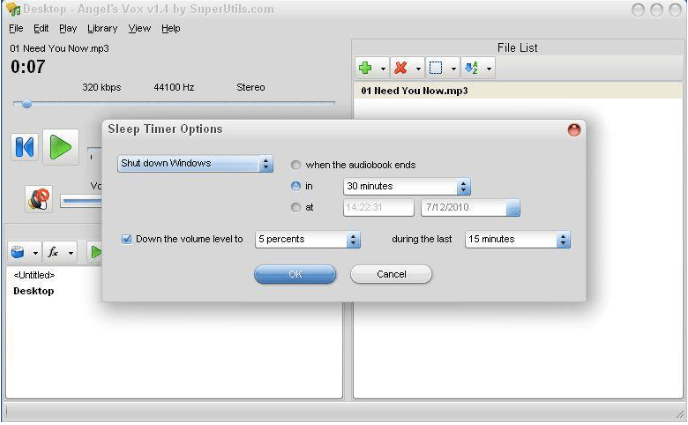 With this audiobook player, you will be able to learn different languages and access unique features for listening to audiobooks.
The interface is very simple and plain and allows users to access different file types like MP3, OGG, MPEG-4, and even WAV audio files.
Dropping the volume level, importing and exporting playlists, and scheduling Windows to shut down are some of the functions that one can access using it.
Key Features:
Personalizing the user interface and skinning it as per requirement is possible.

You can use the sleep timer that comes with the player to shut down the personal computer whenever that time span is over.

Decreasing the volume and knowing the play stats are essential for each of the files one plays.
Conclusion
AudioBook player is a boon for book lovers who prefer listening to the book rather than reading it. You may find several Audiobook players over the Internet but choosing the most appropriate one is quite a complicated task.
I suggest you choose the audiobook player which provides you with various features like boosting the sound volume, allowing you to rewind, pause, stop, and forward, and letting you create playlists and organize your book collections. Moreover, it should also support a variety of formats. We have mentioned each of the Audiobook players in detail and listed their best features. 
Comparison Of Top 10 AudioBook Players for Windows PC
| | | | | | | |
| --- | --- | --- | --- | --- | --- | --- |
| Product Name | Best For | Platform | Price | Free Trial | File Size | Latest Version |
| MusicBee | Supports Winamp visualizers | Windows 11/10/8/7 | Freeware | NA | 8.9 MB | 3.4.8033 |
| Boom 3D | Special audio effects | Windows 11/10 | $39.99  | Yes | 30.8 MB | 13.4 |
| 1By1 | Supports different formats | Windows 11/10/8/7 | Freeware | Yes | 203.6 kB | 2.04 |
| AudioBook | Play files from last played spots | Windows 11/10/8/7 | $12.99/month | 30 days | NA | NA |
| Free Audio-Reader | Watch a slideshow | Windows 11/10/8/7 | $13/month | NA | 2.6 MB | 1.78 |
| Trout | Lightweight | Windows 11/10/8/7 | $7.95/month | 30 days | 1.67 MB | 1.0.6  |
| Work AudioBooks | Subtitles display in different formats | Windows 11/10/8/7 | Freeware | NA | 44.8 MB | 5.3 |
| My AudioBook Reader | Tracker tracks the audiobook's progress | Windows 11/10/8/7 | Freeware | NA | 96.6 MB | 1.40.107 |
| MP3 Book Helper | Develop MD5 files | Windows 7 or later | Freeware | NA | 82.3MB | 65.0.0.1617 |
FAQs
How do I listen to audiobooks on my PC?
Download any of the above-mentioned audiobook player software on your PC and listen to the audiobooks you want. The software allows you to create playlists of your favorite audiobooks. 
How do I play audiobooks on Windows?
Audiobook player allows you to play audiobooks on your Windows. You can play audiobooks from your local device, removable device or One drive. 
How do I listen to audiobooks on Windows 10?
You can use any of the audiobook player software to listen to audiobooks on Windows 10. MusicBee is a simple music player that also works as an audiobook player and enables you to listen to audiobooks with ease. It contains several features which make it the best audiobook player. 
Is there an audiobook player?
There are many audiobook players available. In this article, we have listed some of the best audiobook player software that lets you listen to audiobooks. Some of them are:
Audiobook

iTunes

Trout

1By1

My AudioBook Reader
Also Read