Many times users encounter Bluetooth, not working issues or Bluetooth connectivity issues. If you are also facing the same error don't worry it is a common error and can be fixed easily if you follow the proper methods. The error occurs due to outdated Bluetooth drivers. 
An easy fix to this problem is to update your driver to the latest version. Bluetooth software assists in swiftly recognizing nearby Bluetooth devices and establishing a strong connection with them, allowing you to transmit files and data fast and easily.
Update all Bluetooth Drivers in one click with Driver Booster
Here are my top picks Bluetooth software for Windows 11, 10, 8, and 7 to try this year.
Bluetooth Sender Sargon
Acer Bluetooth Driver
BlueFTP
BlueSoleil
WIDCOMM Bluetooth software
Intel Wireless Bluetooth
Bluetooth driver installer
Bluetooth Phone Transfer Software
Medieval Bluetooth Network Scanner
Bluetooth View
10 Best Bluetooth Software for Windows 11, 10, 8 & 7 PC
After trying several tools we have listed down the top rated bluetooth software for windows 10 PC which you must use in your PC.
1. Bluetooth Sender Sargon
Latest Version: 3.6
Compatibility: Windows 11, 10, 8 and 7 PC (Both 32 bit and 64 bit)
Pricing: Freeware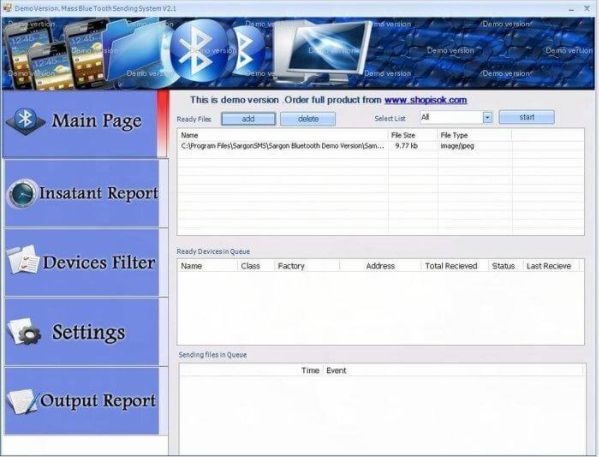 Sargon LLC created the Bluetooth Sender Sargon software. It enables anyone to send media files straight to consumers' mobile devices within a 10-1000 meter range and allows users to distribute a variety of files to all nearby Bluetooth-enabled devices.
It can automatically transfer media files to multiple devices, such as PDAs, computers, and cell phones. Stores utilize Bluetooth Sender Sargon to send out information about promotions and discounts to consumers already within a store or department, making it a unique application to download and choose for your advertising requirements.
Features:
Media files can be supplied straight to the mobile devices in range.

System resources are used at the bare minimum.

For better advertising, it's useful for businesses.

Mobile phones, PDAs, and computers are supported.

The file-sending range can be adjusted.
2. Bluetooth driver by Acer
Latest Version: 5.0.1
Compatibility: Windows 11, 10, 8 and 7 PC (Both 32 bit and 64 bit)
Pricing: Freeware
Acer Bluetooth Driver is essential software for Bluetooth wireless technology-based devices to communicate with your Acer PC/operating laptop's system. It instantly detects all Bluetooth-enabled devices within range. Plus comes with a slew of useful features, including quick document transfers, support for additional dongles, and more.
Acer frequently uses Bluetooth from Intel, Atheros, Realtek, and Broadcom. Although released exclusively for 64-bit, 64-bit drivers may support Windows 32-bit drivers.
Features:
A simple and effective method for completing ordinary activities.

File transfers are quick, and it works with all Bluetooth dongles and adapters.

Installation is quick and straightforward.

Bluetooth is extensively used by Intel, Atheros, Realtek, and Broadcom.
3. Bluetooth File Transfer (BlueFTP)
Latest Version: 5.0.1
Compatibility: Windows 11 and Windows 10 (Both 32 bit and 64 bit)
Pricing: Freeware
One of the greatest Bluetooth apps for Windows is BlueFTP. On any Bluetooth-enabled device, the app allows you to browse, explore, and manage files. It may also be used as a sophisticated file manager to easily organize your stuff on a PC or smartphone.
This program's best feature is that it doesn't save thumbnails of image, audio, video, or APK files, giving you even more space to save your data. The UI is really clean and intuitive, as fantastic as the program sounds.
Features:
This is an excellent file management program.

Capable of transferring many files at once.

You can use the search tool to find files based on their size, data, and type, as well as keywords.

There's a drag-and-drop feature for quick file transfers.

Lightweight tools have a minimal impact on system resources.
4. BlueSoleil
Latest Version: 10.0
Compatibility: Windows XP / Vista / Windows 7 / Windows 8 (Both 32 bit and 64 bit)
Pricing: Freeware
IVT Group Inc. created BlueSoleil, a Bluetooth program for Windows. It lets your Windows 10 PC to connect to Bluetooth devices such as smartphones, speakers, mouse, wireless headphones, keyboards, and more in close proximity.
The program offers a lot of cool capabilities, including over 24 Bluetooth functions, wireless printing, and a lot more. It allows you to transfer files from any Bluetooth-enabled device with ease.
Features:
Skype calling is supported.

USB, UART, PCMCIA, and BCSP are all supported.

Dual-mode dongles are supported.

Health Thermometer, Find ME, and other Bluetooth 4.0 profiles are supported.

Transferring files to and from the mobile phone is a breeze.
5. WIDCOMM Bluetooth Software
Latest Version: 12.0
Compatibility: Windows XP / Vista / Windows 7 / Windows 8 / Windows 10 (Both 32 bit and 64 bit)
Pricing: Freeware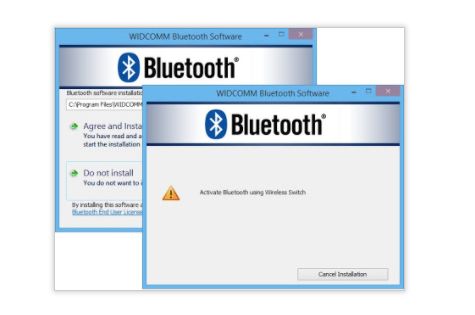 WIDCOMM Bluetooth Software is another program that fixes Bluetooth driver problems and makes it simple to find and connect to Bluetooth devices. This software has several advanced diagnostic and integration functions and support for a variety of OEM devices.
The nice thing about the WIDCOMM Bluetooth software for Windows PC is that it is compatible with both Windows 10 and Windows 8. (32 bit and 64 bit).
Features:
Local devices are automatically connected.

Allows you to use the phone's audio system as a speaker.

Almost all Bluetooth devices are compatible.

Able to resolve Bluetooth driver issues.

It's really simple to set up a Bluetooth connection and its associated settings.
6. Intel Wireless Bluetooth
Latest Version: 22.9
Compatibility: Windows 10 / Windows 11 (Both 32 bit and 64 bit)
Pricing: Freeware
When it comes to Bluetooth software, this is the favorite option. Intel Wireless Bluetooth is highly adaptable and interoperable with a wide range of goods. This means that the Intel Wireless Bluetooth Software for Windows 10 can work with a wide range of Windows 10 devices.
It is undeniably a simple solution to common connectivity challenges. Give it a shot if you're having problems connecting to Bluetooth devices.
Features:
It can be used with any wireless adaptor.

This software supports Bluetooth Basic rate, improved data rate, and Bluetooth low energy.

It supports a variety of languages.

Troubleshoot some of the most frequent Bluetooth connectivity problems.

When compared to the built-in Bluetooth utility, increase transmission speeds.
7. Bluetooth Driver Installer
Latest Version: 1.0.0.128
Compatibility: Windows 10, 8, 7 / Windows 11 (Both 32 bit and 64 bit)
Pricing: Freeware
The Bluetooth driver installer can help you repair Bluetooth device connection and other difficulties in a matter of seconds. It works with most built-in adapters and USB since it works by patching drivers and files and creating errors. I
t's also one of the best Bluetooth apps for Windows 10, and it's compatible with both 32-bit and 64-bit versions of the OS.
Features:
The device is automatically detected and connected as a Generic Bluetooth Microsoft device.
During installation, a System Restore point is created automatically.

It's a small piece of software with an easy-to-use UI.

Aids in the resolution of adapter-related issues or the installation of device drivers.

Provides a full report on the model, manufacturer, and subversion of the gadget.
8. Bluetooth Phone Transfer Software
Latest Version: 1.0.0.128
Compatibility: Windows XP / Vista / Windows 7 / Windows 8 / Windows 10 (Both 32 bit and 64 bit)
Pricing: Freeware
This program allows you to send files from any Bluetooth device to any other Bluetooth device, including cell phones, iPods, laptops, notebooks, and netbooks, for free. It also allows you to synchronize your phone data and open VCF files without any problems. 
Features: 
Supports PCs, iPods, iPhones, smartphones, laptops, and netbooks, among other devices.

Open VCF files and synchronize phone data.

Windows is supported (32-bit and 64-bit).

The UI is simple to use and convenient.

Transfer TXT, MP3, JPG, 3GP, MP4, files with ease.
9. Medieval Bluetooth network scanner
Latest Version: 1.4.0
Compatibility: Windows XP (Both 32 bit and 64 bit)
Pricing: Freeware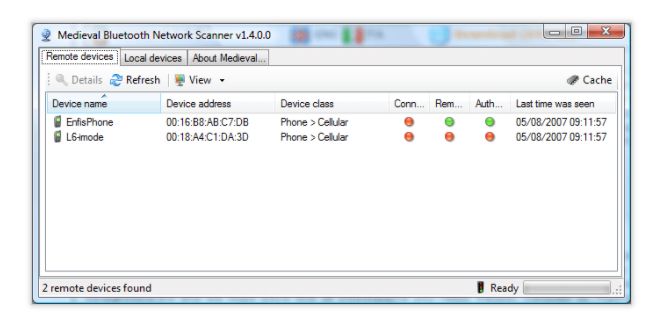 Medieval Bluetooth Network Scanner is noted for providing comprehensive information on all surrounding Bluetooth devices. It searches for all nearby Bluetooth devices and displays as much information as possible about them.
When the network scan is completed, simply double-click on your phone to see all of its details. The user interface is quite appealing. 
Features: 
It has a built-in device authentication mechanism.

Detailed information about local and remote devices is displayed.

Detect local and remote devices quickly.

Uses cache technology to swiftly recognize previously discovered devices and services.

Microsoft.NET 2.0 is supported.
Download Medieval Bluetooth Network Scanner
10. Bluetooth View
Latest Version: 1.66
Compatibility: Windows XP/Vista/Windows 7 (Both 32 bit and 64 bit)
Pricing: Freeware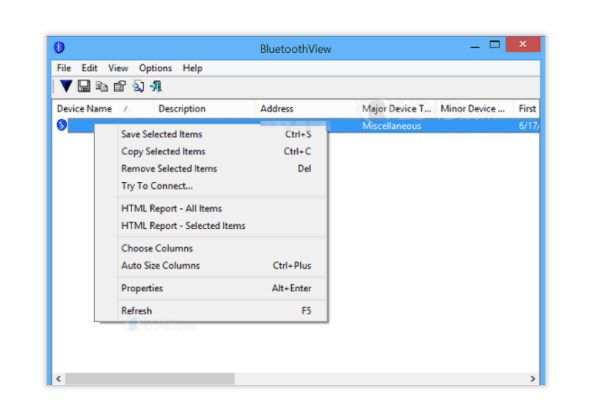 Bluetooth View is the another best Bluetooth software because it works in the background of your computer. It tracks Bluetooth device activity in your vicinity and provides information such as device name, major device type, initial detection time, minor device type, Bluetooth address, and more.
This software has many functions, such as monitoring neighboring Bluetooth devices' actions, customizing pop-up notifications, hiding linked devices, and so on.
Features: 
Displays extensive information about the Bluetooth device that has been found.

It runs in the background without causing you any problems.

Keep an eye on any Bluetooth devices that are close.

It supports both 32 and 64-bit.

A notification in the taskbar informs you that a new device has been detected.
FAQs On Bluetooth Software On Windows PC
Q1: How can I get Bluetooth software on my PC?
You can download and install Bluetooth software on your PC. In the above article, we have listed the best Bluetooth software which offers you great features. You can choose any of them and install them on your PC. 
Q2: Can you download Bluetooth software for Windows 10?
Yes, you can download Bluetooth software for Windows 10. One of the best Bluetooth software is the Bluetooth driver installer which helps you can easily install it on your PC for quick transferring of data. 
Q3: Is Bluetooth a utility software?
Bluetooth is a utility software which helps you to fix Bluetooth-related issues. All the Bluetooth-related issues like being unable to connect with the Bluetooth enable devices and Bluetooth not working can be fixed with the help of using the above-mentioned Bluetooth software. 
Q4: Is Bluetooth hardware or software?
Bluetooth is hardware which is pre-installed on your PC and mobile phones which helps you to share data on different Bluetooth-enabled devices. It requires appropriate Bluetooth drivers to work properly and the drivers are known as software. 
Q5: Which Bluetooth version is best for windows 10?
Ans: Most devices support Bluetooth 4.0; however, if you don't care about battery life or high bandwidth, a 3.0 adapter will suffice. Bluetooth version 4.0 is more efficient and allows for faster file transfers.
Also Read