Before you invest in your hardware system it is better that you verify its compatibility with your computer system.
That's where the role of the best bottleneck Calculator comes in.
Though the results are not 100% reliable you can certainly try one of these to get a basic idea of how your hardware will function with the computer system.
Top 3 Accurate Bottleneck Calculators
1. PC build's Calculator
This calculator is very easy to use. The best part is there you just have to select the options on different criteria already given on the website and you will get the results.
You can pre-select from the wide list of processors, graphic cards, screen resolutions, and purposes so that you can decide what is best for your computer system. It is certainly one of the best bottleneck Calculators.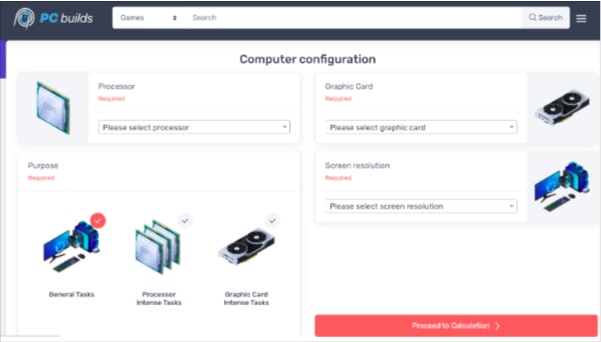 Check out the pros:
Minimal UI design

Easy to use

Quick results

Mostly accurate
2. FPS and Bottleneck Calculator
You can now check your PC build and obtain full performance analysis in terms of specifications, gaming, streaming, overclocking, and video editing benchmarks using this calculator.
On this website, you have to select the type of CPU that you have along with selecting the GPU, RAM size, RAM speed, resolution, and quality settings. Use the best bottleneck Calculator if you want precision.
On the basis of all these criteria and specifications, it will provide you with the best results.
Check out the pros:
Multiple options to select

Best User Interface
3. MSI Afterburner Calculator
Get ready to find the most compatible hardware for your device!
It may sound intimidating to explore and push your graphics card's capabilities, but it's simpler than you may expect. 
Your graphics card settings are accessible with ease and precision using MSI Afterburner bottleneck calculator Overclocking tools. 
By changing the voltage and clock frequency of your GPU, you may discover the ideal compromise between performance and temperature by adjusting the fan speed.
Check out the pros:
Automated function

Professional bottleneck calculator

Free performance boost

Flawless in-game experience
How do I calculate CPU bottleneck in GPU?
Usually, you should focus on "CPU Impact on FPS," which ought to be 10% or less. This number will indicate whether a bottleneck is being caused by a CPU and GPU mismatch and whether upgrading either component will fix the problem. This is the way to get the most out of the accurate bottleneck calculator.
It is ideal for the GPU to operate at a performance level of 99–100% and for the CPU to operate at 99–100% or higher. However, if the CPU is operating at 99–100% of its maximum efficiency while the GPU is operating at less than 99–100%, the CPU is bottlenecking the GPU.
Is the bottleneck calculator accurate for the purpose?
These calculators are user-friendly tools that can help you to check and verify the compatibility of the hardware that you have purchased with your computer system. So, does an accurate bottleneck calculator exist?
Usually, you can get a basic idea of whether the hardware will go well with your computer system after installation or not.
Though they are perfect for having an estimate about the compatibility, they are not truly correct and it depends on you how you will take the results and proceed accordingly.
The more you research bottleneck calculators the better it will be for your own user experience.
FAQs Answered!
What is a good bottleneck percentage?
A CPU bottleneck is present if your CPU consumption is significantly higher than your GPU usage, and vice versa. So, you can have an estimate of the condition of the bottleneck percentage based on the ranges. Utilization rates of 50% or less are regarded as poor, those of 50% to 70% as typical, and those of 70% or more as high.
Is there a bottleneck calculator?
It is a great tool for evaluating a computer system's performance. It can assist in locating the cause of system sluggishness and identifying potential areas for improvement so that you can fix issues beforehand.
What percentage is CPU bottleneck?
One of the main causes of a CPU bottleneck is background apps. So, a CPU normally uses between 2 and 4 percent of its power when it is idle, 10 to 30 percent when playing regular games, and up to 70 percent when playing games with more demanding graphics.
Does bottlenecking affect FPS?
A GPU bottleneck can significantly reduce frame rate and have a negative effect on how smoothly the game runs. Both an overcrowded network and a situation in which one component of computing equipment is unable to work simultaneously with the rest of the system can slow down the overall performance. So, always use the accurate bottleneck calculator to get the best results.
Are bottleneck calculators legit?
Without physically adding a component to your system, the bottleneck calculator is employed to assist you to figure out the percentage of a bottleneck. Although these calculators are not entirely correct, you will learn if there is a significant disagreement between members before making a purchase. But, you can not rely on them totally.
Suggesting The Top Pick!
If you want accurate and detail-oriented results, it is good to use the bottleneck calculator on the website of cpuagent.
But, if you want to easy-to-use and convenient user interface, you should go for the PC build's calculator.
And if you are searching for a calculator for your professional tasks and you want high-end calculators to use, go for MSI Afterburner.
So, depending on your needs and convenience choose the suits your individual requirements!
Also Read