Are you searching for a bulk image resizer for Windows PC then you have landed on the right platform. In this article, we will be discussing the best image resizer tools that can make the image resizing task much easier. 
We all want high-quality pictures for better and clear visuals.  The good quality images uploaded on a website or blog makes it look more attractive. But the high-quality pictures are very time consuming and also consume heavy internet while uploading on the web. That is why it is quite important to properly resize the images. But manually resizing images is quite a difficult task. So, here we have listed the best image resizing software that makes your work simpler. 
Image resizer are the software that allows us to resize images in correct ratios and resolution. Also, we don't require any specific skills to use the software. It also offers several other editing features. In this article, we have listed some of the best image resizing software that is equipped with many additional features. 
7 Best Bulk Image Resizer for Windows 11, 10, 8 & 7 PC
So, without any delay let's have a look at the best bulk image resizer software for Windows 10, 8 and 7.
1. XN Resize 
XN Resize is a popular bulk image resizer for windows 11 / 10 pc that allows users to rotate and resize multiple images at once. It has a straightforward interface which makes it easy to use even for beginners. It supports numerous image formats including TIFF, JPEG, PNG, PDF, DNG, OpenEXR and JPEG2000. 
XN Resize is a powerful image resizer tool that allows you to simply drag and drop the image folders or multiple photos and edit them at once. You will also get features like cropping, screen capture, colour adjusting and many others with this software. 
Features 
Resize images in batch mode

It is a free and cross-platform image resizer

Allows you to adjust the height and width of the image 

Supports IPTC, XMP metadata

Offers simple drag and drop features 
2. FILEminimzer Pictures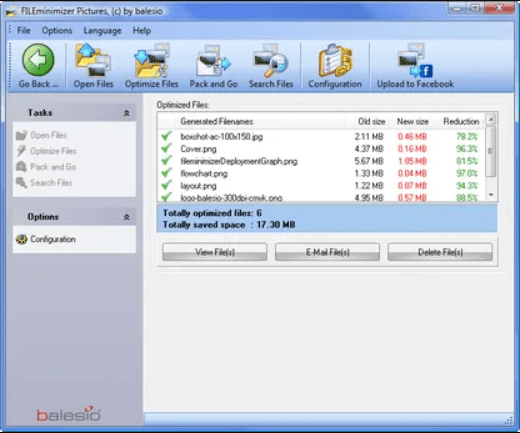 FILEminimizer Pictures is another bulk image resizer for windows that lets you resize multiple images at once. It can reduce the image size without losing its quality. It supports multiple image formats like BMP, JPG, TIFF, PNG and many others. 
This is one of the effective image resizers that can minimize the image up to 98% without losing its originality. It is mostly preferred by those users who are likely involved in sharing their images on social media platforms. Using this image resizer you can upload your compressed image directly on Facebook. 
Features 
It has an integrated search directory 

Offers four different compressing mode

Includes third party plugins 

Free software that lets you resize images in bulk and individually
3. Plastiliq Image Resizer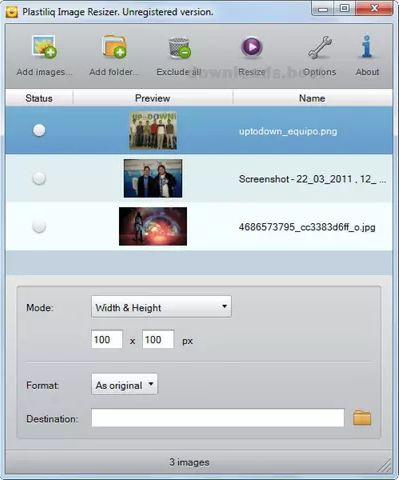 If you are looking for an image resizer that doesn't require much effort in resizing the photos then Plastiliq Image Resizer is the perfect solution for you. It offers a simple drag and drops feature to reduce the size of the images in bulk. It has a simple user interface which makes beginners easily work on it. 
Despite being free several major image formats are supported by Plastiliq Image Resizer such as TIFF, PNG, BMP and JPEG. It also allows you to customise the image's height, percentage, width and fit. You can resize images in batch with just a single click. 
Features 
Offers image preview feature

Drag and drop functionality 

It is a free image resizer 

Lightweight application

Consist batch mode feature
4. Fast Stone Photo Resizer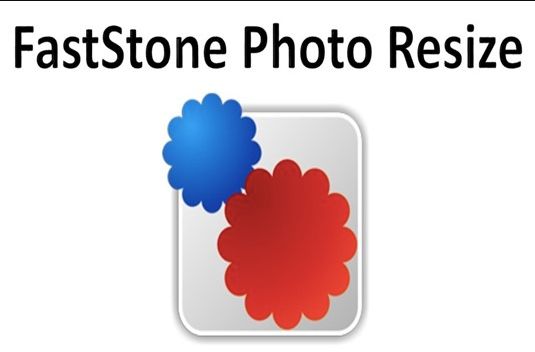 Faststone Photo Resizer is not only the perfect mass image resizer but also offers several additional photo editing features. It helps you to reduce image size without affecting its quality. It allows you to apply multiple editing effects to the images such as adding watermarks, borders, colour effects, text, etc. 
The image resizer software also offers a drag and drop function with a batch mode feature. Moreover, it also lets you rename photos in sequence. Its free version doesn't contain any ads and its premium version costs you $19.95. 
Features 
It offers support for multi-threading 

Contains no spyware and ads

Offers drag and drop function

Easy batch mode.
5. Caesium
Caesium is known for its efficiency and also has gained awards for offering great functionality. It is best for beginners as well as advanced users. You will get several advanced features like metadata storing and folder structure support. It also allows you to preview edited images in real-time. You can compress images in different image formats. 
The image resizer maintains the high quality of an image even after reducing its size. This is a free bulk photo resizer that works on multiple platforms including Windows, Linux and MacOSX. 
Features
Reduce the size of your image up to 90%

Image preview

Batch processing

Rename files with a custom suffix 
6. Converseen
Last but not least Converseen has occupied its place in the list of best image resizers for Windows PC because of its extremely valuable features.  Being a free software it also allows you to convert pdf files to image files. 
You can use Converseen to rotate, flip, resize and convert images effortlessly in just a click. It supports 100 image formats including DPX, GIF, TIFF, PNG and many others. Using this software you can also change the size, resolution and even name of the file. 
Features 
Cross-platform image processor for Windows and Linux 

Supports 100+ formats

Free and open-source software 

Rotate and flip images in batch 
7. FotoSizer
FotoSizer is an batch Image Resizer for windows PC that can quickly and easily resize the image and offers various other features. It allows you to resize, rotate and rename photos in bulk. You can also add watermarks, names, logos and copyright text to the edited images. 
The software allows you to resize images into different formats including JPG, JPEG, TIFF, BMP, GIF and EMF. You will get different effects to edit images like sepia, black and white, polaroid, negative, Lomography and many others. It offers both free as well as a paid version that costs you Rs. 1085. 
Features
Supports 35 international languages 

Provides live preview of the resized photos

Rotate and flip images 

Modify image height and width in pixels
Conclusion On Bulk Image Resizer Software for Windows 11 / 10 PC
Image resizer is the most important tool we all need for the proper resizing of images so that the picture does not lose its quality and originality. The market is full of image resizing software but choosing the best and most effective one is quite a difficult task.
To make it easy for you to choose the best one we have listed the 7 best bulk image resizers for Windows in the above article that can help you to resize photos effortlessly.
FAQs
What is the fastest way to resize a bunch of pictures?
Many image resizer is available in the market that helps in bulk image resizing in just a single click. It allows you to simply drag and drop the multiple images or folders containing multiple images and resize and edit them in bulk. In the above article, we have listed the best image resizers that can quickly resize a bunch of pictures.  
How do I reduce the size of photos in bulk?
You can use any of the best image resizer we have mentioned in this article and follow the steps: 
Choose the images you want to resize and drag and drop them in one place. 

Import the images. 

After that export to resize images. 

Resize them either by percentage or pixel amount or change its height and width. 

Lastly, choose your location to save. 
How do I resize images in bulk without losing quality?
Image resizer is software that doesn't require any special skill to resize images. Also, there are many image resizer that has the ability to resize images in bulk and maintain the originality and quality of the picture. One such image resizer is FILEminimizer Pictures which is free to use and allows the users to resize multiple images at once with its batch mode.  
What is the best free image resizer?
XN Resize is the best free image resizer that facilitates the users with a simple drag and drops feature to resize multiple photos or folders in bulk. It also helps in correcting the image orientation and also lets you rotate the image. Despite being free it offers all the features which you require in a decent image resizer. 
Also Read