When we use a PC regularly we like to customize its background themes to give it a new look. The customizing theme can depend on the festival which is coming or depending on our mood or on other factors. If Christmas is on the way or you want to give a look at Christmas on your Windows PC then this article is helpful for you.
With the Christmas theme you can modify your PC look by applying Christmas Taskbar, cursor snowflakes, music and jingles, and other Christmas effects to the desktop. With these Christmas themes, you will get holiday spirit on your PC. These themes consist of background, sounds, and music all of which are related to Christmas. 
In this article, we have curated a list of 13 best Windows 10/11 Christmas themes to celebrate the festival and get a joyous feel. So, without any delay let's know the best Christmas themes to enhance your PC look and decorate your desktop using these wallpapers, etc.
13 Best Christmas Themes for Windows 11, 10
1. Ninja Cat Holiday Escape
Next, we have ninja cat holiday escape which offers you the holiday vibe on your desktop. You will get different Wallpapers and all are related to holiday seasons in which ninja cat goes on different adventures. It consists of 14 different high-definition wallpapers for Windows 11 which you can easily download from the Microsoft store.
Features 
It has loads of unique and fun images suitable for the winter season 

Al the themes are free 

It is compatible with Windows 10
2. Fireworks theme
If you like to decorate your desktop with sparkling themes then Fireworks is a perfect theme you should apply to your Windows PC. It provides mesmerizing fireworks landscape view of different cities. This team provides you with the exact feeling of a new year celebration.
It is loaded with some beautiful fireworks background images which you can switch at a given time. All these Wallpapers are in HD so it provides you with a wonderful experience.
Features
It offers 17 HD wallpapers 

Offers fireworks view in different parts of the globe 

It also available on Windows 8 and 7
3. Snowy mountains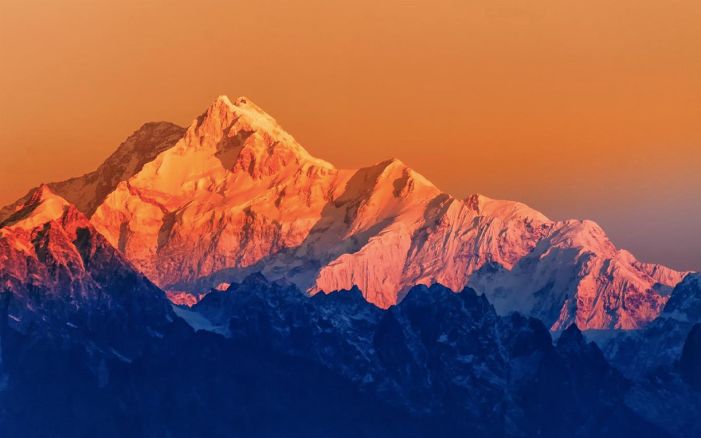 If you want to give a look of beautiful landscape to your PC then the snowy mountain is the perfect option for your Windows 11. The theme offers 18 images of snowy mountains. It allows you to shuffle between different wallpapers which makes your PC look clean and updated.
 Features 
It has images of snowy mountains under the moon, stars, and northern lights

It lets you shuffle between the themes

This theme is free to download 
4. The Christmas countdown
From its name itself, you can get an idea that it will show you the countdown clock to Christmas. The theme is useful when you are a busy person and does not have time to remember dates then the theme will always remind you how many days are left for Christmas.
You can easily switch between all the amazing Christmas background themes. You need not to manually apply the settings to your device. It also displays heart-warming videos each day.
Features 
You can install these themes from Microsoft 

It is an appropriate theme for kids

It helps you remember the days left in Christmas
5. Santa Claus theme
Next we have the Santa Claus theme in the list of best Christmas themes for Windows 11, 10. From its name itself, you can get the idea that this theme is dedicated to Santa Claus.
It includes 12 high definition Wallpapers of Santa Claus which is able to give a Christmas feel to your desktop. You can easily download this theme on your Windows 10 and 11.
 Features
This theme offers you the perfect Christmas spirit

Loaded with some of the best Santa Claus wallpaper

It has beautiful Santa Wallpapers on the moon, chariot, in snow, and many others
6. Blue Christmas theme
The list of best Christmas themes for Windows 11 and 10 starts with a Blue Christmas theme. It is developed by Starline with an aim to provide amazing features and easy to access. It has the most colorful Christmas wallpaper with unique Christmas sounds to offer you a great festive mood off Christmas.
This theme is loaded with 11 beautiful Christmas wallpaper in blue color. Moreover, it changes the desktop icons to a Christmas shape. It also modified the mouse cursor and other gadgets with a Christmas look.
Features 
It just needs one click to be installed on your pc 

It offers Christmas sounds, icons, cursor, and gadgets 

Beautiful wallpapers in blue colors 
7. Holiday lights theme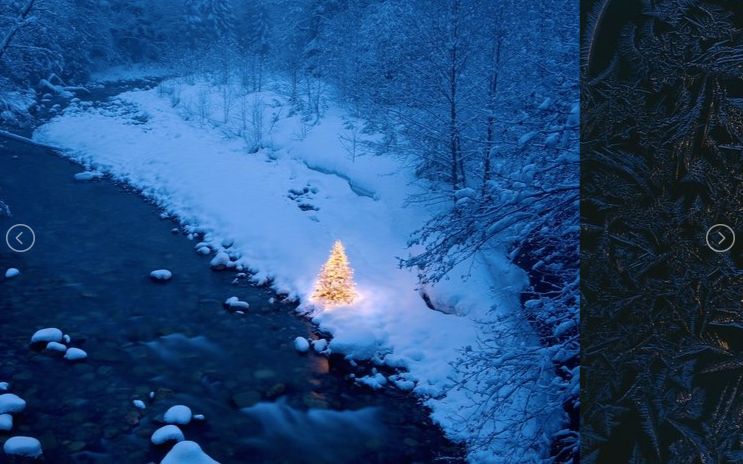 Holiday light theme is another best Christmas themes for your Windows for Windows 11, 10. It consists of various Wallpapers and Office sparkling images that provide a holiday celebration feel to your desktop.
Using this theme you can decorate your computer with Christmas lights and other decorative elements which you see at Christmas. The wallpaper consists of sparkling trees, white snow on trees, candles, fireplaces, and other things which remembers you a Christmas feel.
Features
The wallpaper contains colorful trees 

It is the perfect theme for setting a holiday mood

Apart from flights this theme also offers Candles, pinecones, and other Christmas-related items
8. Christmas tree theme
Next we have a Christmas tree theme that offers you the exact Christmas spirit on your desktop. It is loaded with 16 beautiful images of Christmas trees in HD quality. The trees are decorated with lights and snow and give a real feeling of Christmas.
All these themes are free to download on your Windows 10 and 11. The theme is also available on the previous Windows version.
 Features
It offers the best decorative tree images which you can apply on your desktop background

The trees belong to different parts of the countries

Decorative trees with snow and lights 
9. Christmas theme
This theme is dedicated to Windows 10 and 11 and consists of a lot of icon packs, Wallpaper, and skin which are enough to give you a feel of Christmas. Using these themes you can customize the look of your desktop. This theme consists of 16 HD Wallpapers.
The wallpaper is blue in color and contains a Christmas tree on half of the screen. All the Wallpaper is related to the Christmas festival and offers you the same feeling.
Features 
It offers beautiful Wallpapers consisting of all the elements related to Christmas

It adds a Christmas look to your PC

It has some of the colorful themes best suited for the festive season
10. Snowflakes theme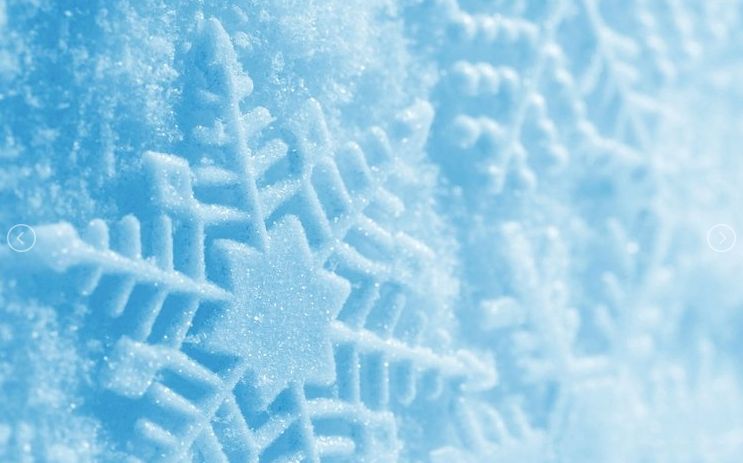 It is one of the amazing Christmas themes for your Windows PC. Firstly it is free and also a lightweight theme. It provides a winter mood and a snowing feeling on your desktop.
So even in hot summer when you look at your desktop screen you will feel a winter-like season. When you move the mouse cursor snowfall will appear on your screen.
Features 
Easy to apply themes without installation
With the increased movement, snowflakes look bigger
It has a fun theme that adds Christmas Touch to your desktop

 
11. Ice Castle theme
When it comes to Christmas one thing which always strikes in my mind is snow and ice. This theme is meant to offer you the exact feeling. It consists of some of the best and most stunning ice castle Wallpapers Around the globe. So using this theme you can decorate your computer with eye-catching ice castles. The ice castle theme is available on both Windows 10 and 11.
Features 
Enhance the loop of your PC With new icons, sound effects, cursor, and AI Enhanced wallpaper

It offers 4 teens HD Wallpapers

It offers images of varieties of castles in different parts of the world
12. Panoramic Snow
Christmas is a festival in which one thing definitely comes to our mind which is snowfall. So if you want to get a snow experience on your Windows PC then Panoramic Snow is the best theme that offers a Christmas feel to your desktop screen.
It contains snowfall Wallpapers off some cold reasons like Australia, Canada, the Netherlands, Italy, and UK. It has 12HD images which you can use on dual monitors.
Features 
It offers various images To choose

You can easily change the color of your desktop

 Download these themes from Microsoft Store for free
13. Winter garden theme
If you are a nature lover and also looking for a decent Christmas theme that you can use to decorate your PC screen then winter garden theme is the perfect option for you. It contains some amazing wallpaper that makes your PC look like a garden.
The wallpaper consists both photos of trees, leaves, branches, flowers, and other stuff related to the garden. It has eight unique Wallpapers which you can download for free on your PC.
Features 
It has 8 high-resolution images of Leaves and fruits with snow and ice

Using these Wallpapers you can bring a winter time on your desktop

This theme includes one custom color
Also Read