Do you want to change your context menu? Context menus are the options you get when you right-click your mouse or touchpad button. Sometimes you might find these options are unnecessary, and you can edit them to create a more helpful context menu. Well, now you can edit your context menu with the listed software below.
Best Context Menu Editors For Windows 10,8 and 7 PC
1.CCleaner
CCleaner is one of the best system optimization and performance-boosting software. It is pretty helpful in eliminating all unnecessary software and cleansing your registry. Context menu editing is the software's most overlooked feature. With the Context Menu Editors in CCleaner, you can simply add, Remove, and Edit Context Menu items on Windows 11/10.
Features:
Options for remote problem-solving.

Endpoint deployment with a single click.

Data export and built-in reporting and auditing possibilities.

Secure deleting tool.

It can repair Registry keys that have become corrupted.
2. Lammer Context Menu
With functions including copying file or folder paths, starting the Windows Explorer or Command Prompt window at the current position, and batch renaming files, Lammer Context Menu is one of the most remarkable tools.
Lammer Context Menu has many applications that can assist with a variety of file operations and management activities. The helpful batch file renamer enables you to alter the names of multiple files at once in a simple manner.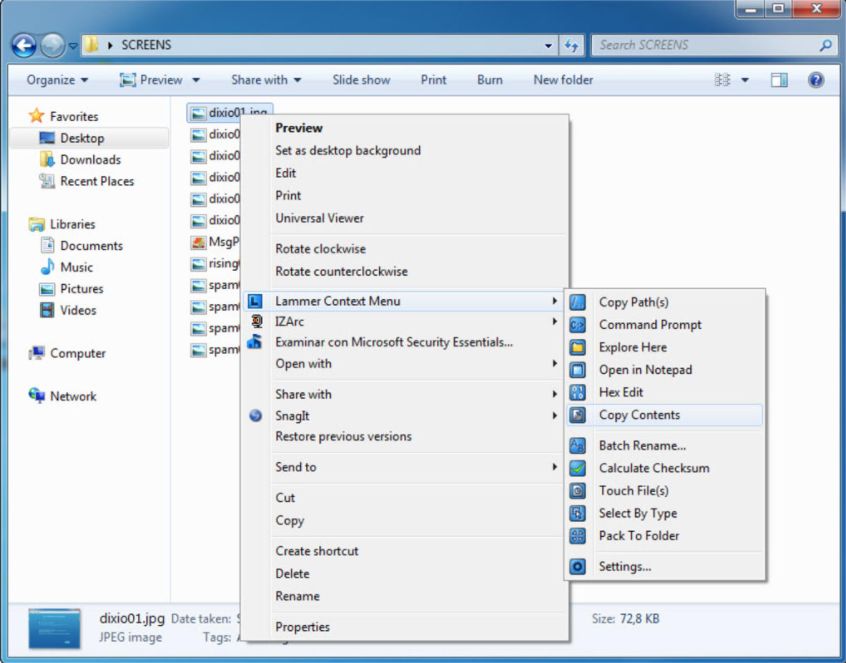 Features:
Context menus become extremely useful.

Menus can be customized in a variety of ways.

Renaming many files at the same time is possible.

Windows XP and later are supported.
3. CMenu
CMenu is a lightweight Windows software that adds a few extra options to the Windows Context Menu. Several aspects contribute to the app's greatness, one of which is its simplicity, as all of the accessible options are grouped together in the main window, with no other settings to fiddle with. The program is simple to use and can be used without technical skills. With this application, you can add additional items to the Windows context menu. In a single right click copy or move a file or folder.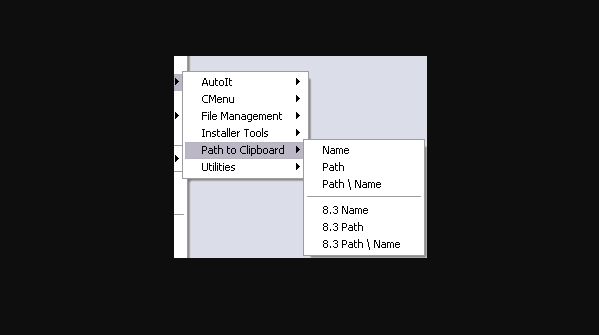 Features:
It enables you to determine which context menu items should be loaded.

It's incredibly basic and straightforward to use.

It is software that is both light and portable.

It works with all versions of Windows; however, Windows 7 requires administrative privileges.
4. FileMenu Tools
FileMenu Tools is a freemium program for creating and deleting context menu entries. It offers to Create symbolic-Links, sync folders with file deletion in both directions, and show the folder size of all subfolders are just a few of the fantastic features that you won't find in other similar software. FileMenu Tools is compatible with Windows XP and higher, and there are portable and installer versions available.
Features:
It is a light utility that does not place undue strain on your system's resources.

With a few simple clicks, you can add, organize, and delete various right-click menu commands.

The user interface is based on a responsive window with a regular layout.

General properties such as menu text, icons, arguments, file extensions, folders, discs, and more can be reset.
5. Glary Utilities
Glary Utilities is one of the best programs for editing context menus. This feature-rich program is used to optimize and improve the system's performance. Registry repair, Disk cleanup, and junk-file removal capabilities are all included in the package, which is normal fare for tune-up apps.
It also offers a few other features that aren't available in the free edition of Glary Utilities, such as schedule tune-ups and the option for automatic software upgrades. On the other hand, the free edition has limitations, but it offers more than any other software in its class.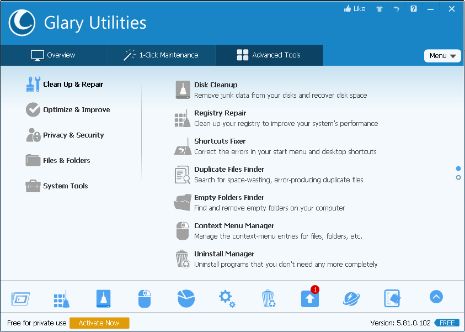 Features:
Run a scan to see if there are any issues with the system.

It has backup and restores capabilities.

The Startup Manager and File Shredder program are included.

Provides a simple interface for disabling or adding entries with a right-click.

It also offers garbage removal.
6. Fast Explorer
Another context menu editor on our list with a great user interface is File Explorer. This software offers a clean user interface with only four options on the left side, none of which are hidden. The four menu tools are static items, Submenu items, Static items cleanup, and Shell extensions cleanup.
By picking a file/extension and its associated folder, you'll usually use Static items cleanup and shell extensions cleanup to disable, delete, or remove menu items all at once. The right pane will display all of the functions of a particular file/extension, which you can disable or delete.
Features:
This program is extremely versatile and robust.

The app is incredibly user-friendly and customizable.

This tool allows you to customize the menu options based on the file or folder's extensions.

There is a portable version of the software available.

It is compatible with Windows XP and later versions.
7. MenuMaid
MenuMaid is a completely free program that allows you to customize your context menu options. This program allows you to alter menus in Internet Explorer and Windows Explorer.
In Windows Explorer, entries are organized into categories such as directories, menu items, drives, and folders to make finding them easier. In Internet Explorer, there is only one right-click menu. The only reason to use this app is that it is so simple. The app's user interface is clutter-free and tidy, so even beginners can update entries in the context menu.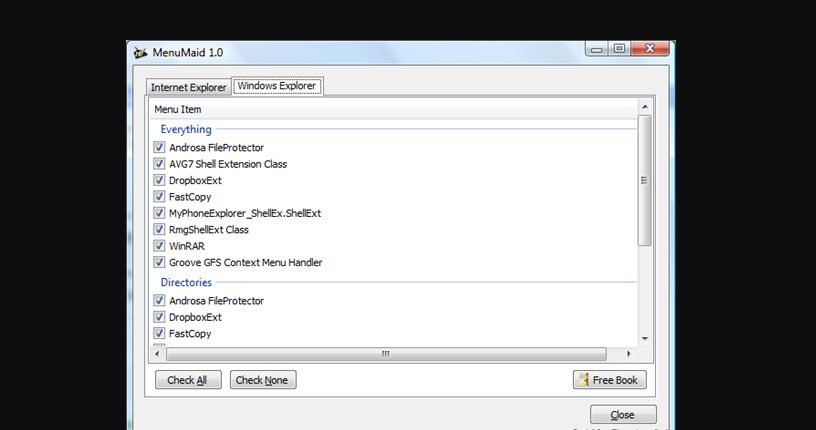 Features:
Select the items to be eliminated, search for all files in the list, or remove the selected entries manually.

It's simple to use.

Changes are implemented right away.

It has a clean and straightforward interface where you can easily add and remove menu options with just a few clicks.
8. Moo0 Right Clicker
This small program was created to improve the operation of your context menu. You may customize the look of your context menu with a variety of skins. It covers more than forty-six languages, so even if you don't speak English, there's a good chance your language will be included.
It includes features like duplicating the current Explorer window, moving/opening /copying to bookmarked folders, hiding default context menus, and more. You can also instruct the software to keep track of folder access history. Moo0 right clicker pro is a fantastic application for cleaning up your context menu and adding entries that you find handy.
Features:
You can restore the deactivated things shortly by using this app as the primary tool.

With this software installed, you'll be able to organize your Shell commands and context menu properly.

This app provides excellent customer service and is available 24 hours a day, seven days a week.

The right-click menu can be customized and changed in color.
9. Ultimate Windows Customizer
Ultimate Windows Customizer handles all of your Windows customization and tailoring needs, including Taskbars, right-click menus, Start Menus, and more. It comes with a slew of features, including sub-features for editing entries in the context menu. The software's application is designed to be simple and straightforward to use by anyone with no technological expertise. It allows you to add, delete, enable, and disable numerous items from your context menu, as well as establish system restore points before making any changes, and it's all free.
Features:
It allows you to customize almost every aspect of Windows, including the Start Button, Context Menu, Windows Explorer, Taskbar, and so on.

Simple and user-friendly, with no need for editing the Windows Registry or Windows System Files.

This software also allows you to place an icon in relation to it.

It is simple to remove from the Control Panel.

The error log is shown for convenient viewing.
10. Easy Context Menu
Easy context Menu is a small tool that allows you to add entries to your system's context menu as well as your files and folders. Other functions include Jump Registry Key, Context Menu Cleaner, Change User Account and Control Settings, and so on. Later, you can disable menu items to return to the original context menu.
This software is recognized as one of the greatest tools for context editing, and, in addition to being free, it is portable, which means you may use it with your USB drive rather than installing it on your computer.
Features:
This program can be used to delete old and unnecessary data from your computer or device.

The right-click menu's options can be changed or customized.

Simple software that does specific activities without the need for keyboard shortcuts.

It lets you quickly access your most commonly used Windows program.

The program can be saved on USB flash drives and other portable devices.
11. ShellExView
The ShellExView application shows you all of the shell extensions installed on your computer and lets you effortlessly disable and enable them. Many programs install their extensions as part of the installation process, causing them to display in the context menu.
Although these extensions are known to enhance the capabilities of your Windows OS, they can occasionally cause issues such as slowdown. It does a system scan to look for shell extensions and generates extensive reports on file extensions, including the type, file name version, description, and other information.
Features:
It has a straightforward and uncluttered user interface.

It enables you to block specific Right-Click menu entries, preventing your computer from crashing.

An upgraded screen shows the exact details on the main window and the "Property" window.

It is not necessary to install it.

Works with the very minimum of computer resources and is compatible with all Windows versions.
Download Now
12. Context Menu Tuner
In a free edition, it offers more functions than its competitor. It allows you to customize the icon, command-line options, and the name for each new application added to your context menu. You can even move the new item around to suit your needs and create a separate list to keep your regularly used tools apart from the default ones.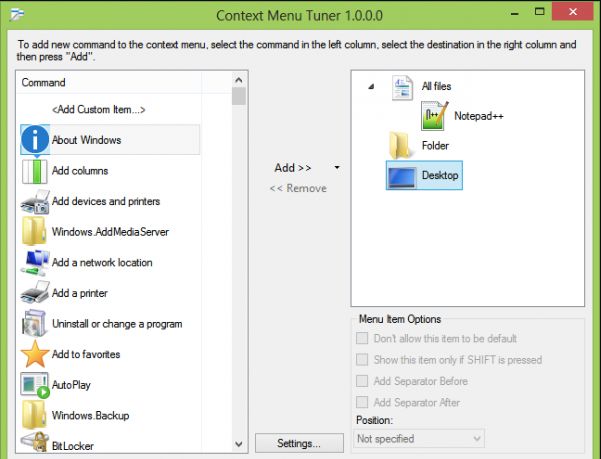 Features:
It's a portable program that doesn't require installation.

All versions of Windows, including Windows 7, 8, 8.1, and 10, are supported.

Any custom command can be added to the menu by the user.

You can change the order of the items on the menu.
Download Now
FAQs On Context Menu Editor
Where is the context menu editor?
ANS: Enter Regedit by pressing Windows key + R. To find context menu entries, go to ComputerHKEY CLASSES ROOT and look for *shellex, which you may edit, remove, or create.
How do I edit a new context menu?
ANS: Using the Windows registry or third-party applications, you can easily edit the context menu. This article discusses a few fantastic programs. To edit your context menu, select an option from the list.
What is the context menu option?
ANS: A context menu presents a limited set of options based on the current state, or context, of the operating system or application to which it belongs. The available options are usually actions that are related to the selected object. You can completely personalize your context menu with a third-party program.
How do I use ShellMenuView?
ANS: Simply copy and run the executable file (shmnview.exe) to whatever folder you choose. ShellMenuView's main window displays a list of menu items. You can enable/disable one or more menu items by selecting them.
Also Read