Overclocking is a concept of increasing the speed of the clock rate of a system's particular component. Usually, it is done to change the default configuration of the CPU, GPU, and RAM. Increasing the clock rate can facilitate accommodating execution of more operations per second.
Now if you are wondering how to overclock the system processor, then you would be happy to learn that several overclocking software for Windows PC is readily available for your help.
Here are my top picks for this year
MSI Afterburner
CPU-Z
GPU-Z
EVGA Precision X
NVIDIA Inspector
AMD Overdrive
AMD Ryzen Master
Intel Extreme Tuning Utility
GMA Booster
CPU Tweaker 2.0
So, let's look at the nitty-gritty of the best overclocking software in the below segment of the blog to help you figure out the best tool to support your requirements.
Best CPU/GPU Overclocking Software For Windows 10, 8, 7 PC
1. MSI Afterburner
MSI Afterburner is a powerful GPU Overclocking  software for Windows system easily. This freeware is compatible with different versions of Windows computers including the older versions of Windows.
It is also compatible with a large number of graphics cards. With this software, you can view an elaborate report of your computer's hardware. 
Significant Features of MSI Afterburner:
You can customize fan profiles.

This tool also helps to benchmark the GPU.

Besides this, you can also receive the FPS counter of the game.

You can test the stability and temperature of the GPU.

You can also get detailed insights on the voltage, GPU usage, clock speed, and temperature.
2. CPU-Z 
CPU-Z works on Windows 10, 8.1, 8, 7, XP, and Vista. This tool can effectively monitor the most important components of the Windows PC including CPU, GPU, and even the cache levels.
It pulls real-time numbers of the motherboard, chipset, along with the memory frequency. Let's take a look at its other features further.
Significant Features of CPU-Z:
CPU-Z supports SPM memory.

It is capable of assessing the internal frequency of the RAM in real-time.

You can inspect the memory clock, fan speed, temperature, and CPU load of your system.

This tool is available free of cost.
3. GPU-Z 
Next on our list of ideal overclocking software for Windows PC is GPU-Z which is compatible with Windows 10, 8.1, 8, 7, XP, Vista, 2000, and 2003.
Built for closely monitoring the graphic cards' performance, this tool is compatible with all popular GPU makers such as ATI, NVIDIA, AMD, Intel Graphics, etc. Wondering what else can this software do? Read ahead to find out.
Significant Features of GPU-Z:
It can monitor the memory clock, size, GPU clock, graphical hardware settings, and the GPU temperature.

With this tool, you can back up the graphics card BIOS.

It shows the 3D clock, overclock, and default clocks.

This tool is lightweight with a simple interface.
4. EVGA Precision X
Do you want an overclocking software for Windows which is compatible with NVIDIA graphic cards? Well, EVGA Precision X is one robust and promising software that is useful for multiple system components.
This tool has a simple and intuitive interface with plenty of other features which are described below:
Significant Features of EVGA Precision X:
This overclocking software enhances the gaming speed.

EVGA precision X supports 10 overclocking setups.

The interface comes with RGB color support.

It offers customized fan controls.
5. NVIDIA Inspector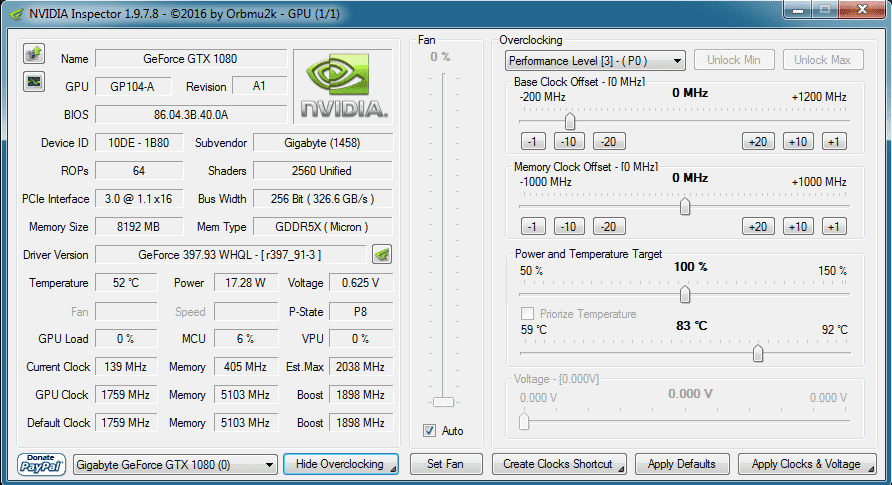 NVIDIA Inspector is another best overclocking software that is good for Windows computers fitted with NVIDIA graphics cards. This tool comes with easy-to-use features and is great for analyzing and monitoring the graphics card's performance. 
Significant Features of NVIDIA Inspector:
It helps to monitor the temperature of GPUs in real-time.

This tool can be used to check the GPU clock temperature and speed along with the fan voltage.

It offers support for Enthusiast System Architecture components.

It can also monitor the memory clock of the PC.
6. AMD Overdrive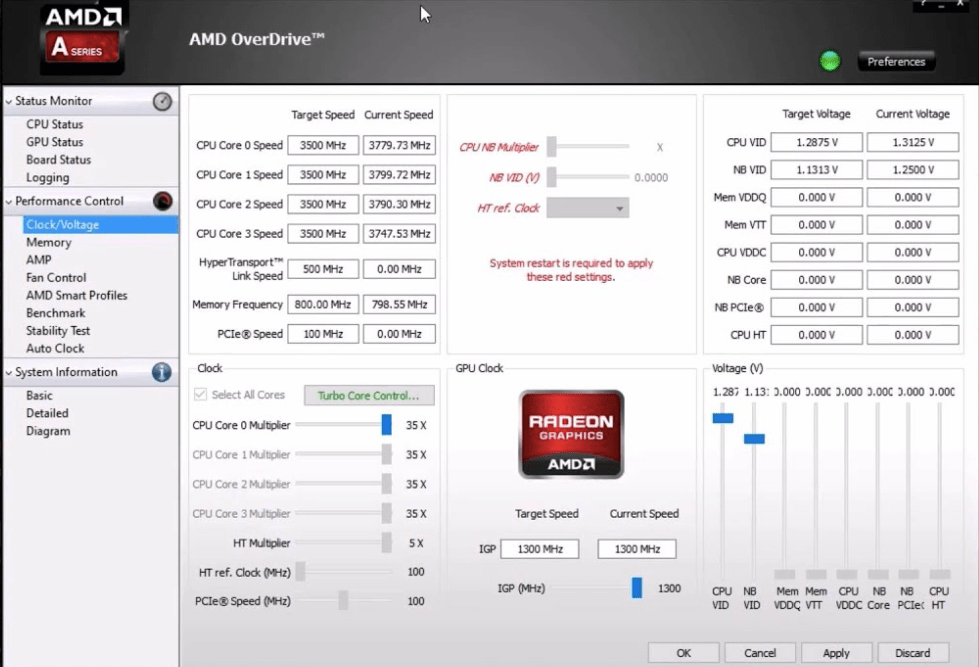 AMD Overdrive as the name suggests is an overclocking software that is compatible with all AMD graphics cards and chipsets. The USP of this software lies in its ability to offer real-time processor insights. Its other features have been enumerated below.
Significant Features of AMD Overdrive:
The clock frequency, memory clock, voltage, and GPU temperature can be customized easily with this tool.

It is useful to adjust the RAM clock speed.

This tool can be used to analyze AMD chipsets.

It enables users to perform stability tests after modifying the settings.
7. AMD Ryzen Master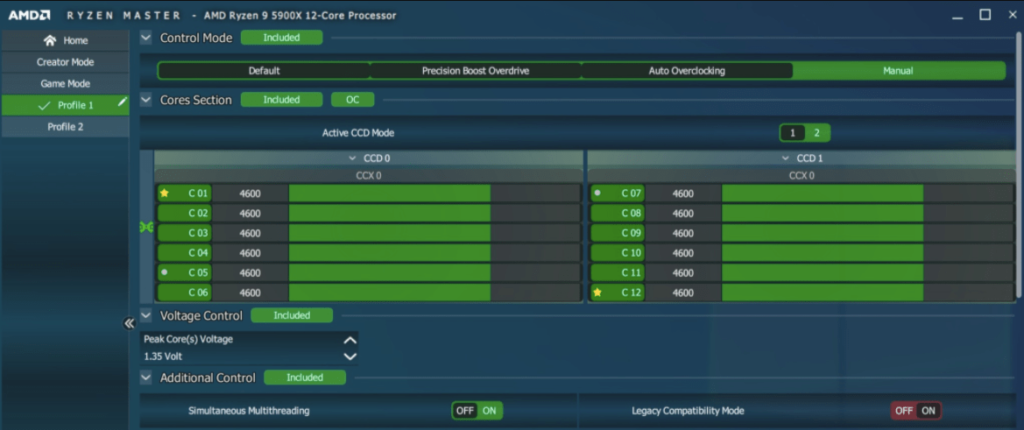 Here is another splendid tool from AMD curated specifically for the AMD Ryzen series computers. It plays an important role in overclocking the AMD Ryzen CPU.
With this tool, users can look at both graphical and numeric representations of their system's performance. Some of its useful features are listed below.
Significant Features of AMD Ryzen Master:
It displays real-time numbers for system performance, voltage, CPU temperature, CPU clock, etc.

Helps overclock the RAM, GPU, and CPU.

It comes with a clean user interface.

The software is enabled with Radeon integrated graphics overclocking feature.
8. Intel Extreme Tuning Utility & Desktop Control Center
Intel Extreme Tuning Utility is purely meant for Windows systems. This tool is also compatible with the Intel Desktop Control Center. Following are the other interesting features of this overclocking software.
Significant Features of Intel Extreme Tuning Utility:
This tool provides essential information about the processor including cache levels, multipliers, and voltage.

You can overclock the processor.

Besides this, you can also modify the clock frequency, voltage, memory clock, and temperature.

You can also get a detailed report about the motherboard and memory's performance.
9. GMA Booster
This tool is compatible with 900 and 950 GMA chipset and Windows 10, 8, 7, and XP operating systems. Besides this, this software is also compatible with macOS and Linux.
It can immensely boost the system performance without the need to restart the PC. Here are other features of the GMA Booster.
Significant Features of GMA Booster:
This overclocking software is available free of cost.

It has a simple user interface.

Being a lightweight overclocking software, it does not consume much system resources.
10. CPU Tweaker 2.0
The last overclocking software that we would like to include in our list is CPU Tweaker 2.0. Besides increasing the clock rate, it can boost the system performance by tweaking the settings of the other hardware components of the computer.
Significant Features of CPU Tweaker 2.0:
Capable of increasing the CPU speed and temperature.

Improves the speed and performance of the hardware components.
Conclusion On CPU/GPU Overclocking Software
So, this was a complete roundabout about the best overclocking software for Windows PC. The tools mentioned in the above article are extremely compatible with a wide variety of graphics cards. They are also packed with several other useful features. 
What are you waiting for then? Take your pick from the above-mentioned list and overclock your system today without any hassles. Do share your thoughts in the comments section below.
Frequently Asked Questions
What is the best overclocking software for GPU?
There are plenty of tools in the app market that can help you overclock your Windows CPU. You can refer to the above article to know about the 10 best overclocking software. 
What is the best way to overclock?
The best way to overclock the system is to take the help of the overclocking tools. They can do the job in a jiffy and help enhance the system performance.
What software can overclock RAM?
Overclocking software such as MSI Afterburner, NVIDIA Inspector, and AMD Overdrive are good for overclocking the RAM.
Does Afterburner overclock CPU?
Yes, MSI Afterburner helps to overclock the CPU of a Windows PC easily. It is an efficient tool packed with wonderful features.
Also Read