Every day we merge numerous menus and phone details side by side with Google. In doing so, we develop a lot of duplicate contacts in our contact list. Removing each of these duplicate contacts manually can be time taking and confusing. Thus, manual removal of entries is not a very sound process to adapt. Having a third-party Duplicate Contact Remover App for your Android devices is the best solution to this problem. 
Through this article, we will share 9 Duplicate Contact Remover apps that can be the best for your phone. These apps are better than the rest as they bring the least hassles to their owners while removing duplicate numbers from your phone. They are built for accuracy and do not ever remove the entire contact details completely.
Not only do these facilities but they help you create a backup for all your contacts before proceeding with the scanning process. It will allow you to sync and restore contacts from different devices. If you have innumerable different numbers saved separately for the same contact, the app will allow you to merge them all into one. It is a lightweight app and does not occupy a lot of space on your device.
9 Duplicate Contact Remover Apps For Android
The Duplicate Contact Remover apps described here are quite a wonderful addition to the useful app lists you have.  Try one of them to know better and each of them brings you optimum results.
1. Contacts Optimizer
With this Duplicate Contact Remover you can move contacts, remove duplicate contacts and also facilitate contact editing facilities. If you are struggling with a duplicate contact list on your Android device, you must try Contact Optimizer as a beginner.
Features:
Finding similar contacts apart from deleting duplicate contacts.

You have a Move to Account function with the Edit Contacts feature enabled on the app.

You can move selective contacts within accounts in a wholesome mass.

Empty fields can be easily removed while cleaning your contact list.
2. Duplicate Contacts Remover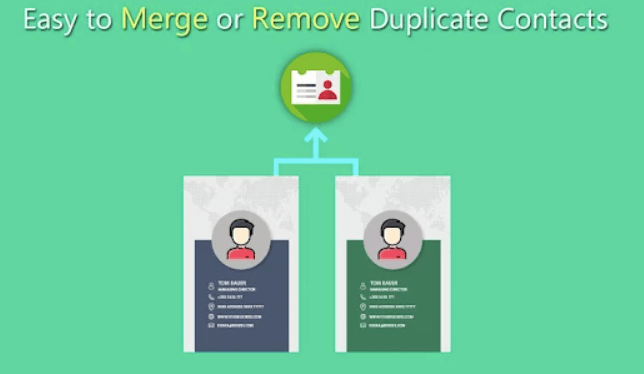 Automatically scan, detect and delete contacts from your lists using the Duplicate Contacts Remover app. Carrying backups is possible from SIM cards, phone memory, and any of the social media accounts including Google.
Features:
Transfer every single contact to a completely different account with this app.

Back up files can be shared through Gmail.

You can use their backup facilities to save your contacts in different file formats like TEXT, CSV, and VCF file formats.
3. Merge Duplicate Contacts & Cleanup by Simpler
This is one of the best Duplicate Contact Remover apps that is being used by almost 3 million users worldwide currently. Simpler's Merge app will be able to tune your address book in seconds. Merging duplicate contacts is possible through many apps but identifying them might still remain a challenge for some. Such is not the case with this app.
Features:
All your duplicate contacts saved separately can be merged together with just one tap.
The app is available in 15 different global languages.
This free Duplicate Contact Remover app supports unlimited backups absolutely free of cost.
4. Duplicate Contact Manager
If your address book is a difficult place to be in, try using Duplicate Contact Manager to remove duplicate contacts in Android. With it, you can remove duplicate contacts quickly and can also locate, remove and merge contacts fast. You can perform a duplicate contact search using the contact's name, phone number, and even emails.
Features:
All duplicates are identified and removed at a shot reducing the bulk and instantly cleaning your address book.

Remove invisible, email, and blank contacts from your address book within minutes.

Export your contact list in CSV or Excel sheet format.
5. Duplicate Contact Fixer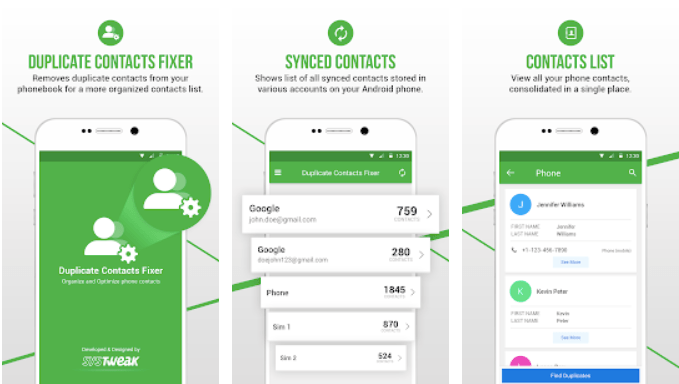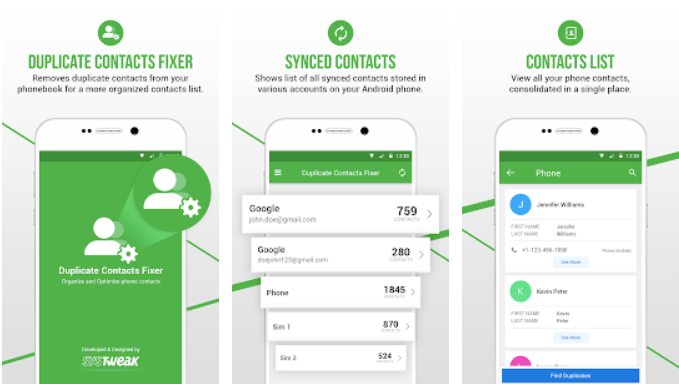 When and if changing phones or removing and adding Google accounts more than once will lead to unnecessary copying of contacts. This process could mean you can have single contact information saved three times or more in your address book.
Features:
Filtration of contacts can be done based on the account type from where they were migrated.

Scanning and removing duplicate contacts is essential for scanning and deleting duplicate contacts from your phone.

Before scanning your address book, it creates a backup for all your contacts.
6. Merge +
Reviewing Merge+ suggestions, It is possible in linking your contacts between your tablets and Android phone with just three quick clicks. With Merge +, you can also use voice commands for identifying and removing duplicates.
Features:
You can find Merge+ as an integrated contact feature in Contact+.

Before activating the merge command, review and backup your contacts appropriately.

Review the suggestions offered before finalizing who you wish to merge together.
7. Contact+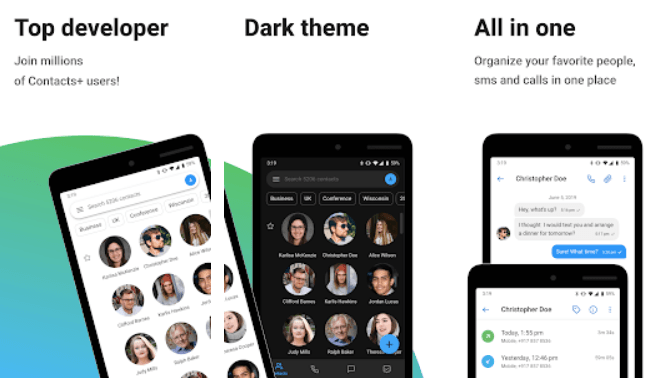 It is another popular app on the list for removing and erasing multiple contacts or for merging multiple contacts into one. The app right now has 10 million contacts all across the world. Contact Plus Team is behind the Contact+ app.
Features:
Caller ID facility alongwith spam block provisions.

You can do a quick dialer search and also sort contacts using the smart contact sorting.

Birthday reminders and duplicate contact remover are present in the app.
8. Simple Contacts
A lightweight app that can help display your favorite contacts through a separate list. Alongside keeping your address book lean, it also is found to be a lightweight dial pad that offers wonderful suggestions.
Features:
It comes with innumerable portable settings.

How does clicking on contact be easier is what this app promises,

Alter name, email, phone number, address, organization, groups, and many other customizable fields to create a detailed & unique list.
9. Circle Back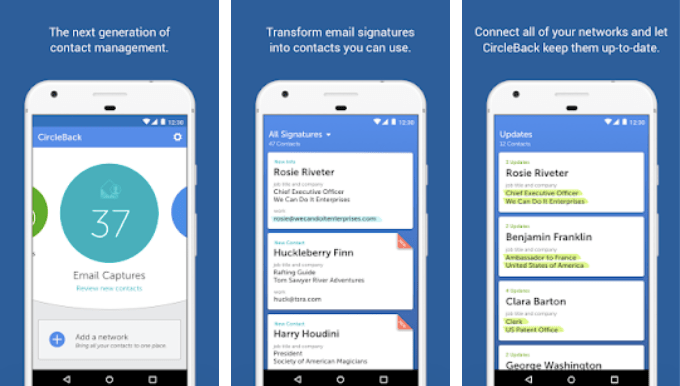 Proprietary SIQ and contact deduplication features are what keep your address book lean forever. It is one of the best sales effective apps today and is an all-in-one app that helps to manage contacts in one go.
Features:
With this app working for you in the background, there is never an occurrence where you can lose contact ever.

Contacts can be captured from an email signature app as well.

An effective backup is possible with this app before merging contacts.
Conclusion
If you could not decide on the best duplicate contact remover apps is the best, you can try our suggested list as a starting point. Once you are aware of which app features you need, you can find the best app for yourself easily.
FAQs
How do I eliminate duplicate contacts?
You can take the help of apps to remove duplicate contacts or you can merge duplicate contacts. Read the above article to gain more knowledge on this.
What is the best app to clean duplicate contacts?
The best apps to clean duplicate contacts are Contacts Optimizer and Duplicate Contact Remover.
What is the best iPhone duplicate contact remover?
Cleanup Duplicate Contacts is a free tool that can scan your iPhone and present you with a list of total and partial dupes.
Is there a quick way to delete duplicate contacts on Android?
Using contact remover apps for Android is the fastest way to remove duplicate contacts.
Note: Instead of deleting duplicate contacts, one can also try merging them.
Also Read