Choosing the right duplicate file remover apps for android is not a difficult task. In this blog, we have tried and tested several android apps and listed the best ones. Your smartphone may have many copies of the same file due to various activities, such as frequent file downloads, data backups, app-to-app file sharing, thumbnails, and other similar activities.
In this case, deleting duplicate files manually may be time-consuming and difficult. Consequently, we advise that you utilize the top 7 duplicate remover apps for Android for quick and precise outcomes.
Top 10 Duplicate File Remover Apps For Android
1. Duplicate Files Fixer
In terms of Duplicate File Cleaner Apps for android, this is one of the best apps or tools for getting rid of duplicate files. The Duplicate Files Fixer application interface is simple, making it easy for anyone to use. Improved functionality makes it simple to search for and remove redundant data.
Before erasing them from your device, you can use this app to view any duplicates it has found.
Features: 
It's simple to keep certain folders from being checked for duplicate files.

You can look at the scan results to decide what to keep and delete.

Duplicate Files Fixer uses an intelligent algorithm to scan duplicate files at the speed of light and get rid of all of them in a few seconds.

Supports 14 languages, such as French, German, and Japanese.
2. Search Duplicate File
Search Duplicate File is another duplicate file scanner and deleter that checks hidden folders, SD cards, USB drives, and other external media for copies.
The Search Duplicate File app's powerful capabilities allow it to do a wide variety of tasks, including deep cleaning, smart selecting, mounting, and more. You may be as specific as you want during a duplicate file search with the file format, size, and extension.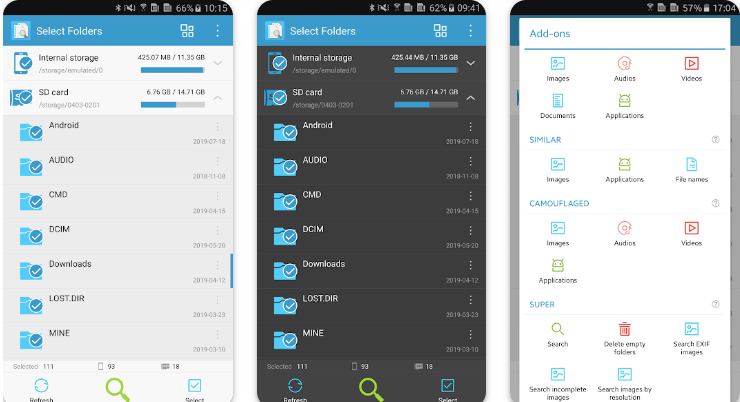 Features: 
Supports smart-selector, accurately tells the difference between duplicates and originals.

"Lock Folder" lets you keep your important files safe.

Make checksums for files.

The ability to choose any directory, mount point, and TRUE

Use "Flagged folders" to eliminate all cache and files you don't need.
3. Duplicate Media Remover
Duplicate Media Remover is another app that can find and delete identical media files on your Android device, including videos, music, and photos. Selecting folders and erasing duplicates or near-duplicates is a breeze. You can set it to scan your device once a day, seven days a week.
Features:
It's easy to compare duplicate files to the original file before deleting them.

It's easy to choose which folders to search for duplicates, and the rest won't be changed.

The app regularly looks for duplicate files, which makes future scans faster.

With this application, you can set up a scan to happen every week.
4. Duplicated Files Finder
The Duplicated Files Finder app makes it simple to locate and delete duplicates from your Android device. It can quickly and easily scan your device's internal and external storage media for duplicate files and delete them. You have complete discretion over which files on your device will be erased.
Features:
Check both the storage inside and outside of your device.

Easy to use and understand.

It's easy to pick out files you don't need and delete them from your device.
5. Duplicate File Remover
Another duplicate file cleaner app for Android that works with all file types and deletes all copies of files. You can quickly and easily scan for duplicate files on your Android device and SD card with this straightforward app.
Features:
Shows photos and videos side-by-side in a grid with all file information so you can decide quickly which files to delete.

You can look for duplicate files on both the device and an SD card.

Users can choose which folders to include or leave out when the application scans for duplicate or the same files.

Supports all major languages, including French, Spanish, Japanese, German, Portuguese, Arabic, and many more.
6. Files By Google
Files by Google, developed by Google, is a top-notch duplicate-file-finding tool. The Files app will check your gallery and your entire device for duplicates and other unnecessary images taking up space.
Unnecessary data such as media stored in WhatsApp, recordings of your screen, duplicates, large files, screenshots, etc. You can clear space manually by choosing each item one at a time or quickly with the tap of a button.
Features:
You can free up space with just one tap on the "Free up Space" button.

Simple to see what we are removing from the device.

It's easy to find files and keep track of them.

Back up files to both an SD card and the cloud.
7. SD Maid-System Cleaning Tool
The app SD Maid-System Cleaning Tool is the most effective one available for eliminating duplicate files on Android devices. By providing a wide variety of options for removing duplicate and junk files, this app makes it simple for you to clean up your Android device and make it run more efficiently.
In addition, you can easily locate and delete leftover data from programs that have been deleted for a long time.
Features:
The SD Maid-System Cleaning Tool can be set up to run on a regular schedule.

This app for Android that gets rid of duplicate files has a great 4.5 rating on Google Play Store.
FAQs
What are the best Duplicate File Remover Apps for Android?
The Duplicate Files Fixer is the cutting-edge answer to your problems with duplicate files. Duplicate Files Fixer's quick and precise results come from its user-friendly interface and robust search capabilities.
Is there an app to delete duplicate files?
Files by Google is your best option if you want to quickly and easily remove duplicates from your computer. In this case, it helps eliminate duplicates and obsolete photos and memes from messaging applications, unwanted software, caching, and more.
Is the duplicate file finder & remover app free?
Duplicate File finder Apps allow you to scan multiple directories and Photo Libraries simultaneously. Just drag the desired files or media into the program to begin scanning.
Also Read
12 Best Free Game Booster Apps For Android Gamers
12 Best Volume Booster Apps for Android
7 Best Browsers For Android TV
9 Best Free Icon Packs For Android
6 Best File/Data Shredder Apps for Android
9 Best Football Games For Android
17 Best Free Duplicate File Finder For Windows 11,10,8,7
10 Best Duplicate Music Files Finder
18 Best Duplicate Photo Cleaner For Windows PC
9 Best File Compression Software
10 Best File Encryption Software