iPhone cameras are the best cameras when it comes to clicking photos and creating memories. But when you keep on clicking photos, the iPhone or iPad you are using is filled and you may find storage issues. So, it is quite vital to clear the similar and duplicate photos to boost your device performance and free up a lot of storage space. 
These duplicate photo cleaners can scan your photo library and accumulate all the unnecessary and duplicate photos. Apart from this, it can also help you to search for videos and screenshots. 
So, without any further delay let's start with the article to know more about the tools to remove duplicate pictures on iOS devices. 
Here are my top picks for duplicate photo cleaner apps for iPhone or iPad
Gemini Photos
Slidebox
Photo Culling
Photo Cleaner – Album Organizer
Cleen Photos
Cleanup
Remo Duplicate Photos Remover
AVG Photo Cleaner
Remove Master for Camera Roll
Duplicate Photos Fixer
13 Best Duplicate Photo Cleaner For iPhone or iPad
Here we have ranked and reviewed the Best Duplicate Photo Cleaner Apps For iPhone or iPad which save you valuable time. These programs will assist you in removing all duplicates images with minimal effort.
1. Gemini Photos
Duplicates and hazy photographs, screenshots, and document shots, as well as films that take up a lot of space, can all be removed from the phone memory with Gemini Photos. This photo organizer app has tools to help you organize your photos. You can either start automatic cleaning or manually check the photographs you want to delete.
Feature
One of the best Photo management software.

It denotes the worth saving as well as good photographs.

There's a delete photo library option if you want to eliminate all your photos at once.

Ignore the list if you don't want to delete any photographs.

You may also erase duplicate photographs from iCloud with this program.
Reason to Download: Your photos will never get shared anywhere and they will always remain yours.
2. Slidebox
Slidebox is another best duplicate photo cleaner apps For iPhone. It offers a swipe-based interface for browsing your locally stored photographs, screenshots, and other images. Swiping left or right advances through your queue, swiping up throws a photo into the trash, and pressing on a series of labels at the bottom of the screen saves or creates new albums. There are also features for comparing identical photographs and emailing or texting complete albums.
Feature
There is no need to register or create an account.

The software is free to use. However, there is a paid subscription option for cloud storage.

This software has access to your device's images as well as those stored in iCloud.

Delete images with a single press.

In full-screen mode, you may compare photos.
Reason to Download: Organizing photos is never easier than with Slidebox that can be done with a swipe.
3. Photo Culling
Canon Photo Culling uses artificial intelligence (AI) to help identify, organize, and delete duplicate photographs. The Photo Culling software helps users in selecting their best shots by assessing sharpness, noise, emotions, and closed eyes. 'Similar culling' is a feature in the app that separates similar photographs into groups and identifies each group's first and second-best images. The rest of the photos have been flagged for removal.
Features
It combines similar photographs to assist you in selecting the best one.

For each of your photos, you will receive a score that's unique to you.

The Photo Culling app requires iOS version 14 or later to work.

You can see how much space your photos contain.

It allows you to customize the score parameters for your photographs.
Reason to Download: It is trusted by millions of professionals all over the world.
4. Photo Cleaner – Album organizer
Photo Cleaner is another top Duplicate Photo Cleaner Apps For iPhone which have a strong program for deleting unwanted photos and videos from your album, keeping it clean and tidy. This fantastic application detects duplicate images in the blink of an eye and helps you in deleting them with ease. It also has an image compression tool that decreases the size of photos so that they can be shared more easily.
Features:
Duplicate or similar images are searched and removed.

Examine the storage of all of your albums.

Sort the videos by file size and delete the ones with the largest file size first.

Save up to 95% of space by compressing photographs or movies into lower file sizes.

In the Private Album, you can safely save your images and movies.
Reason to Download: Filter your photos by searching them with the file size, date, and albums.kar
5. Cleen Photos
Cleen Photos is another trusted Duplicate Photo Cleaner Apps that quickly eliminates duplicates on your iPhone and iPad. There's also the ability to organize your photos by name, date, size, and location to suit your tastes. The app's finest feature is its fantastic user interface.
You can swipe up to add a photo to your favorites, down to trash, or left to decide on the image's fate later while viewing it.
Features
Allows you to turn your favorite photos into beautiful picture books.

The app's page layout is sufficiently adaptable. With just a swipe, you can modify it.

It allows you to clean your photo library quickly and easily.

Faster than comparable apps.

There are no in-app purchases or add-ons.
Reason to Download: Turn your photos into personalized photo books with this cleaner.
6. Cleanup
Cleanup is another free iPhone duplicate photo remover application. It optimizes your photo gallery and frees up storage space with a simple yet intuitive interface. This tool makes it simple to eliminate duplicates and unwanted images in mass.
Features
Allows you to erase duplicate images in bulk on your iPhone.

The full-size photographs may be viewed by rotating the phone 90 degrees.

Compare your images quickly and delete the ones that aren't good, leaving only the best.

Swipe controls are used.

UI that is simple to use and attractive.
Reason to Download: Instruct Cleanup to remove files so that they are irretrievable even with the use of low-level disk tools.
7. Remo Duplicate Photos Remover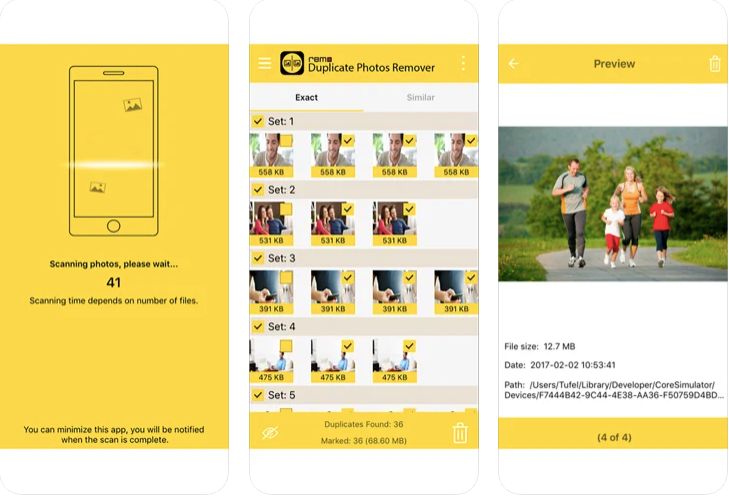 Remo Duplicate Photos Remover was created to help you find and eliminate duplicate photos on your iPhone. The program has a simple UI; all users have to drag and drop to start scanning for duplicate files. It divides the photographs into two groups: the first contains all "exactly looking photos," and the second contains "similar appearing photos" (i.e., not the same photos)
Features
It gives you extra information about the image, such as its size, resolution, date, and so on.

It has a smart algorithm that can accurately locate duplicate photos on iPhone.

To search for duplicates, use the drag option.

It allows you to preview duplicate photos before deleting them.
Reason to Download: You can remove duplicate photos that are shot on any device and do not have any kind of device restrictions.
8. AVG Photo Cleaner and Manager
AVG is one of the most well-known antivirus programs. AVG's security software isn't the only thing it has to offer. This program does more than remove duplicates. It recognizes fuzzy photographs, dark photos, low-quality photos, and extended videos, making cleaning your iPhone a breeze. It's compatible with both local and iCloud storage.
Features
It detects blurry, dark, low-quality, duplicate, and similar photographs automatically.

You may easily remove long videos with this tool.

A technique for advanced machine learning is used.

AVG Photo Cleaner and Manager support over 10 languages.

It allows you to go through the photos and determine which ones to keep and which to discard.
Reason to Download: Prevent apps from running in the background preventing your system from slowing down.
9. Remove Master for Camera Roll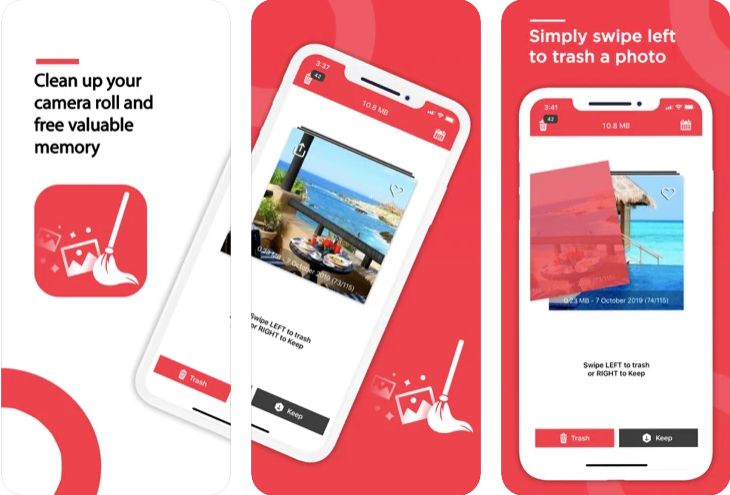 Remove Master for Camera Roll is a fantastic and one of the most effective Duplicate Photo Cleaner Apps For iPhone for managing your photos. Alunt created this software to ensure that your library is always organized. It has a one-of-a-kind reminder feature that prompts you to delete duplicate images from your iPhone. If you accidentally erase one of your crucial images, you can recover it from the recently deleted folder.
Features
With this program, deleting duplicates is simple.

It is five times faster than deleting the camera roll directly.

If you pay a few dollars, you can obtain more features like detecting duplication by month and adding photos to favorites.

The program is based on a simple left and right swipe concept.

It also Reminds me to clean out my photo library.
Reason to Download: Removing the photos is possible at five times the speed of the direct Camera Roll deletion.
10. Duplicate Photos Fixer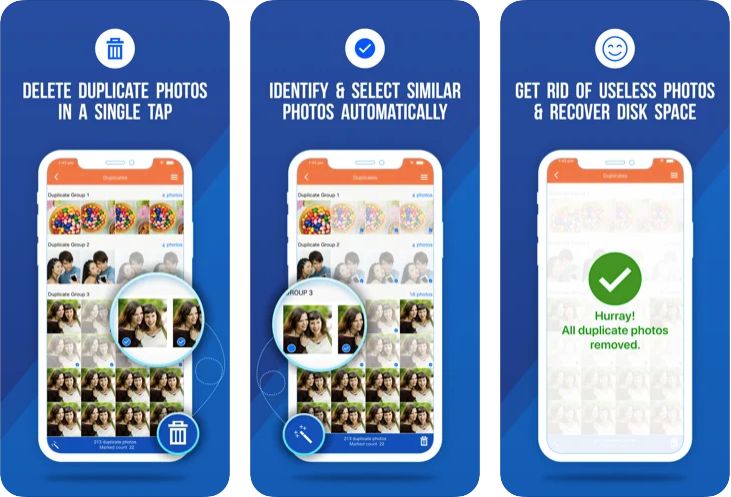 Duplicate Photos Fixer is another Best Duplicate Photo Cleaner Apps For iPhone that locates and deletes duplicate photos that take up unnecessary space on your phone. To find exact or similar matches for photos, select the scan type and start the scan.
It automatically classifies all duplicate photographs in each group as duplicates, leaving only one image as the original. It has various scan options, like scanning the full device storage at once or scanning and cleaning duplicate photographs in specific folders.
Features
To acquire the desired results, you can change the matching level criteria according to your preferences.

Make use of two features to see how closely two images match, Exact Match and Similar Match.

You can back up your data before you delete them.

User interface that is simple to understand.

Look for duplicate photos in specific folders of your choosing.
Reason to Download: Use the exact and similar match features to find out more about the close similarities between the two images.
11. Smart Cleaner – Clean storage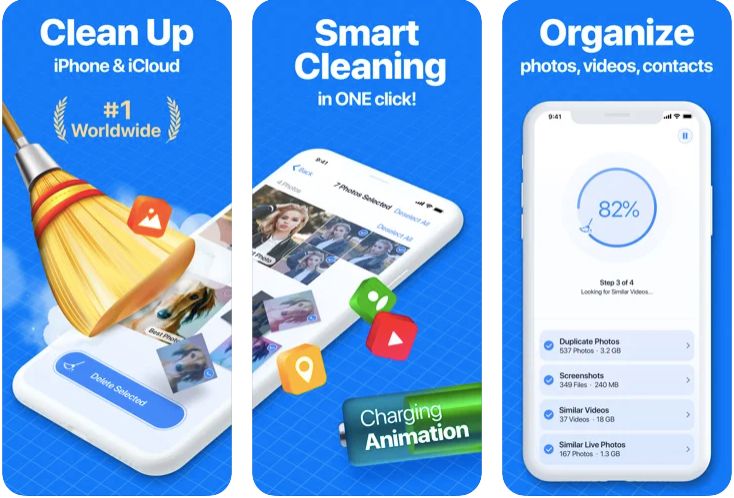 Smart Cleaner lets you swiftly eliminate unwanted images and screenshots from your iPhone's memory and iCloud storage. You can clean manually or use the Smart Cleaning feature. The application may also combine duplicate contacts and produce a phone book backup.
Features
On the home screen, you can add widgets for battery, storage, and contacts.

It allows you to organize images by location and delete photos taken in a single spot.

In the Secret Space, you may keep your photographs, movies, and private contacts.

Duplicate removal is smart.

Cleaning with Siri is intelligent.
Reason to Download: Save your battery life easily with this app for cleaning your iOS device.
12:

Bulk Delete
Bulk delete is a simple and quick tool for finding and deleting duplicate and similar photos on your iPhone. It works with both local and remote storage, as well as the Photos library. This software not only keeps one copy of duplicate photos and cleans or deletes the others with a single click. It runs in the background so you can focus on your job, and you'll be notified when the scan is finished.
Features:
When you click the Auto Mark button, Bulk delete will automatically mark duplicates based on a list of rules you may customize in Preferences.

Dark and Light settings are both fully created and optimized.

User-friendly interface.
Reason to Download: Dark and light settings are optimized completely.
13. Beetle Cam Gallery Cleaner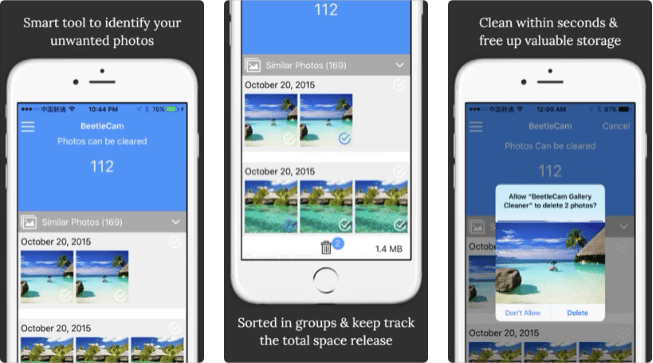 It helps increase the storage space in the iOS device of your choice. With the help of this tool, you can auto trace unwanted photos and images. They can optimize the storage and free up a lot of space within.
The same scene in quick succession, modified images, and inverted image spotting are some of the options the Beetle Cam Gallery Cleaner can detect and erase.
Key Features:
Use the file size, visuals, or type to sort through different photo and video duplicates.

Tracking the Cleaner's performance is easy with the app.

It can free up tons of disk space in the phone.
Reason to Download: The tool can detect even inverted images and delete them.
Comparison Table Of Top 10 Duplicate Photo Cleaner For iPhone/ iPad
| | | | | | | |
| --- | --- | --- | --- | --- | --- | --- |
| Product Name | Best For | Platform | Price | Free Trial | File Size | Version |
| Gemini Photos | Photo management | iOS 13.0 or later | Free | Yes | 129.5 MB |  1.3.98 |
| Slidebox | Organizing the albums | iOS 13.0 or later | Free | Yes | | |
| Photo Culling | Customizing the score parameters of images | iOS 13.0 or later | Free | Yes | 146.1 MB | 2.0.0 |
| Photo Cleaner | Keeping a private album | iOS 11.0 or later | Free | Yes | 216.1 MB |  4.5.1 |
| Cleen Photos | Free use as there are no in-app purchases | iOS 11.0 or later | Free | Yes | NA | NA |
| Cleanup | Mass deletion of duplicates | iOS 12.0 or later | Free | Yes | 230.5 MB | 3.8.6 |
| Remo Duplicate Photos Remover | Saving the best image automatically | iOS 9.0 or later | Freeware | Yes | 8.2MB | 3.6 |
| AVG Photo Cleaner | Removing long videos | iOS 12.0 or later | $4.99 | NA | 13.00 MB | 1.4.2 |
| Remove Master for Camera Roll | Reminding to clean the photo album | iOS 12.0 or later | Freeware | Yes | 6 MB | 5.0 |
| Duplicate Photos Fixer | Using multiple matching level criteria | iOS 8.0 or later | $6.99 | NA | 19.3MB | 2.7 |
Conclusion 
Photos play an important role in everyone's life. We all love to click photos and create memories. But sometimes due to the excessive duplicate and similar-looking photos you may find trouble in using your iPhone and also face storage issues.
The above article will help you to choose the duplicate photo removers apps and free up a huge chunk of storage space. After using these software you will experience a smooth performance of your device. I hope the above article will help you in selecting the best tools. 
FAQs
Q: How do I get rid of duplicate photos on my iPhone?
ANS: Manually deleting your duplicate photos from your iPhone one by one takes a lot of time and determination. As a result, we recommend utilizing one of the best duplicate Photo cleaning apps which is Gemini Photos.
Q: Can you duplicate photos on your iPhone?
ANS: Tap "Select" in the top right corner of the Photos app, then tap the photos or videos you wish to replicate. Press the "Share" icon in the bottom left after picking your photographs or videos and then tap the "Duplicate" option.
Q: What is the best app for deleting duplicate photos?
ANS: There are several photo cleaner apps available in the AppStore, and we've included a few to assist you in clearing your image library of duplicate photos. However, we suggest using Remo Duplicate Photos Remover.
Q: How do I delete duplicate photos from my iPhone for free?
ANS: There are two approaches. Manual method: press the Photos icon in the bottom left corner to see all of your photos in chronological order or Albums to refine your search. Tap a photo, then confirm by tapping the dustbin icon in the bottom right corner (or top right corner in landscape layout).
Second, download a third-party app from the App Store, choose one from the list, and clean your iPhone of undesirable files.
Q: What is the best duplicate photo remover for iPhone?
ANS: Remo Duplicate Photos Remover is a fantastic choice because it is modest in size and has a 4.6 rating on the App Store.
Also Read