You certainly can't criticize the importance of disposing of confidential documents, credit card statements with your social security number, and other files that contain sensitive information. Likewise, shredding digital data is equally important. If you think, moving those confidential files to the Trash Bin will do the trick. Then you're probably wrong! 
Anyone could recover them and use those digital records for malicious purposes. Hence, it's advisable to use professional File Shredder Programs to permanently and securely destroy them.
Here is my Top 7 File Shredder software for Mac to try this year.
Stellar BitRaser

CleanMyMac X

Mac Optimizer Pro

AweCleaner for Mac
MacClean File Eraser

Permanent Eraser
Since this article is focused on Mac users, we'll be introducing you to the top 6 data shredding utilities for Mac to use.
Top 6 File Shredder Apps For Mac
All these data shredder utilities are known for securely erasing your files so that no professional or data recovery software can undelete them. Check out the list of options you can trust! 
1. Stellar BitRaser File Eraser
Stellar BitRaser's file erasure software is a NIST-tested and approved software, that allows users to securely delete files, folders, and volumes from the machine and Server. Using the file-wiping program, you can even clean emails, browser history, and archives residing in any drive, media, or server. It's the fastest file shredder software for Mac among all the options listed here. 
Highlights: 
Supports high-speed erasure of multiple files & folders. 
You can schedule automatic file shredding tasks. 
Capable of removing recently used application traces & cookies. 
Allows shredding files locally as well as on the cloud. 
2. CleanMyMac X
CleanMyMac X is a well-known name in the category of the most popular cleaning, optimization, and security software. But do you know, it even offers a dedicated module known as Mac file delete to wipe confidential files and folders, without leaving any traces behind? Well, it works like a charm! It also offers tools to delete system junk, old & large files, mail attachments, unwanted apps, and more. If you are looking for a file shredder for android then you can check this blog.
Highlights: 
Clean, straightforward & polished dashboard. 
Clean different types of junk files, including iTunes & Photos'. 
Find and remove malware and privacy traces in a single click. 
Get around various Finder errors quickly & conveniently. 
3. Mac Optimizer Pro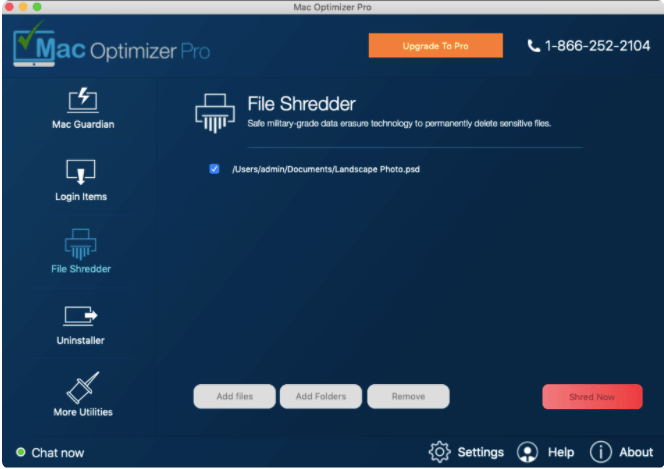 Mac Optimizer Pro is an improved file shredder software for macOS Ventura and older versions. It features a Secure Shredder module that uses a military-grade data shredder technique, powered by multiple-overwrite technology to securely delete files & folders. This ensures your privacy is never compromised & you can stay relaxed. Besides this, you can find plenty of handy tools to boost Mac performance and overall speed.  
Highlights: 
Powerful data shredding utility to remove sensitive files in one click. 
Uninstall old, large, and unwanted applications to recover space. 
Manage login items causing device startup disk full issue. 

Capability to remove junk files in a few clicks. 
4. AweCleaner for Mac
AweCleaner for Mac is a well-known name in the market for Mac cleaning and management tool to maintain the stability of your machine. But not many users know, that it comes packed with a reliable File Shredder utility too, that lets you wipe confidential files/folders in a single click. It even offers a variety of modules to clean every byte of junk files, uninstall apps with associated leftovers, clean duplicate data, and more.
Highlights: 
Find and delete useless large files to recover precious space. 
Manage and format disk drive on MacBook. 
Offers 1-click memory optimizer to boost Mac speed. 
Quickly wipe browsing history, along with online & offline activity traces. 
5. MacClean File Eraser
MacClean File Eraser claims to be one of the fastest and most secure services to permanently shred files on Mac. Besides this, it's considered to be a top-notch optimization and file shredder software for Mac to install. The application offers an impressive set of functionalities to clean junk files, caches, cookies, history, saved passwords, and whatnot.
Highlights: 
Proactively cleans up data that may result in a privacy threat. 
Has an app uninstaller to reclaim space. 
Duplicate file finder and remover. 
6. Permanent Eraser
Permanent Eraser is one of the most popular and widespread file shredder apps for Mac that comes with a flawless user interface to securely erase all types of sensitive data. It uses a 35-pass algorithm system to wipe the files/folders completely alongside their traces. The data shredding software can be used in multiple languages, including English, German, French, etc. 
Highlights: 
It overwrites the data multiple times, ensuring no recovery. 
Provides drag & drop method to shred files instantly. 
Allows you to erase files permanently by using the right-click context menu. 
Technical support is provided via FAQs & Help Files. 
Writer's Recommendation
Our personal recommendation under the category of top Mac File Shredding Apps is Stellar BitRaser File Eraser, as it allows users to securely delete files, folders, and volumes from both machine and Server. The application is also available for Windows users! 
Frequently Asked Questions:
Q1. What is the best file shredder for Mac?
CleanMyMac X is a wonderful file-shredding utility and a clean-up solution for macOS users. Their Mac file delete module works like a charm to wipe confidential files and folders, without leaving any traces behind.
Q2. Do shredders work on Mac?
Yes! The market is packed with dozens of data shredding programs that are dedicated to permanently deleting files/folders, emails, and other digital records.
Q3. Is the file shredder any good?
Yes! Professional file shredder software works by overwriting the space once occupied by the deleted file. The tool securely wipes it to ensure no recovery is possible, even if a user takes the help of a professional data recovery tool. 
Q4. Is CCleaner a file shredder?
Yes! CCleaner is a powerful file-shredding software that checks and permanently deletes files that are taking up precious disk space. Since it comes with bloatware and other add-ons, we've not listed it under our listicle of Top Mac File Shredder Software.
Also Read