Want to play the finest Android football games without spending a dime? Try these options! If yes, then you are at the proper spot. Aside from the real thing, played by actual humans on a field, these Android football apps are wildly popular throughout the globe.
With their high-resolution displays and cutting-edge visuals, Android phones provide a fantastic platform to play football games.
Several football video games abound on the Google Play Store. Some people prefer playing football games offline to prevent network troubles, while others love playing them online. This allows you to play the game offline, whenever you choose, regardless of your connection speed or whether or not you have service.
9 Best Football Games For Android In 2023
In this post, we'll go through the list of top Football games available for Android, both online and offline. Let's see the games, each of them separately.
1. Dream League Soccer
Dream League Soccer is a fantastic football game that can be played online and offline on Android, and it's also quite addicting. It has received great attention and downloads because of its high-quality graphics and challenging gameplay.
You can tailor it to your needs, from creating a team to managing it, from designing a custom jersey to upgrading the stadium to recruiting and signing your favorite players.
Features:
There is no cost to play the game; all you have to do is download the app.

Dream League features a brand-new, state-of-the-art visual engine.

Furthermore, you may use agents to assist you in drafting excellent players.
2. FIFA Soccer
The Android version of the popular FIFA football game, FIFA Mobile Soccer, is available on the Play Store for Android devices. Many people play it worldwide because it is among the best online football games available.
The gameplay and visuals are so stunning that they'll blow your mind. You can choose among 550 teams and compete as one of 33 nations.
Features:
Stay up-to-date on your team's schedule and news by following their account.

Show the best moments from every game played on each match day.

An ongoing World Cup blog will keep you abreast of all the latest happenings.
3. Soccer Stars
The football simulation in Soccer Stars is renowned for its realism, visual quality, and depth of gameplay. It's the greatest offline football game for Android devices; you can purchase it right now from the Play Store.
This robust game allows you to compete in a wide range of international football leagues and tournaments, such as the UEFA League, the Champions League, etc. Free-kick, penalty shootouts, assist the striker, and other training modes are available for novice players to practice independently.
Features:
The game may be played both online and offline with several players.

Quick and easy to play.

Incredible ball physics
4. Score! Hero
Score! Hero is one of the best options if you are searching for a 3D gesture-based football game. It has a fantastic plot and some very appealing visuals.
There are currently close to 580 levels available in the game. You can use the Google Play cloud to sync your progress between different devices and invite your Facebook friends to play the game with you.
Features:
Look after the professional soccer career of a star athlete.

Upgraded visuals with fresh animations.

Arlo White's commentary on the events.

Character development for a soccer player.
5. Head Soccer La Liga
Head Soccer La Liga is your best bet if you're looking for a humorous take on a serious football game. This 2D video game has a cartoony, humorous aesthetic. You need to guard, defend, and attack and the game is over. It's fun to play with friends, join a league, and test your skills against players worldwide.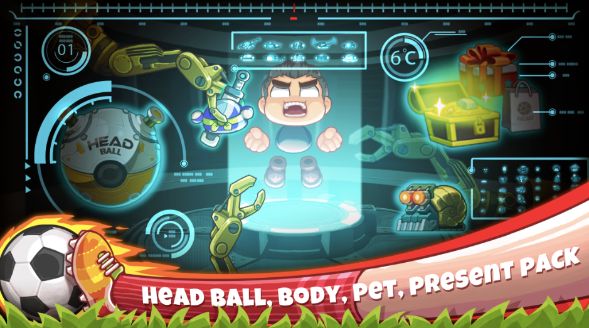 Features:
Officially licensed LaLiga Santander soccer game.

Enhance your players' abilities by training their speed, leaps, sprint, power-ups, and special shots.
6. First Touch: Soccer & the City
First Touch Soccer and the City is another available Soccer game. If you play and win matches, you'll earn points that may be used to buy better equipment for your team. Gaining more victories will strengthen your team and boost everyone's effectiveness.
FTS 19 is famous for being one of Android's smallest offline football games. The user interface is uncluttered and straightforward. You may see a full listing of team rankings and live ranking broadcasts.
Features:
Allows you to locate a venue to watch the World Cup from anywhere in the United States.

Play an authentic football experience with stunning arenas, players, and uniforms.
7. Real Football
It's one of the first football games ever made for Android devices. There isn't much storage needed for this game, and it runs quite smoothly, considering its size.
Numerous official franchises and celebrity athletes are featured, and the visuals are top-notch. The training mode is ideal for novices because it provides a safe environment to experiment and learn.
Features:
Experience the thrill of playing in fully rendered 3D stadiums with polished shadows, detailed textures, and crowds of cheering fans.

Cutscenes and set pieces are filmed from multiple angles to create a more immersive, first-person viewing experience.
8. Top Eleven – Be a Soccer Manager
Play the top-rated football games online and train your squad to victory! You'll have complete control over your team's uniforms, roster, practices, and game plans.
Since it's a multiplayer game, you may challenge other teams to a match and see how you stack up. Top Eleven allows for extensive personalization, including creating a stadium and choosing an official shirt for your team.
Features:
Legendary manager José Mourinho will be on hand to provide insight and advice on how to keep your club functioning at peak performance.

Join Auctions and compete with other football managers to get the top players.
9. eFootball PES 2022
If you're looking for the finest online football games, go no further than this one. Pick your favorite footballing greats and have a blast playing soccer with your pals. The game's gorgeous visuals and fluid controls ensure that each playthrough is unique.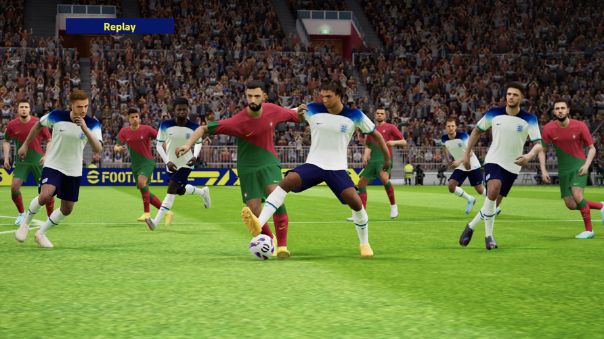 Features:
Mobile Android Gameplay with a Console Feel

Compete with your friends and other gamers in live, in-the-moment football matches.

Improve and bolster your defensive stance.
FAQs
Who is the best football game on Android?
 FIFA Mobile Soccer, a mobile version of the popular FIFA football game, can be downloaded from the Google Play Store for no cost. It's one of the most popular online football games, and people worldwide enjoy playing it.
Who is the No. 1 football team in the world?
Currently, Brazil's national team is atop the FIFA Men's World Ranking for national teams in the sport of association football played by men.
Which is the No 1 football game in the world?
When it comes to android football games, nothing beats PES mobile. The visuals are on par with many PC games, and the gameplay is fluid.
Also Read
14 Best Offline Racing Games For Android
12 Best Gacha Games for Android and iOS