In today's stressful life Adult Coloring Apps are like a boon that reduces not only stress but also anxiety. No matter if you are an artist or not you will love the adult coloring app as it will help you to reduce your tension, sleep better and improve your focus. If you don't want to scroll through Instagram or Facebook and look for such adult coloring app which helps you to live the moment and keep you relaxed then you are at the right place.
Coloring and drawing will provide you with immense calm and you will also have fun painting different shapes as your desire. 
8 Best Adult Coloring Apps for Android & iPhone
In this article, we have listed the 8 topmost Adult Coloring apps for Android and iPhones. So, without any further delay lets us know in detail about each app.
1. Colorfy 
Colorfy is the best free Adult coloring app available for both Android and iPhones. It offers varieties of painting categories including florals, Mandalas, Pixel art, masterpiece, animal kingdom, gardens and various other themes. You love to paint drawings with different colors.
It allows you to customize the color palette and also share your artwork. It is free to use but also offers a subscription plan with some additional features.
Features 
It lets you create your own pages with a photo

Free to use

Offers different categories and each category contains 10 images 
2. Pigment
The Pigment is another adult coloring app for Android and iPhone. You will get varieties of drawing categories like landscapes, animals, mandalas, and many others. It has a tap-to-fill mode which you can utilize to quickly fill the shape from any angle with the desired color with just a single tap. Apart from this, it offers 21 different pencils, markers, and 10 different brushes.
With the 10 brushes, you can experience with your finger like you are actually moving a brush. The app is accessible on both Android and iPhone. 
Features 
Allows you to import images to color your desired design 

Offers different brushes

It provides different pencils, markers, and glitters
3. ColorMe 
ColorMe is one of the popular and free adult coloring apps. It offers more than 250 images on different themes without asking for a subscription fee. You can easily choose the desired color and fill the shape by tapping on it. It is famous for offering categories like oriental, Zodiac, animals, florals, and patterns.
You will find all types of painting from primary to complex. It offers a simple color palette but doesn't offers a gradient but being free it is worth it. 
Features 
It updates new images daily 

Suitable for both basic and pro users 

After filling out the drawings you can share them 

Available on Android and iPhone 
4. Color Therapy
Color Therapy is another name in the list of best free adult coloring apps. It has a wide collection of drawing pages. The drawings are based on different categories such as animals, fashion, seasonal, classical, art, and many more. You will get 30 free colors under the basic solid palette and 24 basic Gradient Palettes.
It is not completely free but you can earn additional colors by sharing your art piece. The app is available on both Android and iPhones. 
Features 
It offers a night mode feature

Offers 50 different images to color

Free to share your work on social media 
5. Adult Colouring Book
Adult Coloring Book is another amazing adult coloring app for Android and iPhone. The app is not great only for Adults but ideal for all age groups. It contains varieties of drawing categories such as portraits, nature, art, designs, floral, mandalas, gardens, and many others. The app is like having a mini coloring book in your pocket.
Features 
It has easy to use interface 

Offers a vast range of designs 

Allows you to print high-quality images
6. Recolor 
If you are fond of coloring 3D objects or images then Recolor would be the perfect option for you. It is a great coloring app for iOS and Android devices that offers diverse theme categories like cartoon characters, florals, animals, and many others. It provides three images per day for free which you can color by using 138 different color options. You can scan any image and also create your coloring page on this application. 
It also offers a sharing feature that you can use to showcase your creations to your family and friends. 
Features 
Offers 3D drawings 

Scan images or use a saved picture to create your own coloring page 

Offers 144 free colors 
7. Happy Color 
Happy Color is an amazing adult coloring app which is a color-by-number app specially developed for Android devices. It offers thousands of images for free based on different categories. The app provides you with a great experience and calms you with its amazing themes. Some of the categories you will find in the app are Marvel Superheroes, Disney pictures, sports cars, fashion, interior, places, and many more.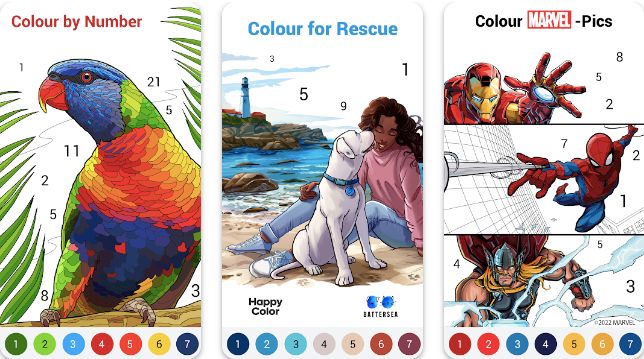 Features
Offers various drawings for free

Provides you relaxation feeling while painting

It contains a lot of drawings hand drawn by professional artists
8. Unicorn
The list of best free adult coloring apps can not be completed without listing Unicorn. You will love this adult coloring app if you are fond of Unicorn games and coloring games. It contains various challenging drawing patterns and has a huge collection of pixel images.
Apart from this, it offers various drawings for other themes like space, mandalas, and music. You can use this app on Android and iOS devices. You can also share your work with others on social media platforms.
Features
Offers tons of pixel images
Provides you with a number game to make coloring more fascinating 
Conclusion 
Above mentioned are the foremost Adult coloring apps for Android and iPhone. We have researched a lot and then we have accumulated all the best apps in the list. All of them offer extensive themes and categories. You will get a great experience while using these apps.
You can paint the drawing with various colors and coloring tool options. Some of the apps are completely free to use and some of them ask for a subscription plan to get more features and tools. I hope the article helps you a lot and enables you to select the most appropriate adult coloring app for your device.
Also Read
7 Best GPS Speedometer Apps for Android & iPhone
10 Best Funny Faces Apps for iPhone & Android
10 Best Volume Booster Apps for Android
7 Best Duplicate File Remover Apps For Android
10 Best Free Android Cleaner Apps