If you spend most of your time on the computer then probably you desire to do some of your work automated. With the Auto clicker, you can automate the clicking task. Basically, the auto clicker is used to simulate mouse clicks. 
This is an appropriate tool for users who are more engaged with the work of clicking the mouse. Many Auto clickers for Mac are available nowadays but all of them are different and offer a different set of features.
Choosing the most appropriate one is quite complex which is why we have listed the 7 best Auto clickers for Mac along with their features so you can easily select the best one for you according to your preferences. Without wasting any further time let's read the details of each auto clicker for Mac.
7 Best Free Auto Clicker for Mac
In this article, we are going to discuss some of the topmost free auto clickers for mac. 
1. Mac Auto Clicker
Mac Auto Clicker is one of the best Auto Clickers for Mac which is free to download. The application had made all your work easier which requires frequent mouse clicks.
It is a powerful tool that is loaded with various advanced features. You can configure various settings like clicking speed and time intervals. Moreover, the application works on almost all Mac versions.
Features 
Offers a delay start feature

Configure time intervals 

It allows unlimited clicks 
2. Murgaa Auto Clicker
Murgaa Auto Clicker is a popular and effective auto clicker for Mac. It is straightforward to use and helps you automate mouse clicks whether you want it for playing games or performing other busy work.
It can perform both left and right mouse clicks. This tool offers a free trial so you can test all its features before purchasing its subscription plan. 
Features 
Offers an installation guide 

It provides various launching options 

Customise hotkeys 
3. iClickMac
Next on the list comes is iClickMac which is the most lightweight and user-friendly tool. The application is loaded with loads of features like recording shortcuts, type shortcuts, automatic push clicks and various others.
It is quite the safest auto clicker software which is compatible with various Mac devices. It offers various features which are useful to specify and set the clicking speed. This tool is extremely free and easy to use. 
Features 
It has straightforward to use 

Consists of an automatic push-click technology 

Virus-free Mac auto clicker 
4. DwellClick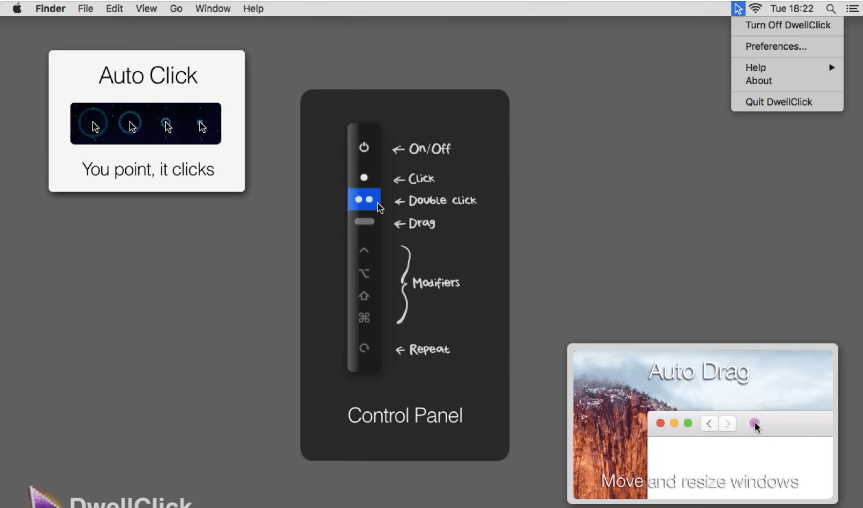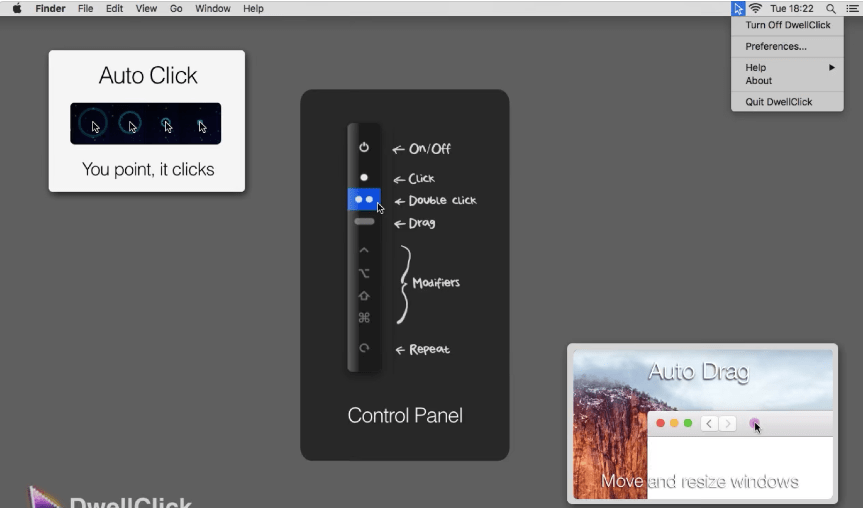 DwellClick is considered to be the smartest and most handy tool for an automated mouse click. This tool can perform various mouse clicks like left click, right-click, and double click and also offers an auto drag function.
It doesn't offer a free version but offers a free trial in which you can test all its features to better understand its benefits. It is quite easy to use application which is compatible with various input devices including joysticks, trackball, and Magic Mouse. 
Features 
Allows you to set hotkeys for automatic clicking 

Drag and resize files 

Offers a popup panel 
5. Fast Auto Clicker by MurGaa
Fast Auto Clicker for Mac is designed by MurGaa company which is widely famous for developing auto clickers for Mac.
Being a small tool the application is full of amazing features. It allows you to customize the number of clicks as per your need, time interval, hotkeys, and even the button which you want to use for automation. 
Features
Offers fastest clicking speed 

Offers random time delay feature

Easy to set up and use
6. iMouse Trick
iMouse Trick is one of the amazing auto clickers for Mac which are super easy to use with a straightforward interface. The application allows you to set several clicks, time intervals, and even the countdown before you start.
It allows you to hide the iMouse Trick window when the application is operating. Though it is a good app but lacks various features it doesn't offer hotkeys shortcuts for stopping and starting clicks and other advanced features. 
Features 
Supports setting up unlimited clicks

It is free to use 

Allows you to set the countdown 
7. Auto Clicker 1.0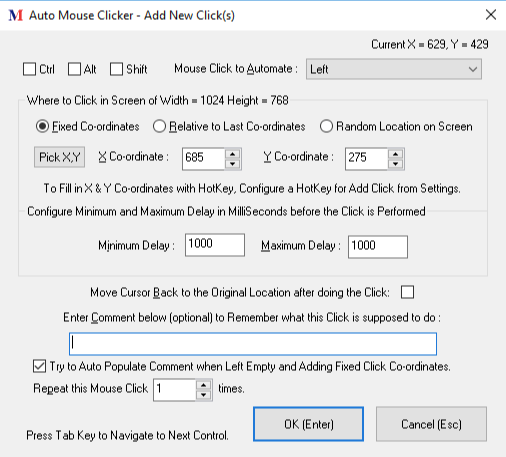 Lastly, we have mentioned Auto Clicker 1.0 as the best auto clicker for Mac. It is a decent tool that is easy to use and doesn't require professional skills to use it. You can automate clicking tasks whether you want to complete your work or just play games.
It is easy to configure the clicks for any interval of time. You can customize the tool as per your requirements. It allows you to record several clicks and replay whenever you want. 
Features 
It works on Mac devices 

Record keystrokes and mouse clicks

You can use the app on the web page
Conclusion
So, these are the foremost and free auto clickers for mac which are available here. When we play games and do works that require frequent mouse clicks we always look for a tool that automated the clicking task.
These auto clicker tools for mac work on every application of Mac device. So, wisely choose the best one which satisfies all your needs for an automated auto-clicking process.
Also Read