Whether you're increasing or downsizing your Windows system partition to make room for a dual-boot operating system, Partition management software allows you to split and create partitions on your hard drive to organize and manage your files, directories, applications, and other data more efficiently. Creating secure partitions has never been simple, which is where partition management software comes in.
10 Best Disk Partition Software For Windows 10, 8, 7 PC
We've compiled a list of the top free and paid disk partition software for Windows 10 8 and 7 in this article, so you don't have to waste time looking for the right one.
1. Acronis Disk Director
Acronis Disk Director is the best disk partition software program for Windows PC. This software is highly feature-rich, and it includes a variety of valuable features for protecting and optimizing your disk utilization. You may create, combine, split, resize, format, and activate hard disk partitions without losing data.
The most excellent thing about Acronis Disk Director is that it allows you to convert between primary and logical volumes and from HDD to SSD by cloning the disk into the same format. Like any other partition software, this tool can help you recover files or lost partitions that were mistakenly wiped for any reason.
Features:
You may resize, divide, and merge volumes.

Volumes can be hidden or shown.

Convert an MBR (Master Boot Record) disc to a GPT (Guest Partition Table) disc (GUID Partition Table).

You can clone your hard drive to another.

It can be booted using a DVD/CD/USB
2. AOMEI Partition Assistant SE
AOMEI partition assistance SE, for example, has a lot more capabilities in its free edition than other free applications. With AOMEI Partition Assistant, you may resize, merge, create, format, align, split, and recover partitions, as well as copy entire disk and partitions. Without losing any data, you can convert it into various file systems.
Using this tool, you can create a bootable window flash drive, so you can create a partition without installing. The only disadvantage is that you won't be able to use any of the amazing features until you pay for them.
Features: 
Tablet, phone, or laptop can be used to access all your files.

GPT disks can be converted to MBR.

It has the ability to scan the hard drive for damaged sectors.

The partition styles GPT (GUID Partition Table) and MBR (Master Boot Record) are supported.

A simple, step-by-step wizard is included.
3. EaseUS Partition Master
If you are unfamiliar with any of the partition applications and have no idea how to create, format, resize, relocate, divide, merge, copy, erase, check, or investigate partitions. Because of its simplicity and clear user interface, this software is one of the best disk partition software for Windows.
It allows you to shrink or enlarge a division by dragging it left or right on a slider. It also includes a partition recovery program, which allows you to recover all of your lost data or deleted partitions if you lose your data for whatever reason. Despite the fact that the software's free edition is packed with features, some of them are only available in the professional version. The price of the professional edition is $19.95.
Features:
This software application aids in the recovery of erased data as well as the backup of your machine.

You can restore the operating system, a partition, or the entire disk.

It makes upgrading the system drive to a bigger HDD simple.

The free edition includes all the essential features.

To manage data, you can use this tool to modify the label of a partition.
4. Paragon Partition Manager
Paragon partition manager is another amazing free software that walks you through every step of creating, deleting, and formatting partitions. The hard drive partition tool has many features that make partitioning, optimizing, and maintaining your PC a breeze. When compared to other similar software, the free edition of this program is a drawback. The pro version has a lot of features, such as moving the OS to a separate drive, cloning or merging partitions, wiping hard drives, and so on.
Features: 
You can use this tool to clone the operating system on a USB drive.

Files can be copied or restored to a hard disk with different sector sizes.

It enables the user to do partitioning operations in order to keep the disk organized properly.

Paragon Partition Manager can detect and correct the problem.

There are a lot of fundamental features that are supported.
The only reason you would like to use this software is because of its simplicity. On top of that, all the options are easily accessible from the top, which makes this app unique. EXT2/3/4, Reiser4/5, XFS, and JFS are among the file system formats that can be examined, although partitions can only be formatted in the NTFS or FAT32 file systems. One flaw in this software is that you can't resize the partition with Windows installed, which is one of the main reasons people use partition software.
Features: 
It has a very simple and easy-to-use UI.

It can work with a variety of file systems.

SCSI (Small Computer System Interface), IEEE, and SATA are all supported by this program (Serial ATA).

FAT, EXT, NTFS, HFS, and other file systems are supported.

Changes are queued before being applied.
6. MiniTool partition wizard Free
MiniTool partition wizard is a complete package of simplicity, ease of use with its intuitive UI, and feature that you won't find in any freeware partition software. This software's free edition includes more features than any of its competitors.  
Along with the basics like deleting, formatting, resizing, moving, merging, splitting, and copying partitions, it also has a disk space analyzer, a file recovery program, and a benchmark tool. There is always a drawback to software, and this one is that it does not support handling dynamic disks.
Features:
Many common disk partitioning tasks are supported.

The application is quite simple to operate.

All contemporary Windows versions are supported.

It allows you to enlarge the system partition without having to restart the computer.

The Partition Recovery Wizard makes it simple to recover partitions that have been lost or deleted.
7. Gparted
GParted is a freeware program that may be launched directly from a CD or USB drive without the need to install it. It is a powerful tool for creating, deleting, resizing, transferring, verifying, and copying partitions and their file systems. This is important for restructuring disk utilization, generating room for new operating systems, copying data from hard disk, and mirroring one partition with another (disk imaging).
GParted is one of the most versatile disk partition applications we've ever used because it supports so many file systems. While we don't think it's a major issue, we do think it's strange that you can't undo the modifications you've done. GParted puts everything you want to do in a queue and only applies it when you save it.
Features: 
It has a user-friendly, familiar graphical interface.

There is no need for an operating system.

Committing changes never necessitate a reboot.

Changes in queues aren't applied until you're ready.

It's possible to install and operate it from a CD or USB disk.
8. Macrorit Disk partition expert
Macrorit disk partition expert is chosen for its simplicity and clutter-free UI. All the options are displayed on the sides, and none are hidden in menus, making it easy for novices. The most typical activities performed with this tool include creating, deleting, relocating, formatting, and altering the volume label. When you save it, all the changes are saved, giving you time to review them.
Features: 
With a few mouse clicks, you can undo, redo, or commit an operation.

This disk partition utility helps clean up any unallocated or free space on your hard drive.

The program's UI makes it simple to use and understand.

Until you apply them all at once, queues shift.
9. NIUBI partition Editor
The NIUBI Partition Editor includes all the bells and whistles you'd expect from a partition manager, as well as the industry-standard capabilities. You can use the free edition of NIUBI Partition Editor to do some basic partition operations such as creating new partitions, resizing partitions, moving partitions, formatting partitions, changing the file system of partitions, and so on. The Professional Edition of NIUBI Partition Editor costs $39.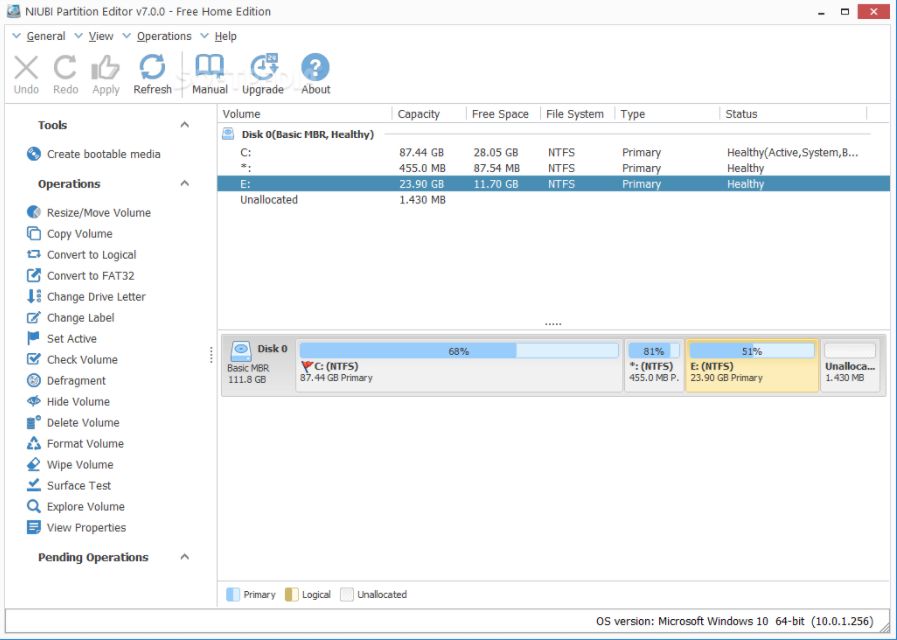 Features: 
You have the ability to downsize, extend, and merge the disk.

It allows you to change the label of the division.

You may easily create and delete disk slices.

It contains data security features such as partition concealing, data earing, read-only settings, and so on.
10. Active@ partition manager
Active@ partition manager is another fantastic freeware with a plethora of features. Its built-in SMART support function gives you a quick overview of your hard drive's health, which sets it apart from other Windows 10 disk partition applications. The free partition manager includes a rudimentary backup tool, allowing you to create a complete duplicate of any hard drive or partition.
Features: 
After you've created the image, you can check it.

You can use this software to erase a partition or logical drive.

The program is compatible with all versions of Windows.

Some of the modifications you make can be undone with the help of a backup.

This program allows you to compress images.
FAQs on Free Disk Partition Software
Q: What is the best disk partition software?
ANS: Some of the best disk partition software are:
Acronis Disk Director

Paragon Partition Manager

EaseUS Partition Master

GParted

Macrorit

Active@ Partition Manager
Q: Is disk partition good or bad?
ANS: Even if your system is all on the same hardware, disk partitioning allows it to run as if it were numerous independent computers. On the other hand, disk partitioning compartmentalizes your system such that each region can run and be used independently of the others.
Partitioning can occasionally cause more harm than benefit, which is why it's critical to set up your partitions correctly.
Partitioning might potentially lower total storage space if done wrong.
Q: Is there a GParted for windows?
ANS: GParted may be booted from GParted Live media on x86 and x86-64 based machines running Linux, Windows, or Mac OS X.
Q: Is AOMEI partition free?
ANS: AOMEI Partition Assistant Standard is a free disk partition management program that has a loyal following of users worldwide. It has a slew of strong capabilities that give you complete control over your hard drive and partitions. It also has a premium version which comes with premium functions.
Q: Is MiniTool still free?
ANS: MiniTool Partition Wizard Free is a free Windows partition management program that can conduct various activities on hard drives and partitions.
Also Read