Looking for the best free DLL Injector Software then you have landed on the right platform. We have gathered some of the best DLL Injector for Windows PC in this article along with their pros and cons so that you can select the best suitable software to execute your work.
But before learning about the best DLL Injector software let's take a look at what is DLL Injector?
What is DLL Injector
In computer programming, DLL Injection (Dynamic Link Library) is the method of running external code for changing the behavior of a computer program. It is a place where a code is forced to run in the place of another code.
DLL injector is the software that is used to inject external codes into various processes. To inject the code we need to use the DLL injection software. The injected code is written by the third-party developer to perform some malicious functions.
In current times many DLL Injector is available but it is quite difficult to choose the best one. That is why we are here to resolve your problem and brought a list of the best Free DLL Injector software so that you can choose the best one to complete the work you want.
Read the other blogs which are best DLL fixer software, Best Registry Cleaner, and Junk File Cleaner which are good tools for your PC.
6 Best Free DLL Injector Software for Windows 10,8 and 7
1. Remote DLL
Remote DLL has occupied first place in the list of best free DLL injector software because of its simple user interface. With this software, it is easy to inject DLL or remove DLL from the Remote process. The software uses several DLL injection methods; Nt Create Thread, Create a remote thread, and Queue Use APC.
The software has a very simple GUI interface that is best for beginners as well as professional users. Remote DLL is usable to inject DLL into the target process or you can also use it for removing malicious DLL from the remote process.
Pros 
Straightforward GUI

Suitable for beginners 

Easy to inject DLL into processes

It is portable and runs on 32-bit and 64-bit versions
Cons 
2. Injector
Next, on the list of best free DLL injector software is Injector which has a very simple user-friendly interface. This tool inject DLL into the running process. To inject and choose a DLL you need to tap on the browse option of DLL. In the Injector UI, you will see an automatically updated list of running processes. It shows the process path and PID of the process.
The software allows you to select multiple processes to inject DLL at a time. If you want to inject the selected DLL then click on the Load option or if you want to stop the DLL injection process then click on Unload option.
Pros 
Clean UI 

Manual refresh and the auto-refresh option is available 

Free download 

Easy to use 
Cons 
3. Extreme Injector 
Extreme Injector is the popular free DLL Injector for Windows that can inject hacks into any game. It is compatible with games like GTA 5, Roblox, Fortnite, Warzone, etc. Extreme Injector is basically designed to hack into computer games and other consoles. The software allows you to inject multiple libraries in one process.
Extreme Injector has launched its new version which is loaded with advanced features. It supports Windows systems of 64-bit and has features like the function of applying the library in 'Quiet mode' and multiple injections versions. It is one of the robust DLL injectors and compatible with all types of games and cheats.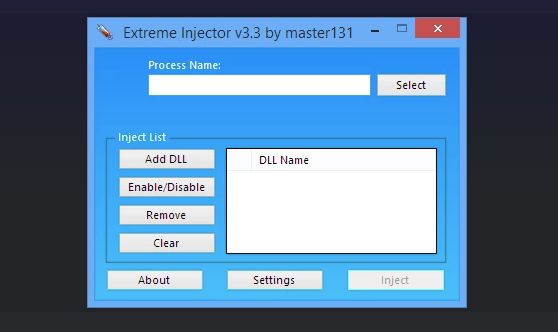 Pros 
Simple GUI 

You can download it for free

It can operate on a 64-bit Windows system

It supports Mac and Linux platforms as well

Compatible with all types of games and cheats

drag and drop support  
Cons 
4. Auto DLL Injector 
Auto DLL Injector is the well-known DLL injector software for Windows. The software is used for injecting DLL into the running process or process on startup. It offers you the option to choose either to inject DLL on startup or inject DLL manually.
The program can run in the system background or you can minimize it to the system tray. It is a free DLL injector software that is easy to use and has a simple UI.
Pros 
Easily inject DLL codes into running processes 

User-friendly interface 

It automatically runs the injection process
Cons 
5. DLL Injector 
Next, in the list of best DLL Injector software for Windows come to DLL Injector. It is the popular DLL Injector trusted by millions of users. It is the most loved DLL injector because of its simplicity and user-friendly interface. This tool also displays CPU performance and memory usage. DLL injector has a clean interface so that it is quite easy for beginners to use it for injecting external code into the process and is also able to inject DLL into running processes.
The software has two options from which you can choose one according to your preference; manual and automatic DLL injections. DLL Injections also show up your computer information. 
Pros 
It allows you to view running processes with process name, PID, and process path 

Equipped with manual injection function 

It shows CPU performance and memory consumption 

Simple to use 
Cons 
You can inject only one DLL at a time
6. DLL Vaccine 
Last but not least in the list of popular DLL injector software comes is DLL Vaccine. The software has occupied a place in the list because of its simple and clean user interface. The software comes up with two options; manual and automatic DLL injection. To choose the process to inject DLL in the DLL vaccine you need to go to the Injection setup box to select a running process.
To select multiple DLL files go to the browse option. When you completed the injection process a message will appear stating Injection Successful.
DLL Vaccine enables you to see the CPU performance and computer memory. It also has a feature of Abort injection that lets you stop the DLL injection process. On its User interface, you can also view system information like Computer's name, user's name, and OS.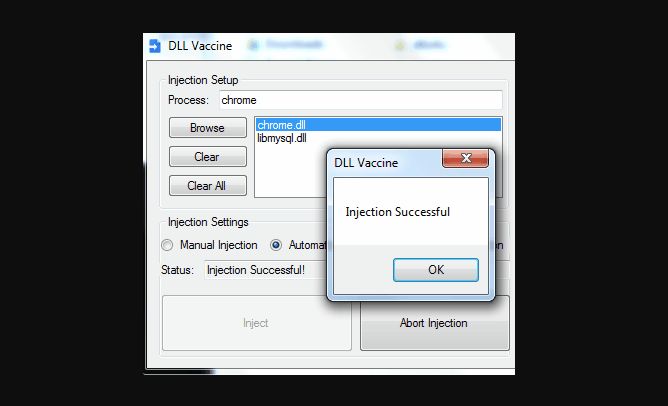 Pros 
Easy to use 

Well outlined interface 

It shows up CPU performance and memory usage 

Consist of several manual and automatic injection functions

Multiple DLLs
Cons 
FAQs On Best DLL Injector
Is DLL Injection illegal?
DLL injection is the method in computer programming which is used for running code within the address space of another process by forcing it to load a dynamic link library. This code is written by third-party developers mainly to perform malicious functions. If it is used for wrong purposes then DLL Injection is illegal. 
Is DLL an injector?
Yes, DLL is an injector that is used to inject codes into processes. It is simple to use and it also displays CPU performance and memory usage. 
How do you inject hacks on Roblox?
Below are the steps you should follow to use the Roblox injector:
Firstly, download the injector 

Now, paste the injector to your desktop 

Join the game and open the injector file as a pop-up 

Run the injector as an administrator 

Now, choose the injection process 

Add a DLL (the hack or mod menu)

At last, Inject the DLL into the game