Choosing the right Driver Updater is quite important for your Windows PC. These tools help you to update all the device drivers in the computer. This post discusses the best free driver updater utilities that will help users to refurbish their current faulty & old system drivers and make their desktop/laptop run like a new one.
Some of the considerable choices include Driver Booster, Driver Easy, WinZip Driver Updater, and Intel Driver Update Utility. To know everything about these completely free driver updater applications, keep reading this article and we'll explore more such popular choices as well.
Using these popular driver updater programs, you would be able to install the most compatible and authentic driver versions on your PC and prevent common device conflicts, frequent crashes, no display/audio/video-related issues, and so on. To make sure your computer performs in an optimal state, try the following driver updater software. 
Here is the list of the Top 11 Best Free Software to Update Drivers
Tools.
Driver Booster
Driver Easy
Ashampoo Driver Updater
Advanced Driver Updater

WinZip Driver Updater

Avast Driver Updater

Intel Driver Update Utility

AVG Driver Updater

Snappy Driver Installer

Dell Update Utility
Completely Free Driver Updater For Windows 11, 10 PC
The following driver updating apps powerfully check the driver versions & update them automatically if they are found to be old, incompatible, damaged, corrupted, or missing. 
1. Driver Booster
Driver Booster is an impressive and free driver updater tool for Windows that checks for faulty drivers for your hardware and suggests compatible and right driver versions that need to be installed to keep the operations up-to-date.
The only downside is, it cannot scan correctly unless there's an active Internet connection on your system.
Here's the list of features offered by Driver Booster: 
Backup drivers before updating them to the latest version. 

Tools for fixing sound errors, and cleaning redundant data related to unplugged devices. 

Checks for outdated game components such as Microsoft DirectX Runtime. 

Millions of device drivers are supported & work with Windows Vista & XP as well.
Read Complete Review
2. Driver Easy
Here comes another best free driver updater software that holds the database of millions of device drivers. The program shows a comparison between the currently installed drivers and the fresh drivers that deserve a place on your system.
You can even hide certain devices so that they no longer show an update. One major downside is, it doesn't support bulk downloading. 
Here's the list of features offered by Driver Easy:  
Considered a great system information tool. 

The fastest way to download drivers is as compared to the default Windows method. 

Supports checking for outdated drivers on a specific date and time. 

Works flawlessly without an active Internet connection. 
Read Complete Review 
3. Ashampoo Driver Updater
Ashampoo is another best driver updater tools that can render your system in a perfectly smooth-running condition once you install it.
Not only can you derive optimum system performance with the help of this tool but you can also enjoy superior gaming performance as this tool is capable of giving the extra boost to your graphics drivers required during gaming.
Here's the list of features offered by Ashampoo: 
It offers more than 400,000 latest drivers and 150,000 devices in its database.

Boosts the system performance while gaming by fixing graphics driver problems.

Compatible with Windows 10, 8, and 7.

Backs up existing drivers.
4. Advanced Driver Updater
Advanced Driver Updater is one extraordinary tool by Systweak Software that is compatible with Windows 11/10/8.1/8/7/Vista and XP. It enjoys a 4-Star rating by Trustpilot.
This tool is easy-to-setup and has a lightning-fast scanning and driver updating speed to deliver top-notch system performance.
Key Highlights of Advanced Driver Updater:
It supports a large database of drivers and devices.

It is known to improve gaming performance by keeping the graphics drivers in an optimal state and fixing gaming errors quickly.

This tool offers a driver exclusion list.

You can schedule automatic scans for zero-intervention.
Read Complete Review
5. WinZip Driver Updater
With the sole aim to keep your drivers constantly updated, we introduce you to WinZip Driver Updater. The application detects and updates old drivers on your system that cause common hardware issues & slow down the performance.
It offers both free and paid versions, whilst the former version lacks extra features and has weak customer support.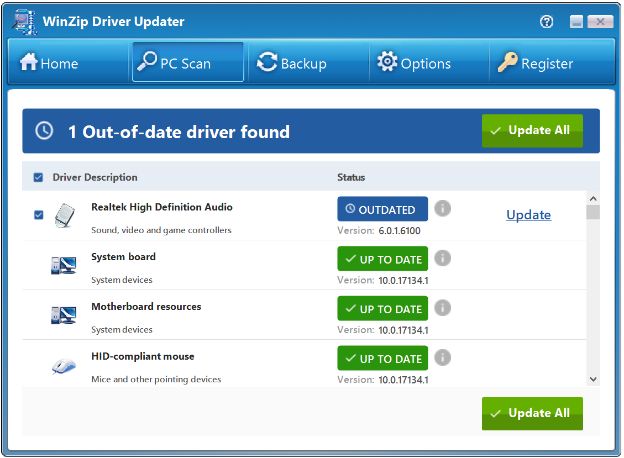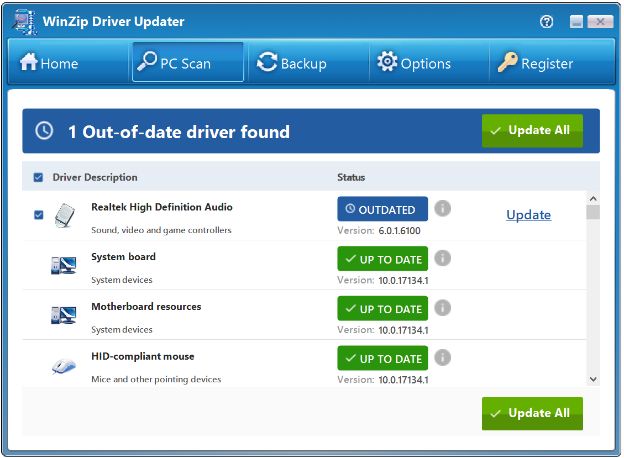 Here's the list of features offered by WinZip Driver Updater:  
Has a database of over 4 million device drivers. 

Supports scanning PC drivers automatically on a daily, monthly basis, or anytime. 

Lets you backup drivers and restore them whenever required. 

The free driver updater tools is available in English, French, Korean, Turkish & more.
6. Avast Driver Updater
Our another pick is Avast Driver Updater which is an amazing product by Avast Software. It scans for faulty drivers and keeps your system drivers up-to-date.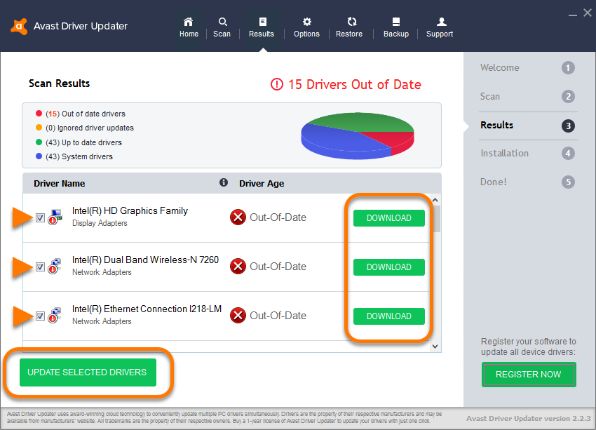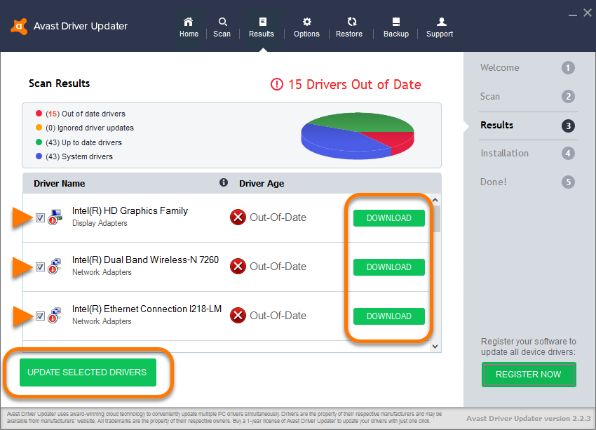 Here's the list of features offered by Avast Driver Updater:
It offers a 15-day trial period.

Offers real-time scanning for graphic drivers to provide a smooth gaming experience.

It has a massive database that contains 8 million drivers.

Comes with a 30-day money-back guarantee for unhappy customers.
Read Complete Review 
7. Intel Driver Update Utility
If you want to scan your machine for the latest and most authentic drivers available from Intel, then consider choosing this best free driver updater software for Windows 11.
The application supports updating drivers for products like Intel NUCs, Intel Desktop Boards, Wireless, Graphics, Chipset INF, etc. It supports downloading updates for identified Intel products & some specific brands.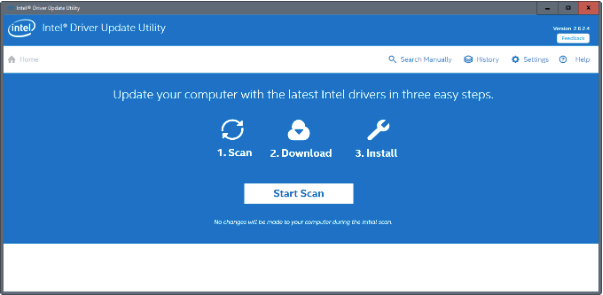 Here's the list of features offered by Intel Driver Update Utility: 
Supports other Intel products like Omnitek, Mobileye, Movidius, Moovit, etc. 

By visiting Support Assistant, you can get access to customized drivers & software updates. 

It collects no personal information and can be installed very easily.

Releases constant updates to enhance overall user experience.
8. AVG Driver Updater
AVG Driver Updater is a reliable and completely free driver updater program that replaces your corrupt, missing, and outdated drivers in a few clicks.
It has a user-friendly interface that conducts a real-time scan to fix the associated issue & boost PC's performance. In contrast to all the benefits, AVG Driver Update consumes a significant computing resource. 
Here's the list of features offered by AVG Driver Updater: 
Supports scanning & updating drivers in real time. 

Set schedules & regular intervals to run automatic scans. 

Has a large driver database of over 8 million device drivers. 

Allows users to backup & restore relevant drivers as per their needs & preferences.
Read Complete Review 
9. Snappy Driver Installer
Snappy Driver Installer is a powerful and free driver updater program that stores a huge collection of device driver offline. Since it works offline, using the software you can enjoy fast driver updates as compared to its counterparts.
There's certainly no limit to the number of updates that you can perform with this completely free driver updater program. 
Here's the list of features offered by Snappy Driver Installer: 
Ability to create a Restore Point before drivers are installed. 

Also shows duplicate drivers and invalid drivers that need to be eliminated or fixed. 

Supports installing drivers in bulk in one go. 

All the downloads are performed within the app, so you need to use a browser.
10. Dell Update Utility
To automatically install drivers and app updates related to the Dell device, you can take the help of this free driver update utility. Dell Update Utility is known for improving your overall device performance and fixing minor issues.
It supports popular Inspiron, Vostro, XPS, and Alienware systems running Windows 10, 8.1 & 7 OS versions. At the moment, it lacks compatibility with the latest Windows 11.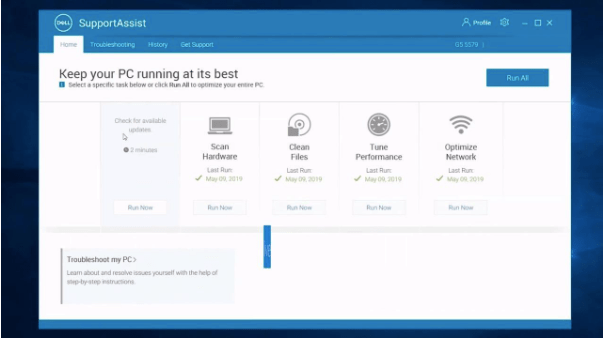 Here's the list of features offered by freeware Dell Update Utility:  
You can view the latest driver information for your system. 

Download correct drivers for Dell desktops, laptops, all-in-one, workstations, monitors, and other Dell products.

Offers Tutorials and Help Guides to ease user's journey with downloading drivers.

With SupportAssist, you can enjoy proactive help from the technical support team. 
11. Driver's Cloud 
Formerly known as Ma-Config, Drivers Cloud is a completely free driver updater utility that helps users figure out detailed information about your hardware and software, including faulty drivers.
The best part of using Drivers Cloud is it's a portable version, hence you don't need to install the app. It also helps in analyzing system crash issues. 
Here's the list of features offered by Drivers Cloud:  
Displays detailed information on all the device drivers. 

Can filter out drivers that are not WHQL certified. 

Completely free driver updater tool that works automatically to install bulk drivers. 

Works without any hiccups on older Windows OS versions as well & Linux OS. 
12. Driver Genius 
To keep your device drivers in check, install this best free driver downloader & updater on your Windows PC. Using Driver Genius, you can set schedules to analyze drivers automatically, and report the ones that have become outdated or defective. Further, it suggests relevant driver updates from the database of over 2 million drivers that get frequently updated.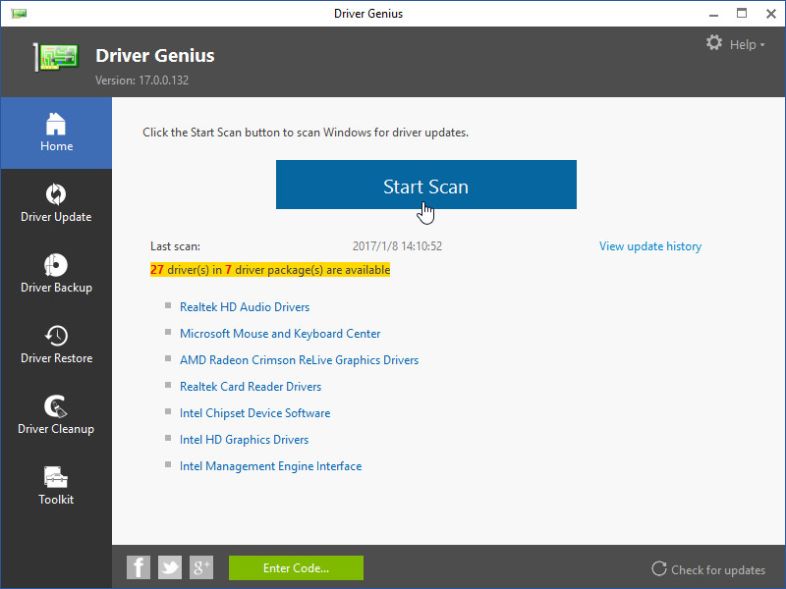 Here's the list of features offered by Driver Genius:  
Back up your drivers and restore them when needed. 

Runs a thorough scan to eliminate invalid driver packages. 

Supports optimizing your entire system with a click. 

Provides advanced management of Windows services. 
13. DriverMax 
DriverMax is another program to update drivers that unlocks your device's complete potential by updating old, incompatible, and corrupted drivers.
It offers both free and paid editions and supports more than 2,300,000 devices to keep all your drivers up to date. It gets constant updates and currently supports all the latest Windows versions. 
Here's the list of features offered by DriverMax: 
Schedule a scan at a convenient time to update drivers. 

Find and install official drivers for all your hardware & peripheral devices. 

Supports backing up and restoring drivers for your safety. 

Allows updating Windows components such as OpenGL, DirectX, Java, etc. 
14. DriverFix 
DriverFix is another prominent name in the category of Best Free Driver Updater Software to install. The application is completely safe to use and works brilliantly to improve the overall health of your system.
Using DriverFix, you can back up device drivers and restore them to the previous versions in just a single click.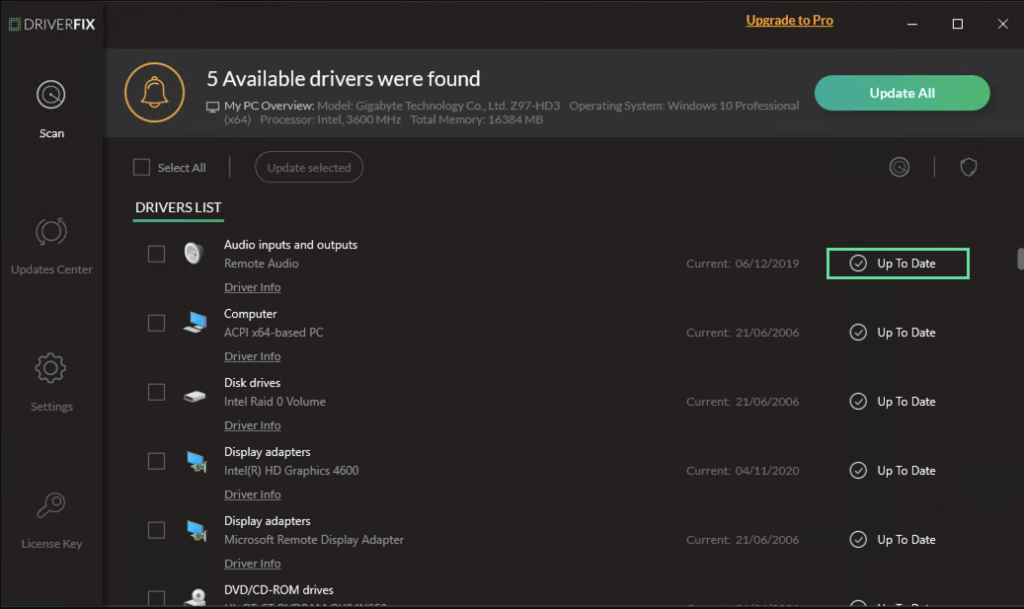 Here's the list of features offered by DriverFix: 
Large database of drivers & consumes minimal system resources. 

Driver downloads can be scheduled as per your preference. 

Has an in-built Download Manager to track the progress of downloaded files. 

Supports multiple languages that allow every type of user to get started. 
15. Bit Driver Updater
This is another smart system optimizer tool that can enhance the performance and stability of your Windows computer by fixing driver-related issues in a jiffy. A product by Bit Guardian GmbH, this completely free driver updater for Windows offers a wide range of features to optimize the system drivers.
Here's the list of features offered by Bit Driver Updater: 
It thoroughly scans your system drivers to detect issues.

It creates backups and system restore points before updating drivers.

You can choose to ignore drivers during scanning.

A one-click update feature saves you time.
16. Quick Driver Updater
Quick Driver Updater hosts numerous features to save its users from a wide range of PC problems and do you know how does it do so – by instantly updating the corrupted drivers.
A product by Digital Protection Services S.R.L., this tool has a user-friendly interface. A couple of its other mentionable features are mentioned below.
Key Highlights of Quick Driver Updater:
It updates drivers with a single push of a button.

It installs only WHQL-certified drivers.

This tool has a database comprising over 2 million drivers.

It lets you schedule automatic scans for your PC.
17. Smart Driver Care
The next on our list of driver scanners & updater tools is Smart Driver Care which is another excellent product by Systweak Software. This is an efficient driver updater tool that can boost your PC performance immensely.
It can fix BSOD errors by taking care of outdated graphics drivers. Here are a few other outstanding features of this tool.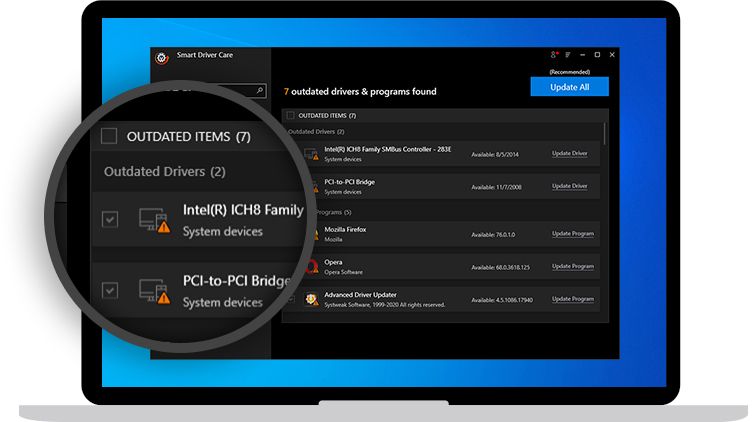 Key Highlights of Smart Driver Care:
It creates a backup of system drivers and helps to restore them quickly.

Improves system performance while gaming.

Offers a one-click update feature.

It also, offers an auto-scheduler.
18. Auslogics Driver Updater
This is another lightweight driver updating tool by Auslogics. Designed with an intuitive user interface, Auslogics Driver Updater is compatible with Windows 11, 10, 8.1, and 7. With over 20 million user downloads, this tool has been awarded 5-star awards from leading industry experts.
Key Highlights of Auslogics Driver Updater:
This tool downloads only official versions of drivers to prevent compatibility issues.

It updates drivers in real-time.

Offers a scheduling assistant.

Lightweight driver updating tool.
Conclusion on Completely Free Driver Updater
Updating system drivers can fix tons of PC problems like issues with display, audio, peripherals, Bluetooth, and resolve several hardware conflicts.
After going through the features of the 13 best driver updater programs, you have hopefully figured out which one to pick for yourself. You can also take the help of the tool selection guide provided above to help you make up your mind easily.
What are device drivers?
Device drivers are essential programs that serve as an interface between the operating system and the hardware components of the computer. They help the hardware components of the computer to communicate with the operating system and vice-versa.
Thus, you definitely realize the importance of device drivers now. Without them, the computer peripherals won't be able to function.
Hence, when a Windows computer is missing essential drivers or the drivers of the system are not up-to-date, then it will malfunction. Hence it is crucial to have the system drivers always in an updated state if you want to avoid major system malfunctions.
Common Driver Problems and their Solutions
Frequently Asked Questions:
Q1. Is there an actual free driver updater?
Well, Driver Easy's first version Lite is completely free driver update software, which is capable of finding missing, old & mismatched drivers in a few moments. 
Q2. What is the safest free driver updater?
AVG Driver Update is a secure tool to download and install the latest, authentic & WHQL certified drivers only from authentic and trustworthy sources only. 
Q3. How can I update my PC drivers for free?
You can use the in-built Device Manager tool to freely update drivers on your Windows PC. 
Q4. Is it safe to update drivers using CCleaner?
To be honest, CCleaner is known to install adware on your PC, so we personally don't recommend accepting updates from CCleaner. 
Q5. Should you use a driver updater?
Well, using a professional driver updater is a reliable option to keep your device drivers up-to-date regularly without much manual interruption. 
Q6. Which driver update software is the best?
All in all, Driver Booster is a phenomenal choice to update your hardware and attached devices to the latest and most compatible driver versions. 
Q7. Is Avast driver updater free?
Yes, it has a free trial version with a minimal feature set that only lasts for fifteen days. 
Q8. How often should you update drivers?
Typically, it is recommended to update drivers every six months, until and unless you're facing a driver-related bug or any specific issues. 
Q9. Is there a free driver updater for Windows 11?
Yes! There are a couple of free driver updater programs for Windows 11. This includes Driver Booster, Driver Easy, WinZip Driver Updater, Intel Driver Update Utility, etc. 
Q10. Are driver updaters worth it?
Well, if you are serious about maximizing the overall speed and performance of your PC, then you should definitely consider updating drivers regularly.