Nothing can beat spending quality time with family and friends around us. When there is some fun activity to perform, nothing can beat that feeling of togetherness. One of the most beautiful activities one can plan with family and friends is Karaoke.
But then in this age of technology people often stumble upon issues that prevent people from performing their activities in the right way. Getting the lyrics of a song alongside is a difficult task but not if you have the best free Karaoke software with you.
If you want to know about the best free Karaoke software that can benefit you without having to invest a hefty sum, learn more about the best apps from here.
10 Best Free Karaoke Software for Windows & Mac
1. PC DJ Karaoki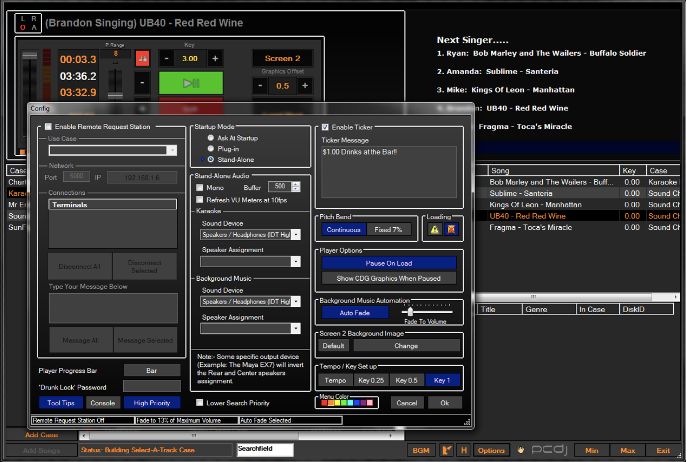 The PC DJ Karaoki is one of the best free Karaoke software available to people who wish to keep the lyrics of the songs close. Party anywhere anytime and all you need to do is tune in to the best Karaoke app available around you.
With the app come different features that you can use to your advantage. Add Karaoke songs, edit the playlist option, use the singer rotation option for ease, color configuration options with a lock screen and also drag and drop features make this app one of the most indispensable tools for Karaoke lovers.
2. Kanto Karaoke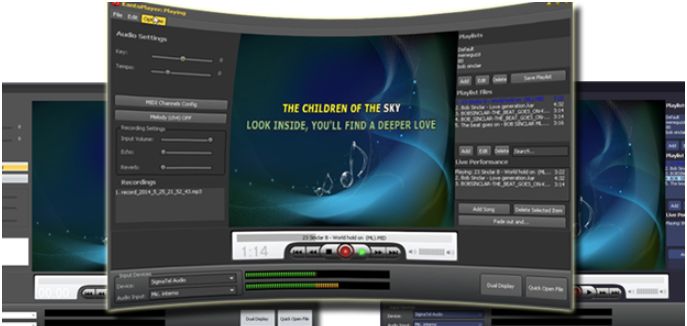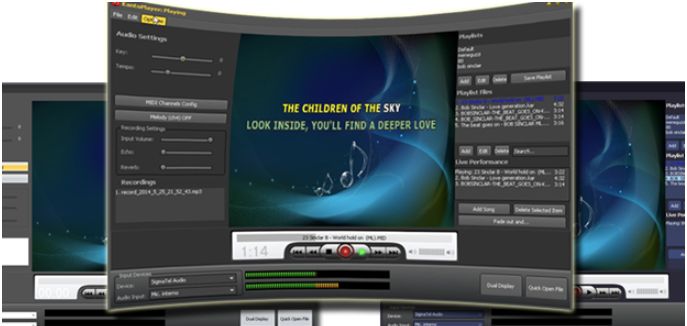 When you have the Kanto Karaoke app, you need not look anywhere else. It is due to the ability of the Kanto Karaoke software to support different kinds of media files. 
Alongside, you get some of the best Karaoke setting options with it like awesome microphone settings, impeccable audio quality, and its ability to switch to the live mode anytime.
With this Karaoke software for Windows in your hand, you can change the pitch and tempo of the songs, add up to their fading effect, use their background score list creation option, and allows adding special effects.
3. Karaoke One  
Most of the audio file formats are supported by this best free Karaoke software available easily in app stores. With it, a user can film themselves while they perform singing songs, and can also share the video with different users for feedback if they deem fit. There is an option to hide your face while you perform your song and this works when you want others in the community to judge you only by your voice and performance and not by your face. 
You can use any wireless or wired hardware to access it like the keyboard or the mouse. 
With it, you can also add to your follower list as there is a huge community out there that is waiting to hear your songs to like and comment on them. 
4. Lyrx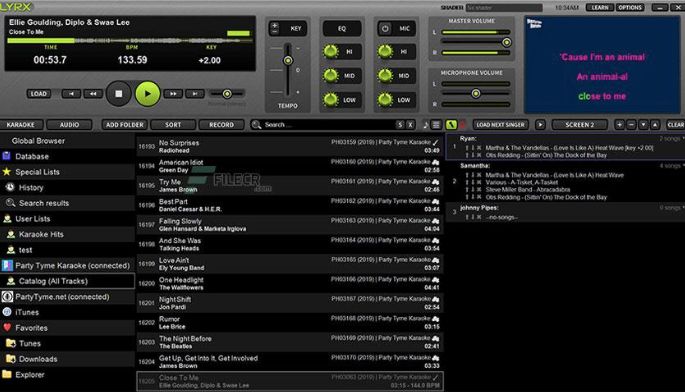 Lyrx is one of the most wonderful Karaoke Software for Windows that is capable of supporting a lot of different superior quality file types. It also allows the use of various available filters and different effects to add that amazing touch to the music you wish to share with the world.
The best part of it is that it is built with the best Key Recognizer built right into the software to allow making different alterations to the same songs. Plus use any of the zip formats for this Karaoke app to work for you in the best way.
5. iStar Karaoke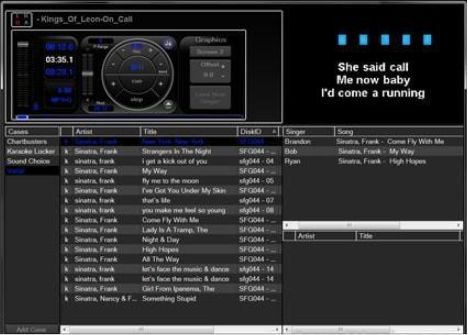 When you want to run different kinds of music files, use this Karaoke Software for Windows and you won't at all regret it. Not only can you import your music from other music file types but can also devise your own playlists as per your choice and taste.
Importing multimedia files is possible while using different sources that cause no restrictions. It is extremely user-friendly and makes your Karaoke journey a piece of a cakewalk.
6. Winamp Karaoke
The CDG plug-in Windows will work as an application that can be used as a plug-in for Winamp. Using the Winamp app would allow you to use the plug-in app for its Karaoke features which is an added benefit of using Winamp. 
The Winamp karaoke plug-in works entirely for Windows. If you want to use it, all you have to do is add the CDG file (mp3 + g) alongside your music files. It will allow the opening of the display window and you can refer to it for more information.
With the help of Winamp Karaoke, you will be able to create music files that will be compatible with the Winamp app. Use them later or use them right when you create them, Winamp karaoke plug-in offers you a variety of options.
7. QMIDI 
QMIDI is the best free Karaoke software that allows you to edit chords and texts for the musical tracks that work best for your needs. With the QMIDI version 2.0 of the software, you will be able to arrange and listen to your songs in a sequence you wish to follow.
Toggling playbacks, coordinating text and chords, synchronizing them the right way, and also changing and managing a song's tempo are easily possible with the app. Shifting pitches and managing lists is easy with the app. With the app, you can also display the song's lyrics on a second monitor.
8. KaraFun Player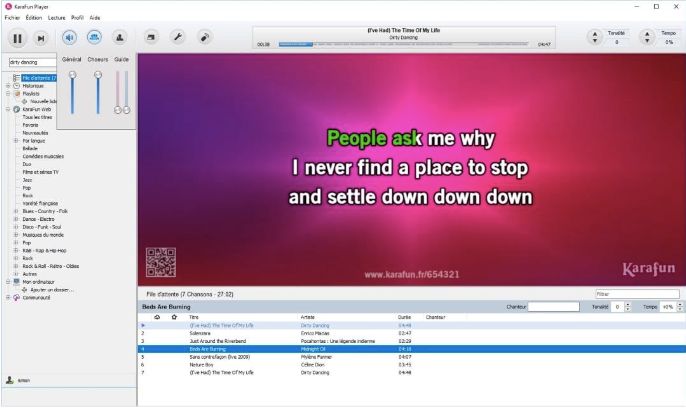 It offers you almost 28000 songs in its cloud storage and is one of the best free Karaoke software that offers the handiest user-friendliness option. Studio quality song collection, offline syncing option, dual display screen option and ability to select a wide range of song formats are possible with the app.
Save the songs in different available song formats- MID, MPEG, KAR, and even CD +G are some of the known ones. It has a free available version for those who don't want to use the premium version that asks you to pay $9.99.
9. TunePrompter
With TunePrompter you get to auto – search lyrics and that can lessen your search time greatly. This is the best free Karaoke software that can allow you to create your own videos and also helps you transport them to iPad, iPhone, Apple TV, and Quick Time.
10. One Karaoke
It allows you to make your performing video whereby you can upload the right songs in the right way. Social media is also tagged with this app and thereby helps upload songs to gain followers. Major formats get supported through the app like WMA, MP3, WMV, and a lot more of them.
Conclusion
Thus, you have now come across ten best free karaoke software that you can download on your Windows computer and use instantly to sing along with your pals. If you want to get more interesting software updates, subscribe to our blog. If you have any feedback and suggestion for us, feel free to drop them in the comments section below.
FAQs
What's the best software for karaoke?
There is plenty of interesting karaoke software available in the market. Karaoke One and Karaoke 5 are some of the popular apps in this category. Refer to the above blog to learn vividly about Karaoke apps.
What is the best free karaoke software?
If you are organizing a karaoke party at your home or office, you can go for apps like PCDJ Karaoke software and Kanto Karaoke.
What program do karaoke bars use?
Singa Pro is the most advanced Karaoke System. DJs additionally use Karaoke mixers and DVD players.
Can I do karaoke on my computer?
Yes, Windows allows you to download third-party karaoke software to play karaoke and sing along with your family and buddies.
Also Read