If you are looking for the best applications which allow you to download free movies on your iPhone then you have landed on the right platform. Watching movies is one of the best time passes we all enjoy. If you are planning to watch your favorite movie in high quality without any trouble then you can download them on your device by using free movie apps for iPhone.
If you are not aware of the best apps for downloading movies then this article would be very informative for you.
In this article, we have mentioned the most trustworthy and authentic apps that are legitimate and let you download movies without any trouble. So without any delay let's know about the best free movie apps for iPhone.
9 Best Free Movie Apps for iPhone
1. Tubi TV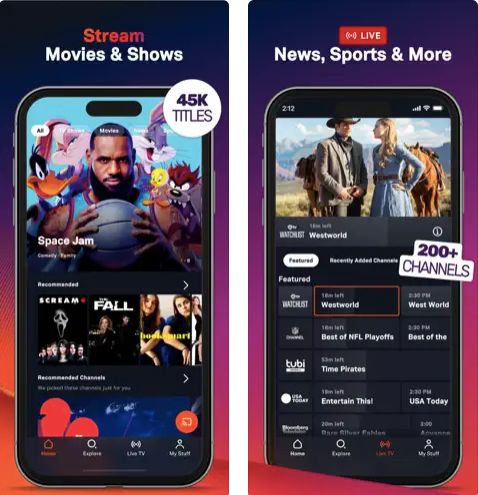 The list of best movie applications for iPhone starts with the naming Tubi TV. Being a free movie app it offers various free movies and TV shows but contains lots of advertisements.
The app consists of movies from different biggest production houses like Paramount, Lionsgate, and many more. You will find varieties of TV shows sorted into different genres like comedy, drama, horror, etc. 
Features
It has a kid's dedication section

It does not require any registration or sign up

This app has a well-organized movie library
2. Popcorn Flix
Next, we have Popcorn Flix in the list of best free movie apps for iPhone. It offers thousands of movies and categorized them Into popular genres. It also offers various Western, documentaries, thrillers, dramas, and specials.
You can set the video quality from 720p to 1080p. It also allows you to change language, font size, type, color, and style. One of its unique features is it automatically downloads subtitles.
Features
It offers exclusive content
It has a huge library of international action films
This app comes with embedded subtitles
3. Vudu
Vudu is a similar app to Tubi TV consisting of a wide range of movie collections based on different genres. The ads displayed are tolerable in comparison to Tubi TV. If you use this application then you will be able to download the movie and watch it later without having an active Internet connection. 
Features
It allows 3D and 4k streaming
It offers great deals on digital purchases of movies or TV shows
You can rent or buy movies online
4. Crackle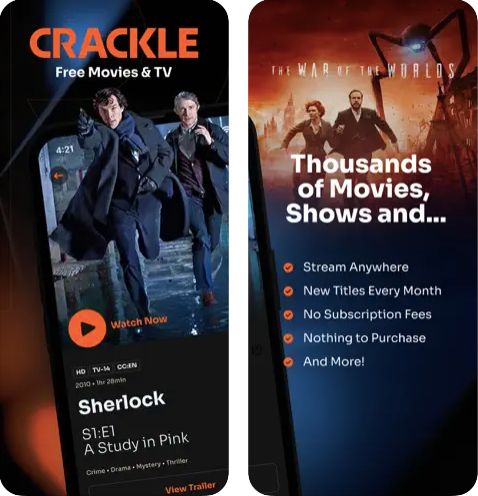 If you are fond of watching classic movies then Crackle is the best free movie app for iPhone. In this app, you will get classic movies like Metropolis, Vagabond, and many others.
This application also offers varieties of other movies, TV shows, and documentaries. It also has a Crackle original show. It is the best app for kids as it has a huge collection of cartoons. 
Features
It offers a sleek and minimalistic design
It offers a watch later feature and lets you create a playlist
This app has a huge library of both old and new movies
5. Pluto TV
Pluto TV is an app that is dedicated to TV  content but it doesn't mean that You will not find any movies in this app. It also has a collection of movies that are categorized into action, horror, drama, and many others.
You will also get a feature for bookmarking channels so that you can start watching the content where you have left off.
Features
You can watch live broadcast TV

It offers  1000 on-demand movie titles based on different generous

It offers Spanish-language content
6. Viki
Viki is one of the decent applications for your iPhone which has a huge collection of foreign language movies including Chinese, Indian, Korean, and Japanese. It is embedded with English subtitles.
The best thing about this app is that it does not display advertisements and offers you a distraction-free watching experience. It has a huge library of TV shows and documentaries which you will love. 
Features
It offers an advanced filter option

You can rate and review the show

Offers a huge collection of Asian cinema and TV shows
7. SnagFilms
Next, we have Snagfilms which you can use to download free movies on your iOS devices. It may not have a wide collection of movies like other apps but offers 6000+ movies of different genres including horror, romance, action, adventure, and kids.
Apart from movies, you can also watch TV shows and documentaries on your Apple device. 
Features
Lets you watch full-length documentaries Add narrative films for free

Contains 3000 plus movies

It has a user-friendly interface
8. FilmRise
FilmRise is undoubtedly the best distributor of movies and TV shows across the globe. It has a partnership with network giants like Prime Video, HBO, ShowTime, etc. In this app, you will find various cable TV shows and documentaries.
It allows you to filter content so you can easily get what you are looking for. The TV library of this app is divided into three parts; featured, classic and reality shows. Its film library is divided into four sections; new releases, documentaries, featured content and content recommended by the app creators.
Features
It contains popular and classic TV shows
9. SlingTV
The list of best free movie apps for iPhone cannot be completed without mentioning Sling TV. The app allows you to stream content from over 200 channels in the US. It offers 80,000 on-demand movies and TV shows. This app is known as one of the best international streaming services.
It streams the most popular American content dubbed in 22 different languages including Spanish, Hindi, and Arabic. You can also get channels like Fox News and NBC streamed live for free.
Features 
You can continue watching from where you have stopped 
Offers support for Nielsen proprietary measurement
That's you stream shows from 22 popular US network channels
FAQs
Is there free a movie app for iPhone?
Yes, there are various free movie apps for iPhone that not only enable you to download movies but also various TV shows and documentaries.
Some of the best movie apps for iPhone are Vudu, Tubi TV, SnagFilms, Crackle, and many others. In the above article, we have described movie apps with their features. 
What is the best free movie collection app for iPhone?
Tubi TV is a dedicated app for watching free movies on your iPhone. The app consists of a wide collection of movies of different genres. You can also watch various documentaries and TV shows within the app.
Apart from Tubi TV, many other apps are also available to watch free movies on iPhone. Some of them are Sling TV, Vudu, Popcornflix, etc. 
Can you use 123Movies on iPhone?
Yes, you can use 124Movies on Tubi iPhone. For this, go to the Apple store and search for the Go Movies- 123Movies and TV box. Download the app and install it on your iOS. Search for the movie or TV show you want to watch. 
Also Read