In today's age, having a strong social media presence is vital, and posting high-quality images is crucial. However, if you lack photo editing skills, you may fall behind. But, thanks to the advancements in AI technology, everything can now be automated! 
Enter, AI Photo Editor Websites, an ideal solution for people who don't have a background in photo editing or simply don't have much time to learn the complex tools and techniques to make their photos stand out. Fortunately, these AI tools are brewing with popularity & all thanks to their strong capabilities to completely transform existing images and even generate new creative photographs with just little human guidance. 
My personal favorite Online AI Editor Website at the moment is Fotor. The platform offers an intuitive dashboard and a wide range of editing tools to perform basic adjustments and complex photo manipulations. Besides Fotor, we have reviewed top AI editor tools that are worth trying!
5 Best Online AI editor websites
1. Fotor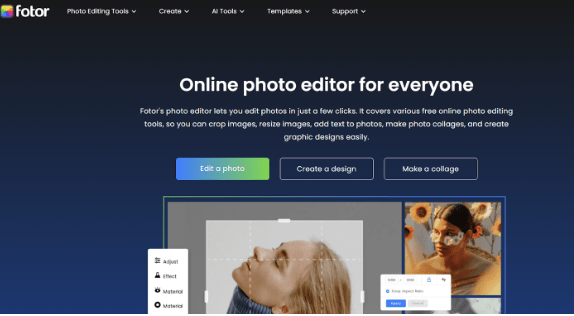 Fotor is probably one of the best AI-driven tools that let users generate stunning AI art from text and images. It hosts a large library of graphical assets like AI pictures, illustrations anime characters, patterns, effects, and whatnot.
Fotor is an ideal choice for users who want to easily transform their ideas into reality in just a few clicks. 
IMPORTANT FEATURES: 
Photo enhancer, automatically analyse & improve the image quality of your photos. 

Background Remover, accurately removes the background from images. 

Object Remover, lets you eliminate unwanted photobombs & distracting clutter. 

Image generator, allows you to generate realistic & aesthetic photos based on your text description. 
Visit the official website and explore more about Fotor AI Editor Platform!
2. Inkscape Editor
Inkscape is one of our list's best online AI editor websites. It is an excellent free tool for creating vector graphics. You can make scalable images on this website so that the images will not be blurred when adjusted. Because of its excellence, it is a strong rival to expensive programs like Adobe Illustrator. 
FEATURES
It allows users to import images in PostScript, EPS, JPG, BMP, PNG, or TIP formats and output them in PNG or vector formats.

It has many tools like paths, shapes, marks, text, clones, transformation, transparency effects patterns, gradients, and groups.

Shapes in a picture can be changed in a variety of ways.

Mesh gradient support, measure tools, improved spray, and a checkerboard background are all features of the most current version of Inkscape.
3. Photopea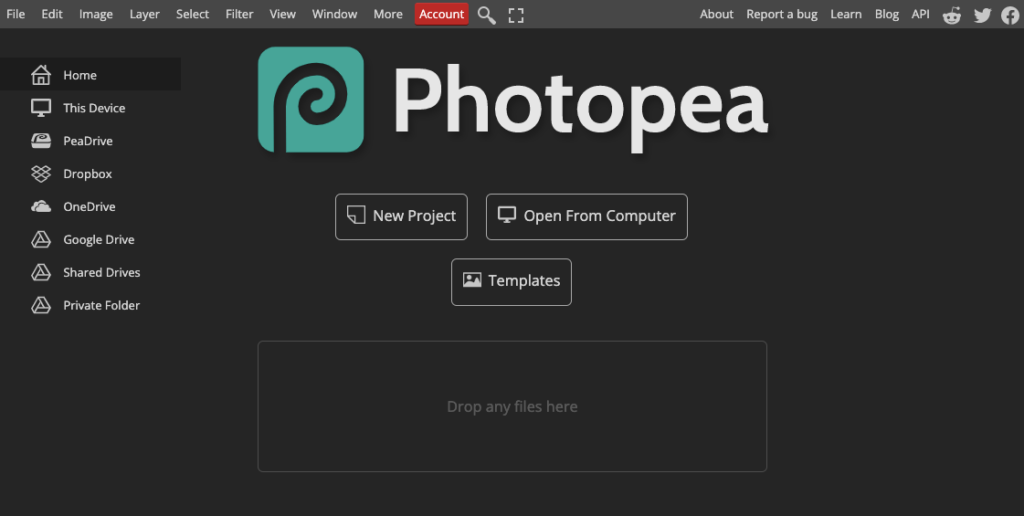 Photopea is certainly one of the best free online AI editor websites that you probably must be using right now.
The platform's look and feel resemble Adobe Photoshop and has similar functionalities tools. The web app supports working with both raster and vector images and supports a variety of file formats.
FEATURES
You can open and edit more file types in Photopea than in almost any other design software.

Supports multi-layer editing and works at lightning speed as compared to other sites. 

Allows users to convert AI files to PSD, SVG, PDF and other formats.

Packed with advanced filters like 3D, blur, distortion, noise, pixelating, stylising, sharpen & more. 
4. Gravit Designer
Gravit Designer is a lightweight graphics creation solution for web, product, and graphic designers. You can examine and edit AI files online and is an excellent online AI photo editor. Create an open layout first, and then upload an AI file.
FEATURES
It includes several complex tools such as vector, structure, precision, text, layout, and style.

The use of tools like icons, UI design, graphics, presentation, and motion can be revolutionized by Gravit Designer. 

It functions well as a desktop program or in-browser application on Chrome OS, Windows, Mac systems, and Linux. 
5. Vectr
Vectr is the next free online AI photo editor. It provides a ChromeOS, macOS, Linux, and Windows app. As a result, you can download the software to your computer or use it in a web browser. Expect everything to be simple from this editor's functionality; it only includes a basic set of tools that are adequate for editing tasks.
FEATURES
This editor instantly transforms AI files to SVG and adds them to the workspace when loaded.

The design can be saved as a PNG, SVG, JPG, or PNG file after the required adjustments have been made.

The converted AI file's SVG version contains every feature, including layers.
6. Autoenhance.ai
It's quite simple to use Autoenhance; upload an image, and the AI will handle the editing. The altered photos can be downloaded right away. This is a fantastic online tool to use if you want a quick process for editing photos.
You can even incorporate Autoenhance in your apps using an API. The API is also free, but only for up to 15 pictures. You can pay as you go or select from various bundles.
FEATURES
Blending HDR pictures more quickly

Automatic perspective adjustment fixes uneven angles for a polished look.

There are no limitations on shooting techniques. Improve JPG and RAW images to get the best results.
7. AVCLabs Photo Enhancer AI Online
If you are looking for an easy-to-use and versatile image editing tool, your search ends right here. AVCLabs AI tool works amazingly well to edit your images and create new images. It features various AI models to denoise images, sharpen the quality, remove unwanted background images, and more. 
IMPORTANT FEATURES: 
AI Upscale to enlarge the image size to 200%/300%/400% without compromising the quality. 

Colorize to automatically convert black and white photos into colors in a click. 

Calibrate to instantly restore balanced tones and vibrant colors & enhance overall quality. 

Face Retouch to automatically analyze portraits & selfies to enhance facial details, and reduce imperfections and blemishes. 
To know what else this amazing online AI Editor Website has to offer, visit the official website!
8. LunaPic
LunaPic is my go-to choice when it comes to performing basic editing and photo manipulation online. The web app is packed with dozens of art effects, filters, crops, background remover, and other drawing tools.
You just need to upload the image you wish to edit; select the tool you wish to use and sit back. AI will do the rest of the job. 
IMPORTANT FEATURES 
Background Remover, allows you to remove background from photos automatically. 
Smart crop & rotating tools to get desired results without putting much effort. 
Adjust light levels, create video animations and add captions to your photos. 

Art Filters offers a range of artistic effects & filters to transform pics into stunning works of art. 
Visit the official website today and get the most out of this AI Photo Editor tool! 
9. Pixlr
Pixlr is one of the most popular and powerful image editing tools that boasts AI-powered tools to produce HD-quality beautiful images.
I personally like their auto adjustment tool that effectively analyses the photograph and makes all the necessary alterations to improve the colors, brightness, sharpness, and other aspects of the images to get the best output. 
IMPORTANT FEATURES: 
AI image generation lets you type the words & it will generate a custom image. 
AI Infill tool that uses Machine Learning algorithms to transform any part of the pic. 
The Smart Resize tool changes the orientations of the image without losing the quality. 
AI Cutout, as the name entails precisely removes the unwanted background from the image.  
Pixlr offers tons of tools, but the most crucial AI-powered features are mentioned above. To learn more about the AI Photo Editor, visit the official website! 
FAQs
Can I edit AI files online?
Utilizing the web, Adobe Illustrator editor is one of the sites to edit AI files online. The Illustrator file can be found on the Adobe site.
How can I edit AI for free?
You can edit for free on Hotpot Tools, Autoenhance.ai, Pixlr, LunaPic, Google Photos, Fotor, YouCam Enhance, and iPiccy.
Where can I edit AI files?
Adobe Illustrator's default file type is called AI. It is a program that can modify AI files and save files in AI format the best. Adobe Illustrator supports every feature required to access and correctly edit AI files.
Can we use Illustrator online?
The ability to obtain appropriate tools for graphic designers not installing them on your computer has been made achievable by technological advancements. Illustrators can now work on their creations instantaneously with online illustrator software, saving time on downloading and installing new software.
Photo Editing with AI: Choosing the Best AI Photo Editor Website
The world of photo editing has been revolutionized by the advent of AI-powered tools. The convenience and efficiency that these tools provide have made photo editing accessible to everyone, regardless of their skill level.
When it comes to the best AI photo editor websites, there are plenty of options to choose from. Our personal recommendation is Fotor, as it offers a user-friendly interface with a wide range of editing tools, while Photopea provides professional-grade features for advanced users. 
Also Read