In this digital world, people are moving towards a paperless society. This way they managed to bring their documents anywhere without any risk of losing them or ripping them apart. Because of this many PDF scanner applications began to rise. These PDF scanner applications turn any physical document into a digital format. 
If you have an iPhone then scanning documents become much easier for you by using PDF scanner apps for iPhone. Using this application you can easily scan any form of documents into PDF. In this article, we have brought the 7 best free PDF scanner apps for iPhone that would help you to convert your document to PDF files.
7 Best Free PDF Scanner Apps for iPhone
So without wasting any further time let's know about the best free PDF scanner apps for iPhone in detail.
1. Adobe Scan
The list of best PDF scanner apps for iPhone starts with naming Adobe Scan. Adobe is one of the most popular tech companies in the world as it offers various professional tools. It has developed a  free PDF scanner app for iPhone as well. It uses OCR technology to convert any image into PDF files. This app also allows you to view, edit, and enhanced documents.
Features 
It allows you to scan multiple documents, capture new images or use existing ones and  convert them to digital copies 

You can save the converted image to PDF to adopt cloud storage 

It supports automatic text recognition 
2. Quick Scan
Quick Scan is another popular app for iPhones. Like its name, the application provides quick scanning results. The interesting fact about this application is that it is developed by a person during quarantine. It is equipped with an OCR feature that allows users to save files in multiple formats including PDF, TXT, and many others. 
Features 
It offers fast test QR code and data metrics scanning 

It can scan bar codes and QR codes from photos in your photo roll 

It supports sharing by mail and text message 
3. Genius Scan
Genius Scan is another free PDF scanner app for iPhone that you can download from App Store. Using this application you can scan documents and convert them into digital format. It also allows you to tag the files for easy sorting and organization.
Although it is a free application you need to purchase it to access more features. Its paid version includes various tools and also allows you to access its cloud-sharing options. It means you can save all files online with added security features.
Features
It offers document merging and splitting feature 

Support services like Dropbox, Google Drive, one drive, and many more 

It can scan business cards to create contacts 
4. Scanner Pro
Scanner Pro is another useful PDF scanner app for iPhone which is available for free and also offers in-app purchases. It is a complete package for all the users including various advanced features.
Like it allows you to scan various pages simultaneously and also offers iCloud integration which lets you back up files and documents. It also supports services like e-mail, dropbox, and iCloud which makes document sharing much simpler.
Features 
It can scan books, invoices, receipts, and various other documents 

It automatically backup scans in a cloud 

It allows you to set a password to protect your scan 
5. Prizmo 5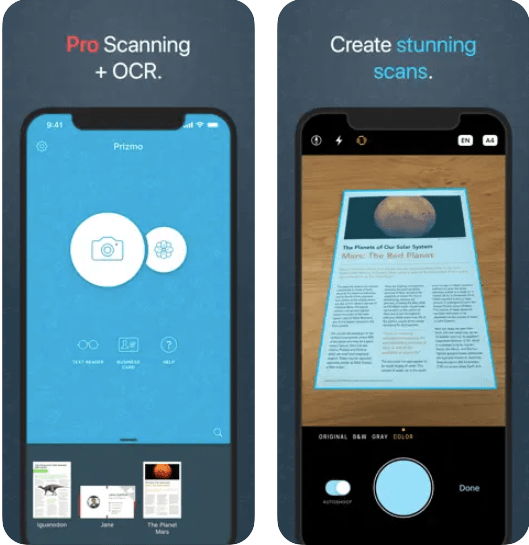 Next, we have Prizmo as a great PDF scanner app for iPhones. This application has various advantages it not only lets you save files as documents but also saves them as pictures in PNG and  JPG formats. It turns scanned documents into editable files so that you can quickly edit them as per your requirements.
Features 
It provides an elegant and intuitive user interface 

IT support camera flash if required 

Support scanning multiple pages into a prizmo document and exporting them as a single PDF file 
6. Swift Scan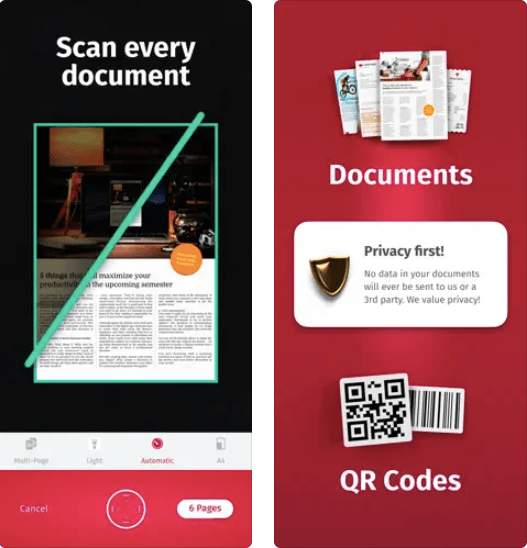 Swift scan has occupied its place in the list of best free PDF scanners for iPhone due to its capabilities. It offers various features like file naming, organizing tools, faxing, and access to dozens of hosting companies which you will not get in other PDF scanners applications.
This tool is one of the fastest apps to create high-quality scans. It can scan documents, QR codes, bar codes, business cards, whiteboards, and many more. 
Features 
It lets you save your documents as PDFs or jpegs 

It supports all the major cloud services 

With iCloud sync, you can sync all your documents between your iPhone, iPad, and Mac
7. CamScanner – PDF Scanner App
The list of best PDF scanners for iPhone cannot be completed without naming CamScanner.  From its name itself, you get the idea that it is a completely free PDF scanner application for your iPhone.
Using this app you can access features like scanning, merging and also get online cloud storage like Google Drive. The only thing which may bother you is that the tool adds a small watermark on your scanned documents.
Features 
It offers two scanning modes which are QR code and ID card and passport

It lets you create PDFs from a website 

You can convert documents in multiple formats to PDF 

It provides unlimited access to membership subscription 
FAQs
Is there a free PDF scanner app for iPhones? 
Yes, there are many free PDF scanner apps for iPhones available. Some of them are: 
Cam scanner free 

Genius scan 

Prizmo 

Scanner pro 

Adobe scan 

Swift scan 
What is the best iPhone PDF scanner? 
Although there are various PDF scanners for iPhone available which you can easily download from  App Store. Adobe Scan is one of the best and free-to-download PDF scanners. It turns your iPhone into a powerful scanner and lets you create, save and organize your physical documents as a digital file. 
Can you scan a PDF with an iPhone? 
Yes, we can scan a PDF with an iPhone by using PDF scanner apps. In the above article, we have mentioned some of the best PDF scanners available for iPhones that you can use to Convert paper documents into digital files.
Also Read