You can now finally put an end to constantly going through your script. Are you hoping to have a flawless recording session as a content creator, influencer, videographer, or reporter without reciting your lines verbatim? The 10 best free teleprompter software for Windows PC are listed here in this article.
Provided you've taken care of all the settings, this software will allow you to relax and concentrate on giving your speech or presentation.
10 Best Free Teleprompter for Windows 11, 10 PC
The days of struggling with shoddy teleprompter software that doesn't produce professional results in a reasonable amount of time have passed. The best teleprompter software for Windows has been compiled in this article. Read through and pick the one that works best for you.
1. MirrorScript Pro
If you love a simple interface teleprompter, here you have it. Mirrorscript pro is an excellent free teleprompter software for Windows that would deliver just what you want and how you want it. 
Features
Available for all window versions ranging from 10, 8, and 7.

It has the function to load text files and add your text.

It has a different speed option you can tweak to fit your pace.
2. Telekast
Telekast is a versatile teleprompter software for Windows that can accomplish various tasks, including generating scripts with the script editor feature. It is easy to use and has a simple user interface. 
Features
Its feature can set the speed at which the text rolls out.

You can add video cues, camera cues, audio cues, and so on.

You can save scripts in XML file format

Fonts can be displayed in a horizontal or vertical position.
3. Ultra-Prompter
If you are interested in an easy-to-manipulate teleprompter, then Ultra-prompter is the best bet. It is one of the teleprompter software for Windows with which you would experience ease while reading. It uses minimal system resources and has different features that would amaze you.
Features
It has the forward, reverses, and also the pause scroll

A quality window interface 

You can switch to dual-screen mode, making it easy to save a file to text and print it.

It has a feature where you can speed, pause, and modify the scrolling direction while scrolling a document.
4. AutoCue
To modify scripts and easily import documents with no stress, Autocue is a nice teleprompter software for Windows. It is a chrome extension software that can serve purposes such as scrolling web pages and also can be used as a free teleprompter. 
Features
It has a dual-screen functionality

It facilitates text in multiple languages 

It can be used to load the text in different formats, including .txt, .tf, and .doc

Ability to control the speed of text with a mouse and keyboard
5. QuickPrompt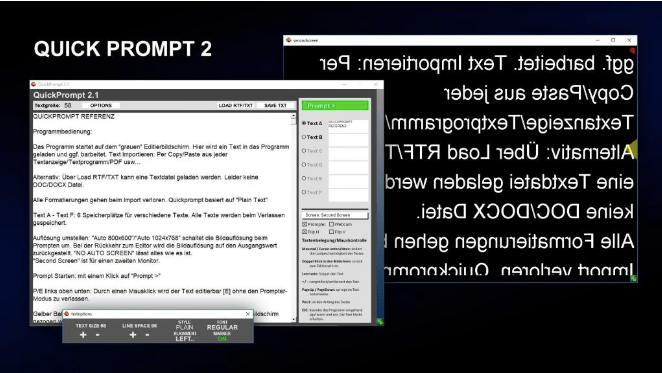 If you own a Window device, QuickPrompt teleprompter software for Windows would give you the right experience you want. It is a simple software with an interface that allows you to switch between webcam and text. You can alter text, and while the prompt is on, you can make a script.
Features
It has an interroton and text promoter functionality 

With a mouse or trackpad, you can achieve a fluent speed

You can switch from one script to another
6. The Manual Works Prompter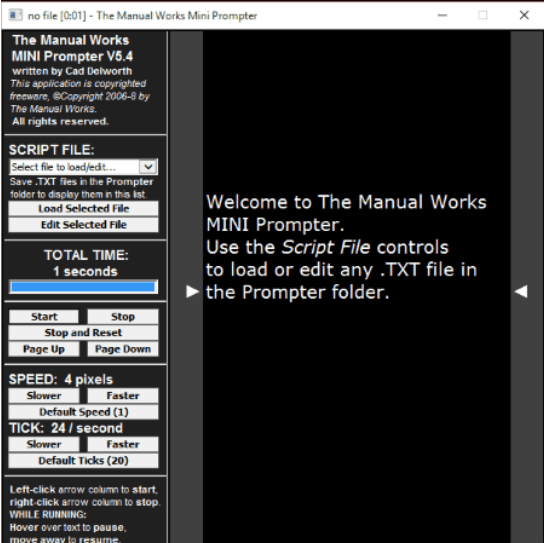 This is yet another free teleprompter software for Windows with advantages such as increasing or decreasing reading speed, automatic text scrolling, and so on. 
Features
It allows for personalization and editing

It doesn't need installation to function well

You can control the teleprompter using a mouse.

Ability to change the scrolling speed that has to do with pixels.
7. Imaginary Teleprompter
An imaginary teleprompter can produce quality output online and offline through a presentation. It is a simple-to-use free teleprompter software for Windows, and it can be used on different computers without any issues.
Features
It has a feature to customize an aspect of the presentation

It has a great editor integrated into it

To function properly, it uses minimal system resources.
8. Scrolling Teleprompter Software
Scrolling teleprompter software is one of the best free software you would ever come across. With this software, you can use text to create animation in full-screen mode. It could help you create an on-camera presentation without struggling with your lines.
Features
Ability to adjust the scrolling speed

You can install apps with no stress or special attention

It has a simple user interface 

Its feature allows you to change the font size, color, style, text alignment, and background color. 
9. PromptCast Portable
This is the ideal teleprompter software for users who need to practice speeches in front of a webcam. It is one of the best teleprompter software, suitable for the novice and experienced. As a user, you can scroll text at your own pace. 
Features
It has a download package that includes a source code that programmers can study.

It lets you align text to the left, light, or center and create a bullet list.

Just by setting up the software to a USB flash drive without having it installed on your computer, you can use it.
10. Virtual Teleprompter
Finally, we'd like to recommend Virtual Teleprompter. Anybody can download, install, and use this software at no cost. It's great for giving speeches, conducting interviews, and online presentations. Zoom, Microsoft Teams, Google Meet, Live Streaming, and many others work flawlessly with it.
Features
You can share your screen and webcam with anyone with just one click. 

The overlay's opacity, animation speed, font size, and color can all be customized for a good reading experience. 

Does not significantly use CPU or RAM, which impacts how quickly your computer runs.
Conclusion
We have mentioned just the best teleprompter software for Windows. You need to start making amazing videos for presentations and much more. So, stop being timid; look through the aforementioned and pick the one that best suits your purpose. Cheers to making fantastic videos. Do subscribe to our blog for reading more interesting and useful articles.
Also Read