Choosing the right Windows 10 theme is quite important for your PC. Using an interactive and user-friendly theme as per your choice can help you with customization. In this blog post, we have ranked and reviewed the 21 best free windows 10 themes and skins, so that you can pick the best one for you. 
Windows 10 is the most advanced operating system which is used by users across the world. Windows 10 provides a user to customize their computer in various ways. The user interface looks pretty and fresh after customization. So, you also shouldn't miss this opportunity to customize your computer as per your wish.
If you become bored with old themes in Windows 10 and want to try something new, then read this article carefully in which we will provide you with the Best Windows 10 Themes for Every Desktop.
What are the Best Windows 10 themes?
Here are my top picks for the best windows 10 themes to try this year.
GreyEve Theme

Forest for trees
MacLaren SenaTrack Day
Meteor showers
Chicks and bunnies
Deviant art
Avengers: Endgame theme
Star Wars theme
Animal kingdom
Paint 3-D creatures
21 Best Free Themes for Windows 10 PC In 2023 (Free Download)
1. GreyEve Theme – Windows 10 High Contrast Theme
Compatibility: Windows 10 (both 32bit & 64bit versions)
Available On – Themepack
GreyEve Theme is one of the best windows 10 dark themes which comes with various features. While operating the system, our eyes get most affected. For that, you don't need to worry about it. If you choose the GreyEve theme, then it reduces the strain on your eyes. It is a dark theme that eases your work on the PC.
GreyEve Theme not only changes the background but also changes the style of Windows and menus on the desktop. If you are looking for a dark theme then GreyEve theme is one of the best options for windows PC
2. Forest for trees – Green themes for Nature Lover
Compatibility: Windows 10 (both 32bit & 64bit versions)
Available On – Microsoft Store
If you are fond of nature and want to see green color, then we will suggest you install a "forest for the trees" theme in your windows 10 under the nature genre. It will create an image of a real green and dense tropical forest in your mind. This theme comes with 20 sets which provide a lot of variation for customizing the user interface.
The "forest for the trees" is the best windows 10 theme or skin which is available on Microsoft store if you're living in a crowded city and you are looking for some greenery scenes full of trees.
3. MacLaren SenaTrack Day – Sports Car Theme
Compatibility: Windows 10 (both 32bit & 64bit versions)
Available On – Microsoft Store
The MacLaren Sena Track Day is another best free windows 10 theme for desktops that will fantasize you through rapid and long racing scenes. Mainly this theme is dedicated to Ayrton Senna who is considered one of the greatest drivers in the formula 1 racing game.
When your eyes will see this theme then it feels so adventurous to you like going for a fast drive around the beautiful tracks.
4. Meteor showers – Night Sky Lights
Compatibility: Windows 10 (both 32bit & 64bit versions)
Available On – Microsoft Store
It contains 18 images of various celestial bodies which will give you a feeling that you're in the sky amidst these celestial bodies. The beautiful color of this image will feel something new that keeps you fresh in a boring and busy schedule. 
The Meteor shower is another free Windows 10 theme for desktops for anyone who wants to watch the meteors. The dynamic model in this theme is the best feature which makes it unique as compared to other free themes for Windows 10.
5. Chicks and bunnies – Baby Animals Theme
Compatibility: Windows 10 (both 32bit & 64bit versions)
Available On – Microsoft Store
The Chicks and Bunnies is a great desktop theme available for Windows 10 for free which will give your desktop a playful look. It doesn't contain only a single image but it comes with 14 various images so that you can choose anyone as per your desire. Apart from the chicks and bunnies it also offers you the natural beauty of the spring season.
6. Deviant art
Compatibility: Available on Windows 10 (both 32bit & 64bit versions)
Available On – Devian art
Devian Art is another best dark themes for Windows 10 which is available for free and you must give at least one try to this if you are serious about the health of your eyes. The deviant art gives a pleasant look to your desktop and you will feel comfortable while working at night on your computer.
7. Avengers: Endgame theme – Theme For Marvel Lovers
Compatibility: Windows 10 (32bit & 64bit versions)
Available On – Themepack
Are you fond of action Hollywood movies, particularly the series of avengers? If yes, then we will suggest "Avengers: Endgame Theme" for you. The fiction of the movie is represented in a very creative way which gives a real look to the characters and you will find it unique.
This top-rated Theme on Windows 10 is that it will provide you access to more than 15 images that are of high quality. So, the desktop will look like a battlefield as far as this theme is concerned.
8. Star Wars theme
Compatibility: Windows 10 (32bit & 64bit versions)
Available On – Themepack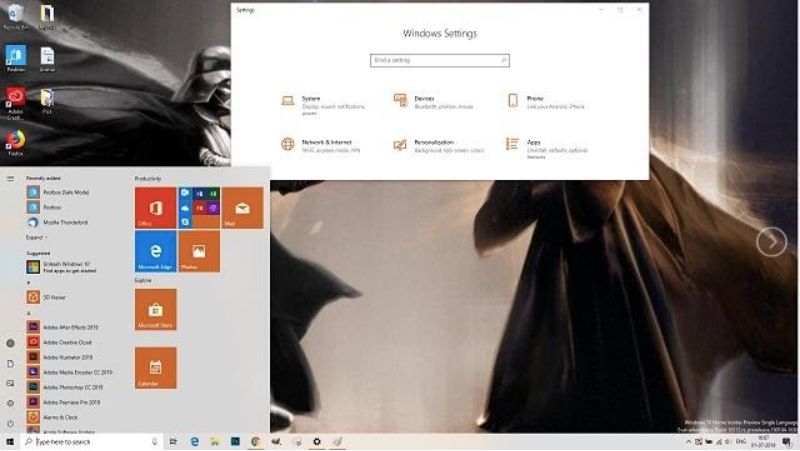 If you are looking for an HD theme for your computer which contains amazing images of the dark sky and stars, then we will recommend you install the "Star Wars" theme on your desktop. This theme will impress you with a collection of 33 images of HD quality.
You can install and use this theme without spending a penny. This is one of the HD windows 10 themes with sound effects and icons.
9. Animal kingdom
Compatibility: Windows 10 (32bit & 64bit versions)
Available On – Microsoft Store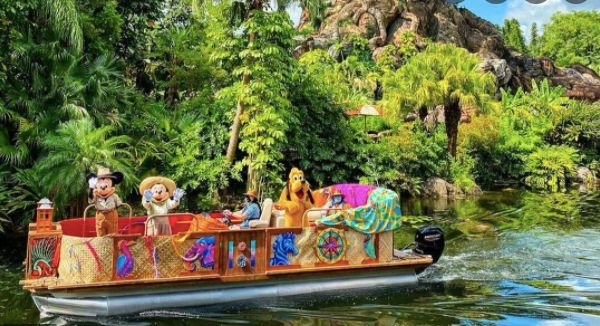 Animals are always giving a special message to humankind so nothing will be better than it if you are looking for a beautiful friendly animal on your desktop screen. It will fill a lot of positive energy in your mind and you will feel fresh throughout the day. This theme contains 15 images of various animals such as frogs, horses, and many more.
The most important thing about this theme is that it can save a considerable time by providing a set of animal images on a single platform and you don't need to search for animal images on the internet or YouTube.
10. Paint 3-D creatures
Compatibility: Windows 10 (32bit & 64bit versions)
Available On – Microsoft Store
This is one of the good 3d themes for windows 10 PC.  Animated images especially 3D have their sphere of influence on the mind of a human. The painting of 3-D creatures is such a theme that will create a sense of creativity in the user. You will feel something extraordinary by seeing these creatures on your screen in your busy daily routine.
Sometimes the funny creatures make you laugh and you will enjoy it a lot. The 11 sets of 3D images are the center of attraction by providing a large range of Variation.
11. Bountiful cottage gardens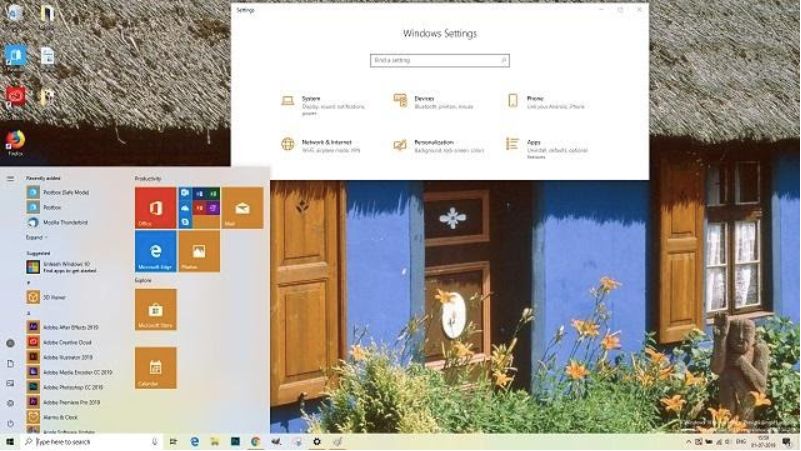 Bountiful cottage gardens are another lightweight theme for windows PC. The cottage gardens are a nice choice for any user who is looking for nature and home at a commonplace.
This theme contains colorful roses, lavender, etc. in the garden which will adorn the screen with a vintage look. The "Bountiful cottage gardens" theme contains 12 images that are full of natural scenery and gives an attractive look to your desktop screen.
12. Hover dark aero theme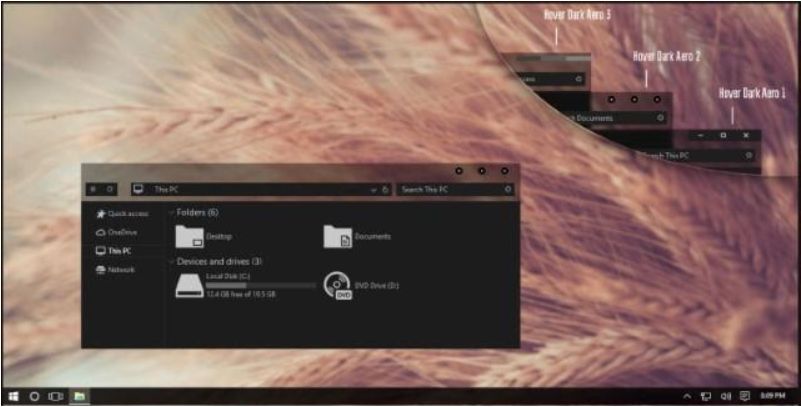 Hover dark aero theme is another best themes available for free for Windows 10 in the dark genre. It is the most useful theme which will reduce the stress from your eyes while you are operating your system.
By using this theme, you can give a cool look to your window and we will strongly recommend you to use this theme if you are habitual of nightwork because the bright theme during the night can damage your eyes while this theme will act as an eye-friendly theme.
13. Windows XP theme for Windows 10
This is the oldest but the evergreen theme which is used by the user throughout the world consistently. This theme will give you a perfect scene of green plains with white fluffy clouds and a blue sky.
It's the best theme in the nature genre based on the number of downloaders. So, you must be part of the community by using this theme and feel fresh such that you are contacting with nature in the real world.
14. Arcx
Perhaps there can't be a perfect match for black and white. If you want to use minimal color on your screen, then you must use Arcx theme for your Windows 10 which is available for free.
We are sure that this theme will impress you and it provides a lot of opportunities to enhance the customizability of the desktop screen.
15. Bonus: – Nvidia control panel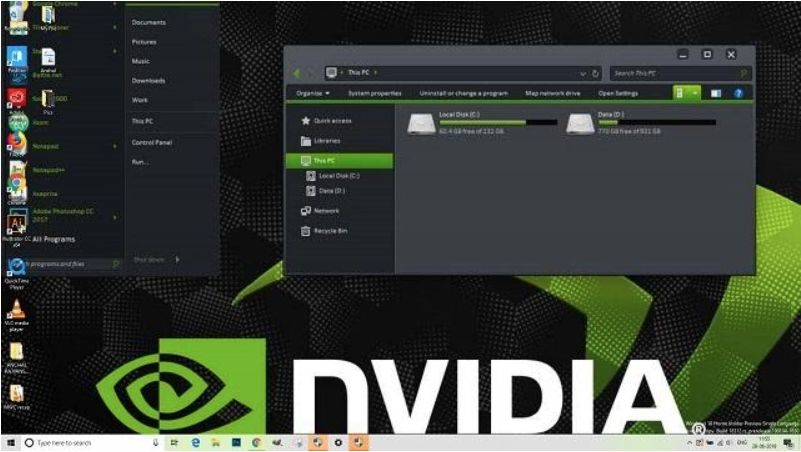 No theme can beat Bonus: – Nvidia control panel if you're fond of gaming because this will provide you a real experience of gaming on your desktop screen. The black and green color in the background gives a decent and perfect look to the desktop.
16. Loveable pugs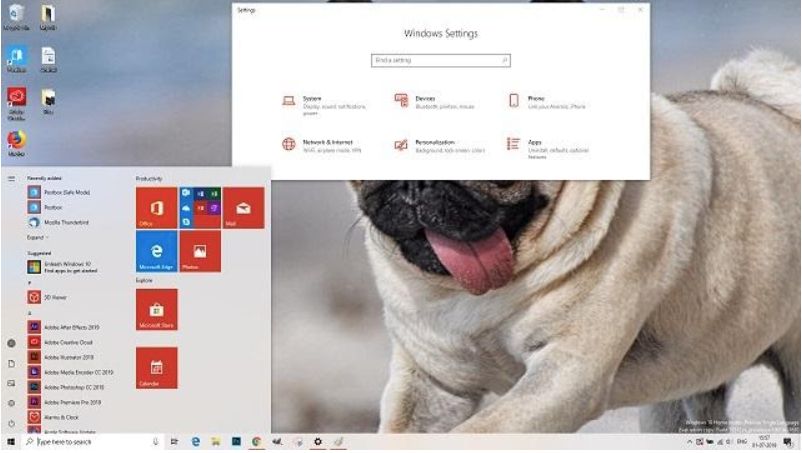 It's the best free theme for pug fans in windows 10. The beauty of pugs will attract your attention and you will be extremely good by looking at this beautiful pug.
This theme contains a set of 15 images so that you can use variations in our theme and every image will enhance your experience and customizability of the screen.
17. Simplify 10
Compatibility:

Windows 10 v.1709 & v.1703

Available On:

Microsoft Store
This is a pack of five elegant and minimalistic themes that will never interrupt your work. The Windows interface will flatten relying on grey and white variations. This is the best way to separate different areas and sections of the user interface. It will help customize the control button of your Windows screen.
It comes in three different themes- light, dark, and a Maverick option. The Maverick theme resembles the Linux distro, Ubuntu. The pack also brings along two mouse icons, two matching wallpapers, and also a Potplayer skin set. It is one of the white themes that bring a different color palette and iconography together.
18. Mac Dock
Compatibility:

Windows XP/ 2000

Available On:

Microsoft Store
If you wish to launch different programs on your system, you can use Mac Dock. It is a simple way to access apps and different features. They will help your Windows screen resemble an Apple computer screen.
You can also customize the features and dockets and themes are available in high numbers. It will provide you with icon reflections, launch, close, and delete animations. You can micromanage the animations while you are in it.
19. Flattastic
Compatibility:

Windows 10

Available On:

Microsoft Store
It looks awesome when you use it on your computer. There are sixteen versions of the theme including 8 light and 8 dark themes. Color gradients alongside curvature impressions are disabled leaving behind a flat look appeal. 
Its customization and user interface quality is good. It can brighten your screen in no time with its flat look. 
20. Angry Birds Theme
Compatibility:

Windows 7 onwards

Available On:

Microsoft Store
The best part of having the Angry Birds theme is the free popular Windows software. It is a theme of five official desktop backgrounds and shows quality images of birds. You do not require any patchwork; simply download to start the theme.
It is licensed officially by Rovio and is in use since 2011 from the Microsoft store. It has 20+ high-resolution images that are based solely on the game.
21. CakeOS
Compatibility:

Windows 7 onwards

Available On:

Microsoft Store
It provides a new look and is available both in light and dark colors. The design brings together invention and rigorous design work. Interface components are placed strictly with sharp corners and distinct boundaries. Control tabs are like colored circles and the Start window will have a new skin.
It is open-source software and with it, your desktop will undergo a complete makeover.
FAQs
How do I get more themes for Windows 10?
Follow these steps to get more themes: –
Right-click on the start menu and then select settings.
Select personalization and choose themes from the sidebar.
Now click on " get more themes" in-store.
Choose any theme as per your wish and click to open it.
Now, click on the get button and wait for some time for downloading the theme.
Click on the apply theme.
What is the best Windows 10 wallpaper?
There are a lot of wallpapers available on windows 10 that you can use. It depends upon your choice and previous experience. However, we will recommend you use those wallpapers which give a fresh look to your screen and you feel delighted by seeing them.
How do I activate Windows 10 without a product key?
Open a link- code-windows10.txt. in your browser and paste the text that appeared on the screen.
Now create a new text file and paste the text that you have copied.
Save this file as 1click.cmd.
Run this file as administrator.
Now it's successfully activated.
How do I download the dark Windows 10 theme?
You can download dark themes from the store easily. You just need to follow those steps which we provide in our article.
Conclusion On Best Free Themes For Windows 10
In this article, we give you brief details about the top 21 best themes for Windows 10. We are hoping that you will be able to customize your desktop screen by selecting a theme as per your demands.
Also, Read