As humans, we have our differences when it comes to what interests us and what we are addicted to. Are you a game lover who loves organizing everything for a smooth gaming experience? Then game launchers on windows should be no news to you. 
With game launchers, you can be informed about industry trends and developments. This software not only helps organize everything that has to do with gaming, but you can also use it to download new and trending games and keep in touch with your peers and other gamers. You can get recommendations and play games without having them installed. For your convenience, we have listed the seven best game launchers on Windows. 
7 Best Game Launchers For Windows PC
1. GOG Galaxy
One of the best universal game launchers for Windows you can go for is the GOG Galaxy. It used to be a launcher set for purchasing games from the GOG store, but now things have changed, and GOG Galaxy has a lot more to offer. If you seek the best gaming experience, look no further.
FEATURES
Games from all systems, including non-GOG titles, can use it.

It can restore games to older versions.

You can arrange your game collection in numerous flexible ways depending on your preferences.

It can sync between devices.
Also Read – 9 Best Google Chrome Games To Kill Boredom
2. Razer Cortex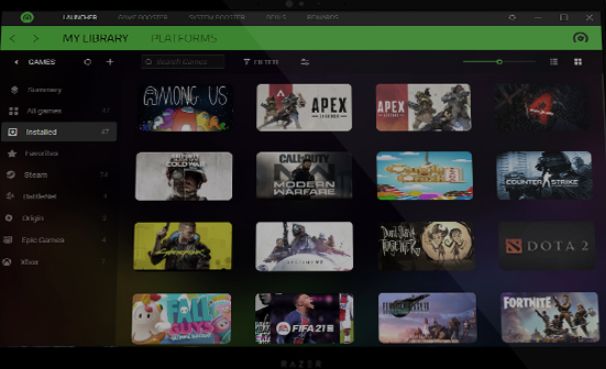 Razer Cortex is another game launcher for Windows that brings you different games across different launchers. It serves different purposes, such as helping you find games, serving as a performance booster for games, and acting as a system cleaner.
FEATURES
Razer Cortex finds games very well.

Instantly improve the PC's performance and graphics for supported games.

It has a one-stop solution that automatically finds and removes junk files to free up space.
3. LaunchBox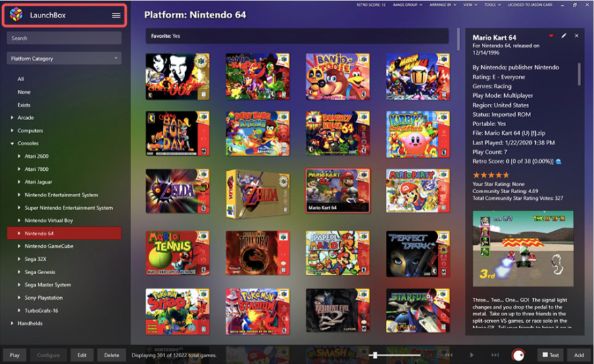 The LaunchBox launcher was initially just a user interface for the DOSBox simulator. The creators added a ton of functions over time. It's currently one of the more modern launchers. LaunchBox has automated import procedures for a wide range of content, including MS-DOS games, ROM files, GOG classics, contemporary Steam games, and much more.
FEATURES
It helps organize Your Collection.

The LaunchBox user interface is both exceedingly simple to use and extremely functional.

LaunchBox creates a surprisingly immersive experience by instantly downloading beautiful fanart, screenshots, logos, and more for your games.
Also Read – 13 Best Games like Homescapes
4. Playnite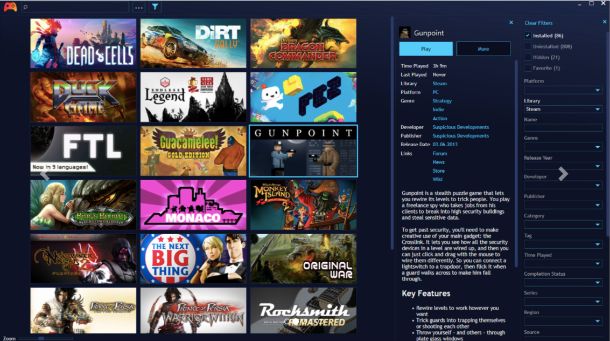 The Playnite launcher is an amazing launcher that thoroughly searches for games on your Windows system. This launcher offers a myriad of features and is coupled with a navigable user interface to create an extremely useful app.
FEATURES
It supports a wide variety of emulators along with launchers.

It has customizable themes.

Supports a playtime counter and extensions to import data from GOG and Steam.
5. Ubisoft Connect
No matter what device a game is played on, Ubisoft Connect is the ecosystem for player services. It aims to create the ideal environment for all players to engage in and enjoy their games. It is a free tool that is available on a variety of gadgets. 
FEATURES
You can look up your friends' profiles on all platforms, find out what games they're playing, and learn about their accomplishments.

You can manage and begin playing your games via the library.

It saves your progress on all devices.
6. Steam
Steam is one of the most popular choices when you need a game launcher for Windows. It is a good match for all varieties of game enthusiasts because it provides thousands of games of various types.
FEATURES
The launcher is modern and easy to navigate.

It has a feature that makes it easy to connect with gamers. 

It has an organized game library making it possible to find the games you're looking for easily.
Also Read – 10 Best Offline/Online Racing Games for Windows PC
7. Radeon Software
Radeon is a game launcher for Windows users with AMD graphics. Radeon is effective in changing the universal visual settings, searching for driver card updates, enhancing your gaming experience, and monitoring performance.
FEATURES
It has a feature that shows all installed games on your computer promptly. 

Games can be started from Radeon directly.

You can also track performance, update drivers, and optimize your games.
Conclusion
If you have a large collection of PC games, it can be difficult to remember which game you installed on which launcher. Fortunately, several methods exist for launching all your PC games without switching between game launchers.
Above are the best game launchers for Windows. Even though these launchers are great for managing your currently installed games, they can also be used to keep your complete library of video games, including the more traditional physical cartridges and discs.
Organize your entire collection using game launchers like Radeon Software, Steam, Playnite, GOG Galaxy, Razer Cortex, and more. Read through and pick your desired launcher to get the smooth gaming experience you deserve. Also, do not forget to subscribe to our blog today.
Also Read