For someone who was born in the 1990s, their entire childhood revolves around playing Pokémon, Tetris, Super Mario Land & other games on Nintendo Gameboy. Kids and teens used to be crazy about portable gaming consoles with more than hundreds of matches compatible with the Game Boy Advance (GBA) gaming systems. Since the production of this gaming console has stopped, you can no longer enjoy those old-school games. But that doesn't mean, you have to miss all the fun! 
Thanks to the programmers who invented emulation technology, individuals can recreate the experience of a best-selling console. The market has a couple of GBA Emulator For Windows PC that hold the potential to simulate the environment of the handheld console on your computer. This way you can enjoy playing retro-style games on modern-day PCs, without any hindrance. 
5 Best GBA Emulators For PC That Are Worth Your Time!
It's time to play all your favorite GBA game titles on the big screen at home, at work, or while traveling (on your laptop). So, without wasting any more time, let's get started! 
1. mGBA
mGBA is a widely popular emulation software, specially designed for gamers who don't own a high-end gaming computer. But this doesn't mean you have to compromise with the quality and gameplay. mGBA is a next-generation GBA emulator that easily simulates the gaming environment on your desktop/laptop with some other features listed below: 
FEATURES: 
Provides a huge catalogue of BGA games. 
Ability to override the game and enable ROM patches. 
Apply cheat codes while playing to enhance the overall experience. 
It supports independent controllers that are plugged into the USB port of your computer.
2. No$GBA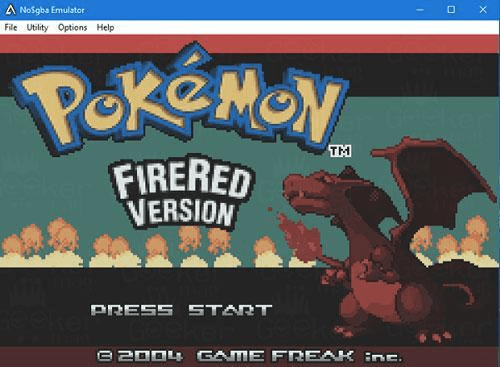 No$GBA or No Cash GBA is another convenient emulator program that offers the ability to play popular GBA games without spending a penny on your PC. It was the first emulator software that supported multiplayer features on the same computer. As compared to other GBA emulators for PC, it provides incredible stability and optimization. If you love playing PlayStation games on your pc then you need to download PS2 emulator available.
FEATURES: 
Capability to run both Nintendo DS and GBA-supported games. 
Supports controller for the enhanced gaming experience. 
It allows users to configure the game according to their needs & preferences. 
Users can remap the keyboard keys to enjoy the same experience as a handheld console. 
3. VisualBoy Advance
VisualBoy Advance is one of the oldest GBA emulators for Windows PC, but with age, it gained experience and wisdom. The emulation tool supports dozens of GBA game titles that work like a dream with rock-solid stability. It supports almost all popular Operating Systems and offers tons of advanced features to make the gaming experience better. 
FEATURES: 
Supports controllers and the ability to remap the buttons. 
Ability to take screenshots and record your gameplay. 
Use cheat codes to make the experience more fun. 
Save game progress wherever you want, at your convenience. 
4. BatGBA
This is probably the best free GBA emulator for PC ever designed. It's lightweight on system resources and comes with handy options to play GB, GBA, and GBC ROMs without any hiccups. The only downside is it doesn't receive regular updates. Hence, you have to play games on an outdated user interface. If you wish to enjoy a smooth gaming experience, you will need to get your hands on the original BIOS file of the game. 
FEATURES: 
Play all commercial and non-commercial GBA games with ease.

Enhance color reproduction as per your requirements. 

Comes with an FPS tracker while playing the game. 

Holds the ability to emulate a lot of ROMs. 
5. Boycott Advance
Neat & clean user interface, clearly labeled buttons and efficiency are what make Boycott Advance one of the best GBA emulators for Windows PC. The application is easy to set up and works smoothly with popular GBA game titles. It supports playing games with USB joysticks, gamepads, and full-screen modes for all your games. You can even rotate your screen for a fully optimized gaming experience.
FEATURES: 
Key mapping is supported by default. 
Scaling and rotation are supported. 
Supports the GBA DirectSound channels.

Tool-Assisted-Speedruns (TAS) which lets users finish the game without any unfair means. 
Conclusion
So, this was a wrap from our end! All of these Best Emulators for Windows PC work well and you will probably have no trouble while playing your favorite GBA games using them. 
Talking about the best emulation solution in the market, we would like to recommend it to our users mGBA. It lets you play all your favorite GBA games without being bothered by a compatibility issue. The program will definitely meet all the necessary requirements that you would expect from an ideal GBA emulator. Not only on Windows PC, but also works flawlessly on macOS and Linux.
Also Read