Genealogical Data Communication (GEDCOM) files are special bits of information arranged in a hierarchy. These files support several use cases and can be quite handy when analysts need to separate large sections of data for easy reading. 
You can't view these files without a GED file viewer or compatible software, and so many inefficient options currently flood the internet.
In this article, you'll get to see 9 of the best GEDCOM file viewer software for Windows PCs.
9 Best GEDCOM File Viewer Software for Windows PC
We have listed this software according to its features and performance. Check out these programs suited to your needs and read complex data with ease at any time!
1. GEDCOM Viewer
The GEDCOM Viewer is the GED file viewer for windows that allows users to view hierarchical data in an easy-to-read format along with vital information in each dataset. This GEDCOM file viewer device comes with an information tab that displays relevant data about each entry in a dataset.
Main GEDCOM Viewer Features
Lookup table creation to view and manage GED files with ease

Doesn't alter the content of the original GED file to help users see content as-is in supported formats

Has data segmentation to view one section of data and its related information to other entries in the dataset

Comes with a Details tab to provide more information about selected data 
2. GedView
GedView is a free GEDCOM file viewer for Windows that offers users several essential features available on some paid options. The software provides users easy access to large sections of data in a tree diagram format for easy reading.
Main GedView Features
Tree diagram format 

Record printing

Search option to search entries in a GED record

Icon display for listed items in a tree diagram
3. GENViewer Lite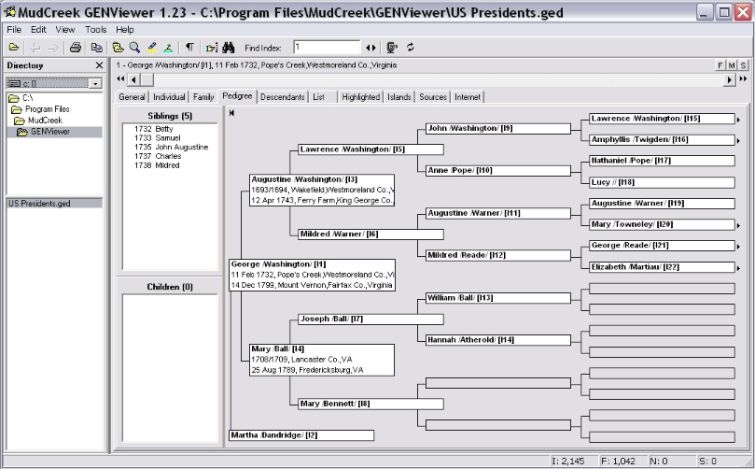 The GENViewer Lite app offers multiple file format readings, easy tab navigation, and quick search functions to help users view .GED files with ease.
Main GENViewer Lite Features
Allows users to open 7+ different file formats apart from GED

Quick Find feature to seek out data with short keyword queries

Has 2+ tabs for easy navigation

The individual tab allows users to view detailed information about each entity in a dataset
4. GEDCOM Lexer
The plugin for Notepad++ provides users with different tools to create, load, and import genealogy projects from their local storage or external sources. 
Main GEDCOM Lexer Features
Ideal to read .GED files through Notepad++

Tree structure maintenance allows users to highlight syntax in color

Color customization to differentiate datasets with ease

Has a quick search function to query massive .GED files for specific data
5. GedPad Pro
The GedPad Pro app comes with an advanced locator to help users make sense of massive datasets with relative comfort. It also provides other tools to equip users who need to handle complex genealogy projects. 
Main GedPad Pro Features
Has a line editor that allows users to change entries in .GED and GEDCOM files

Non-standard locator ideal for spotting names, missing links, duplicates, and dead links, on readable files

The bookmark function helps you keep tabs on highlighted entries on a list

Preferences option to choose the desired font to display data
6. Family Tree Analyzer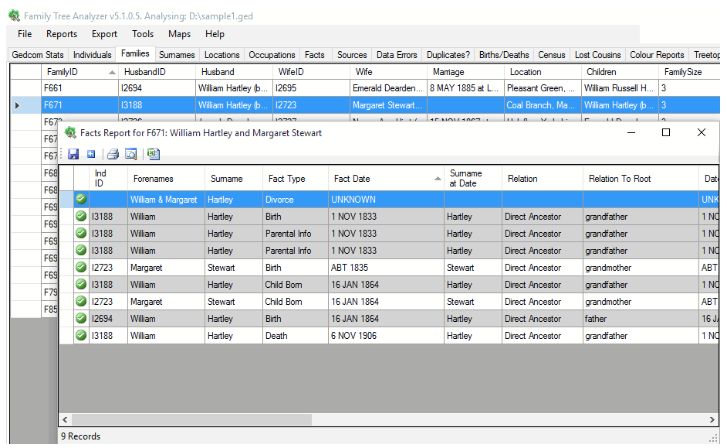 The Family Tree Analyzer comes with filters and a quick stat section so users can quickly scan and see vital parts of data in a GEDCOM file. It also comes with other vital functions like data export, print recording, and much more. 
Main Family Tree Analyzer Features
The 'GEDCOM Stats' Tab provides a quick summary of all loaded files

Filters to see specific sections of data from a large dataset

The print record function allows users to see hard copies of data 

Data export to transfer information from the reader to Excel
7. My Family Tree
My Family Tree is a GED file creator with several essential tools required to manage and import readable files. The app also comes with a simple interface and other vital features users need to make and manage genealogical data. 
Main My Family Tree Features
Family Tree maker allows users to create new charts by data entry

Import .GED command to bring in files from local storage for easy viewing

The tabular representation shows detailed information about every entry in the dataset

Simple user interface to see vital detail in an easy-to-read format
8. MyHeritage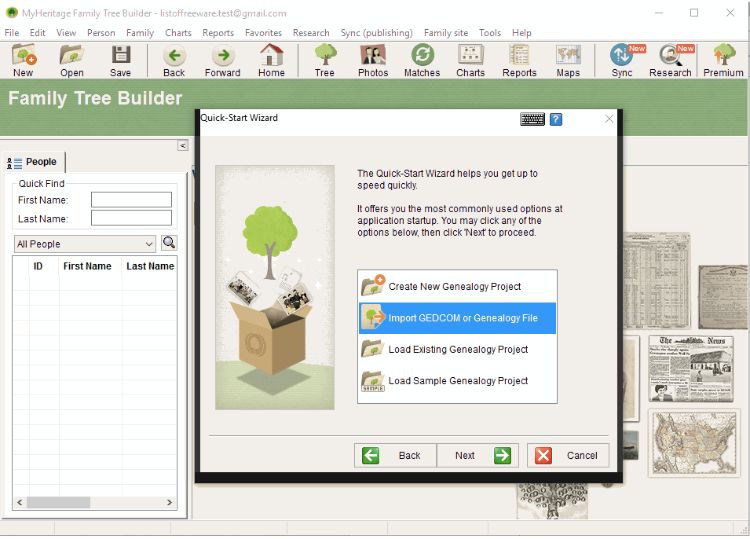 MyHeritage comes with multiple viewing formats, a scan function, new project creators, and other essential tools required to see .GED files without hassle. 
Main MyHeritage Features
5+ chart viewing formats available

Scan function for viewing .GED or GEDCOM files from local storage

Comes with a Quick Start wizard for easy setup

All9ws users create new projects and import or lead existing genealogy files 
9. Gaia Family Tree
The Gaia Family Tree is a reliable GEDCOM file viewer for Windows that offers users several essential features at no cost. The software comes with a simple user interface, data importation, multiple view formats, and more tools users need to visualize hierarchical data with no stress.
Main Gaia Family Tree Features
Users can see data in Lineal, Family Tree, Pedigree, FTIP, and other formats

Allows users to add different skins to its interface

Data importation is available to see different data forms in tree format

Requires registration after installation for first-time use
FAQs
What program opens a GED file?
You can open GED files with programs like GedView, GenVIewer, GEDCOM Lexer, Simple Family Tree, and GenealogyJ. Users can also upload GED files on sites like familysearch.org and ancestry.com for Web viewing. 
Can I open a GEDCOM file in Excel?
You can convert a GEDCOM file and open it in comma-separated variable (CSV) format on Excel. Anyone can save, open, and view a GEDCOM file containing a family tree and move it into readable formats on an Excel spreadsheet. 
Can I open a GEDCOM file in Word?
You can open a GEDCOM file using Word, but you won't be able to make sense of its content. GEDCOM files opened in Word will usually return blocks of unreadable information in several layers. These files won't open on browsers too unless you have a working plugin installed. 
How do I open an ancestry GED file?
Go to Upload a Family Tree > Click Browse (to the right of 'Choose a File') > Locate GED file on your storage drive > Click Open
Also Read