To reach out to the maximum users or gain huge popularity one should post unique and attractive content so that people like your post and follow your profile but it takes a lot of time to increase the followers. To make the work easier and instantly increase followers on Instagram, many free Instagram follower apps are available. 
Yes, you have heard right! Instagram followers app helps you to increase your Instagram followers and helps you boost your profiles. Whether you are an Android user or an iOS user you can use these Instagram follower apps. 
Selecting the best Instagram follower app is quite a difficult task. The application listed in the blog have been selected from the testing 15+ application and then we have made the list of the best and most prominent Instagram follower apps for android and iPhone devices.
10 Best Instagram Follower Apps For Android & iOS
1. Follower Analyser 
If you are looking for an easy and free Instagram Follower app then Follower Analyser is the best application for your iOS and Android devices. It is very easy to use and helps you increase your Instagram followers quickly.
It also lets you know the trending hashtags which you can use in your posts to get better visibility. You can check who unfollowed you and also keep a track of a new followers.
Features 
You can analyze your friend's account 

It is a lightweight application 

Allows you to check who blocked you 
2. Social Scan
Next, we have Social Scan as the best Instagram follower app. It can efficiently manage and monitor your Instagram account. The tool helps you to know who is following your account and the active users. The application is very lightweight and has a pleasant user interface. This application is available on both iOS and Android devices and is completely free of cost.
Features 
Provides you with detail of users who don't follow you back 

Supports multiple accounts 

Lets you know the total likes, comments, posts, etc. on a single dashboard 
3. CrowdFire
CrowdFire is one of the prominent free Instagram follower apps available which helps in increasing your Instagram followers immediately. The social media app can be downloaded from Play Store and App Store.
It automatically suggests photos and other content which attract other users. You can check who is following you or who unfollowed you recently, and also the details of active and inactive users.
Features 
Lets you know the trending posts and hashtags

Allows you to schedule your posts 

Offers a content curation feature
4. Followers Track for Instagram
Followers Track for Instagram is another best Instagram Follower app which lets you grow your Instagram followers. It provides you with various statistical data like who follows you, who unfollowed you recently and many others.
You can also block Instagram followers and also get the data of deleted comments. It also enables you to track followers and unfollowers in real time.
Features
Provides complete analysis of your Insta account

You can know the number of likes you got on your post

Block multiple users at once
5. Turbo Followers 
Turbo Followers is one of the powerful Instagram follower apps which supports both Android as well as iOS users. This application is completely free and helps you to boost your followers on Instagram. It is quite simple to use compared to other apps.
It has a well-designed interface and is easy to use. You just need to follow some people initially to get coins and the app will reward your Instagram followers for the earned coins. 
Features 
It constantly updates

The followers are real and active 

Completely free to use

It recommends you hashtags to boost your reach 
6. InsTrack
InsTrack is another top apps to increase Instagram Followers which provides you with detailed statistics of your Instagram account like followers/unfollowers data, total likes, comments, and subscribers. The application also lets you track Facebook and Instagram highlights.
You can easily and quickly grow your followers on Instagram using this app. It allows you to handle multiple accounts. It also provides you with the option to toggle multiple accounts.
Features
It has a simple and smart interface 

It tracks hashtags

Provides customized recommendations to enhance your profile and get Instagram followers 
7. Followers & Unfollowers 
Another name in the list of best free Instagram follower apps is Followers & Unfollowers. It helps you to grow your Instagram followers immensely. It also lets you follow new people and unfollow 50 people at once.
Using its starred list feature you can add followers to your favorite list. It has a user-friendly interface which makes it easy to use and track your profile and analyze your pictures to increase more followers. 
Features 
You can track your follower's behavior 

It lets you know about the users who don't follow you back

Allows you to track your followers and unfollowers 
8. FollowMeter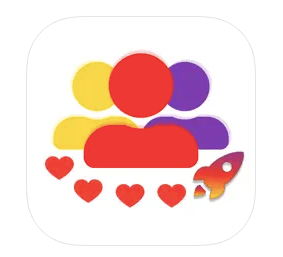 FollowMeter is a popular Instagram follower app for iPhone that can help you to grow your Instagram followers quickly and also manages your account. It can track the number of comments, likes, followers, and many more.
You can check who views your stories more, keep a track of your unfollowers, and also finds your top commenters, likes, and admirers. It also allows you to find the user who views your stories but not following you. 
Features 
Searches for your secret admirer

Find out who blocked you 

Support multiple accounts 

Offers dark mode 
9. Organic Followers for Instagram 
Organic Followers for Instagram is a free Instagram Follower app for android that has a special feature to search for followers according to your profile niche. It also manages your follower list and suggests you unfollow the users who are not following you back. It has a clean and easy-to-use dashboard.
Features
Searches for the audiences based on your Instagram niche 

Provides you with popular hashtags 

It can manage the unfollowing list 
10. Followers+
Followers+ is one of the amazing Instagram followers apps for android and iPhone which is loaded with advanced analytical tools. It can manage multiple Instagram accounts. It allows you to keep track of your profile and provides you with details of several posts, videos, comments, and photos on your account.
This application also provides you with detailed information related to the one who follows or unfollows you, profile stalkers, the one who doesn't follow you back, and many others. 
Features
Allows you to schedule and optimize your posts 

It searches for the most trending hashtags 

Helps you to create your profile more appealing 
FAQs
What is the best app for an Instagram follower?
Many Instagram follower apps are available which can boost your Instagram followers. In the above article, we have listed the most reliable and best apps to grow Instagram followers. Some of the best Instagram follower apps are: 
FollowMeter

Social Scan

Follower Analyzer 

InsTrack 
How do I get 1000 followers on Instagram?
To get 1000 followers on Instagram you should first share more engaging and unique content so more and more users can get attracted to your post and follow you. You can also use the Instagram follower app which helps you to grow followers quickly. 
How do you get 10000 followers on the Instagram app?
The free Instagram follower apps are available over the internet. These are the apps that do not require any effort to increase Instagram followers. Using these apps you can get 10000 followers as early as possible. 
Are Instagram follower apps real?
Yes, Instagram follower apps are genuine. You can trust them for generating likes and followers. The app offers various features and provides you with detailed statistical data related to your followers, who unfollowed you, and other data. The above-mentioned apps are trustworthy so you can check them. 
Conclusion 
So, above mentioned are the topmost free Instagram follower apps that help you increase your followers, likes, and comments. Some of them are quite easy to access and offer various features which make your work easier. Choose any of the applications after analyzing their features and boost your social network.
Also Read