When you regularly operate our system then at one point in time you might face several issues like system crashes, slower speed, and performance, slow boot process, etc. This is because of the excess junk files, temp files, registry errors, cookies, caches, unwanted apps, etc. You need to optimize your system and removes all the unwanted files and folders that are consuming a lot of disk space and creating a lot of troubles in operating your system.
The system requires maintenance to run properly and smoothly. There are several tools available in the market to optimize and clean your system to regain the lost disk space. One of the best PC optimization tools is Iolo System Mechanic. 
Why We Look For Iolo System Mechanic Alternative
Iolo System Mechanic is highly recommended software that removes all the junk files, temp files, and unwanted files which are taking a lot of disk space unnecessarily and increase the system's performance. But due to its, some drawback people search for its alternatives. Some of its cons that people are facing are:
This software is not appropriate for beginners

Doesn't offer contact details

The free version doesn't have robust features
Apart from the above cons, there are several other reasons users look for the Iolo System Mechanic alternatives. In this article, we have listed the best alternatives to Iolo System Mechanic that offer a great user experience and features than the Iolo System Mechanic.
9 Best Iolo System Mechanic Alternatives
1. Advanced SystemCare 
Talking about the best Iolo System Mechanic Alternatives, the first comes is Advanced SystemCare that cleans all the unwanted stuff from your system and regains the lost space, and makes your system like new. It will clean the junk files, defrag the windows registry, deletes unwanted apps, malware, etc., and boost the speed and performance of your system so that you can work properly and smoothly on your PC without any issue.
Features 
Backup and restore features 

Free PC Optimization

Real-time protection

RAM optimizer 
Must Read – Advanced SystemCare Review 
2. CleanMyPC
CleanMyPC is another best Iolo System Mechanic Alternatives on the list. It is the best PC optimization software that also protects your privacy by removing all the traces of your browsing history and cleans all the cache files, authorization details, cookies, cache files, trash files, log files, etc. The software can fully optimize your system and fixes all the registry issues. Apart from freeing up the disk space the software also boost the speed and performance of your Windows PC. With few clicks, you can make your system run like a new machine. It is the best PC Optimization tools that will definitely help in regaining its fastest speed after removing all the system's clutter. 
Features 
Removes excessive and broken data 

Manage extensions 

Disable hibernation 

Uninstall applications 

Protect privacy 
3. Defencebyte 
Defencebyte is the software like Iolo System Mechanic that can scan the PC and removes all the issues and unwanted files that are creating troubles in the operating system and affecting its life. It cleans all the corrupt, faulty, broken files from the system. The software helps in removing slow startups, app crashes, hangs and shutdowns. It also offers a schedule PC scan feature that allows you to set a scan period. The software also allows you to create backup and restores all the files and performs system defragmentation.
Features 
Block unwanted URL 

Fix system errors 

Scan scheduling 

Empty uninstall entries 

Optimize PC performance 
4. Glary Utilities 
If you are looking for a free Iolo System Mechanic alternative then Glary Utilities would be the best choice for you. It is the powerful PC optimization software that can completely scan your PC and detects all the unwanted files, apps, caches, cookies, spyware, etc. that are consuming disk space and slowing down your PC performance. This software cleans the junk files and boosts the speed and makes your system function like new. It will fix the windows registry issues and all the crashes and freezes errors. Glary Utilities is an easy-to-use software that contains several disk cleaning tools with privacy protection.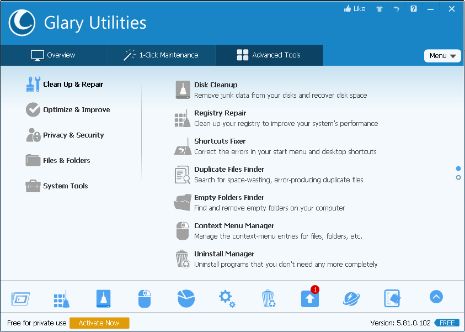 Features 
One-click system maintenance 

Registry management 

Deep registry cleaner 

Free tool 

System management 
5. Wise Care 365 
Wise Care 365 is one of the popular PC Optimization tools that you can choose as an Iolo System Mechanic alternative. It is free software that can clean windows registry issues and defrag disk. This is one of the effective software to increase your PC's performance. The software helps in recovering the lost files. It protects your privacy by removing browsing history and personal tracking data. It frees up memory to increase game and enterprise software performance.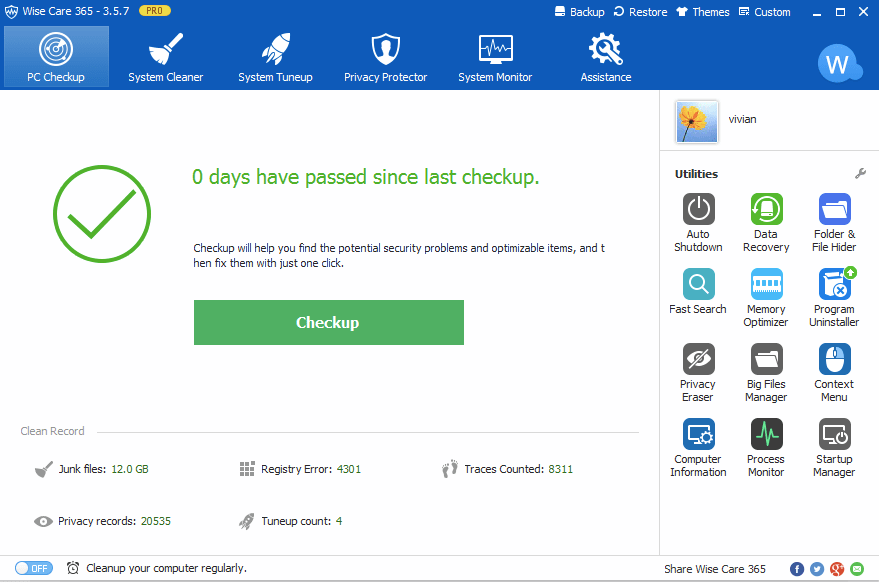 Features 
System cleaner 

Privacy protector 

System tuneup 

PC Checkup 

It has a portable app version 
6. Restoro 
Looking for the Iolo System Mechanic Alternative, Restore is the perfect solution to fix PC issues like blue screens, freezes, and crashes. It can scan the harmful files that can cause severe damage to your system and replace or destroy them. This software has a user-friendly interface that is helpful for the users to run it properly. It removes all the unnecessary files and apps and also removes viruses and errors and boosts the longevity of your Windows PC. 
Features 
Repairs damages files 

Improves PC performance 

Registry optimization 

Virus protection and removal 

Replacing and restoring DLL files 
7. Ashampoo WinOptimizer 
Ashampoo WinOptimizer is an Iolo System Mechanic alternative that you must consider. It is the great software to clean up temp files, junk files, cookies and recover the lost disk space to run your computer smoothly. It can also fix registry issues and other errors that are causing lags and crashes of your system. This software takes care of your system and boosts its speed and performance. It is an easy-to-use tool and consists of several amazing features. Ashampoo WinOptimizer also keeps your privacy protected by cleaning all the browsing history traces. It is available for free but its paid version offers more powerful features. Some of the paid version features are game-booster, auto clean, live-tuner, etc. It is the best PC Optimization tool for beginners as well as experts.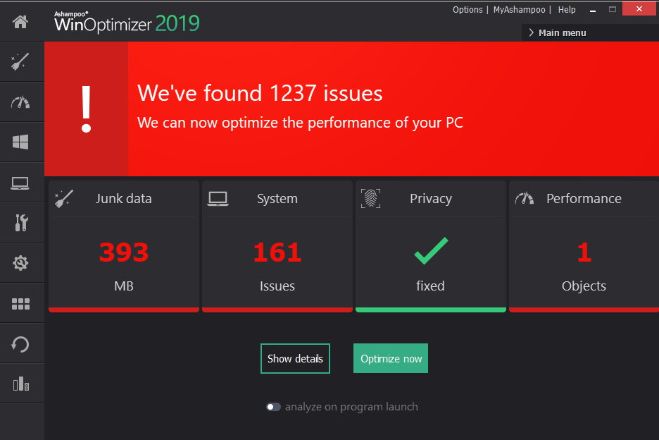 Features 
Registry Optimizer

Internet Cleaner 

Drive cleaner

Startup tuner 

Disk defragmentation tool  
8. Outbyte PC Repair 
OutByte PC Repair is an alternative to Iolo System Mechanic that can optimize system settings, scans and removes junk files, and boost computer speed. It comes with an AppEsteem Certification to prove its authority and safety for the users. The software can identify several system issues, optimize performance, free up the disk space and boost privacy and security. It requires only a single click to scan your computer fully. It can clean the unused logs, temp files, browser history, outdated files, cache, etc. The software is specially designed to improve its speed and performance and let you run a PC without any issues.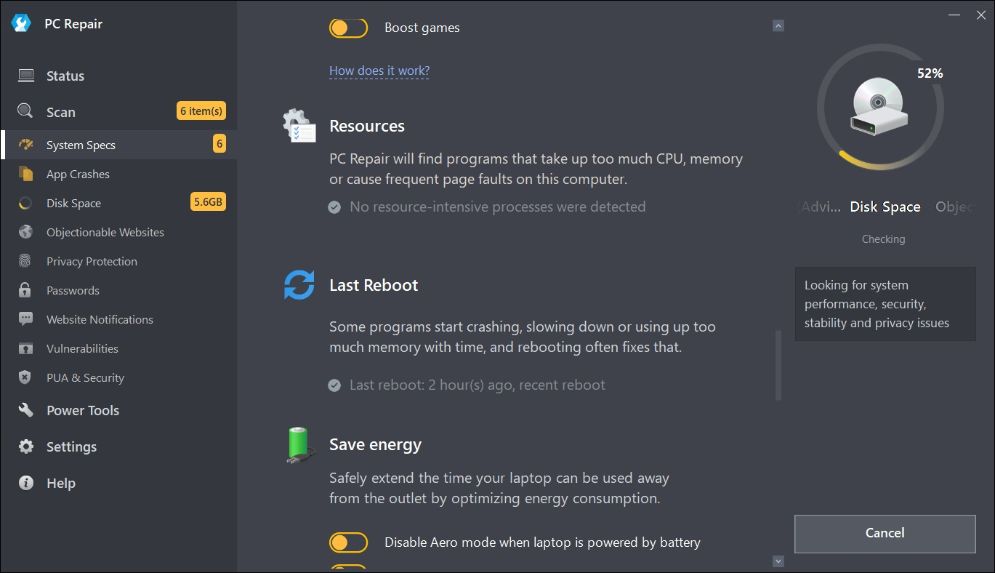 Features 
Improve battery life of the system 

Boost the PC performance 

Cleans all the junk and unwanted apps

Offers 30-days money-back guarantee 

Simple and intuitive interface 
9. AVG PC TuneUp 
AVG PC TuneUp is a powerful Iolo System Mechanic Alternative that offers a great set of tools to maintain your PC's health by freeing up the hard disk space. The software optimizes your PC and cleans all the unwanted files and also uninstalls unwanted applications that are consuming a lot of disk space of your system and makes it slower. It can remove tracking cookies, cache files, old files and also fixes Windows registry issues. The software is compatible with Windows XP, Vista, 7, 8, and 10. AVG PC TuneUp will enhance the speed and performance of your system and increase its longevity.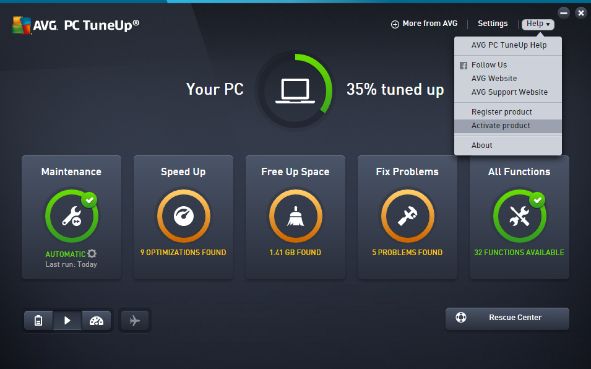 Features
Automatic maintenance tool

Update programs automatically 

Remove junk files to free up disk space 

Cleans registry automatically 

Deep clean hard drive with Disk Cleaner  
Also Read