If you are an iPhone user and looking for the best apps for iPhone widgets then you have come to the right platform. Widgets make your work easier and if you have appropriate widgets set on your home screen you get all the related details on the screen without opening any application. 
The iOS developers are continually working on introducing cool widgets for your iPhones. In this article, we have listed the best widgets for iPhones. So, let's not waste any time and know in detail about each widget one by one.
9 Best Free Apps for iPhone Widget
1. Google News
Google News is the must-have apps for iPhone widgets for those who want to get updated about what's going around them in the world. The app provides authentic news from reliable sources. You will get news of every aspect related to politics, sports, technology, and many others.
No matter whether the news is of regional or international affairs you will get them on your device screen. You can also choose a particular section of the news and get a personalized experience.
Features 
Manage your Google news notification 

Provides you with local news for cities 

Allows you to customize and add a Google news widget 
2. Calendar & Reminders 
Next, we have Calendar & Reminders in the list of best widgets for the iPhone. This is a beneficial widget for those who never want to miss any occasion, birthdays, anniversaries, and other events.
These widgets help you to manage different calendars and reminders. You can set timers and schedule upcoming events. All the information related to the upcoming events will be displayed on your home screen.
Features 
Offers modifiable content to display 
Allows you to change font color and background 
3. Fantastical 
If you are looking for the best weather widget then you can not skip the Fantastical. It is a great widget that offers you complete details regarding the weather forecast. Not only this, it offers great management features. On the home screen of your iPhone, it provides the 10-day weather forecast. You may also have to use the calendar app integrated into the iPhone but Fantastical is something that satisfies all your need for a calendar app. 
Features 
It is free for all users

Offers a beautiful and user-friendly interface 

Add your most frequently used events and tasks 
4. Stocks 
If you are a person who is involved in the stock market or a trader and wants to update yourself with what is going on in the stock market then Stocks is another best iPhone Widgets Apps.
The widget helps you to keep an eye on the stock and provides you with the complete details on your home screen. The app is developed by Apple so it will work appropriately on your device.
Features 
Manage your stock portfolios

Completely resizable and scrollable

Allows you to add multiple portfolios to multiple widgets 
5. Soor Music Player 
We all love listening to music and Soor music player would be the best widget for iPhone if you want to have a music widget on your home screen. It will help you to download and listen to your favorite tracks easily. It is integrated with the Apple music app which is why allows you to access 70 million songs that you will love. You can have control over the music player on your device without any hassle from your main screen. 
Features 
It is a lightweight widget

Allows you to share music files with others 

It comes with multiple themes 
6. Battery Widget & Color Widget
Battery Widget & Color Widget is a must-have widget for your iPhone that will help you to manage the interface color of your device and keep a check on your device's battery. Using this widget you can check the battery usage and also the performance. To save your battery you can simply activate the low-power mode. This is the best widget that helps you to get the details regarding memory, hardware, network, and others. 
Features 
Allows you to monitor your phone usage like battery status, memory, and other general information

Shows you the connected devices 

Displays the battery percentage 
7. Spark Mail
Spark Mail is one of the best widgets for the iPhone if you have to deal with mail inboxes regularly. The app allows you to manage and handle your emails easily. It is a perfect solution for a professional or a regular user who has to manage emails. It is an free application which can access emails without any hassle.
Features 
Offers personalize email experience 

Secure and private email

Smart inbox 
8. Sticky Notes Widget
If you are a person who has to deal with a lot of things and forgets to do so then the Stick Notes widget is a helpful app for iPhone widgets. It behaves like a reminder to you.
On the home screen of your device, you will find several sticky notes where you can write about the thing you want to do like the grocery list, to-do work list, etc. So, whenever you look at your phone of reminds you of doing that work.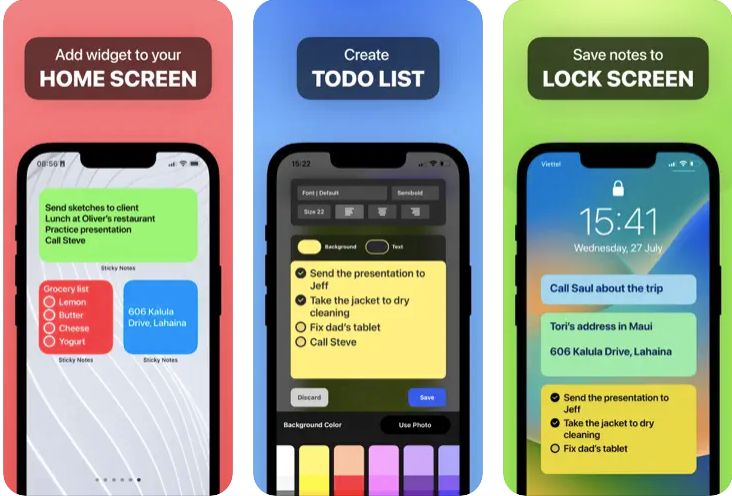 Features
Create notes and add pictures to them 

Edit the notes whenever you want

Free to use 
9. Smart Stack
The last name in the list of the best widgets for the iPhone is Smart Stack. It is a great widget for providing details about the weather. The widget is not only good for the weather but also provides additional benefits like calendars, reminders, etc.
The widget comes preinstalled on the iPhone so you need not get it downloaded from a third-party store. Using this widget you will get all the crucial information on your device screen.
Features 
It is a pre-built collection widget 

Offers a toggle for smart rotate 

Need not download it as it comes preloaded 
In-built
Conclusion
All these are the best free Widgets for iPhone and you will definitely be going to love all of them. The widgets will make your work easier on your iPhone and help you to take control over the working and performance of various applications installed on your iOS. All of these widgets serve different purpose and helps you to get different information on your home screen. We have listed them after a great research and I hope these widgets can be satisfying for your needs.
FAQs 
What are the most useful widgets on iPhone?
Widgets play an important role on the device's home screen. Using the widgets your work becomes easier to perform and you will be able to get the desired information easily on the main screen.
Some of the most useful widgets on iPhone are mentioned above in the article. All these widgets are a must and you should consider them if you desire to download the best widgets. 
What is the best free widget app for iPhone?
Many widgets are free and some of them also require a subscription plan to purchase for using them. If you are looking for the best free widget for iPhone then read the above article as we have mentioned various free widgets which are useful for you. 
What is the most useful widget?
Some of the most useful widgets for your iPhone are:
Google News

Fantastical

Smart Stack

Stocks 

Calendars and reminders 
How do I get cool iPhone widgets?
You can download the cool iPhone widgets by downloading new apps. After that you need to choose the widget size and then swipe left or right to see different size options. Lastly, tap on add widget. 
Also Read
11 Best Free IPTV Apps for iPhone & iPad
10+ Best iPhone & iPad Cleaner Apps
10 Best Music Player Apps For iPhone
13 Best Duplicate Photo Cleaner Apps For iPhone/iPad