IPTV (Internet Protocol Television) revolutionizes the way we consume television content by delivering it over IP networks. Apple TV users can take advantage of dedicated IPTV apps to enjoy live and on-demand TV shows, and movies, and stream their favorite content directly on their devices. These IPTV apps for Apple TV offer a seamless streaming experience, providing access to a wide range of channels and media.
By leveraging Apple TV IPTV apps, users can access interactive TV (ITV), video-on-demand (VOD) services, and even live TV streams. These apps open up a world of entertainment possibilities, allowing users to customize their viewing experience and explore a vast library of content.
Key Benefits of IPTV for Apple TV Users
IPTV apps for Apple TV offer a range of key benefits that enhance the streaming experience for users. Some of the key benefits include:
Vast Content Selection
Convenience and Flexibility
Personalization and Customization
Enhanced Features and Functionality
Multi-Device Compatibility
Parental Control and Content Filtering
Seamless Streaming Experience
Regular Updates and Improvements:
10 Best IPTV Apps For Apple TV
Get ready to watch entertainment videos along with Interactive TV (ITV), Video On Demand (VOD), and even Live TV. 
1. IPTV Smarter Player 
You probably knew this coming, right? Listing out the top IPTV Apps and not mentioning IPTV Smarter is impossible. It's one of those applications that work without hiccups on all types of smartphones, computers, or Smart TVs. You can create a list of your favorite channels and watch them on the go.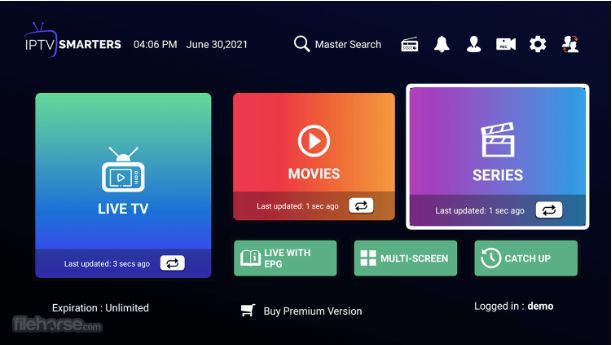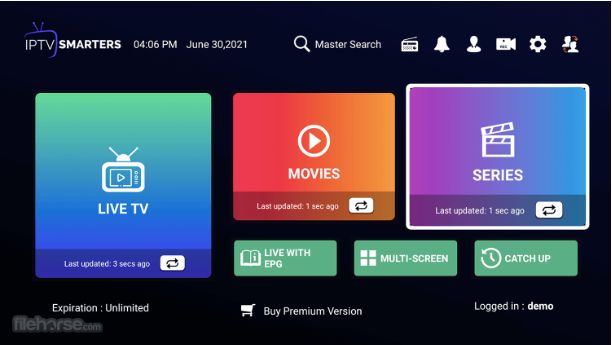 Highlights: 
Has its own media player to watch content within the app. 
Bookmark your favorite channels. 
Supports parental control features. 
It supports playlists in M3U, Xtream API & Multi EPG format. 
2. GSE Smart IPTV 
GSE Smart IPTV is an advanced IPTV solution with cross-platform compatibility to watch TV shows, movies, songs, and other content on Apple TV, macOS, Android, and iPhone.
The application lets you add your favorite channels, download playlists, and watch them using a built-in player. It supports popular file formats, including M3U, JSON etc.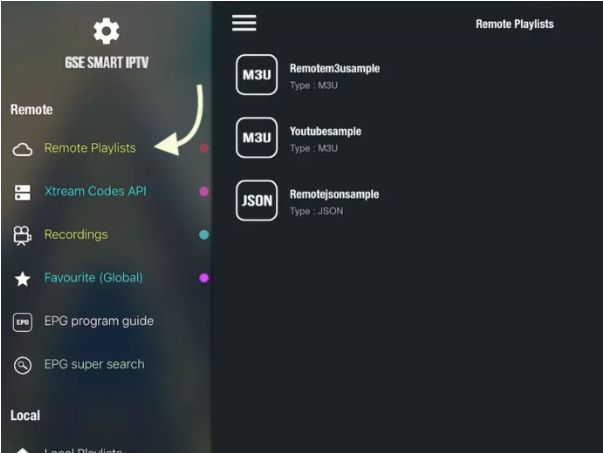 Highlights: 
Supports live & local TV/stream. 
Allows recording IPTV content in a few clicks. 
Has an in-built video player that supports all popular playlists. 
Multilingual Apple TV IPTV app. 
3. OttPlayer
OttPlayer is an all-in-one IPTV app for apple tv to access your favorite channels. It even allows users to stream IPTV from other sources as well. There's no AD interruption while using this IPTV app, which certainly makes it the best in the market.  You can easily manage playlists and adjust the channel order accordingly. 
Highlights: 
Access the number of contents on the service provider.

Comes with a plain & simple UI with support for M3U8, PLS, ASX & XSPF playlists. 

Offers channels for different genres & categories including sports, movies etc. 

Provides useful parental control options. 
4. Cloud Stream IPTV Player
Cloud Stream IPTV Player is another effective option in the category of best Apple TV IPTV Apps to use. It lets users enjoy live TV programs & VOD streams.
The application is free to use but offers in-app purchases as well to access additional features. The pro version includes functionalities like background playback, parental control, and an external player. 
Highlights: 
Allows you to sync playlists for a seamless user experience.

Supports playing multicast streams through a UDP proxy

Supports creating a backup of all your playlists.

Compatible with M3U and M3U8 formats. 
5. IPlayTV
IPlayTV is one of those applications that aligns extremely well with Apple devices when it comes to the look & feel of the app. Using it, you can add playlists from the file system or watch desired content with a URL. It supports AirPlay and allows you to add subtitles to have an enhanced watching experience.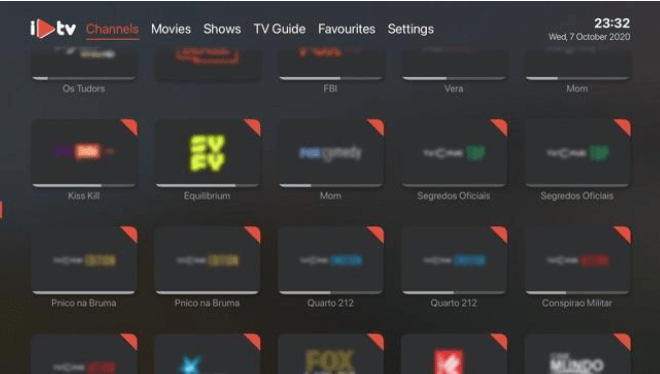 Highlights: 
View live channel playlists and organize content accordingly.  

Create a playlist of your favorite channels. 

Download M3U playlists from the web & upload the media to this Apple IPTV app. 

You can stream live videos up to 4K resolution. 
6. IPTVX
Next on our list of Best IPTV Apps for Apple TV is IPTVX. It comes with a simple and intuitive dashboard and is highly compatible with all types of Apple devices, including Apple TV.
It features tabs like Continue Watching, Recently Added Content, Parental Controls, and more. Unlike other players, IPTVX flawlessly syncs all your playlists to iCloud & across all devices.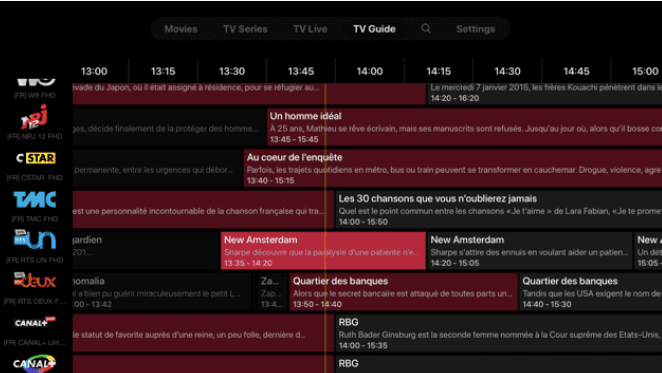 Highlights: 
Lets you explore channels, categories, EPG, and more.

Allows you to hide channels and categories that you don't prefer watching. 

Supports streaming multiple types of playlists. 

Shows detailed information related to movies, TV shows, live channels & more.
7. Flex IPTV
Flex IPTV is another best IPTV app for Apple TV to choose from that allows users to watch both Live and Non-Live videos. You can even switch between multiple channels and offers support for XMLTV EPG and other popular formats. Using Flex IPTV, you can play both local and remote playlists in a few clicks. 
Highlights: 
You can upload playlists via browser or iTunes.

Comes with useful Parental Control features. 

Maintain a list of favorite channels & switch between them in a snap. 

Allows you to update the playlists from external sources. 
8. IP Television – IPTV M3U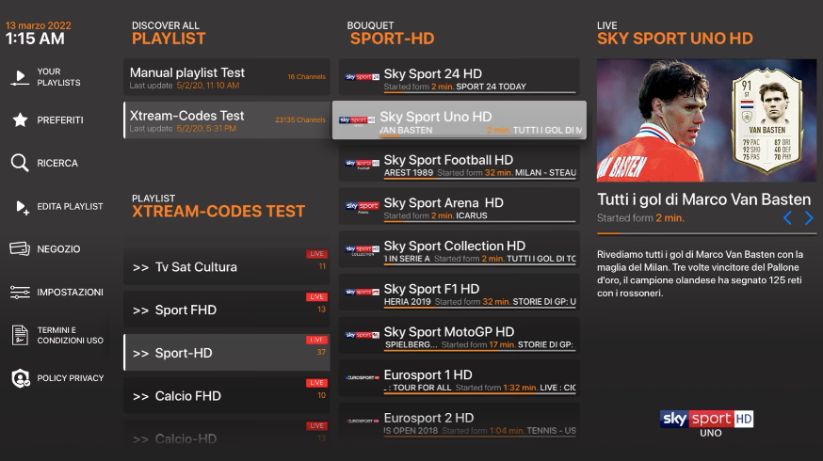 IP Television is one of the finest applications for your IPTV which works on all iOS devices. It is loaded with various necessary features which provide you great viewing experience of your favorite TV streaming.
Using this app you can enjoy watching football matches, movies, series, children's channels, and many more. It lets you create or upload channels and playlists. 
Highlights: 
You can watch global channels, International broadcasters, and on demand
Allows you to set up parental controls 
It is equipped with an Electronic program guide
 You can easily manage your favorite channels 
9. IPTV Watch TV Online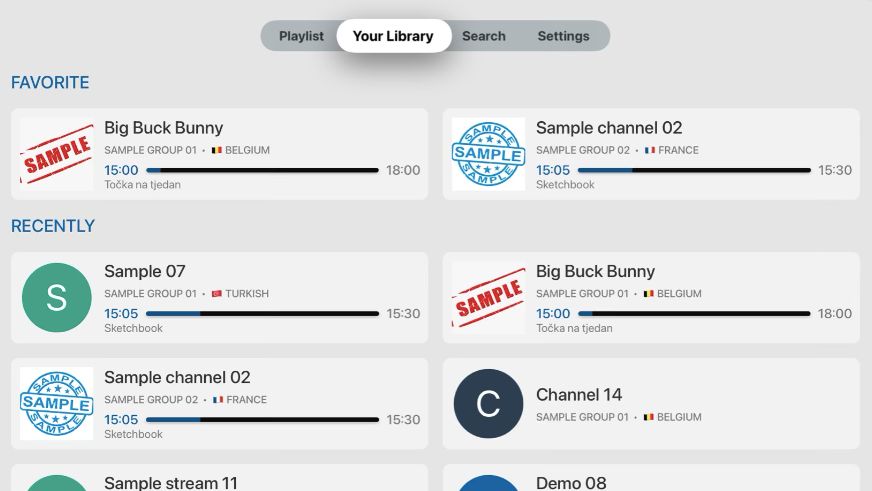 IPTV Watch TV Online is an awesome IPTV player available for your Apple TV. It is very easy to set up and use. It has an attractive layout and user-friendly interface. The application is a perfect solution for IPTV, EPG, VOD, Catch up TV, and video series. You can set reminders for broadcasts from TV-Guide. 
Highlights:
It offers a dark mode 

It is loaded with an inbuilt IPTV player

Supports M3U and XSPF playlists 

It supports multiple network streaming formats including Apple HLS, Windows Media MMS, and MPEG Transport Stream
10. Xtream IPTV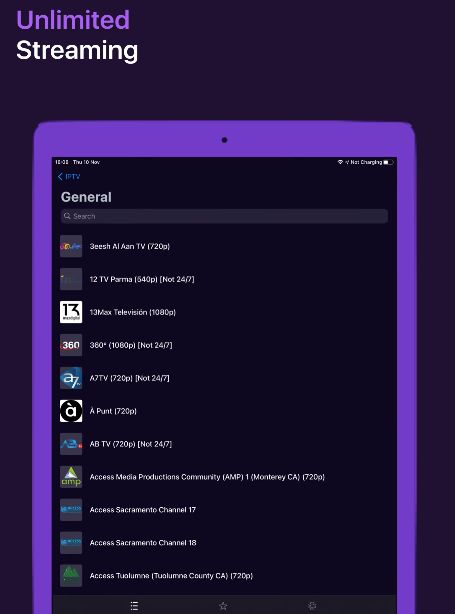 Xtream IPTV is a powerful IPTV player which lets you stream over 20000 live TV channels, 80k+ movies, cartoons, sports, shows, and PPV events. It is compatible with multiple devices and lets you watch your favorite programs everywhere. It also allows you to share your favorite channels with your family and friends. 
Highlights:
It is equipped with Anti freeze technology 
You can stream content in different qualities including SD, HD and 4k
Conclusion
The world of television has been revolutionized with the introduction of IPTV apps for Apple TV. These apps bring tons of benefits to users, offering them a whole new level of convenience and flexibility in accessing their favorite content.
One of the greatest advantages of these apps is the ability to create personalized playlists and bookmark favorite channels. This means you can curate your own entertainment journey and have easy access to the content you love most. Plus, with features like parental controls, you can ensure a safe and age-appropriate viewing experience for your family.
Frequently Asked Questions
Q1. Can I play IPTV on Apple TV?
Yes, there are a variety of IPTV streaming video players that can be easily installed on Apple TV. These apps allow you to stream content such as Live TV, VoD, TV shows, and TV Catchup. 
Q2. Is IPTV Smarters on Apple TV?
Yes! IPTV Smarters is compatible with a wide range of devices, including Android, Android TV, FireTV Sticks, NVIDIA Shields, and Smart TVs like LG, Samsung, and Apple TVs. 
Q3. What is the best app for streaming IPTV?
GSE Smart IPTV is one of the best IPTV solutions with cross-platform compatibility to watch TV shows, movies, songs, and other content on Apple TV, macOS, Android, and iPhone. The application lets you add your favorite channels, download playlists, and watch them using a built-in player.
Q4. Is IPTV Smarters Pro a free app?
No! You can get IPTV Smarters Pro subscriptions for $18.95 (1 Month), $39.95 (6 Months) and $59.95 (12 Months). Using it you can enjoy more than 7,000 LIVE TV Channels & 56,000 + MOVIES & TV Shows (VOD).
Also Read