Whether you're a movie enthusiast, sports lover, or binge-watcher, our comprehensive guide will help you make an informed choice. Explore the features, performance, and reliability of each IPTV box, ensuring smooth streaming of your favorite content in high definition.
With our recommended IPTV boxes, you can immerse yourself in a world of buffer-free entertainment, accessing a wide range of channels, on-demand content, and streaming platforms. So, without wasting any more time, let's get started! 
What Exactly Is IPTV Box For Android?
In simple terms, think of an IPTV Box as a mini-computer that connects to your TV, providing access to various streaming services and apps. With an IPTV box for Android, you can watch your favorite shows and movies directly on your TV, similar to watching them on a cable or satellite TV. The IPTV Box uses the Internet to deliver the content and offers a more personalized experience. 
4 Best IPTV Boxes for Android Available In The Market
After extensive research and based on high demand and popularity, we've chosen 4 best options in the market that you can consider buying today. 
1. Roku Express 
Roku Express is a compact streaming device that connects to your TV, offering a simple and affordable way to stream your favorite shows and movies. It supports almost all popular streaming services, including Amazon Prime, Google Movies, Netflix, Now TV, and more. 
PERKS: 
Setup is easy with the included HDMI cable, simple remote and intuitive home screen. 

Enjoy features like voice search, private listening & more. 

Get access to thousands of free and paid channels like Netflix, BBC iPlayer, Disney+, ITV Hub & more. 
If you are an iOS user then you can check this blog of IPTV Apps for iOS
2. Onn Google TV 
Onn Google TV is another smart streaming device and IPTV Box for Android that combines the power of Google and limitless entertainment.
It has an intuitive interface and lets you access all popular streaming apps, movies, and shows under one roof. You can enjoy personalized recommendations, voice control & large content library. 
PERKS: 
Enjoy 4K Ultra High-Definition resolution and Dolby Audio support. 

Find shows across 10,000+ apps, or browse from over 800 free channels. 

Use Google Assistant to get quick results from all of your apps.
Also Read – IPTV Players for Firestick
3. Nvidia Shield TV 
Nvidia Shield TV is an advanced IPTV box for Android that delivers powerful streaming capabilities & delivers stunning 4K HDR visuals for your favorite shows, movies & other content. Beyond streaming, Nvidia Shield TV doubles as a gaming console, allowing you to enjoy a wide range of Android games, including AAA titles.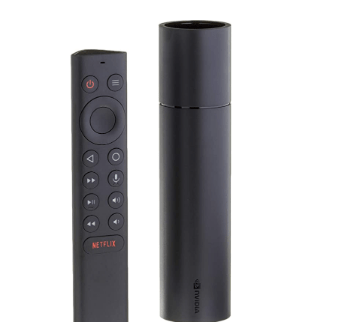 PERKS: 
Dolby Vision HDR picture and Dolby Atmos sound for an amazing experience. 

Upscale HD video to 4K, all thanks to the power of AI. 

Built-in Google Assistant and Chromecast functionality offer voice control while seamless casting from smartphones. 
Also Read – IPTV Players for Mac
4. Fire TV Stick With Alexa 
Fire TV Stick is a widely popular IPTV Box for Android that offers a seamless streaming experience as it is powered by Amazon's Fire TV platforms. Using its voice control via Alexa, you can easily navigate through your favorite content.
It supports popular services like Netflix, Hulu, Prime Video & more. Additionally, it has a large library of movies, live sports & shows. 
PERKS: 
Home cinema audio with support for Dolby Atmos.

Alexa Voice Remote lets you use your voice to search and launch channels & programs. 

Enjoy Live TV, news, and sports with subscriptions to ITV Hub, Sky News & more. 
Also Read – IPTV Apps for Apple TV
Are IPTV Boxes Legal?
Well, the legality of IPTV boxes can vary depending on how they are used. For instance, IPTV itself is a legal technology that allows the streaming of television content over the Internet.
However, the use of IPTV boxes to access copyrighted content without proper authorization is generally considered illegal.
Therefore, if you want to stay on the right side of the law, make sure you use IPTV boxes to access legitimate streaming services and have the necessary subscriptions or permissions to access copyrighted content. 
Will you give IPTV boxes a try to enjoy an uninterrupted streaming experience? If yes, do give us a "thumbs up" in the comments section below. Also, tell us about which shows you'll be watching in the loop on IPTV Box for Android. 
Also Read