Today, IPTV is considered to be the greatest Internet Streaming Source, packed with a huge collection of TV shows, Live TV, films, on-demand videos, and other stuff. But now the question arises, how does streaming happen? Well, it is possible via IPTV Player! It's a dedicated application or service that allows users to play Internet Protocol Television content after they subscribe to your preferred IPTV Channels.
These IPTV Players are available for different platforms like Windows, Mac, Linux, Android, iOS, and more. This means you can effortlessly watch your favorite content on every device at your convenience. In this blog post, we'll discuss top recommendations for IPTV Players for Mac. So, without wasting any more time, let's get started!
12 Best IPTV Players For Mac
When it comes to Apple devices, there are numerous paid and free IPTV Player services that you can choose to install this year. After reviewing, testing, and comparing numerous IPTV Players for Mac, we've sorted out the following options for every kind of user. 
1. VLC Media Player 
Probably you didn't see this coming in the list of Best IPTV Players for Mac. But not many people know that VLC Media Player works beyond just being a great media player for different Operating Systems. It comes equipped with a wide range of features, including the ability of the app to work as an IPTV Player. Take a look at what all this IPTV Player App for Mac has to offer: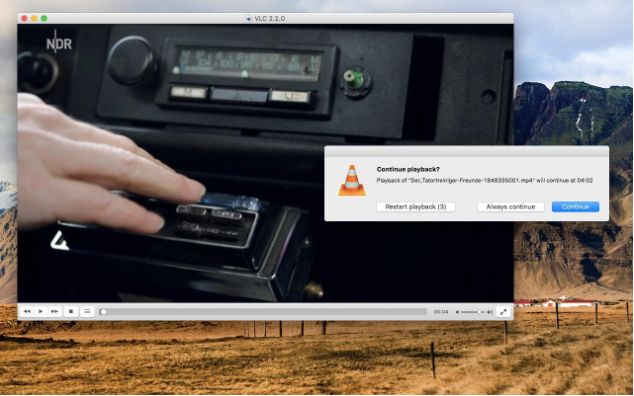 Highlights of VLC Media Player: 
Holds the ability to stream videos from both URL & loading channels from m3u playlists.

Open-source and free IPTV Player that you should consider installing. 

Enjoy watching content both locally and online as well. 
To install VLC Media Player on your Mac, follow these steps:
Go to the official VLC website
Click on the "Download VLC" button to download and install it.
The VLC installation window will appear. Follow the on-screen instructions to install VLC. You may need to agree to the terms and conditions and choose the installation location.
After the installation is complete, you can find VLC Media Player in your Applications folder. You can also drag the VLC icon to your Dock for quick access.
Launch VLC Media Player by double-clicking on its icon. The application will open, and you can start using it to play media files, including IPTV content.
2. IPTV Smarters Pro
Several users are trying IPTV Smarters these days to stream and watch their favorite IPTV channels. The application offers an intuitive and modern dashboard that makes it easy for users to watch Live TV, shows, video-on-demand, and catch-ups easily. You can add your favorite channel list in different formats, including M3U.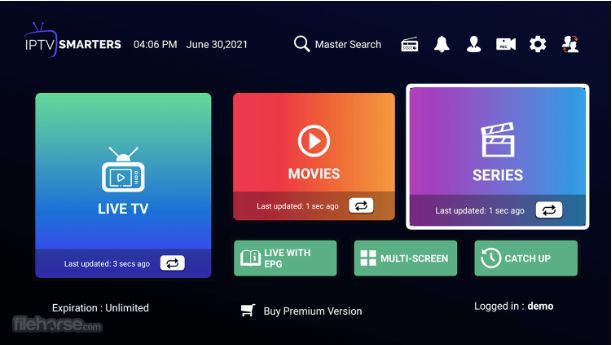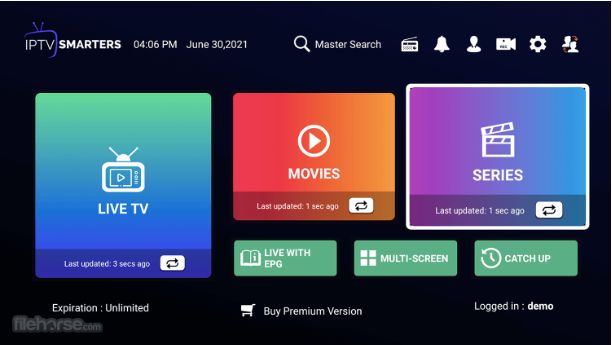 Highlights of IPTV Smarters: 
Provides support for adding subtitles. 

Parental controls are added in this best free IPTV service. 

Allows you to integrate an external IPTV player within the app. 
To use IPTV Smarters Pro to view IPTV on your Mac PC, follow these steps:
Download and install IPTV Smarters Pro: Visit this link
Launch IPTV Smarters Pro: Once installed, open the IPTV Smarters Pro application on your Mac.
Log in or Add Playlist:a. If you have an M3U playlist file:

Click on the "Add Playlist" option.
Select the "Add URL" tab.
Enter a name for your playlist in the "Playlist Name" field.
Enter the M3U playlist URL provided by your IPTV service provider in the "Playlist Link" field.
Click on the "Add" button.

b. If you have Xtream API login credentials:

Click on the "Login with Xtream API" option.
Enter your Xtream API login credentials, including the server URL, username, and password provided by your IPTV service provider.
Click on the "Add" button.

Wait for the playlist to load: Once you have added the playlist or logged in with Xtream API, the application will start loading your IPTV channels and content.
Access and view IPTV channels:
Note: Remember to have a valid IPTV subscription and obtain the necessary login details or M3U playlist URL from your IPTV service provider.
3. GSE SMART IPTV 
Highly compatible with all popular Operating Systems, including Mac, Android, iOS and Apple TV, GSE Smart TV is one of the widely used IPTV Players that you should consider installing. It supports live streaming and allows you to switch between 31 languages as per your preference. Using GSE SMART IPTV, you can stream videos in HTTP, HSL, M3U8, MMS, and RTSP format.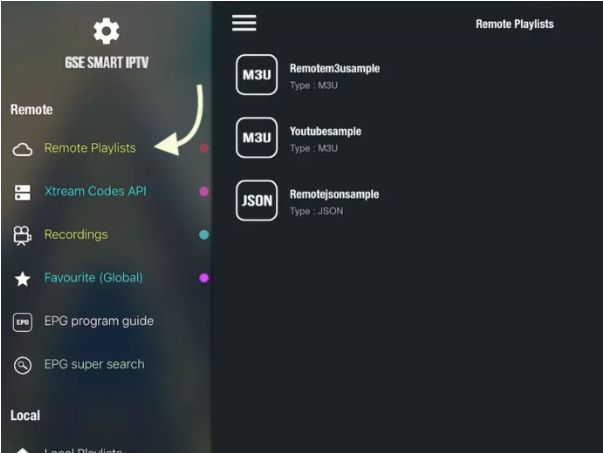 Highlights of GSE SMART IPTV: 
Compatible with XTREAM-Codes API. 

Supports playing content on Chromecast as well. 

Allows you to set up parental controls too. 
4. Kodi 
If you are looking for a user-friendly IPTV app for Mac, choose none other than Kodi. The application supports installing hundreds and thousands of add-ons to stream and watch your favorite content with utmost ease. Using it, you can easily watch Live TV Channels and movies on your Windows, Mac, Android, iOS etc.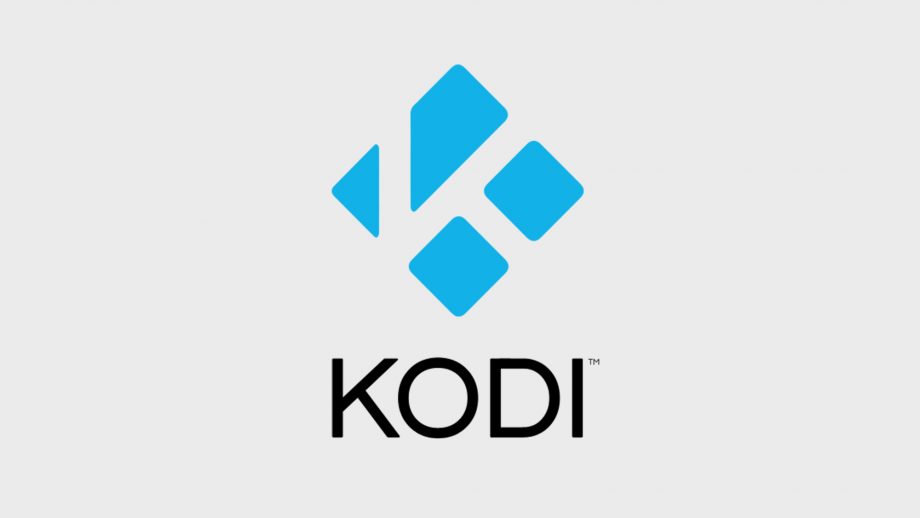 Highlights of Kodi: 
Open-source and free IPTV Player to use. 

Allows you to manage both local and online videos. 

A variety of IPTV Kodi Addons is available. 
5. IPTV World: Watch TV Online 
IPTV World is a pretty convenient choice when it comes to choosing the best IPTV Players for Mac. It provides a hassle-free way to watch live-streaming TV and VOD across the globe. It provides M3U and XSPF playlists support as well. You will find an integrated player where you can do language switching or find embedded subtitles.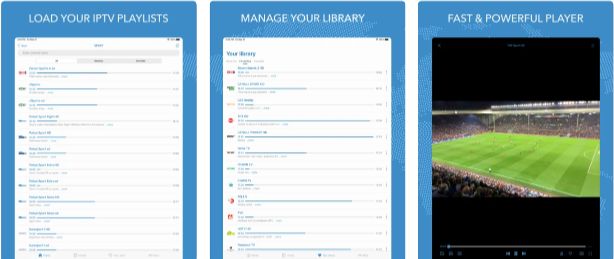 Highlights of IPTV World: Watch TV Online: 
Comes with support for different streams, including HLS, UDP, RTMP, and others

. 

Save your favorite channels and get reminders for interesting programs. 

This IPTV app for Mac supports Dark Themes as well. 
Also Read – IPTV Players For Windows PC
6. Flex IPTV 
Next on our list of Best IPTV Players for Mac is Flex IPTV. The application allows you to add an M3U playlist and watch your favorite content at your convenience. It hosts a wide range of perks that allow you to record live streams, support for popular streaming formats, subtitle/audio track switch and a video equalizer.
Highlights of Flex IPTV: 
Allows you to add, manage, and watch your favorite channels. 

Provides support for XMLTV EPG.

Auto-update playlists from external sources. 
7. IPTV Player: play m3u playlist 
Listing out the best IPTV players for Mac and not finding an IPTV Player: play m3u playlist is strictly not possible. The program easily loads local and remote M3U, XSPF, JSPF playlists from the Internet and allows you to cast any video content to the TV screen. It comes with a built-In high-quality video engine. Hence, you don't need an external player to get started with streaming & watching.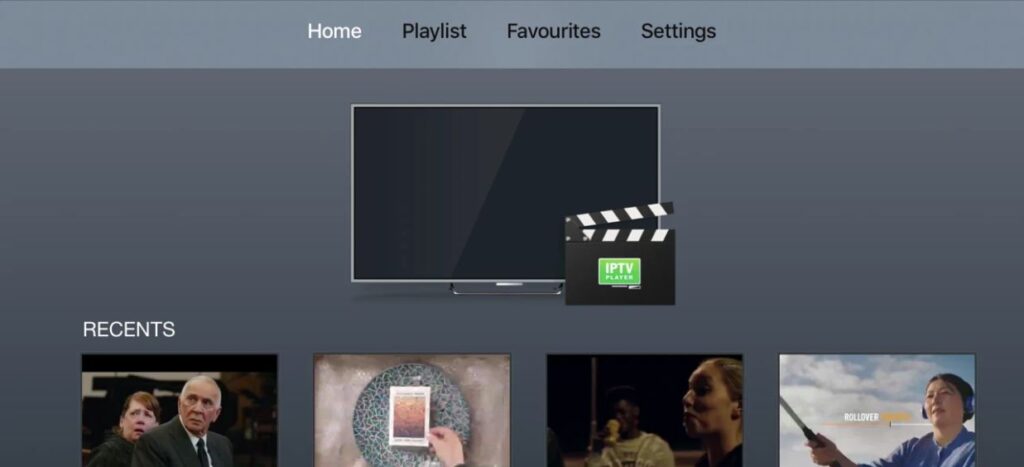 Highlights of IPTV Player: play m3u playlist: 
Get your playlists and favorite channels synchronized according to your account on multiple devices. 

Has a built-in DVR as well, which is lacking by several IPTV apps for Mac. 

Supports hassle-free WI-FI transfer to sync your videos with your Mac via a web browser. 
8. IPgroove pro 
One of the most advanced IPTV Players for Mac is IPgroove Pro. The program is packed with a wide array of functionalities, which includes the ability to maintain a Favorite List, sync your playlists, and customize the UI with different color schemes & themes for the best experience. You can install the IPTV app for Mac on your macOS running 10.12 and later versions. 
Highlights of IPgroove pro: 
Slick, intuitive, and modern dashboard. 

Browse through your channels within the IPTV player. 

Maintain a list of your favorite IPTV Channels at one place. 
9. Mega IPTV – m3u Player 
While we are listing the Best IPTV Players for Mac, Mega IPTV had to be a part of the same. The application supports high resolutions both HD and FULL HD so that you can enjoy your favorite content in the best way possible. Besides Mac, Mega IPTV supports Chromecast, Android TV, Google TV, Firestick TV, etc. 
Highlights of Mega IPTV – m3u Player: 
EPG support. 

Easily play video content in file formats like M3U and M3U PLUS (HLS, MPEGTS, TS).

Holds the ability to download video-on-demand content to watch offline. 
10. IPTV Player by Xia Lina 
Before we wrap up today's list of Best Paid & Free IPTV services, we would like to mention IPTV Player by Xia Lina. The best part about this IPTV service is its ability to drag your favorite TV & Radio Playlist to the window for an instant watching experience. It supports popular media formats like m3u8, mp4, mp3 etc.
Highlights of IPTV Player by Xia Lina: 
Allows you to make your own playlist. 

Ability to convert a playlist from TXT to M3U or vice versa. 

Resize the window from 480×320 to Fullscreen for the best video-watching experience. 
11. Web IPTV Player
Web IPTV Player is a versatile and user-friendly IPTV player that offers a seamless streaming experience on Mac. It comes with a simple yet intuitive interface and supports various IPTV playlist formats, including M3U and JSON.
Highlights of Web IPTV Player: 
Wide Format Support:
Customization Options:
Electronic Program Guide (EPG) integration and Catch-Up TV
Multi-Platform Compatibility: Windows, Linux, Android, and iOS.
12. Perfect Player IPTV
It is another excellent choice for Mac users seeking a reliable and feature-rich IPTV player. It offers a comprehensive set of tools and functionalities that enhance your IPTV streaming experience.
Highlights of Perfect Player IPTV: 
Advanced Playlist Management:
EPG and Picons Support:
Video Recording:
Parental Controls:
Wrap For Our List Of Paid & Free IPTV Players For Mac! 
All the aforementioned IPTV Players for Mac listed above work exceptionally well and all are equipped with user-friendly and intuitive dashboards. But if you ask for our personal recommendation, we would suggest you rely on VLC Media Player or GSE SMART IPTV. Both of them feature their own set of advantages, including support for live streaming, the ability to switch between different languages, support for subtitles, and more. 
Frequently Asked Questions
Q: Can I use IPTV players on my Mac computer?
A: Yes, there are several IPTV players available for Mac computers. These players are designed specifically to run on the macOS operating system and provide a seamless streaming experience for IPTV content.
Q: Which IPTV players are recommended for Mac?
A: Two popular IPTV players for Mac are VLC Media Player and IPTV Smarters Pro. These players offer a range of features such as playlist management, EPG integration, customization options, and more, making them highly recommended choices for Mac users.
Q: How do I install an IPTV player on my Mac?
A: To install an IPTV player, you can follow these general steps:
Search for the desired IPTV player on the internet.
Visit the official website or a trusted software download platform to download the player's installation file.
Once the download is complete, open the installation file and follow the on-screen instructions to install the player on your Mac.
Launch the IPTV player after installation and configure it with your IPTV playlist or subscription details to start streaming IPTV content.
Q: Can I watch IPTV on my MacBook?
Yes, you can watch IPTV on your MacBook. There are several IPTV players available for macOS that allow you to stream IPTV content on your MacBook.
Q: Can I install IPTV Smarters on MacBook?
Yes it is possible to use it on your Macbook
Did we miss any important entry in the list of Top IPTV Players for Mac to use in 2023? If yes, then feel free to mention them in the comments section below! If we find it useful, we will definitely include it in our list! 
Till then happy streaming & watching your favorite content!