Choosing the best lightweight browser for windows 11, 10, 8 and 7 PC is quite important. Some of the popular and widely used internet browsers are Google Chrome, Safari and Mozilla Firefox but these are heavyweight and consumes high RAM and CPU. Read the detailed blog to know about most lightest browsers.
Browsers are the most significant part of PC and users who surf the internet every day.  Some browsers consumes battery life and drain the system's memory and thus resulting in bad performance of the system. Apart from these browsers, many browsers are available in the market which is not so popular as them but are lightweight and offers extensive features. 
Despite being lightweight and unpopular these browsers offer features like Adblocker and also consist of an inbuilt VPN. These browsers consume less RAM and CPU power. Go through the list of best lightweight browsers for Windows 11, 10, 8 and 7 PC.
Opera
UR Browser
Torch
Vivaldi
Midori
SeaMonkey
Maxthon Cloud Browser
Slim Browser
Comodo Ice Dragon
Brave
10 Best Lightweight Browser for Windows 11 / 10 PC
In this article, we are going to discuss some of the most lightweight browsers that offer a great browsing experience and smooth running of browsers without having any battery issues.
1. Opera 
When talking about the best lightweight browser, Opera stands in the first place. It is the most lightweight browser for Windows 11 / 10 pc that includes inbuilt Adblocker that blocks all the annoying ads and also boost the loading speed of the page.
It is great in privacy protection and offers you a faster and smoother browsing experience. It also supports several add-ons like a password manager and PDF editors. You can sync your passwords, bookmarks, browsing history with Opera sync.
Features
It has integrated free and unlimited VPN

Twitter and Instagram in the sidebar

It has an Integrated messenger

It has an ad-blocker

You can Import bookmarks
2. UR Browser 
Next comes is UR Browser which is another most lightweight browser for Windows 11 / 10 PC. This browser is more privacy-oriented and has several tools related to privacy protection. UR browser works well on the old PC and those systems that have limited hardware configuration as it takes up fewer system resources.
This tool also blocks ads and tracking scripts for better privacy. One of the best features of the UR browser is it has an integrated virus scanner as well as a built-in VPN. It lets you download files and load pages four times faster than any other browser.
Features 
It has an in-built VPN

Integrated virus scanner

Consists third-party cookie blocker

Fast and quick page loading
3. Torch 
Torch is another lightweight browser for Windows 11 / 10 PC. Its interface is similar to Google Chrome. It also includes a Torch torrent that lets you download media files, listening music and enjoy an HD view experience using torch Player.
You can play unlimited games on Torch without even downloading them. It also has a built-in YouTube-based streaming service known as Torch music. The loading speed is too fast without pressuring the System RAM. 
Features 
It has a torch player 

This browser has an Torch torrent 

Torch browser also has anTorch facelift

This browser also has anMedia grabber
4. Vivaldi
Vivaldi is another lightweight browser for Windows 11 / 10 PC which is not so famous among users. It uses the Google Chrome engine still doesn't consume heavy memory. Its interface is similar to Chrome but lacks in many features that Chrome offers.
The best feature Vivaldi offers is its customization ability. You can change themes of your browser, take notes, tab arrangements and schedule themes. It has an uncluttered interface and you can control your data for privacy. You can trust Vivaldi as a lightweight browser that will not drain your system memory as other browsers do.
Features
It has built an ad blocker and tracker

You can choose themes for personalizing your home screen

Custom shortcuts 

It has a private translation tool 

Extensions support
5. Midori
Midori is an open-source lightweight browser that is low on RAM. It includes several amazing features which make it demanding and satisfy the needs of the users are bookmarks, RSS support, spell checker, HTML5 support, etc.
It uses the DuckDuckGo search engine(as its default search engine) for its privacy protection that doesn't leak users information. Midori is also considered the younger brother of Firefox. It has a very simple UI that makes it popular as new users can use this without any problem. You can also change privacy settings, display settings and startup settings. 
Features 
Tab management

Windows and session management

Customizable interface 

Uses DuckDuckGo engine as a default search engine 
6. SeaMonkey
Talking about SeaMonkey it is an open-source web browser that has earned a big name among the lightweight browsers. The password manager tool is integrated with voice interaction and mouse gestures.
Being lightweight it offers several interesting features like a built-in editor, built-in email client and built-in chat. Some of the other features are a contact book and a chat room session. It has a popup blocker tool that blocks all the annoying ads and lets you browse without any interference. 
Features 
It has an ad-on management feature

Support multiple accounts 

Junk mail detection

HTML message support

It has a safe mode 
7. Maxthon Cloud Browser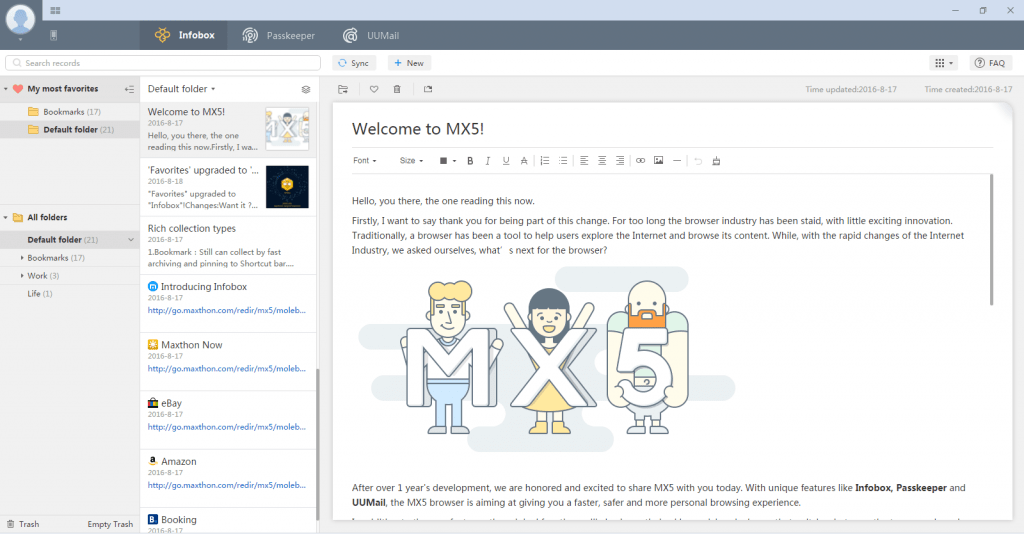 Maxthon Cloud Browser is another reliable most lightweight browser for Windows 11 / 10 pc that consists of some of the amazing features which you will not find in the most popular web browsers.
Some of its features which users like are screen capture tool, built-in ad blocker, night mode, reader mode, RSS feed reader and many others. It has its own cloud services to sync users data between devices. You need to create an account on its cloud-based service to sync the data. It is a multi-engine browser as it uses Google Chrome's Webkit engine and internet explorer's Trident. 
Features
It has a Mouse gesture 

It has Magic fill feature

Maxthon multi-search

It has an ad hunter feature
8. Slim Browser
Slim Browser is another lightest browser for windows 11 / 10 PC. It blocks all the annoying ads and tracking beacons for protecting your privacy. It displays weather forecasts on the web browser.
It has integrated password managers and virus scanners. You can download YouTube videos using the Slim browser quickly. If you are looking for a decent and lightweight browser for your PC then Slim Browser would be the best choice for you.
Features
Adblocker blocks all the ads 

Compatible with Mozilla Firefox plugins

Display weather forecast and conditions

Text translation

Download YouTube video to MP3 and MP4
9. Comodo IceDragon
Comodo Ice Dragon is another reliable browser that is lightweight and doesn't take a lot of system resources. Though Comodo is a security company so the browser it offers is quite safe and secure.
It is equipped with many extraordinary tools that offer you a smooth browsing experience with lightning speed. As it is developed by a cybersecurity company it more focuses on protecting your PC against viruses. This is just like Firefox and is compatible with most of the Firefox plugins. 
Features
It supports Firefox plugins

Scan for malware

Offers faster and secure results

It scans for crash reports and performance reports
10. Brave 
Last on the list comes is Brave which is trustable and consumes fewer system resources. It offers great privacy security by blocking ads, tracking scripts and cookies. It works with most of the extensions from the Chrome web store.
It keeps your passwords secure with the inbuilt password manager. The page loading speed of Brave is extreme thus you enjoy a wonderful browsing experience. It allows you to import your settings from your old browser. 
Features 
Customize shield settings 

Sync your devices 

Built-in password manager

HTTPS upgrading

You can choose the default search engine 
FAQs On Most Lightweight Browser
Which is the lightest browser?
Although several browsers are lightweight, Opera stands in the first position. It consumes fewer system resources and RAM. It emphasizes more on privacy and offers a great suite of tools. In the above article, we have listed some of the best lightweight browsers that you can use for a better browsing experience. 
Which is the best browser for low RAM?
You should use a lightweight browser when you have less RAM in your PC. Opera is one of the most lightweight browsers you can use in place of Chrome as it consumes 150 MB less memory than Chrome.
What is the lightest browser for an old PC?
UR browser is the best lightweight browser for an old PC and also for that system that has limited hardware resources. It is a fast and secure web browser that also protects your privacy. It also scans viruses and also has a built in ad blocker and tracker blocker. 
Is Opera good for low-end PC?
Yes, Opera stands in the first place when talking about the most lightweight browser for windows 11 / 10 PC. Well, Opera consumes less resource but when you install it in your low end PC check its connection speed and the OS running. 
Which Internet browser uses the least CPU?
Although in the above article we have discussed the best internet browsers that consume fewer system resources and CPU so you can read the article.
Opera is the best among them as it is the most lightweight browser that doesn't drain your system's battery and uses the least CPU. 
Also Read